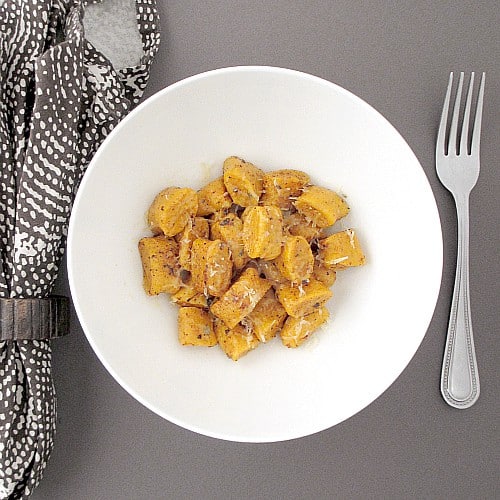 I don't usually cook with so many potatoes - honest. In 2011, I could probably use my fingers to count the meals I made that included potatoes. I think I'd gotten in a funk with potatoes, a little sick of their sometimes dry texture. For some reason, I never really felt impelled to cook potatoes when I had brussels sprouts or broccoli as an option (I had a similar somewhat arbitrary phase for about a year of my teens where I hated eggs). Now, I can't seem to resist the wide variety of potatoes in bins at the produce market, especially the sweet potatoes - it's like dessert for dinner! And nothing says, "you're in the middle of winter" like a hearty root vegetable, right?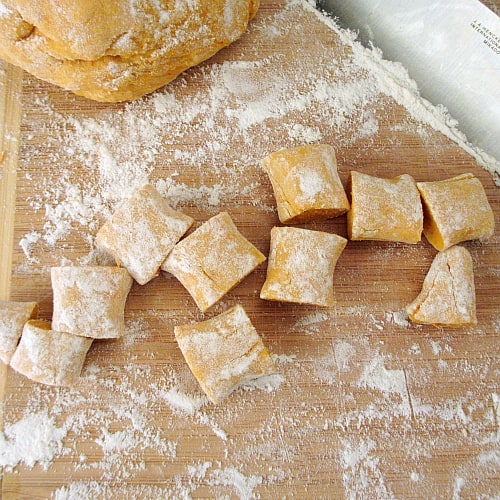 I've tried my hand at making fresh pasta, and, as mentioned before, I have become quite speedy at it. So I decided to gear up for a new challenge this weekend: gnocchi. My only memory of ever eating gnocchi was with my friends, Ashley & Zach, at one of their favorite Italian B.Y.O.s in Philadelphia; we were the only ones in the entire restaurant that night, and, together, we finished a gigantic bottle of red wine. Joining this (now married) couple for date night dinner is one thing I miss most about living in the city of brotherly love. It's funny how one dish can elicit a random vivid memory. I don't think I've dined on gnocchi since, but tonight, I was determined to give it a shot.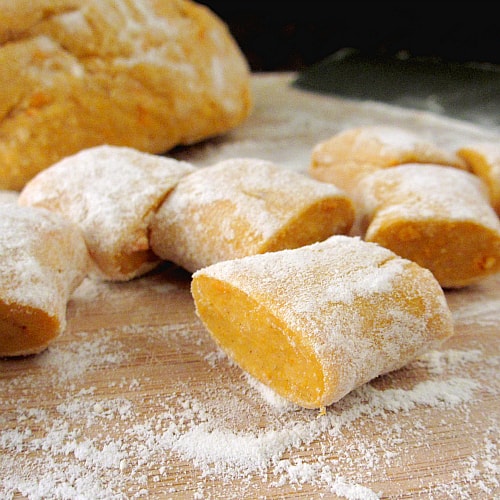 In preparation for gnocchi, I plopped five sweet potatoes (well, yams, but see my earlier post) into my basket (FIVE?!). And this is in addition to the one I already had left over from the other night. It's not my fault - I couldn't resist! Needless to say, I bought too many sweet potatoes, so please expect to see sweet potatoes incorporated into many meals this week. When deciding how I'd go about this culinary assignment, I looked for recipes that didn't include ricotta cheese in the dough. I'm not a fan of cooked ricotta cheese (picky, I know); the texture reminds me of chalk. I'm sure including it in gnocchi might not have the same dry consistency as when it's a layer in lasagna, but I didn't want to take any chances. Most of the recipes I saw called for a particular weight in sweet potatoes, but I was so excited at the market that I didn't think to weigh them. Oops. Next up on my kitchen gadgets shopping list: scale. So, I experimentally combined my favorite parts of two different recipes and hoped it'd be edible. Because I used sweet potatoes with bright orange flesh, the dough turned out a bright carrot color; the child in me instantly thought about how fun it would be to also make beet or spinach gnocchi and have a variety of colors in your dish. My inner toddler also came through when rolling out the dough into a snake just as I had with playdough so many times before.
The sage brown butter and parmesan cheese brought out the flavor of the sweet potato in the gnocchi. The gnocchi also paired nicely with a roasted (69 cent) artichoke, which boosted the healthiness of the meal and provided a delicious break from the richness of the sweet potato pasta.
Sweet potato gnocchi with sage brown butter (Adapted from Diana Shaw and The Italian Dish)
One large sweet potato (in my case, one small and one medium)
2 cups flour
1 egg, lightly beaten
½ teaspoon ground cinnamon
Dash ground nutmeg
2 tablespoons extra virgin olive oil
2 tablespoons unsalted butter
1 teaspoon nutmeg
1 teaspoon dried sage
Kosher salt and freshly ground pepper, to taste
½ cup freshly grated parmesan cheese
Pierce the sweet potato all over using a fork. Bake it in the microwave for about 7-8 minutes, until soft (You could also bake it in the oven at 400°F for about 50 minutes, but who has that kind of time?). When the potato has cooled enough to handle, peel and mash it with a potato masher.
Add flour, egg, cinnamon, and nutmeg and combine. Using your hands, knead until a dough forms. If the dough is a bit dry still after about 5 minutes, add a few drops of water (JUST A FEW) to help the process along. The dough should be slightly sticky, but not too sticky.
Rip off a small piece of dough and roll it out into a snake about ½ inch in diameter. If the dough sticks too much, sprinkle the cutting board surface with flour.
Cut the snake into ½ to 1 inch pieces and set aside. Sprinkle the gnocchi with flour so they don't stick together. Refrigerate until ready to cook.
In a large cast-iron skillet, add olive oil, butter, nutmeg, and sage and cook on medium-low heat until butter browns.
Bring a large pot of salted water to a light boil (water should not be boiling vigorously). Gently place half of the gnocchi into the water. Once they float to the top, cook for an additional 30 seconds and transfer them to the brown butter skillet using a strainer. Repeat for the second half of the gnocchi.
Toss the gnocchi with the brown butter, adding salt and pepper to taste. Serve topped with fresh parmesan cheese.