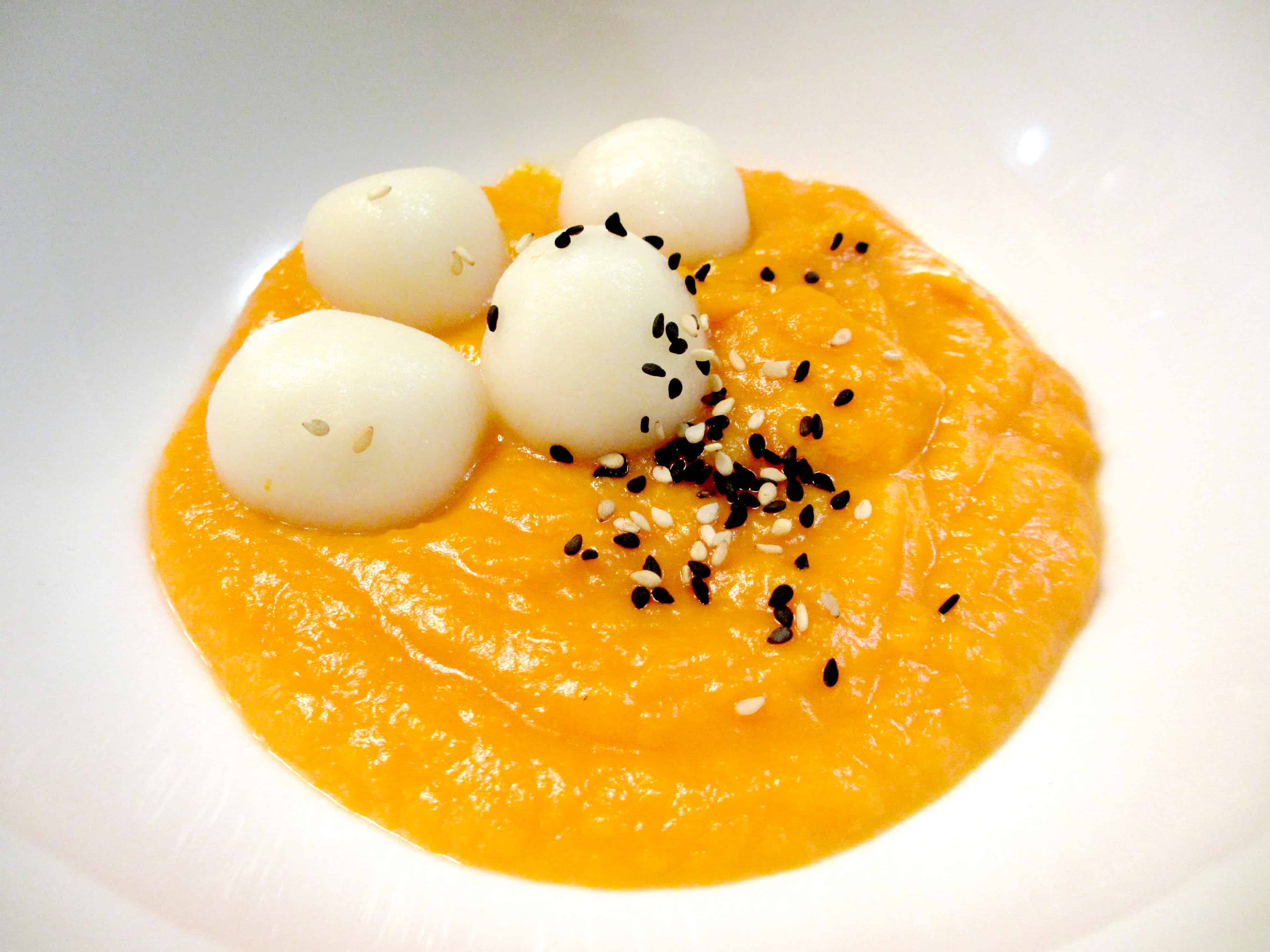 Growing up, I never liked yams, and I'm pretty sure it's only because of the word yam and not because I'd ever actually tried them. A few thanksgivings ago, my friend Alicia made both sweet potatoes and yams as a taste experiment on the difference between the two. I don't know which I liked better because I couldn't really distinguish the two, but ever since, I've been addicted to both. While standing over the at least eight different yam and sweet potato varieties at The Monterey Market, I resorted to looking up the difference on my iPhone before choosing. As it turns out, what are typically called yams in the US, are, in fact, a soft sweet potato, and actual yams are an entirely different an unrelated root vegetable. With this information in hand, I had no idea whether my produce market knew this fact and gave the potatoes their correct names, or whether the round root I was looking at was actually a yam (I'd like to think The Monterey Market hires produce connoisseurs). I resorted for choosing the sweet potato with the most orange looking meat. If anyone has any advice on the topic, I'd love to hear it.
While making the sweet rice balls, I accidentally added twice the amount of water (this is a common trend in my baking), so I had to double the recipe. The good news is, I discovered I could freeze them and cook them later for a quick and easy dessert. And I will definitely use them again because this recipe satisfied my sweet tooth even more than ice cream (I'm an ice cream addict). In the future, I recommend making the sticky sweet rice balls about half the size of mine so they can be eaten in a single bite with a bit of the sweet potato soup.
Sugary sweet potato dessert soup with sticky sweet rice balls (Adapted from Evan's Kitchen Ramblings)
Sugary sweet potato dessert soup
2 sweet potatoes, peeled and cut into 1-inch cubes
¼ to ½ cup of cream or whole milk
¼ to ½ cup of sugar
Boil the potatoes until tender when pierced with a fork.
Put sweet potatoes in food processor or blender and purée until smooth. Add cream/milk and sugar to taste. Start by adding just a bit of cream/milk and slowly add more if needed. I tend to like a LOT of sugar, so feel free to add extra:)
Serve warm with sweet rice balls, topped with sesame seeds.
Sticky sweet rice balls
1 cup glutinous rice flour
¼ to ½ cup powdered sugar (depending on your sweet tooth)
Scant  ½ cup water
Boil water in a medium saucepan.
Mix the rice flour and powdered sugar. Add water until a pasty dough forms. Knead until the dough no longer sticks to your fingers and you can form it into balls.
Roll dough into bite-sized balls.
Drop the rice balls into boiling water and cook until the rice balls float to the top (approximately 5-10 minutes).
Serve in sugary sweet potato soup topped with sesame seeds.