When Lucas gets the same leftovers in his lunch two days in a row, he's usually not a happy camper. Don't get me wrong, he'll eat it, but he drags his feet in the process, begging, "Can I PLEEEEEEAASSEE go out to lunch today?" The worst is when I accidentally make a banquet-sized portion of a dish that turns out blah and make him eat it over and over again to ensure no food goes to waste. When I reluctantly confessed that he'd be getting sweet and sour tofu for lunch a second day in a row, his response was quite the opposite. He jumped for joy (yes, literally), letting out an enthusiastic, "MMMMMMMMMMM! Top five favorite Snixy Kitchen dish!" What a compliment, especially from the guy who, as of January, emphatically aligned himself against tofu - the sign I've stumbled upon something grand.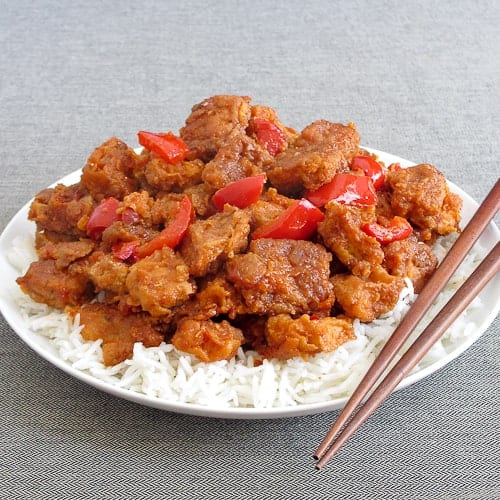 We're carnivores in this house, but when I got home from two weeks of milking my travel per diem by pigging out on food that no dietician would ever condone, meat sounded less-than-appetizing. Meanwhile, Lucas began training for his first marathon this weekend, aiming for racing in the Boston Marathon in 2014. This ambitious goal for some reason translates to "we need to eat healthier" in my head; running is exercise, and if you're exercising it means you want to be healthier, right? In reality, it means our grocery bills are going to increase as he scarfs down whatever carbs he can get his hands on after coming in from a 9 mile warm-up. Nonetheless, meat was off the menu this week as I tried to shed the fat I accumulated on vacation. And I'm glad because I may not have ever discovered this tofu gem otherwise.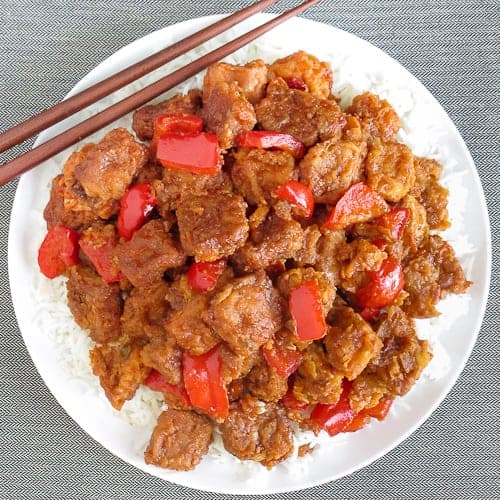 Growing up, when it was my dad's turn to get dinner ready, he often picked up Chinese take-out (unless my mom was out of town, in which case we'd have BLTs and milkshakes for dinner). Like a true sugar addict, I always went straight to the fortune cookies, but my dad's favorite was sweet and sour pork.
Tonight's sweet and sour tofu takes inspiration from that dish, swapping out the pork for tofu. Imagine biting into a crispy crust layer with a smooth rich center that practically melts in your mouth. A burst of sweetness hits your palate, followed by a savory kick that lingers. Even if you're not hungry, you'll gobble up every last piece. Now please trust my word and make this dish.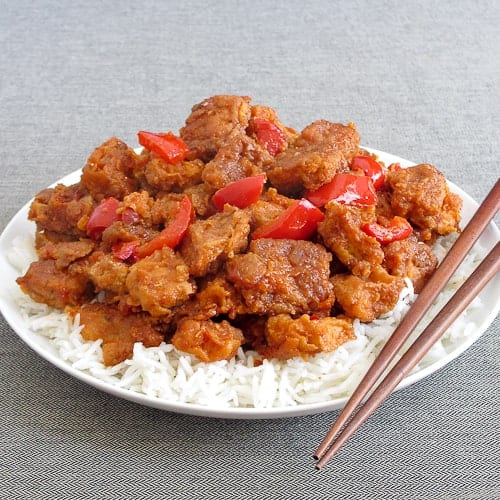 Sweet and Sour Tofu
Ingredients
Sauce
½ cup ketchup
6 tablespoons chili sauce (Homade Chili Sauce is my preferred brand)
2 tablespoons soy sauce
2 tablespoons rice wine vinegar
1 tablespoons brown sugar
6 tablespoons water
2 teaspoons corn starch
1½ teaspoons grated ginger
Kosher salt and freshly ground pepper, to taste
Everything else
2 pounds extra firm tofu, rinsed and pressed to dry, and cut into 1-inch pieces
2 tablespoons soy sauce
2 tablespoons corn starch
½ cup all-purpose flour (or millet flour for gluten-free version)
2 teaspoons baking soda
½ teaspoon salt
¼ teaspoon pepper
About 1 cup vegetable oil
1 red pepper, chopped
2 cloves garlic, diced
1 uncooked cup white rice, cooked (optional)
Instructions
In a bowl, pour two tablespoons of soy sauce over the tofu pieces and let set for 5-10 minutes.
Combine all the sauce ingredients in a bowl and set aside.
Combine the corn starch, flour, baking soda, salt, and pepper in a medium bowl. Dunk each piece of tofu in the flour mixture and set on a separate plate.
Heat about ¼-inch of vegetable oil in a large skillet over high heat. Add tofu to skillet in a single layer in batches. Cook until crispy and golden brown, about 2-3 minutes. Flip each piece and cook an addition 2-3 minutes, until crispy and golden brown. Transfer to a paper towel lined bowl. Repeat with remaining tofu.
In the same pan, remove all but about two tablespoons of oil (or add, if necessary). Heat over high heat. Sauté the garlic until lightly golden. Add the pepper and cook for an another minute or two.
Lower the heat to medium and add the sauce. Continue cooking for about 5 minutes, until the sauce thickens.
Stir the sauce and peppers with the tofu and serve over a plate of rice.