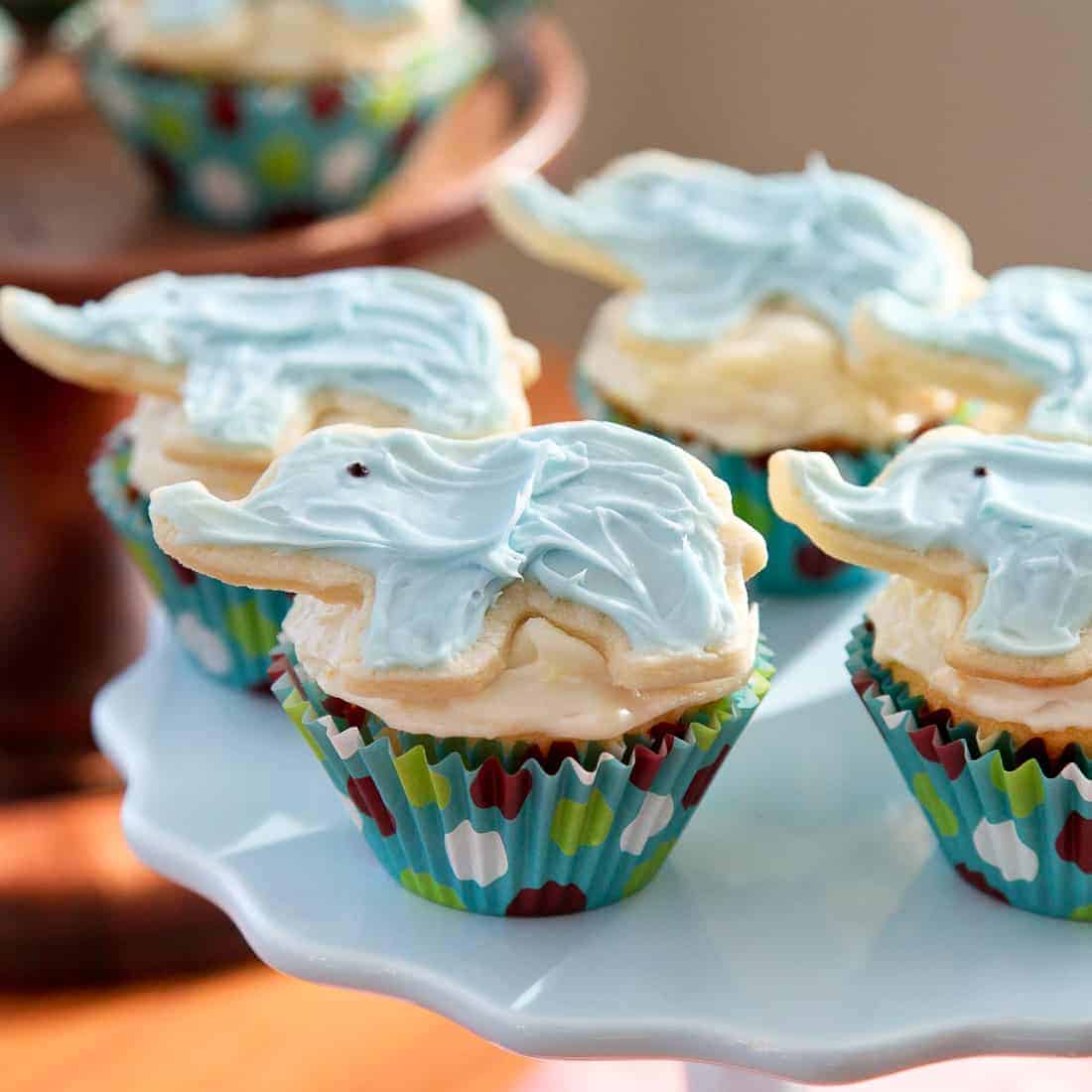 Don't let these little elephant cookie toppers deceive you. These cupcakes are a mouth-watering combination of sweet lemon and fresh strawberries made baby shower-appropriate with light blue sugar cookies. I first tried this cupcake out on my research group a few weeks ago; when I'm testing a new recipe, I use them as my guinea pigs. "Research group" makes it sound like I have a focus group dedicated to taste-testing my sweet confections. Really they're a cool group of graduate students getting together to discuss STEM education issues, but I kind of like the sound of having my own personal baking test subjects. I should bake for them more often. I tested this particular recipe out with two future purposes in mind: 1) as a potential wedding cupcake contender, and 2) for my friend Corey's baby shower I threw the following weekend. There was no denying that I'd found a winning recipe and also a fantastic way to use up the overflowing meyer lemon tree in our backyard.
The shower where I served this elephant-donned batch was a huge success, thanks in part to Lucas's 3am cutting skills. My loyal fiancé spent hours cutting out the various game printables I designed for the shower, all the while insisting, "I would get fired from a manufacturing plant for my lack of scissor skills...it seems I didn't pass my 1st grade cut-a-straight-line test!" The next day we ordered a paper-cutter. The shower went off without a hitch thanks also in large part to the mama-to-be's countless friends who worked hard in the hours leading up to the party, including her very own husband who was up on a ladder hanging paper pom poms at the 11th hour. And finally, I shouldn't overlook the power of these strawberry lemonade elephant cupcakes to woo the guests over.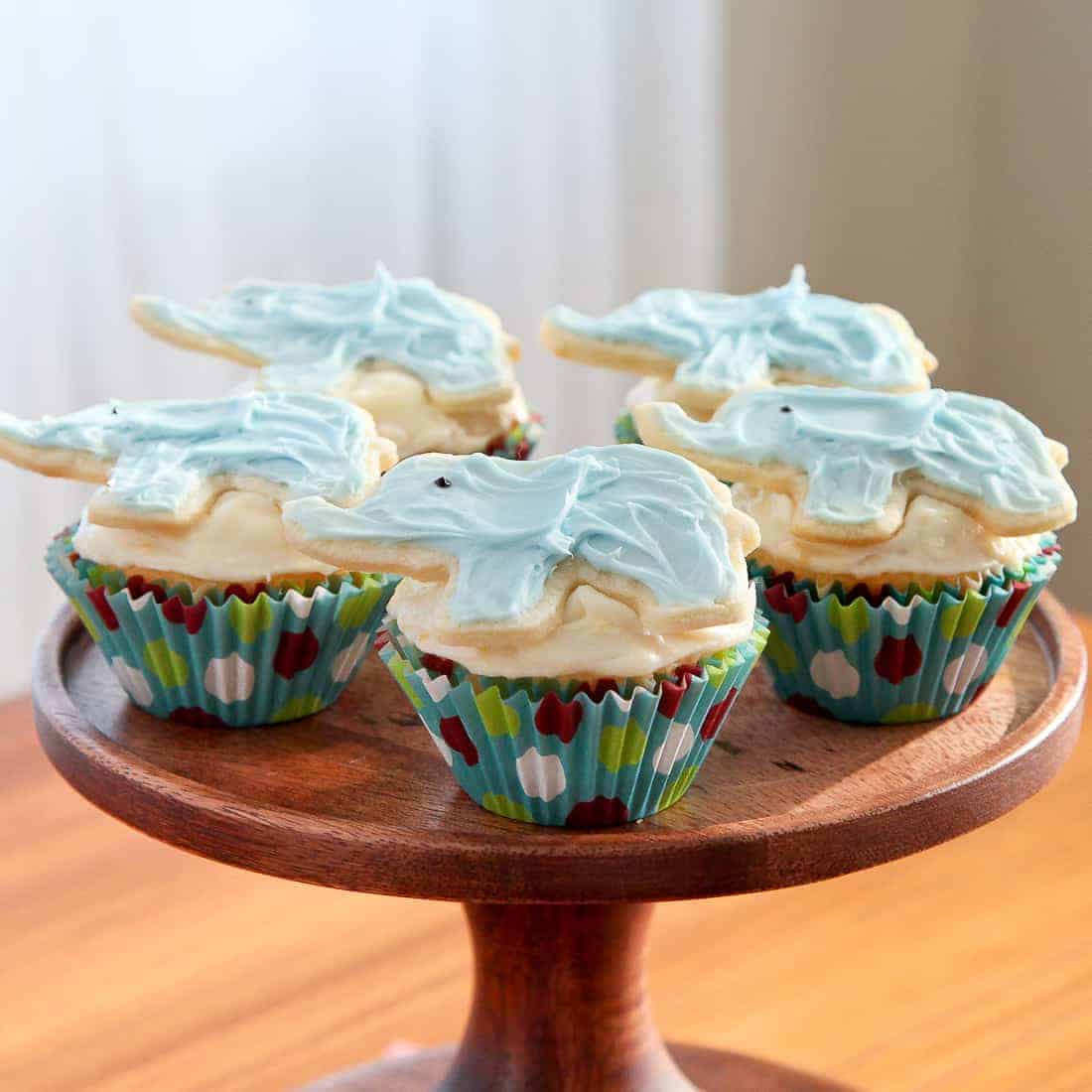 On take-two of this recipe, I put the first batch in the oven around 11pm the night before the event. When trying to bake 4 dozen cupcakes after spending an entire day at a conference, you're bound to make a few errors. And when you make a blunder, what should you do? Make lemonade out of lemons, of course. Or lemonade cupcakes. Here's what happened: I had a plan to double to recipe that I used when baking for my research group. I carefully measured all the ingredients. Lined everything up just so. But when I looked at all the flour spilling over in my mixing bowl, I realized there was no way I could fit it all in my stand mixer at once and decided to split it up into two batches. I couldn't bake more than 2 dozen at a time anyway.
Life was good, I was on a roll. Until I'd divided all the cupcakes among the cupcake liners and realized that I'd thrown the entire measured amount of lemon juice and zest into the first batch, doubling the time-tested amount. I learned that doubling the lemon zest was a brilliantly sweet idea; it added to the lemon-y goodness of each bite. I also learned that doubling the lemon JUICE meant that the cupcakes were so moist that they would start to fall apart if you just looked at them the wrong way. They were still delicious. Messy. Deliciously messy. When I slathered lemon cream cheese frosting and plopped a baby-blue  elephant sugar cookie on top, no one could even tell the potential disaster these cupcakes had hiding beneath. Instead, they were mesmerized by the sweet lemon and fresh juicy strawberries in every fluffy bite.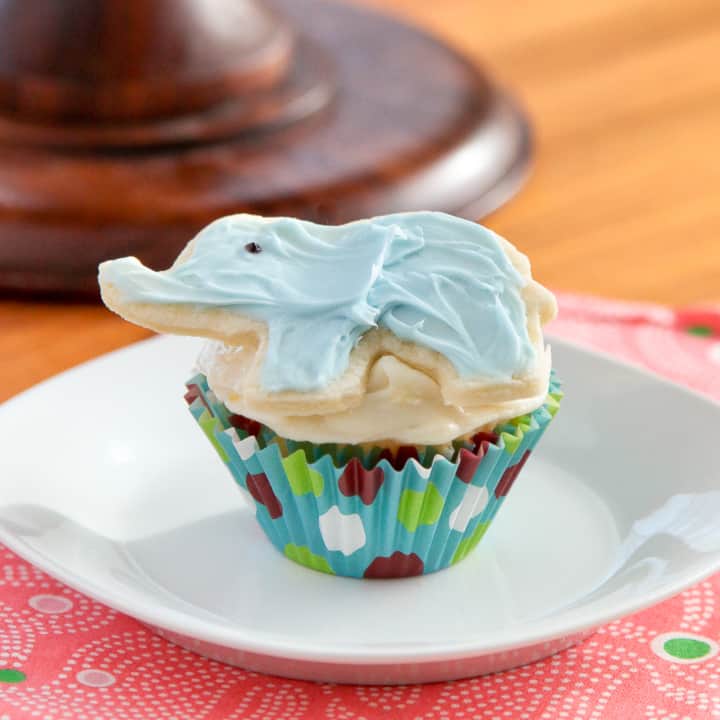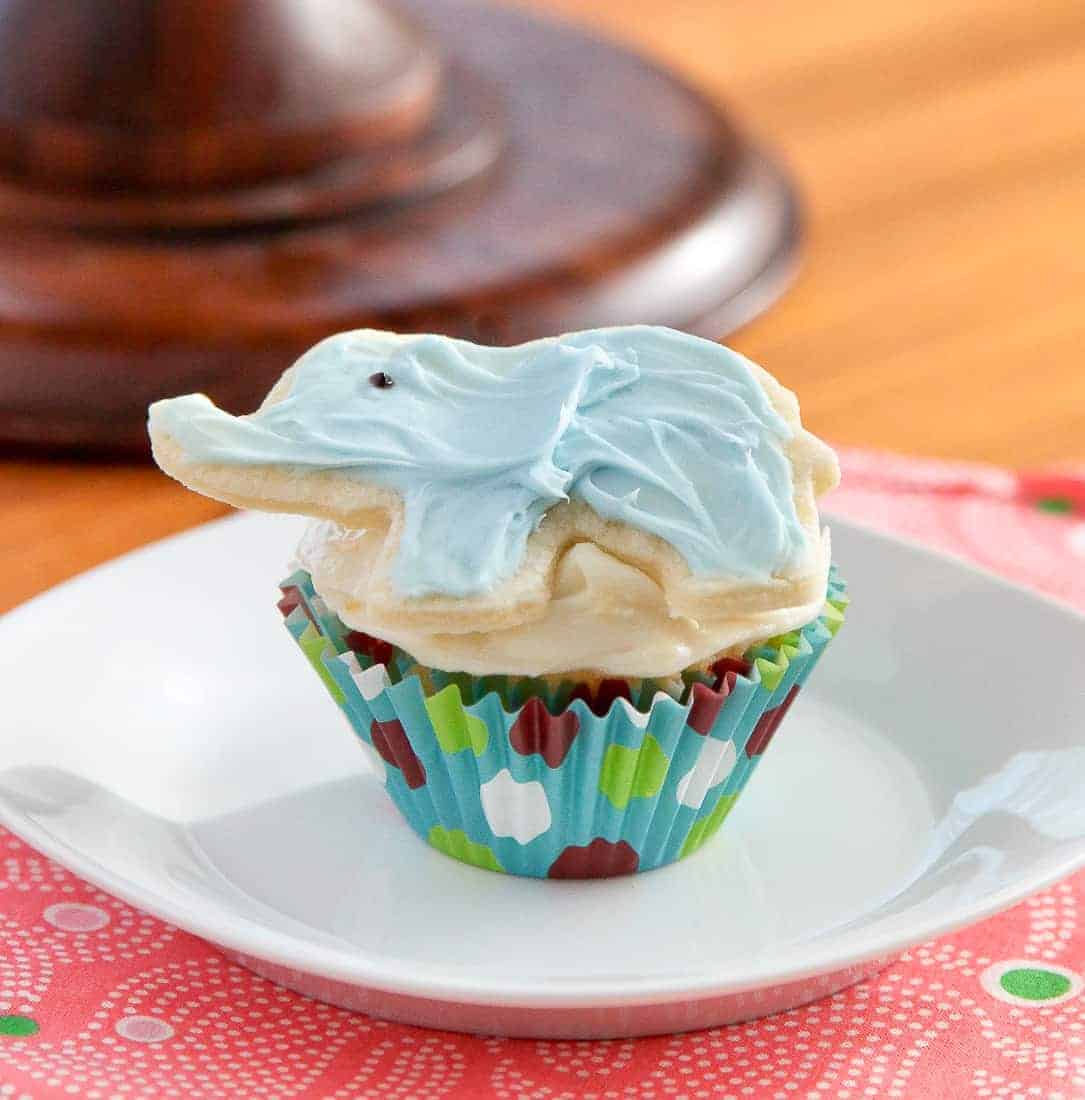 I'm sure you're over there screaming "SARAH! WHAT ARE YOU DOING?! These are not gluten-free!" Believe me, I know. The massive headache I woke up with the next day made me quite aware. But the single cupcake I ate was SO WORTH IT. I had to give the rest to neighbors before my week passed by with one headache after another. Maybe I'll test the recipe out with some of the gluten-free flour I just used to make homemade pasta.
Strawberry lemonade elephant cupcakes
Makes 38 (After several times using this recipe, I've discovered that when I try for an even 3 dozen, my cupcakes end up WAY too big and overflowing. When I make it last for 2 more cupcakes, they're just perfect). 
Lemon cupcakes (Adapted from Confections of a Foodie Bride)
4½ cups flour
1½ tablespoons baking powder
¾ teaspoon salt
1½ cups unsalted butter, at room temp
3 cups sugar
6 eggs, room temp
8 tablespoons lemon zest
3 tablespoons fresh lemon juice
1½ cups buttermilk
Preheat the oven to 375˚F. Line a muffin tray with cupcake liners.
Sift together the flour, baking powder, and salt in a medium bowl.
Over medium speed, cream the butter and sugar in the bowl of stand mixer.
With the mixer on low-speed, add the eggs one at a time, mixing after each one.
Add the lemon juice and lemon zest, mixing just to combine.
Keeping the speed on low, slowly add the dry ingredients in three batches, alternating with the buttermilk in 2 batches, mixing until just combined.
All at once, or working in batches, divide the batter among 38 cupcake liners, until each is about ½ - ⅔ full (be careful not to over fill, these cupcakes will rise).
Bake for about 22 - 25 minutes, or until a toothpick inserted in the center comes out clean or with just a few moist crumbs.
While they're baking, prepare the strawberry filling by mixing together the strawberries, corn starch, and sugar in a medium bowl.
Allow to cool for 5-10 minutes, then transfer the cupcakes to a wire rack to cool completely before frosting.
While the cupcakes are cooling, prepare the frosting according to the directions below.
After they've cooled completely, use a knife to cut out a quarter-sized circle in the middle of each cupcake, reserving the centers for cake pops perhaps.
Spoon strawberry filling into the center of each cupcake. Cover completely with frosting and serve (or top with a sugar cookie for added decoration:).
Strawberry filling
2 cups fresh strawberries, diced

½ teaspoon corn starch
⅓ cup sugar
Lemon cream cheese frosting
16 ounces cream cheese, room temperature

1 cup unsalted butter, room temperature
3 cups powdered sugar, sifted
1 teaspoon vanilla extract
4 tablespoons lemon zest
Pinch of salt
In the bowl of a stand mixer, cream the butter over medium speed.
Add the cream cheese and whip until combined.
Add the powdered sugar, in thirds, mixing on slow speed until combined.
Add the vanilla, lemon zest,and salt, and beat on medium speed until smooth.