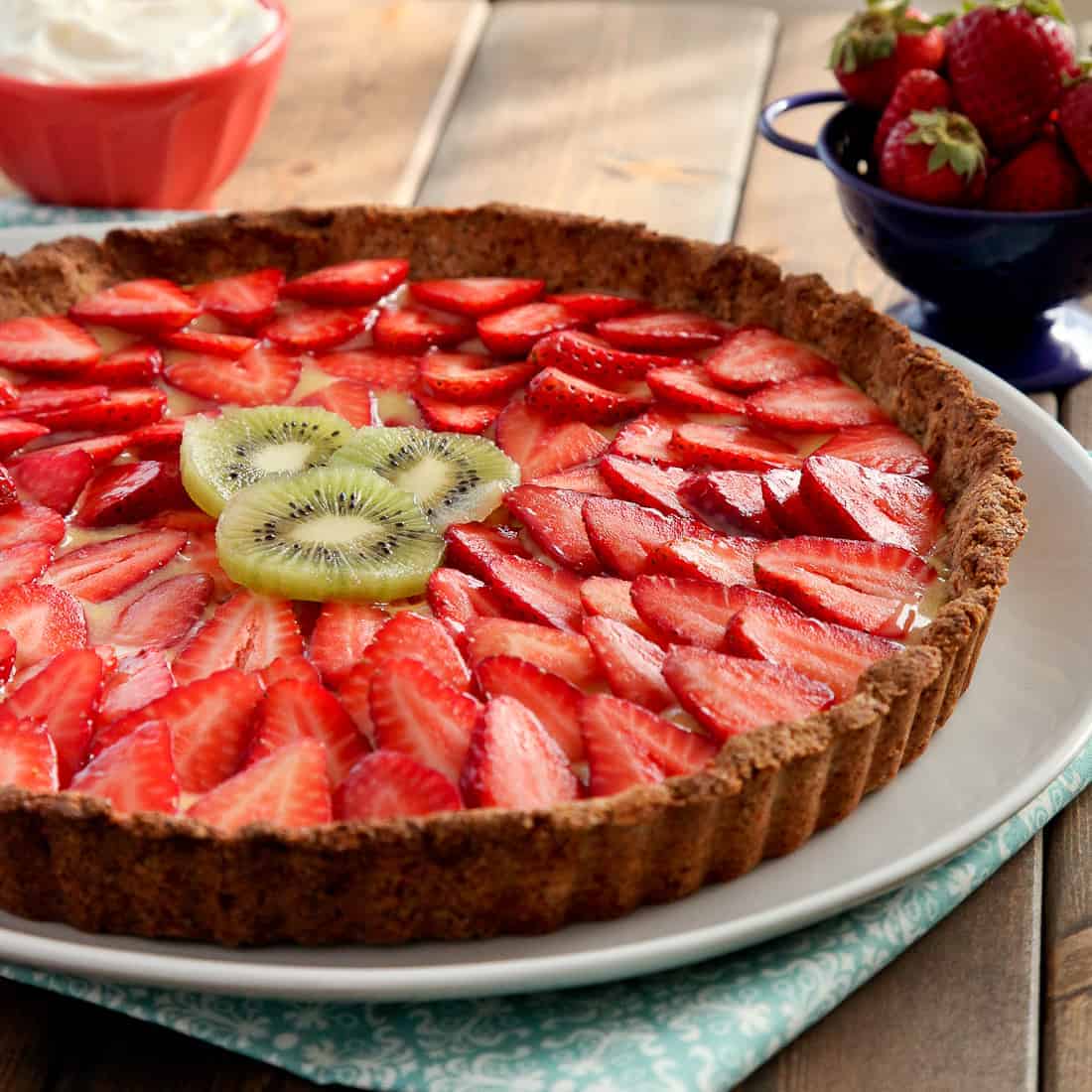 I went to a dessert party last night. Every year during finals, my late advisor would host a dessert party at her home, bringing together people from all different academic communities for a night of relaxation, strange drinks, chocolate fondue, and ice cream sundaes. To continue this tradition, her research group hosted the same party in our lab last night - potluck style. Turns out dessert parties can be a major bummer for a dessertaholic who's given up gluten. Unless there's a gigantic platter...or two...of chocolate covered strawberries.
Every time I dreamed about the brownies and cookies spread across the table, I redirected my reach for another chocolate covered strawberry...and another...and another. So what? It's fruit. It's healthy. And today? I'm headache free. The night I caved and shoved a chocolate orange creamsicle cupcake in my face I should have exhibited the same restraint and stuck to this deliciously sweet gluten-free strawberry lemon curd tart with almond crust. Topped with a dollop of greek yogurt sweet cream. Hindsight is always 20-20.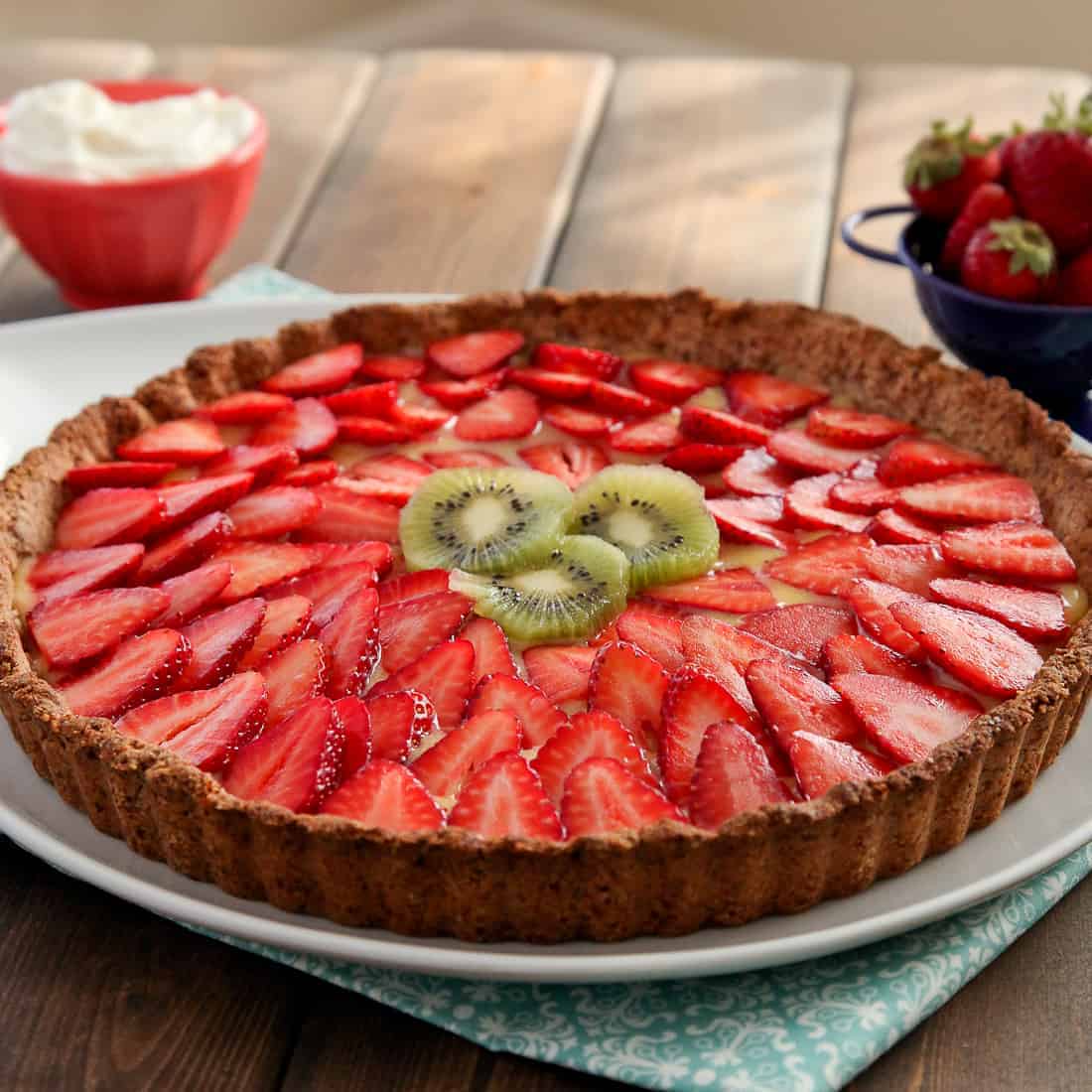 Strawberry season (and stone fruit...and pretty much any juicy fruit season) holds my heart. Strawberries for breakfast. Lunch. Snack. Dinner. Dessert. It'll never grow old. You've got strawberries growing in your backyard? Great, let's be best friends. If wallpaper could really taste like strawberries like in Willy Wonka's factory, I'd paste it on every surface of the house and lick the walls all day long. That's not weird, right?
We served this strawberry covered tart as the gluten-free option when Lucas's pals came over for dessert a few weeks back. On a last-minute whim, I figured out how to make plain greek yogurt mimic sweet whipped cream. AH-MAZE-ING. Oh, greek yogurt, you sneaky devil, you. This healthier "whipped cream" tied all the tart flavors together - sweet, juicy, nutty, tart, and creamy. GF FTW! (Mom, that means: Gluten-free, for the win!).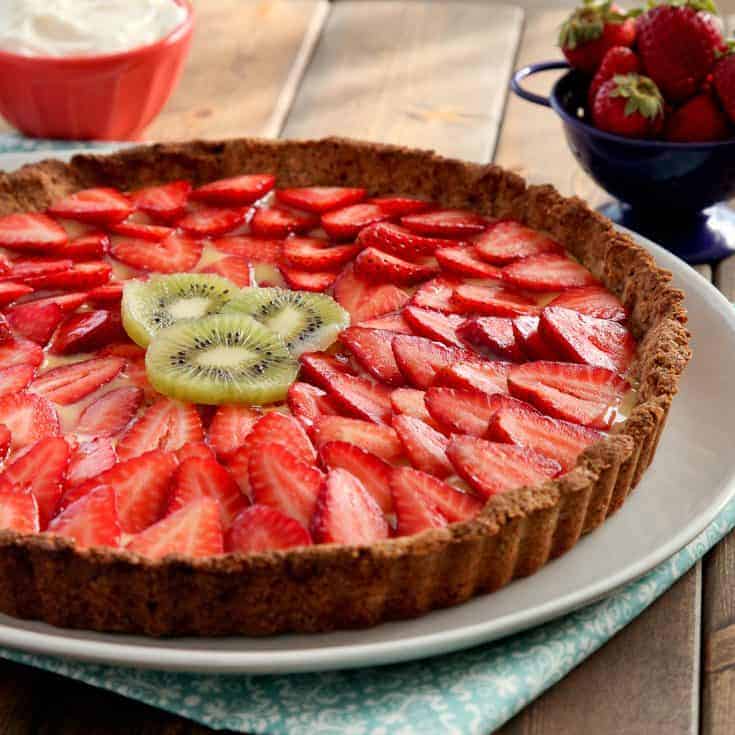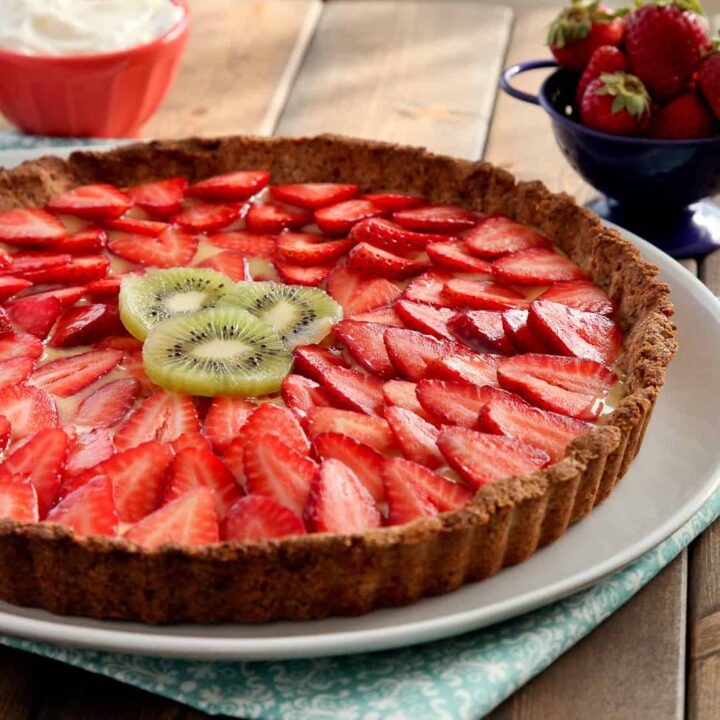 Strawberry lemon curd tart with gluten-free almond crust
Ingredients
Lemon curd
1 tablespoon lemon zest
½ cup lemon juice
1 egg
2 egg yolks
½ cup sugar
2 tablespoons butter, cut into 4 pieces.
Almond tart crust
2½ cups almond flour
2½ tablespoons sugar
A pinch of salt
5 tablespoons of unsalted butter, chilled and cubed
1 large egg white
The rest
2 cups strawberries, sliced
1 kiwi (optional)
1 cup greek yogurt
⅓-½ cup powdered sugar (depending on how sweet you prefer it)
¼ teaspoon vanilla
Instructions
Lemon curd
Prepare a double broiler, or fit a heat proof bowl over a large pot filled with an inch of simmering water.
In the heat proof bowl combine the lemon zest, lemon juice, egg, egg yolks, and sugar.
Cook, whisking CONTINUOUSLY (so you don't wind up with sweetened scrambled eggs), until mixture thickens enough to cover the back of a spoon.
Remove bowl from heat, and add butter, stirring to combine.
Strain curd through a fine metal strainer to remove any (almost undetectable) pieces of cooked egg.
Cover with plastic wrap, so that it touches the top of the curd to keep it from developing a skin.
Refrigerate until chilled (or freeze if you're impatient like me).
Almond tart crust
In the bowl of a food processor, combine all the ingredients. Pulse until the dough resembles coarse meal.
Remove from the food processor and use your hands to form a dough.
Press evenly into the bottom and sides of a greased 11" tart pan.
Place in the freezer while you preheat the oven to 400ºF.
Bake on the middle rack for about 15-20 minutes, until it is light brown (do not over bake or the almonds will taste bitter).
Let cool before filling.
The rest
When the crust has cooled, spread the lemon curd over the crust evenly.
Lay the strawberries and kiwi slices over the lemon curd.
Mix together the greek yogurt, powdered sugar, and vanilla.
Slice and serve the tart with a large spoonful of the sweetened greek yogurt on top.