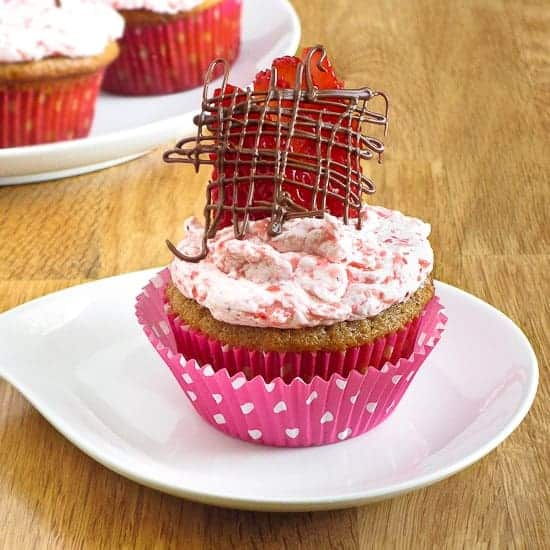 Pink treats are required when a new baby girl is about to grace us with her presence. Nine months pregnant and about to burst, my classmate Hee-jeong is a glowing mama-to-be. Her friends gathered outside on this anomalous sunny 65-degree afternoon to shower her with all things baby and pink (and yellow...and blue...and green...just to mix things up). Such an occasion calls for rose-hued desserts and cheesy games, and I had a hand in both.
Second only to sugary sweets, the games are one of my favorite parts of baby showers. Hillary joked that I was born to be an elementary school teacher with my overly enthusiastic love of silly activities. After a nail-biting "episode" of The Price is Right Baby Edition, everyone huddled around a photo board for a perplexing round of Name that Baby. The crowd groaned that all infants look the same, and the answer sheets revealed that the photo of me at 2 months looked most like Justin Bieber. Hmmm...
We washed down a healthy potluck lunch with these unbelievably delicious strawberry cupcakes. It's actually quite a miracle that the cupcakes were baked and frosted in time for the event. I swooped up my friend Danielle from the BART station at 9:30am, and we were loaded in the car with two dozen cupcakes three hours later. I'm sure you're thinking, "three hours? that's plenty of time!" It's surprising how much time gets eaten up when you have to add grocery shopping at two stores, intermittent dishes to make more counter space, an oven that can only hold 12 cupcakes at a time, party-game planning, photographing the finished product*, and two incredibly mischievous kitties to the process. Danielle and I paired up for this project, sharing a mutual love of baking; she's always got something tasty coming out of her oven to share with our research group. And, like me, she does it all in pint-sized kitchen.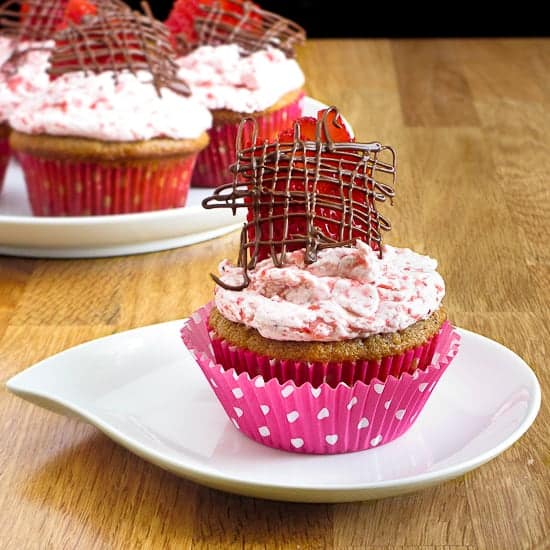 Naturally, we decided on something pink for this girly affair, but neither of us wanted artificial dye to get the hue. At $1.98 a clam, strawberries are a steal right now and make a perfect organic food coloring substitute. The recipe came highly recommended by its reviews and lived up to our expectations. The cake was fluffy and moist, with a distinct strawberry flavor. The buttercream frosting bursted with strawberry sweetness that stood out despite the loads of butter folded into the mix. I fully intended to pipe out chocolate baby-themed toppers (ABC, diaper pin, rubber ducky), but my shaky hands had other plans. My first attempt looked a little (okay, a lot) like a baby had scribbled something illegible and I quickly abandoned that idea for a simpler criss-cross pattern. Together in one bite, the confection tasted like a strawberry smoothie with a chocolate note on top. As a true taste-test, the 16 guests devoured all two dozen cupcakes despite an impressive spread of other desserts.
*Time permitted only a small handful of quick snapshots, but you get the idea...
Strawberries Wild Cupcakes
Makes 2 dozen
Strawberry Cupcakes (Adapted from Spinkles' Cupcakes)
3 cups all-purpose flour
2 teaspoons baking powder
1 teaspoon baking soda
½ teaspoon salt
1-⅓ cup fresh strawberry purée (About 3 cups whole strawberries)
½ cup whole milk, room temperature
2 teaspoons pure vanilla extract
1 cup unsalted butter, room temperature (or softened slightly in the microwave for 10 seconds)
2 cups sugar
2 large eggs, room temperature
4 large egg whites, room temperature
Preheat oven to 350ºF.
In a medium bowl, whisk together flour, baking powder, baking soda, and salt. Set aside.
In another bowl, combine the strawberry purée, milk and vanilla. Set aside.
In the bowl of a stand mixer, cream the butter with the paddle attachment over medium-high speed until light and fluffy. Add the sugar in three parts and combine until fluffy.
Add the eggs and egg whites, and blend until just combined. Do not over mix.
Slowly add half of the flour mixture, in parts, beating until just combined.
Add the strawberry purée mix, and combine.
Add the remaining flour mixture, in parts, until just combined.
Split the batter among two dozen lined cupcake trays, filling ⅔ the way full (they WILL rise, quite a bit).
Bake for 20-24 minutes, until a toothpick stuck in the middle, comes out with just a few crumbs.
Let cool before frosting.
Once cool, pipe strawberry buttercream frosting (recipe below) onto each cupcake.
Optional: top with a fan-sliced strawberry and chocolate decoration (instructions below).
Strawberry Buttercream (Adapted from Martha Stewart)
3 large egg whites, room temperature
¾ cup plus 2 tablespoons granulated sugar
1 cup of butter, plus 2 tablespoons unsalted butter, room temperature and cut into pieces
¾ cup fresh strawberry purée (about 1½ cups whole strawberries)
In a heatproof bowl of a stand mixer, combine egg whites and sugar. Place bowl over a pot of simmering water, and cook, whisking constantly, until the sugar is melted and a candy thermometer reads 160ºF.
Transfer the bowl to the mixer, and whisk on medium speed for 5 minutes. Increase the speed to medium high, and whisk for another 4-5 minutes, until stiff peaks hold.
Add the butter, a few pieces at a time, mixing well with medium speed.
With the paddle attachment, add the strawberry purée mix just to combine.
Once cupcakes have cooled, pipe frosting onto each one.
Chocolate Decorations
½ cup milk chocolate morsels
Melt the chocolate morsels in the microwave on low heat.
Transfer chocolate to a Ziploc plastic bag fitted with a tiny piping tip.
Pipe shapes onto wax paper covered cutting board.
Refrigerate until hardened.
Top cupcakes just before serving (if left out, the chocolate will melt again, making it hard to peel up from the wax paper).