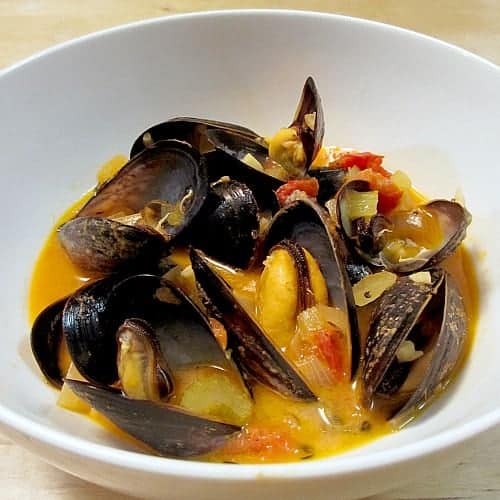 I've said it before and I'll say it again, I seriously don't know where people who don't have a seafood market down the street get fresh fish. We treat ourselves to mussels or clams at least twice a month, but I wouldn't know where to buy them if Monterey Fish ever packed up Flounder and left. Lucas got seafood forks in his stocking this year (I told you, it's the year of the kitchen), so we had to make mussels to test them out. Usually we steam the mussels with some beer, butter, onions, and garlic, but this time we decided to be fancy and try something with a few more components. The verdict? These mussels were full of flavor, but next time we'd eliminate the overpowering mustard from the list of ingredients.
Steamed mussels in lager and brown butter with vegetables (Adapted from Gourmet)
¼ cup unsalted butter
1 medium onion, chopped
2 celery ribs, diced
1 cup canned diced tomatoes, drained
3 garlic cloves, finely chopped
1 teaspoon fresh thyme, chopped
1 bay leaf
½ teaspoon kosher salt
¼ teaspoon freshly ground black pepper
2 cups or 16 oz. lager  (do not measure foam)
2 pounds of mussels, scrubbed well and beards removed
1 tablespoon Dijon mustard (optional - I recommend eliminating this ingredient)
2 tablespoons heavy cream
¼ cup chopped fresh flat-leaf parsley (optional - parsley often reminds me of cilantro, so I leave it off when it's added as a garnish)
Brown butter in 5 quart pot over medium high heat until foam subsides. Add onion, celery, tomatoes, garlic, thyme, bay leaf, salt, and pepper, stirring occasionally, until vegetables are tender.
Add beer and bring to boil. Add mussels and steam, covered, stirring occasionally, until mussels open, about 5 minutes. Transfer mussels to bowl as they open, and discard any mussels that remain unopened. Remove pot from heat.
Mix mustard (optional) and cream in a bowl, and add, along with parsley (optional) to hot broth and whisk until combined. Discard bay leaf.
Pour sauce over mussels and serve with toasted bread for dipping.