I once was observing a math teacher who said, "I'm going to give you the answer for free...and I want you to go back and figure out how to get it." When I say once was observing I mean I've watched this tape 100 times since it's part of my dissertation data. It's like those movies that tell the big grand ending of the story first, then go back to the beginning and fill in the details. Let's try that today. Only I'm only gonna give you the ending now and you'll get the beginning and middle parts later. Stories can't always happen chronologically, especially since you're just getting to know me - we've gotta start somewhere. Soon on Snixy Kitchen, I'll gush all about the wedding and honeymoon, but today we start at the end to tell you the inspiration behind these Valentine's Day pink sprinkles (spoiler alert: we got married and honeymooned. And Rachel and her husband Brent took our photos! I bet she'll confirm how blistering hot it was in Chico that day in June).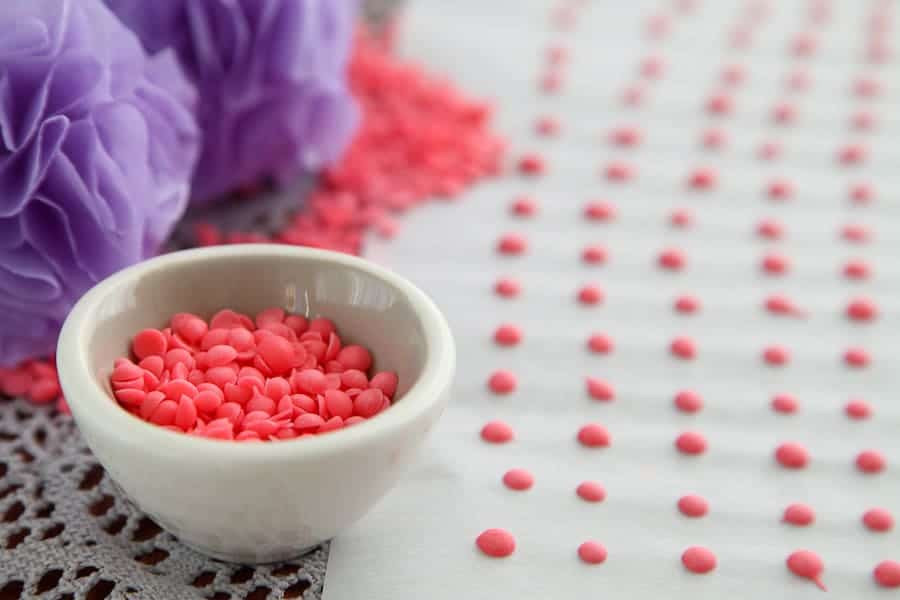 My husband and I stood in the Narita Airport in Tokyo getting ready to bid adieu after a 17 day honeymoon in Japan and Taiwan, when our new Japanese friend popped by with her two little boys to give us a parting gift. They'd just taken the train the hour to the airport to bring us the ingredients from our favorite dishes she'd made a few days before. Seriously. She'd gone to the grocery store and picked up all the things that I "oooed" and "ahhed" to while dining at her home. Talk about sweetest person ever. Back in California, we started putting together a box of American treats, ingredients, and goodies to send as a thank you back to them. Namely, we bought a box. Then we sat for a long time trying to figure out what "American treats" meant - we shop at Tokyo Fish Market and my favorite candy is from Japan. We eat a lot of mochi, tofu, and rice. Stumped, I patrolled the aisles of the supermarket searching high and low for things I definitely didn't see in Japan. Sprinkles, guys. SPRINKLES. I like to think nothing says "America!" like colorful dots of sugar that make normal boring food SO EXCITING. Among the Rudy's Rub, Ghirardelli Chocolate, and Blue Diamond Almonds, I nestled in a canister of sprinkles to ship overseas.
So I got to thinking, what are sprinkles and how hard can they really be to make? Custom themed colors and flavors, anyone? With Valentine's Day around the corner, I'm totally all about pink and hearts when it comes to food and baking. Is making sprinkles really called "baking" if I don't use the oven? It's not "cooking," so what is it? To bring the Valentine's Day experience back to elementary school, my mom came for a visit and we spent an ENTIRE day with aprons in the kitchen making pink after pink sweet. Making homemade Valentines to gift to the neighbor kids. So many sweets that I had to brush my teeth before dinner.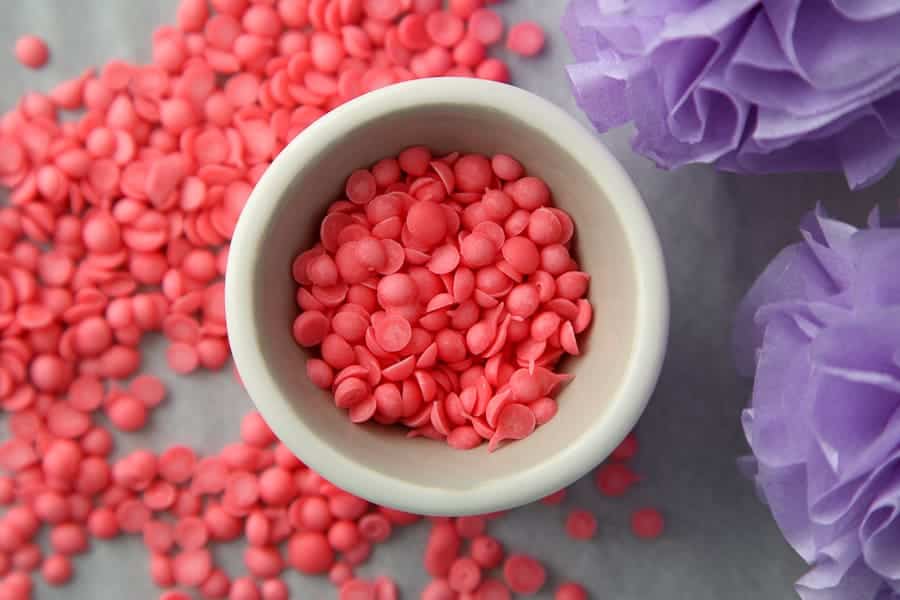 Tip from experience: gel food dye is UBER concentrated, and if you think ⅛ teaspoon is hardly any, you're mistaken and you'll wind up with raspberry lollipops that glow neon and turn your entire mouth hot pink for two days. And if your cat happens to pick up a tiny piece of meringue off the floor, she will also possibly most definitely dye her water bowl pink too. Cats are festive too! For these teeny tiny sprinkles, I was too afraid of my earlier dye mistake...ahem...lesson...and stuck to your everyday food coloring. I'm calling these "pink velvet" sprinkles because they've got the flavor of their red velvet sibling, without the flood of food coloring that goes along with that label. A few drops + chocolate flavor = pink velvet.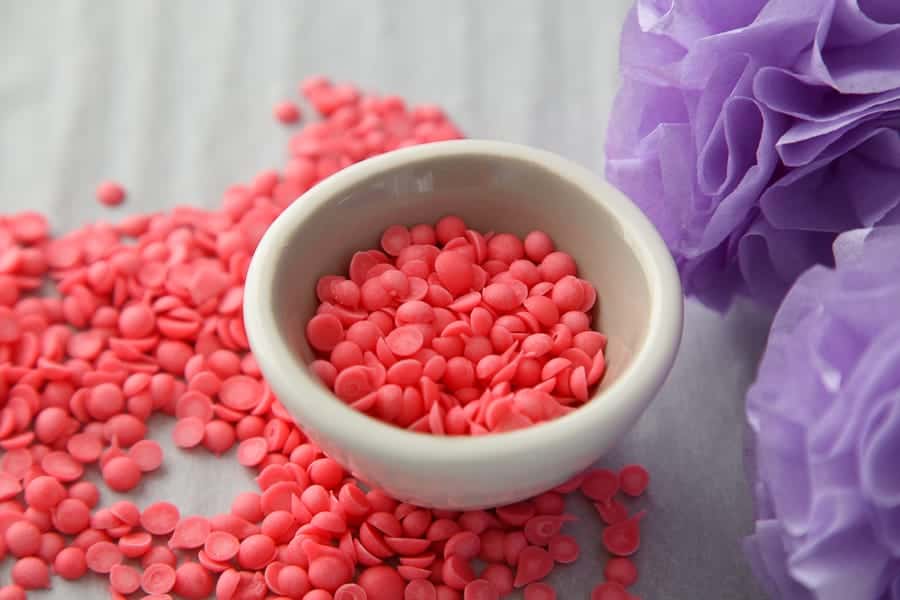 Making sprinkles is a super simple kid-friendly kitchen activity to bring a little Valentine's Day love into the house. If you can ice sugar cookies for Christmas, you can do this. You can't mess this up. Unless, like me, you try to get a little too fancy by making specific shapes (like, say, hearts) that turn out like blobs...shapes are beyond my piping skill level. Fortunately blobs taste just as sweet and sugary. To make it even easier, feel free to forgo the dots and just pipe thin lines with the icing tips - you can break up into itty-bitty pieces when you remove them from the parchment paper after they've dried. Looking for the perfect homemade Valentine to give your someone special? Wrap a handful up in tiny treat bags with homemade labels - "you are the sprinkles on my ice cream." I mean it, you are.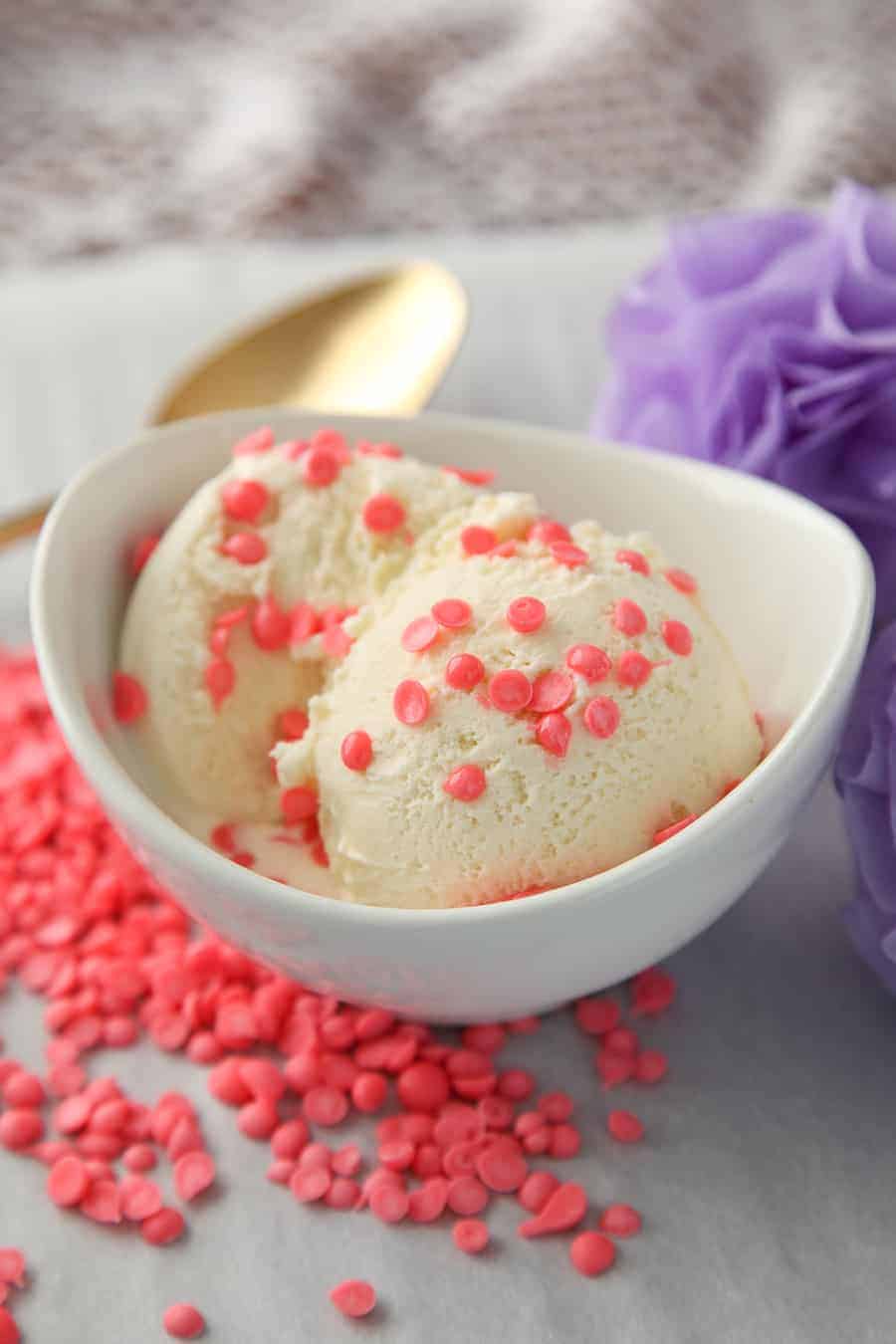 Homemade pink velvet sprinkles by Snixy Kitchen
Makes about ½ cup of sprinkles
1 cup plus 2 tablespoons powdered sugar
1 tablespoon milk
1 tablespoon light corn syrup
1 to 2 drops of red food coloring (or any color of your choice)
¼ teaspoon chocolate extract (or any extract of your choice! Raspberry sprinkles? Lemon sprinkles? PEPPERMINT sprinkles?!)
Mix all the ingredients together in a bowl. The texture should be thick like buttercream or cream cheese frosting. If it's too thick, add a drop more milk; if it's too thin, add a bit more powdered sugar.
Scoop the thick icing into a pastry bag fitted with a small round tip (I used a Ziploc bag with a small hole cut for the tip because I don't have pastry bags).
On a parchment-lined baking sheet, cutting board, or other large surface that you don't need to use for a few hours, pipe small dots of icing. Alternatively, pipe thin lines back and forth. Let dry for 5-6 hours, or until completely dry. When you go to remove them, they should just pop right off the paper when tapped. If they're still soft, let them sit a bit longer.
Serve on top of ice cream!