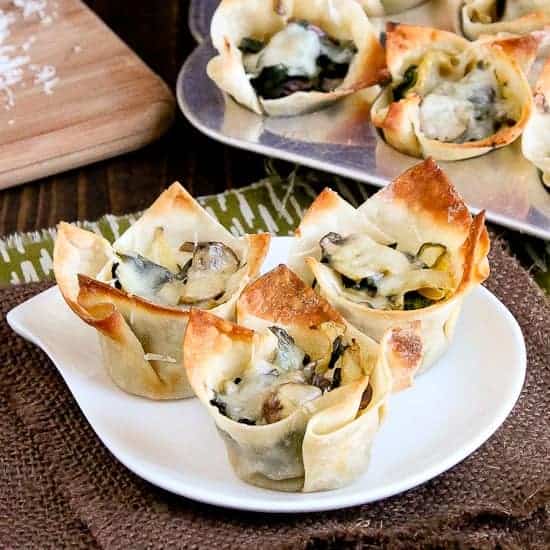 Bite-sized party food makes me giddy. Itty-bitty cute packages of flavor that cause you to say "awww...adorbs" before digging in. The best part of fork-free party bites is that you can sample a bunch of different items from the spread without committing to giant portions...or ...you can devour 20 of your favorite item without noticing just how much you've eaten. The latter was the fate of these lasagna bites. Even though I didn't make them for a fancy soiree, a trip to China yesterday marked the first day of Lucas's new job at Incase, which is definitely cause for celebration! And reason enough to scarf down a couple (dozen) of these addicting bite-sized spinach artichoke lasagna cups.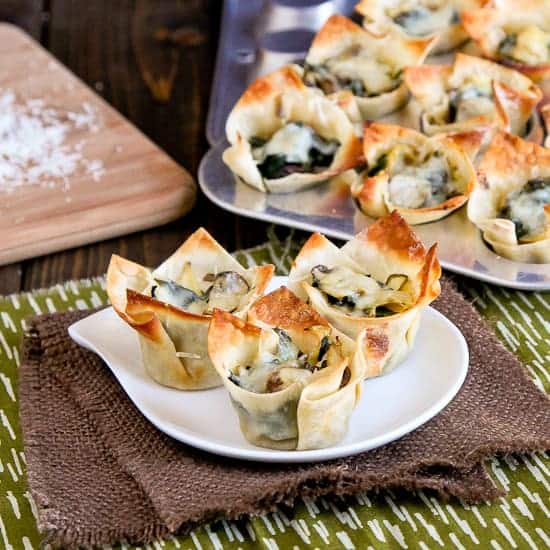 SO addicting that I actually had to make them twice in one week . We may have accidentally gobbled up the first batch of lasagna bites before I got a chance to photograph them. We couldn't resist. Each bite wraps up so many of our favorite foods into one: lasagna, mushrooms, artichokes, parmesan cheese. And now I'm hungry. They were so tasty that it would be wrong to keep them from you, so two days later I baked them again. I got smarter the second time though and doubled the recipe to guarantee leftovers. I brought a dozen of them to share with a classmate at our meeting the next day, and they disappeared so fast that I actually haven't a clue if we split them or if I hogged them all.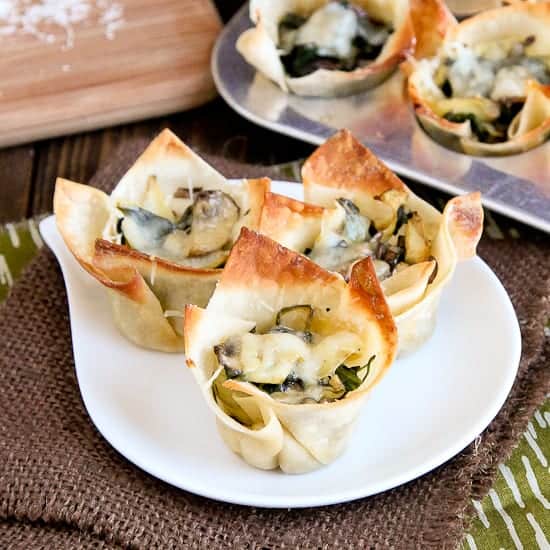 What's so special about these wonton-filled cups? They taste like a crunchy tortilla chip dunked into warm spinach artichoke dip, but without the fattening cream cheese, sour cream, and mayonnaise. A guilt-free and, dare I say, healthy way to enjoy your favorite party appetizer for dinner. Each layer plays a pivotal role in the overall experience: crispy wonton skins, perfectly seasoned chicken, creamy nutmeg béchamel, garlicy spinach, artichoke, and mushroom medley, all topped with melted parmesan cheese. Want it vegetarian? Take out the chicken. Or, if spinach and artichokes aren't your thing, fill the wonton cups with anything your heart desires - that's the beauty of this recipe!
These mini lasagna bites will surely be a hit at my next party, but until then, I'm perfectly happy eating them for dinner any ol' night of the week. Come to think of it, I've got a boatload of leftover baked chicken in my fridge that might just make its way into lasagna cups with in the next hour.
Spinach artichoke lasagna cups
Makes 36 mini lasagna bites (serves 4)
2 boneless chicken thighs
Béchamel sauce (recipe below)
1 teaspoon olive oil
3 cloves garlic, minced
½ a pound of spinach
½ a pound of cremini mushrooms, chopped
½ teaspoon dried thyme
Salt and pepper, to taste
½ can quartered artichoke hearts, ripped apart
Olive oil spray
1 cup fresh parmesan cheese, grated
36 wonton skins
Preheat the oven to 400ºF.
Lay chicken on a parchment-lined baking sheet. Sprinkle salt, pepper, and a little bit of olive oil over the chicken thighs.
Bake for about 20 minutes, or until a meat thermometer inserted into the thickest part reads 165ºF. Let cool then rip it into pieces with a fork.
Reduce heat to 375ºF.
Spray three mini muffin tins with olive oil cooking spray. Press one wonton skin into each muffin cup. Set aside.
Heat olive oil in a large skillet or pot. Add minced garlic and cook for a couple of minutes to release the flavors.
Add the mushrooms and cook for a minute or two until the mushrooms begin to sweat.
Add the spinach and thyme. Cook until the spinach has wilted and the mushrooms are cooked through.
Add the artichoke hearts and cook just until heated. Season with salt and pepper, to taste.
Divide the chicken among the muffin cups.
Layer a teaspoon of béchamel then a spoonful of the spinach mixture on top of the chicken in each cup.
Sprinkle about a teaspoon of parmesan cheese on top of each bite.
Bake for 10-15 minutes, until the cheese melts and the wonton skins are golden brown.
Béchamel sauce
2 tablespoons unsalted butter
4 teaspoons flour
1 cup milk
¾ teaspoon salt
¼ teaspoon nutmeg
Melt butter in medium or large pan over medium heat. Add flour and whisk until smooth. Continue cooking, whisking, until golden brown, about 6 minutes.
Meanwhile, heat the milk in saucepan until just about to boil.
Add milk to butter and flour mixture in three parts, whisking continuously until very smooth.
Bring to a boil. Continue cooking for 30 seconds longer. Remove from the heat and add salt and nutmeg.