Last updated on November 7th, 2014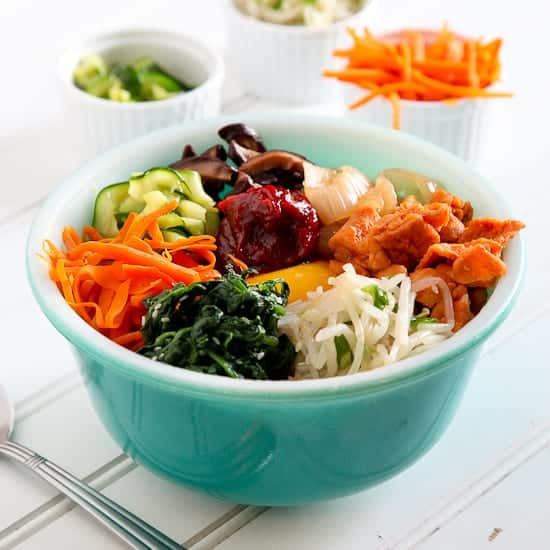 For months, I've been chatting with my friend Hee-jeong about getting together to make Korean food. I'm not sure where time went, but meanwhile, she had a beautiful baby girl and has moved back to Korea. Hee-jeong's been offering to cook with me for the past 3 years and I missed my prime opportunity to learn all about Korean food from her! So when I woke up one day feeling inspired to make bibimbap for my friend Angi, I sent Hee-jeong an e-mail and crossed my fingers, knowing that the time difference made it unlikely that she'd respond before I needed to start cooking.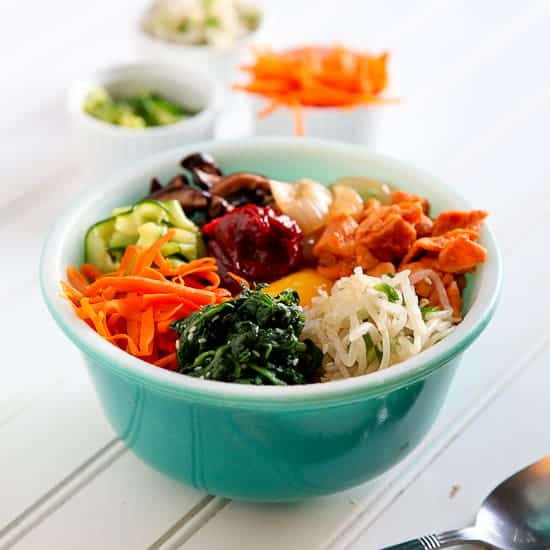 Let me pause to say that I've really only eaten Korean food two times in my life: once when Hee-jeong cooked for me and again when we had a Korean restaurant cater a research group meeting. Yet somehow I planned to make it…and I wanted it to taste authentic. So I went ahead and chose a dish I'd never tried just to keep things interesting. So what if I picked bibimbap for the attractive colors with no idea how it should taste?! It's a good thing Hee-jeong woke up early that day and sent me her bibimbap wisdom first thing or who knows what I would have concocted.
In the meantime, I scoured the internet to discover that, while bibimbap is one of the more common dishes served at Korean restaurants in the US, it's actually not a dish Koreans typically intentionally set out to create from scratch. In fact, it's most often served as a way to use up leftovers at the end of the week. The result just happens to be quite tasty in its own right. That information explains why this dish requires so many pieces and steps; if it were meant as the final product, couldn't you just sauté all of the ingredients together rather than neatly arranging them in separate piles in a bowl? As much as I'm a sucker for beautiful food, it's a time-consuming process for the visual appeal if you don't already have the leftovers. I mean, imagine making stir fry by cooking each vegetable separately before combining them to eat. Well that's what I did because I'm stubborn and I wanted the effect of the separate colors before mixing it up. Just look how gorgeous it looks in my late Great Grandma Ramonda's turquoise bowl (recently handed down to me from my mom)!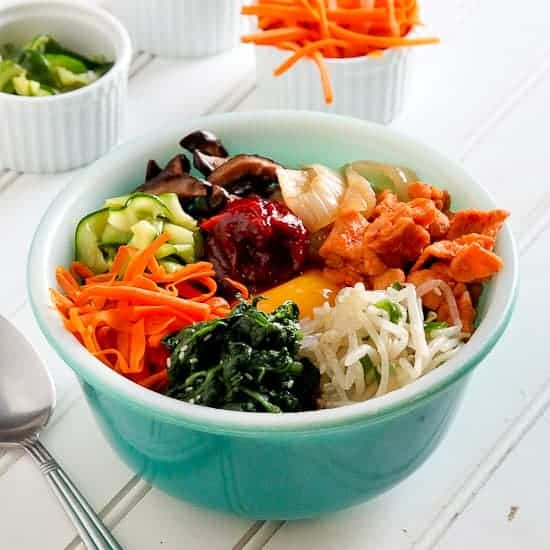 I'm a weakling against the powers of spicy food, but this bibimbap was so delicious that I didn't even care that my eyes and nose were watering. Most bibimbap recipes call for beef (and that was Hee-jeong's suggestion too), but since Angi specifically requested pork, I took some creative liberties. Even though I ate more than an appropriately sized serving, I couldn't tell you whether my blind cooking experiment actually tasted like bibimbap should. Lucas and Angi's Korean food tasting experience confirmed that it tasted like bibimbap. And not just any ol' bibimbap, but spicy, textured, and nom-worthy bibimbap with layers of different flavors (as evidenced by Lucas shoveling multiple bowls into his mouth). It's been decided that I desperately need a mandoline so I can repeat this dish without the hassle of finely cutting every vegetable.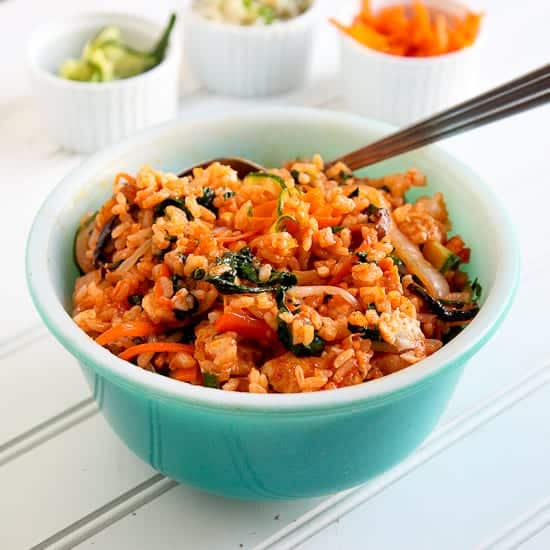 Spicy pork bibimbap (adapted from Kitchen Wench)
Serves 6
Assembly
6 tablespoons gochujjang
6 large eggs
2 cups white rice, cooked.
Olive oil spray or PAM
Rest of the ingredients listed below
Begin by preparing all of your vegetables by slicing and chopping according to the instructions below. This step will make sure that your ingredients stay warm as you cook and set them aside.
Cook all the vegetables and the pork according to the instructions that follow. The order below is my suggestion for keeping the separate vegetables warm as you go.
After cooking all the vegetables and pork, spray the same skillet with a bit of olive oil or PAM cooking spray. Heat the skillet over medium high heat.
Crack 1 or 2 eggs into the skillet at a time and cook them over-easy, until they reach desired doneness. Transfer to a plate and cover while you repeat with the rest of the eggs.
Divide the rice among the 6 bowls. Place one over-easy egg on top of each bowl. Arrange the vegetables and meat around the egg (as shown in the picture above).
Place a spoonful of gochujjang on top of each bowl and serve.
Sesame garlic bean sprouts
2½ cups bean sprouts
1 clove garlic, minced
5 scallions, thinly sliced
1 teaspoon sesame seeds
½ teaspoon sesame oil
Bring a medium pot of water to boil. Add the bean sprouts and blanch for about 2 minutes.
Drain the sprouts well. Transfer to a bowl and mix with minced garlic, scallions, sesame seeds and sesame oil. Cover and set aside.
Sesame sautéed spinach
6 cups raw spinach, stems removed, if necessary
1 teaspoon sesame seeds
1 teaspoon sesame oil
Heat a large skillet or wok over medium high heat.
Add the spinach and cook until just wilted.
Transfer to a colander and rinse a couple of times with cool water, until the water is clear.
Drain well and ring dry, being careful not to totally mush up the spinach.
Transfer to a bowl. Add the sesame oil and sesame seeds. Cover and set aside.
Soy sautéed onions
1½ medium yellow onions, sliced, then cut in half.
½ tablespoon soy sauce
1 teaspoon olive oil
Heat the olive oil in the same skillet over medium high heat.
Add the onions and soy sauce and sauté until the onions are translucent.
Transfer to a bowl and cover. Set aside.
Sautéed carrot strips
2 medium carrots, cut into matchstick sized pieces (or julienned)
1 teaspoon olive oil
¼ teaspoon salt
Heat olive oil in the same skillet over medium high heat.
Add the carrot slivers and salt. Sauté until the carrots begin to brown but do not get too soft, about 3 minutes.
Transfer to a bowl and cover. Set aside.
Garlic zucchini strips
2 medium zucchini, cut into thin strips (see step 1 and 2 below for prepping the zucchini)
1 tablespoons fish sauce
1 clove garlic, minced
¼ teaspoon salt
1 teaspoon olive oil
Use a potato peeler or a mandoline slicer to cut the zucchini into long thin strips. Cut each strip in half width-wise and again lengthwise until you have thin strips that are about ½ and inch wide by 3-4 inches long.
Soak the zucchini strips in the fish sauce for about 10 minutes. After soaking, thoroughly drain the zucchini.
Heat the olive oil in the same skillet over medium high heat. Add the garlic and sauté for 1-2 minutes.
Add the zucchini and salt and cook for about 2 minutes, until just soft.
Transfer to a bowl. Cover and set aside.
Soy sesame shiitake mushrooms
About 20 medium shiitake mushrooms, sliced
1 tablespoon soy sauce
1 teaspoon sesame oil
Heat the sesame oil in the same skillet over medium high heat.
Add the mushroom slices and soy sauce. Sauté for 3-4 minutes, until the mushrooms are cooked through.
Transfer to a bowl. Cover and set aside.
Spicy pork
½ to 2/3 lb thinly sliced pork (I used shabu shabu pork), cut into bite-sized pieces (see step 1 below for prepping the pork)
1 tablespoon gochujjang
2 teaspoons sugar
1 tablespoon water
Whisk together the gochujjang, sugar, and water in a medium bowl until combined. Add the pork and marinate while you cook the rest of the vegetables.
Heat the same skillet over medium high heat.
Add the pork and marinade. Sauté until cooked through.
Transfer to a bowl. Cover and set aside while you cook the eggs.