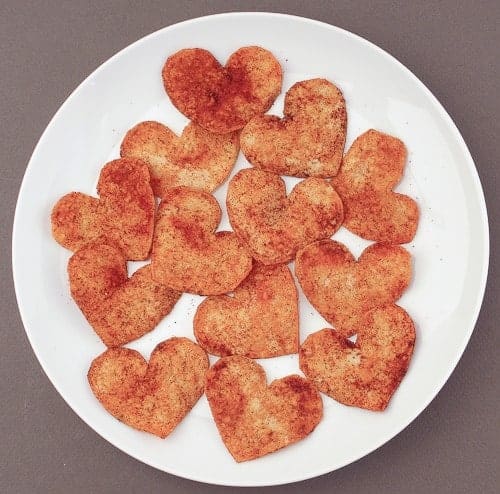 I don't really care to celebrate Valentine's Day, but I'm all about having a reason to make food - especially adorable themed food (anyone who has spent Halloween with me knows that I'm talking about). As far as I'm concerned, the next week should be dedicated to all food shaped like hearts and colored in red, pink, or purple. I realize that's not practical for getting proper nutrition, but it's a whimsical thought. I vaguely recall my doctor once saying that I needed to eat something of every color each day. Is that a thing? If so, I'm all set because I love skittles and sour patch kids.
Well, anyways, it was leftover tortilla soup night and I was out of the fresh tortilla strips that give the soup its name. Since I didn't have to do any cooking tonight, I decided to get creative with my chips in honor of all things hearts and rosy. These spicy hearts add just a bit of flavor to your traditional chip and are guaranteed to make you smile. I hand-cut the hearts with a paper stencil (symmetrically made in true elementary school style by folding a piece of paper in half), which took about 20 minutes (BUT SO WORTH IT! I mean, look at them!). It would have taken me a lot less time if I'd had the right cookie cutter, but alas, a spicy hippopotamus shaped tortilla chip doesn't really scream "Valentine's Day." (A hippo is much more suitable for fall gingerbread cookies...). Even my oven was delighted by these little bites, rising 150ºF hotter than its set temperature as soon as it saw them. The recipe is basically the same as the strips I made for the soup, but with paprika and shapes.
In the future, I might add a little less paprika, as it's quite strong (and a little dry?)...and maybe even add a pinch of cayenne to give it a tiny kick. Come to think of it, next time I'll make a spice rub with salt, paprika, and cayenne - that sounds delicious. Tonight, my friend took a bite of one totally expecting it to be a BBQ chip and was caught off-guard...which made me think, "Oh! Heart-shaped BBQ chips! What a brilliant idea!" There's always next time...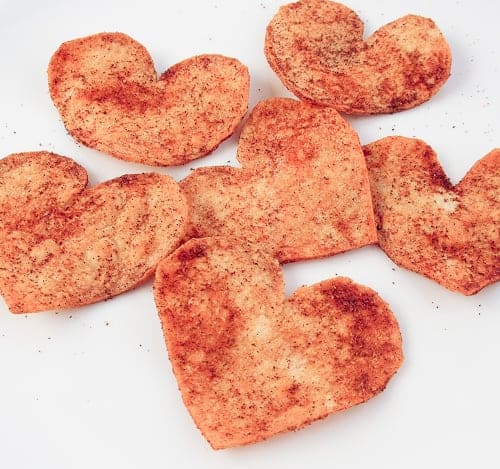 Spicy heart paprika tortilla chips
Corn tortillas (as many as you like)
Cooking spray (I used Pam because I ran out of olive oil spray)
Paprika, to taste
Salt, to taste
Cayenne pepper, to taste (optional)
Preheat oven to 400ºF.
Spray both sides of tortillas lightly with cooking spray. Arrange four tortillas in a pile and, using a cookie cutter or a stencil and sharp paring knife, cut 1.5" hearts through the stack. Lay hearts out on a cookie sheet and sprinkle both sides with paprika (I tossed mine in a bowl, but if you do this, be careful that you don't break any hearts! hehe. But srsly, the tortillas are fragile). Make sure the hearts aren't overlapping.
Bake for 5-8 minutes until slightly curled up and lightly browned, watching carefully after 5 minutes, as tortillas burn quickly.
Serve day of (I discovered that if left out over night, they'll get stale...as with most chips).