Last updated on April 9th, 2014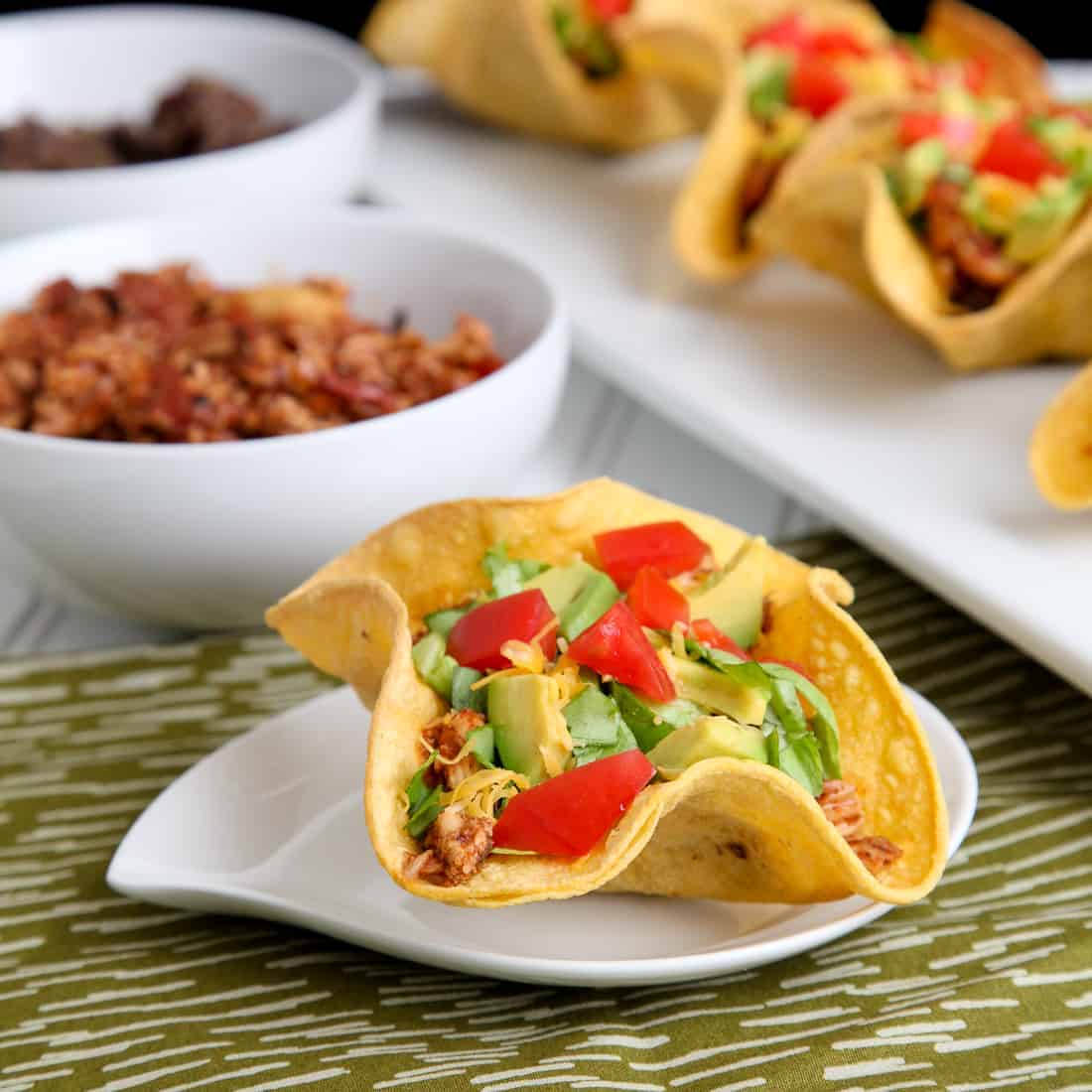 Chicken tacos on warm flour tortillas are one of our trusty go-to weeknight meals. It's comforting, it takes 10 minutes, and there are always leftovers. But sometimes, you crave something more than your everyday meal. You want to ramp it up a notch. These personal spicy black bean and chicken taco bowls step up the spice of your regular ol' taco recipe and take the presentation to a whole new level.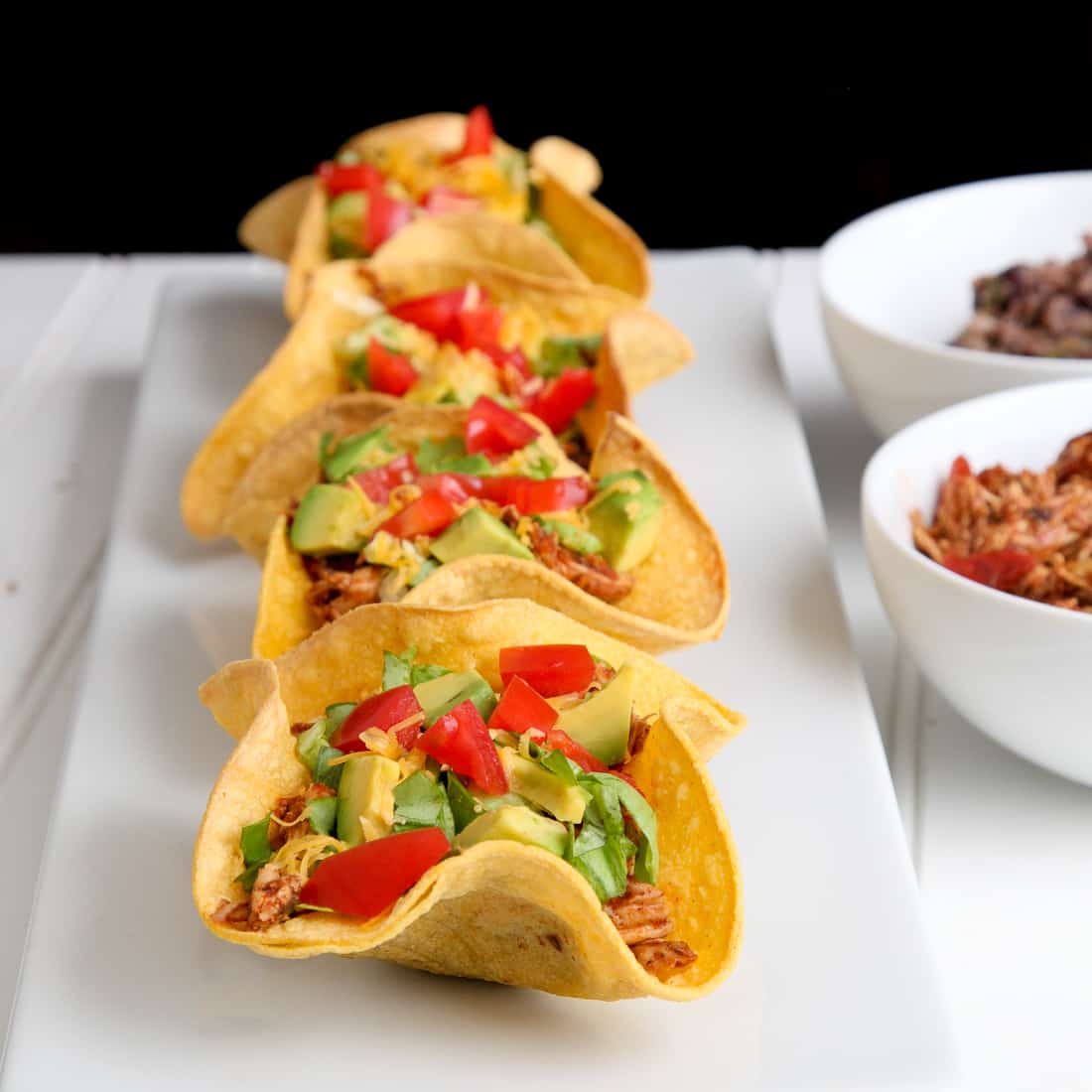 Even though I prefer flour, Lucas likes corn tortillas. I like cute food. So when I discovered instructions on how to bake personal-sized corn taco bowls using the bottom of a muffin tin, it sounded like the perfect compromise. I'll budge on my taste preferences if the food is served as adorable individual servings. And actually, I do like corn tortillas when they're baked into crispy chip-like texture. Nom nom nom.
Up until a month ago, I only owned one half-dozen muffin tin. Somehow, the other tin up and walked out of our miniature barely 1-bedroom apartment shortly after I moved in. This meant I could only bake two tortilla muffin cups at a time. At that rate, we'd have eaten around midnight. Luckily, my mom handed down my great grandma's antique 8-cup muffin tin along with her pretty blue bowl, speeding up the baking process. It's a gorgeous piece with its worn out finish and miniscule holes deteriorating on the bottom, but it makes me wonder who designed the 8-cup muffin tin? Most muffin recipes I've seen produce multiples of a dozen or of a half-dozen, which seems to make this vintage baking tray the hot dog bun package dilemma of the 1950s. My recipe only makes six muffins – I don't want those two extra cup holders!!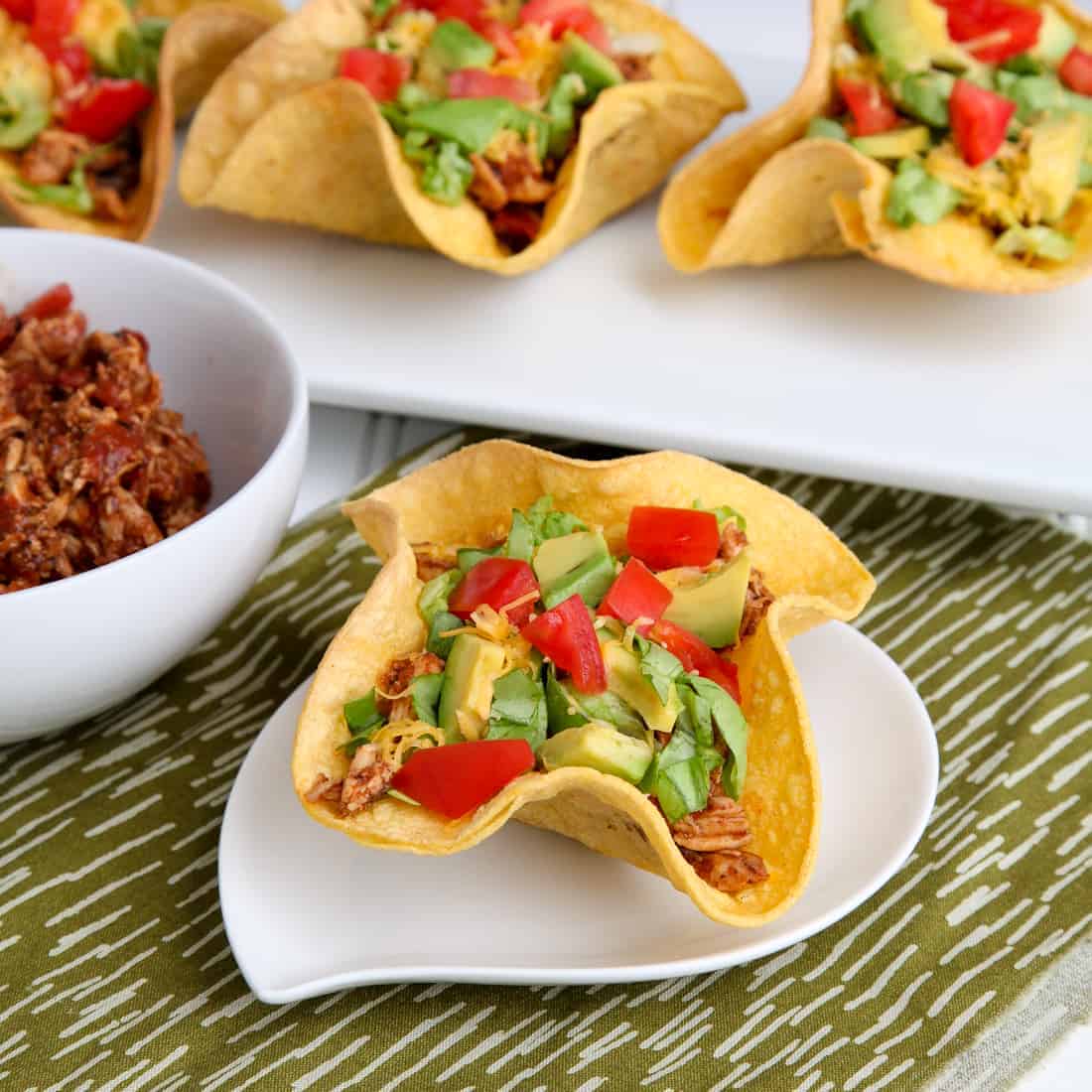 Luckily I was using the bottom-side for this recipe, so I didn't have to face that problem while making these savory fiesta bowls. Despite the prep requiring every inch of counter space and almost every pan in my pint-sized kitchen, these little taco bowls are totally worth it. They're filled with spicy dynamic flavors, and their miniature size makes them perfect for parties.
Spicy black bean and chicken taco bowls
Makes 12-15 bowls
Everything else (taco bowl recipe from Emily Bites)
12-15 corn tortillas
3 cups lettuce, chopped
2 tomatoes, chopped
1 cup cheddar cheese, shredded
2 avocados, chopped
Begin by making your taco bowls. Preheat the oven to 375ºF. Follow the directions here to make your taco bowls, using whatever size muffin tins you own. After baking, transfer them to a cooling rack to get crispy while you prepare the beans and chicken.
Turn the oven to broil. Prepare the shredded chicken according the instructions below.
Prepare the spicy black beans according to the instructions below.
Layer a spoonful of beans and a spoonful of chicken into each taco bowl. Top with a pinch of lettuce, tomatoes, cheddar cheese, and avocados. Repeat until you've used all of the filling.
Shredded chicken (seasoning adapted from The Yummy Life)
2 large boneless skinless chicken breasts
1 can fire roasted tomatoes
1 tablespoon chili powder
1 tablespoon corn starch
½ teaspoon salt
¼ teaspoon ground black pepper
½ teaspoon paprika
¼ teaspoon  onion powder
¼ teaspoon garlic powder
½ teaspoon dried oregano
½ teaspoon ground cumin
¼ teaspoon cayenne pepper
½ tablespoon unsweetened cocoa powder
With the oven on broil, cook the chicken for about 10-20 minutes, until a meat thermometer reads 160ºF.
Use a fork to shred the chicken.
In a medium saucepan, combine the chicken, roasted tomatoes and juices, and all the spices.
Cook until the liquid is absorbed.
Remove from heat and cover until ready to serve.
Spicy black beans (adapted from Keepin' it Kind)
½ teaspoon olive oil
3 large cloves garlic, minced
1 yellow onion, finely chopped
2 cans black beans
1 jalapeno
1 ancho chile
1 anaheim chile
2 cups cremini mushrooms, chopped
1 tomato, finely chopped
1/3 cup water
In a large skillet over medium heat, heat the olive oil.
Add the garlic and onion and sauté for a couple of minutes, until the onion is slightly translucent.
Add the black beans, jalapeno, chiles, mushrooms, and tomato, stirring to combine.
Add water and stir to combine.
Reduce the heat to medium-low.
Using a potato masher, mash the beans a little bit, leaving some chunks of beans. The texture should resemble thick refried beans.
Continue cooking the beans, stirring occasionally until the water is absorbed.
Remove from heat and cover until ready to serve.