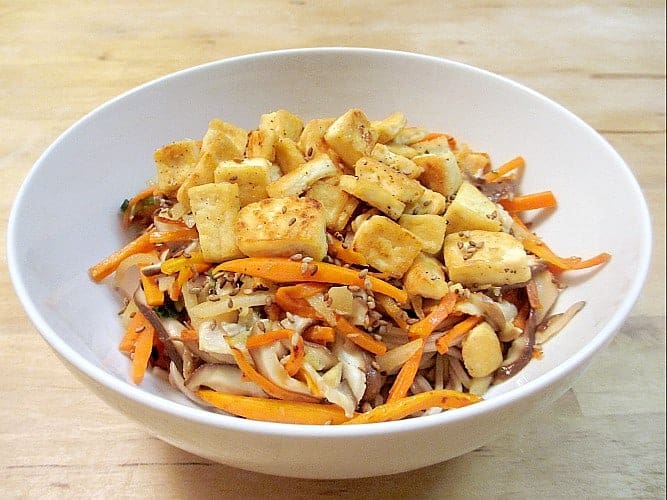 As I'm sure can already be deduced from my ravioli post, I love pasta. I have to consciously and creatively reduce it from our meal plans or we'd eat it seven nights a week. With about half the calories of regular egg noodles, soba noodles are a healthier alternative. This dish satisfies my pasta cravings without leaving me feeling guilty (and 50 pounds heavier).
The only thing that could increase this entrée's occurrence in the meal rotation is if I could figure out the secret to having all the ingredients pre-cut and arranged in colorful little bowls for me. Occasionally, I'll read a recipe and chop my vegetables as needed in the steps; this is not one of those recipes. Be sure you've got all your ingredients prepared before starting or you'll be stressed out and the food will get cold waiting for you. If you decide to eliminate any of the ingredients based on personal preference, don't let it be the pear - in my option, it's the glue that holds all the pieces of this dish together.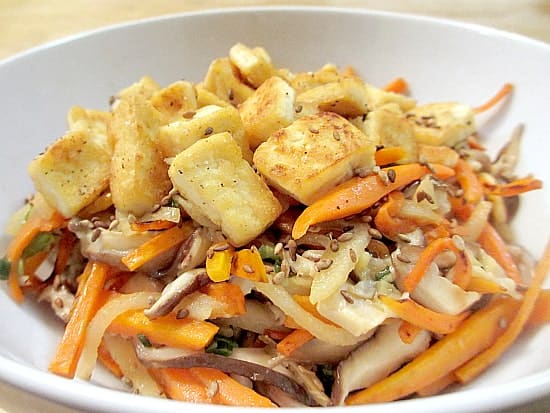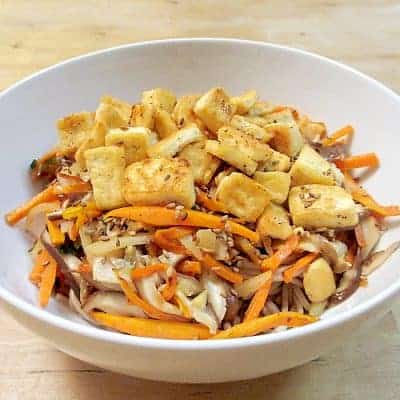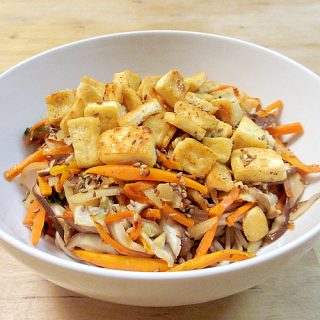 Soba noodles with crispy tofu
Ingredients
¼ to  ½ pound of  soba noodles (also called buckwheat noodles) (I used ½ pound because that's what the recipe called for. I recommend reducing this amount to ¼ pound)
1 Bosc pear, peeled and cut into slivers
3 tablespoons vegetable oil
½ pound firm tofu, rinsed, patted dry, and cut into bite-sized cubes
3 carrots, cut into slivers (I am not a giant fan of cooked carrots and found that cutting them thin made them unexpectedly delicious without overpowering the dish)
½ pound fresh shiitake mushrooms, stems removed and caps sliced thin
4 scallions, sliced thin
2 tablespoons fresh ginger, peeled and diced
2 teaspoons sesame oil
1 tablespoon soy sauce
2 tablespoons seasoned rice vinegar
¼ cup water
1 tablespoon sesame seeds, toasted lightly
Kosher salt and freshly ground pepper, to taste
Instructions
Bring salted water to boil for noodles.
In large skillet, heat 1 tablespoon of vegetable oil over medium high heat. Add tofu and brown, approximately 12 minutes (be careful when stirring the tofu to heat all sides - when raw, the tofu pieces fall apart with just the bump of a spatula). When browned, transfer tofu to paper towel to drain and season with salt and pepper.
Add carrots to skillet and sauté until tender and golden brown, about 8 minutes. Transfer carrots to bowl.
Heat the remaining 2 tablespoons of vegetable oil in skillet, and add mushrooms, scallions, ginger, and pear. Cook over medium heat, stirring constantly, until tender. Stir in carrots and remove skillet from heat.
Meanwhile, boil noodles according the package instructions, until al dente. Drain and rinse with cold water. Toss with 1 teaspoon of sesame oil.
Return skillet to moderate heat and add water, soy sauce, rice vinegar, and 1 teaspoon sesame oil. Simmer and cook, stirring constantly, until hot. Add noodles to skillet and cook, tossing until heated through. Season with salt and pepper, and serve warm with tofu and toasted sesame seeds.