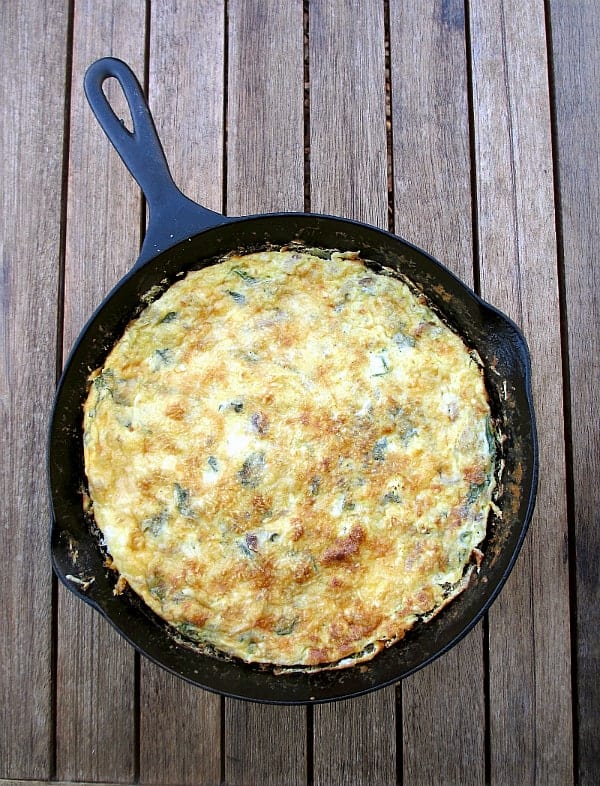 I'm not big on breakfast. In fact, whenever I'm out for brunch, I order off the lunch menu. Lucas, on the other hand, loves breakfast - it's the only way I can get him out of bed before noon on the weekend. It's a bit surprising, then, that I invited my mom's best friend (and my namesake) Sarah, and her daughter, Sofia, over for brunch today. I said I'd make a frittata, and to be honest, I really didn't know what a frittata was, except that it involved eggs. After some research (via google images), I decided it couldn't be that hard to make, and might actually be tasty if I filled it with all of my favorite ingredients. Plus, I always get pumped when I can bake in my cast-iron skillet. I was pleased with my first attempt at frittata making; I even ate leftovers for breakfast the next day!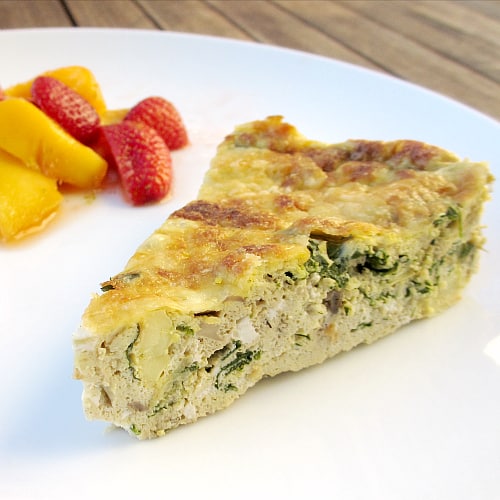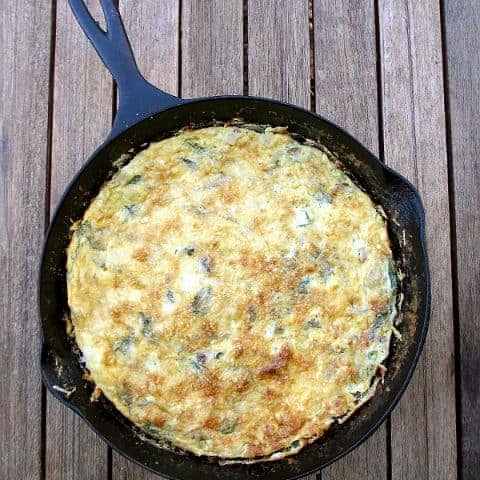 Artichoke Frittata
Quick and easy mushroom, artichoke, and arugula frittata baked in a cast-iron skillet.
Ingredients
12 eggs
1 tablespoon olive oil
3 tablespoons cream
1 shallot, chopped
1 ½ cups brown cremini mushrooms, thinly sliced
8 ounces of canned artichoke hearts, chopped
1 cup arugula
1 cup parmesan cheese, finely grated (or more, if you're a cheese lover like me)
Salt and pepper to taste
Instructions
Adjust oven rack so skillet will be about 5 inches from the top, and turn on the broiler.
Heat olive oil in 12" cast-iron skillet. Add shallot and sauté until almost tender.
Add mushrooms and sauté until almost cooked through.
Add artichoke hearts and arugula and cook until arugula sweats. Add salt and pepper to taste.
In large bowl, whisk eggs, cream, and ½ cup parmesan until smooth.
On medium heat, add eggs to vegetables and cook, scraping sides and bottom until cooked eggs are scattered throughout, but there are still wet in between (2-5 minutes). Stop scraping and continue cooking for another minute.
Sprinkle remaining parmesan on top.
Place skillet under broiler until top browns and eggs set. Watch carefully.
Remove from oven, and let sit for 5 minutes before slicing and serving.