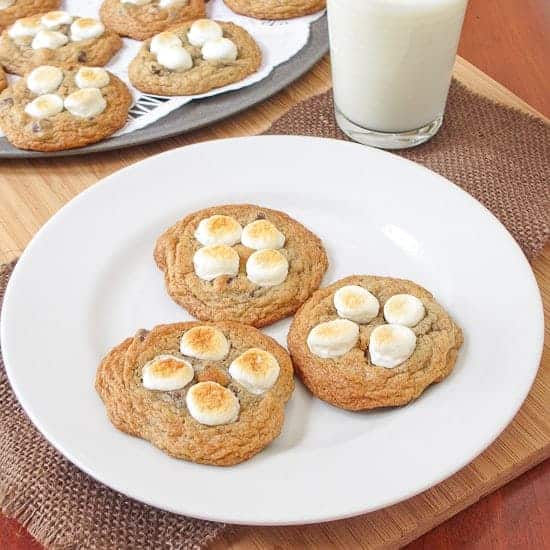 Day two of Productivity Week and I've already submitted my second qualifying paper with revisions! I should start this post with something about these amazing cookies, but I'm too excited celebrating checking one pretty hefty step off my list of PhD requirements. Only a few more hurdles (interspersed with many many more baked goods) until I'm faced with writing my dissertation. While editing my paper's framework and running statistical analyses, I managed to eat no less than five of these s'mores cookies. They are incredibly delicious, with their firm-on-the-outside, soft-on-the-inside texture and gooey toasted marshmallow topping. They'll make you forget you're writing a 75-page article on pedagogy and student engagement, because you'll be too busy dreaming of summer vacation.
These s'mores cookies are the second product of mother-daughter cooking weekend. My mom's chocolate chip cookies define my childhood. Even though I don't actually like chocolate, her recipe produces a cookie with the most perfect texture that it makes me forget about the chips. If I'm baking cookies for myself (don't judge), I often make her chocolate chip cookies and leave out the chocolate chips. What are you left with, you ask? Cookies. Yes, this base is the epitome of the very word. Unlike me, however, my mom loves chocolate, so we couldn't very well leave it out.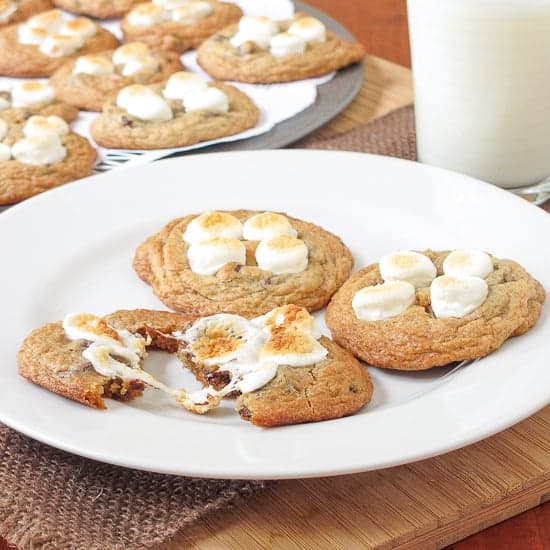 Instead, I had a craving for another treat reminiscent of my childhood: s'mores. I grew up camping; every summer, we'd spend a large majority of it living out of a tent in a campground near the shores of Lake Almanor. Believe it or not, there was a time in my life when I didn't mind being dirty and spent a whole week making muddy pies, cakes, and drinks with a pink plastic tea set on the beach. The edible menu for these trips always included three regulars: freshly caught grilled rainbow trout, Dad's camp stew to use up all the leftover food at the end of the week, and, of course, messy sticky s'mores. I'd eat one traditional s'more with melted marshmallow and chocolate sandwiched between two graham crackers just for good measure, and would follow that up with about ten plain roasted marshmallows because, let's be honest, that's the best part. I roast mine just inches from the flame so it gets a nice golden crust without burning or catching on fire, then gently pull it off the coat hanger skewer. I am cautious to leave the very inner part of the marshmallow on the stick so I get to roast it a second time. When my family upgraded from tent to cabin, we built an outdoor fire pit just for keeping the s'mores tradition alive.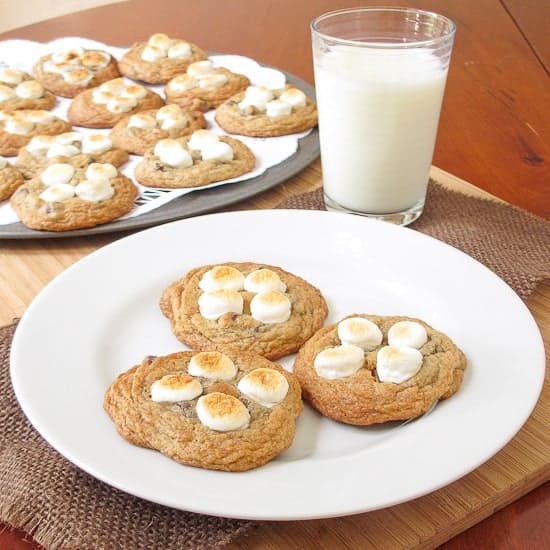 With winter arriving late, it seems July and its tasty treats will never get here. These s'mores cookies are the next best thing to quenching this summertime sweet craving. Baking cookies is one of my favorite activities to do with my mom, and we don't do it nearly enough. The last time we baked together was at Christmas when I accidentally added twice the amount of milk to the pumpkin batter and we had to double to recipe until we had enough mini cupcakes to open up our own bakery. Aside from that delicious mishap, we haven't baked together in quite a long time, which means it's been way too long since I've licked cookie dough off the beaters. I don't care if there's a chance I'll get violently ill from the raw egg, I'll never pass up an opportunity to lick the bowl - not when I was a wee one sitting on the counter in my diaper (below) and certainly not now.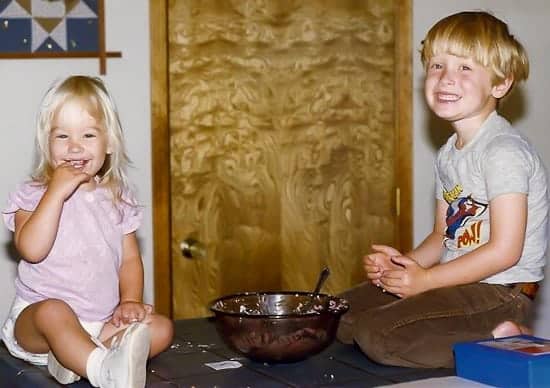 When planning our s'mores cookies, there was no question about what base we'd use - mom's perfect chocolate chip cookies. The recipe lives on a hand-written decorative index card from the 70s that shows its age and love with speckles of spilled ingredients. Adding cinnamon and melted marshmallows to the batter and topping each one with toasted baby marshmallows transformed these cookies into something magical. I'm glad I sent half of the batch to my dad's job site or I'd have finished my paper draft with five dozen cookies in my belly.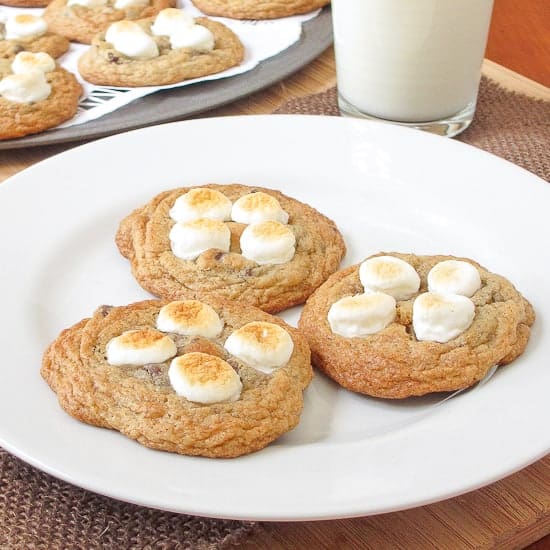 S'mores cookies
Makes about 5 or 6  dozen
8 ounces of unsalted butter, softened in the microwave for about 10-20 seconds
1 tablespoon pure vanilla extract
2 eggs
1 cup dark brown sugar
¾ cup sugar
1 cup of mini marshmallows, melted in the microwave for about 30 seconds
2 cups chocolate chips
2 ½ cups flour
¾ teaspoon baking soda
¾ teaspoon salt
½ teaspoon cinnamon
About 3 cups of mini marshmallows for topping
Preheat oven to 350ºF.
Cream together softened butter and sugar using electric mixer. Beat in vanilla and eggs, and stir for 3 to 4 minutes.
Fold in the melted marshmallows.
Add chocolate chips to egg and sugar mixture and combine.
In a separate bowl, whisk together flour, baking soda, salt, and cinnamon.
Add a small bit of flour mixture at a time to the egg and sugar mixture. Mix just until all the flour has been absorbed (do not mix too much or the cookies will be tough).
Drop dough in tablespoon-sized balls on ungreased cookie sheet.
Bake about 8 minutes or until the cookies just start turning golden brown, but they'll be a little undercooked.
Remove the baking sheet from the oven and immediately press 3 to 5 mini marshmallows into each cookie.
Once you've finished baking all of the cookies, put the oven on broil and leave the oven open a bit to release some of the heat.
Place a baking sheet back into the oven, a few inches from the broiler and broil for about 35 seconds, or until the marshmallows begin to turn golden brown. Watch the marshmallows closely because they'll burn or melt quickly.
Repeat with remaining cookies.
Serve with large glass of milk.