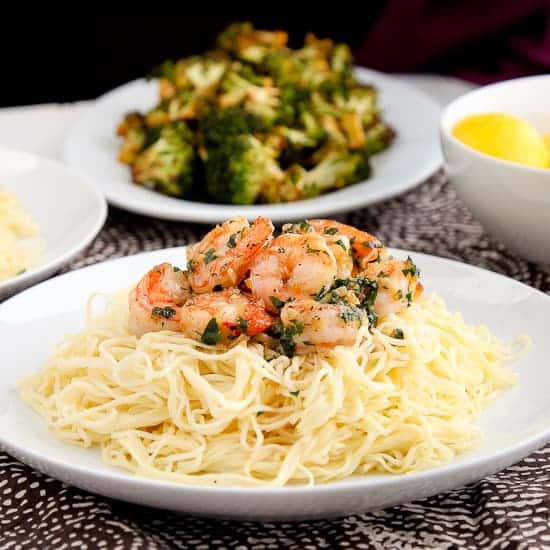 When you're too busy to go grocery shopping and dinner hour is approaching, you have to make do with what you've got on hand. On this particular evening, frozen raw shrimp was what we had on hand - lucky us! We love shrimp, but raw shrimp is so pricey (yes, even the frozen kind) that we rarely buy it. This shrimp, however, was free. The major supermarket near us closed its doors for renovations 4 months ago, and they keep sending us $10/50 coupons to convince us to travel a bit further to their other location. So now we're the couple calculating our total item by item on our phones to make sure we reach at least $50. It's really hard for us to spend that much on pantry essentials, so on our past two stock-up trips, we've brought our total up to $40 then tossed in a bag of frozen shrimp as a freebie treat. And a treat it is!
A search of the fridge also turned up butter, garlic, and lemon. Making do with what we had meant indulging a bit. Serve it over freshly made pasta and indulge even a little bit more. Lucas ran 18 miles earlier in the day, so he needed the carbs. And I...well, you may remember that I've got a weakness for fresh pasta. It melts in your mouth and has so much flavor on its own that you don't even have to douse it in sauce. Every single bite is mmm-licious. Mixing buttery shrimp scampi with smooth fresh angel hair pasta is a deadly combination.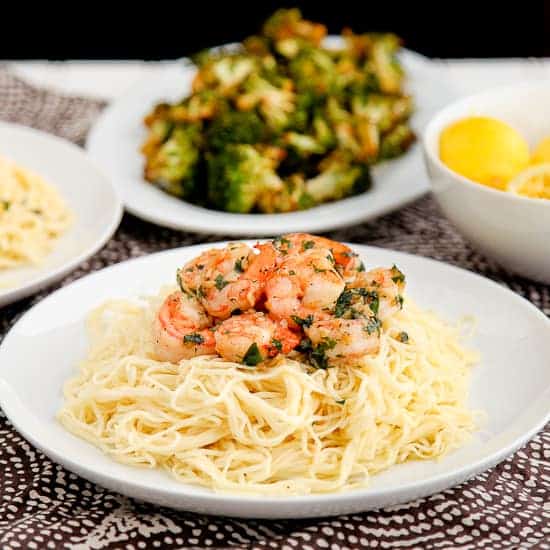 I vividly remember the first time I tried shrimp scampi. It was during a rare sunny day in March on my first visit to Philadelphia. Not far from my hotel, I stumbled upon a martini bar and restaurant serving up international tapas. I sat down in a hanging basket chair and ordered the scampi. The shrimp arrived sizzling and popping in a buttery cast-iron skillet. For that week I was in town, I ate this dish 2-3 times. I've been hooked on it ever since. I mean, who doesn't love a marriage of butter and garlic?
The shrimp scampi tossed with pasta recipe I'm sharing with you today was passed down from my namesake, Big Sarah, as she's called. For years, I made the dish with dry linguine and loved it every time, but upgrading to fresh pasta makes it even more mouth-watering. A nest of smooth lemon-y angel hair pasta rolled up around a fork topped with a garlic-y shrimp. Rich, flavorful, and super simple.
For a twist on shrimp scampi, my friend Emily has made a Hawaiian Shrimp Scampi that sounds amazing!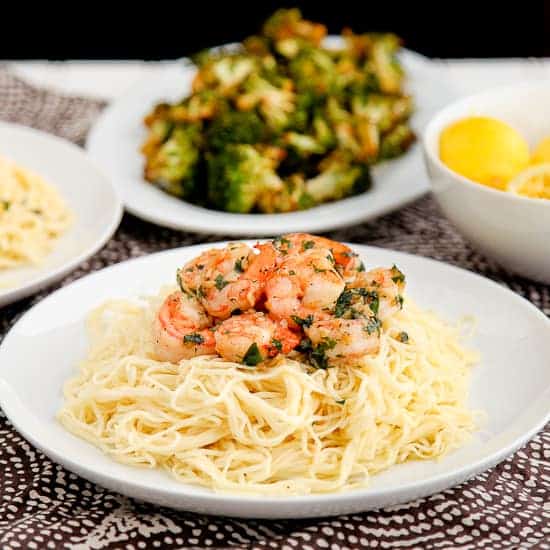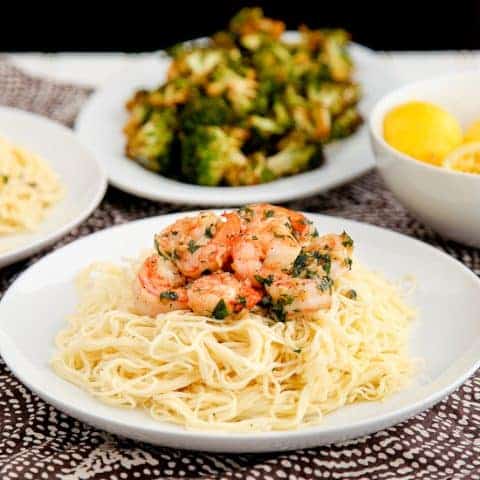 Shrimp scampi
Ingredients
1 pound fresh angel hair pasta (recipe below)
6 tablespoons unsalted butter
5 tablespoons olive oil, plus more for boiling the pasta
3 tablespoons garlic, minced (about 6-9 cloves)
30-40 medium raw shrimp (about 2 pounds), shelled and de-veined (If you use frozen shrimp, make sure they aren't pre-cooked)
½ cups flat-leaf parsley, minced
1 teaspoon kosher salt, plus more to taste
½ teaspoon freshly ground pepper, plus more to taste
Zest of one lemon
½ cup freshly squeezed lemon juice (about 4 lemons)
Instructions
Prepare the angel hair pasta according to the recipe below.
Bring large pot of salted water with a tablespoon of olive oil to boil for the pasta.
Melt the butter and olive oil in a large heavy-bottomed pot over medium heat.
Add the garlic and sauté until lightly brown, about 2 minutes.
Add the shrimp, parsley, salt, and pepper, and sauté, stirring occasionally, until the shrimp are just pink, about 5 minutes. Remove from heat.
Cook the pasta in the boiling water for 3-4 minutes.
When the pasta is done, reserve ½ cup of the pasta water, and drain the cooked pasta.
Toss the pasta with reserved water, lemon zest, and lemon juice.
Top with the cooked shrimp and salt and pepper to taste. Serve immediately.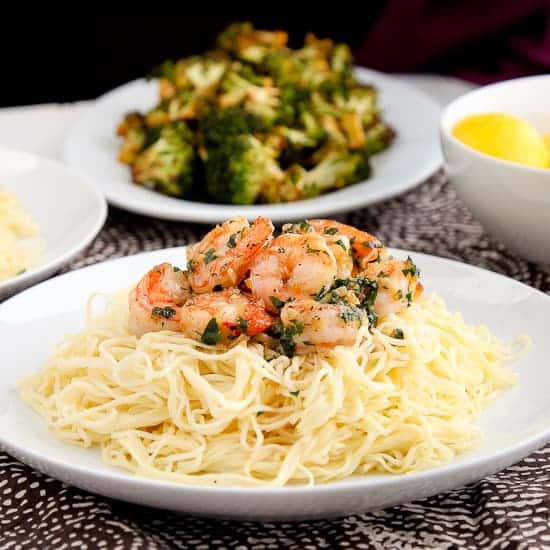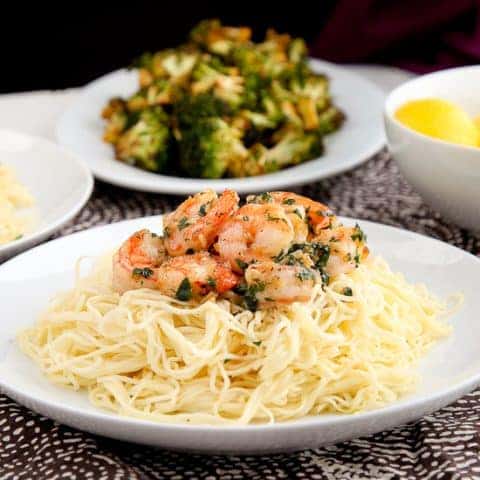 Basic Egg Pasta Dough
Ingredients
Basic egg pasta dough
3 cups all-purpose flour, plus extra for kneading and rolling
4 large eggs
1 tablespoon olive oil
½ teaspoon salt
Water, as needed
Instructions
Sift the flour into a large bowl (or KitchenAid bowl with flat beater attachment).
In a separate bowl, beat 4 eggs, olive oil, and salt together until combined.
Pour egg mixture into flour and mix (it may be crumbly still).
Using your hands, knead until dough forms. In my experience, the mixture is really dry, so I add ½ teaspoon of water at a time while kneading. Knead until dough is smooth and elastic. Wrap in plastic wrap and let rest for 30 minutes.
After 30 minutes, cut dough into 6 equal pieces.
With a rolling pin or with a pasta maker attachment, roll out one piece at a time, reserving the others in plastic wrap. I had a really hard time rolling the dough by hand before I had the pasta maker attachment, but I hear it's possible. If using a pasta maker, I roll dough to 6 or 7 thickness for angel hair. Be sure to flour both sides of the rolled out pasta as you go so it doesn't get too sticky. Either by hand or using the angel hair cutter attachment, cut each sheet into angel hair pasta.