Last updated on November 7th, 2014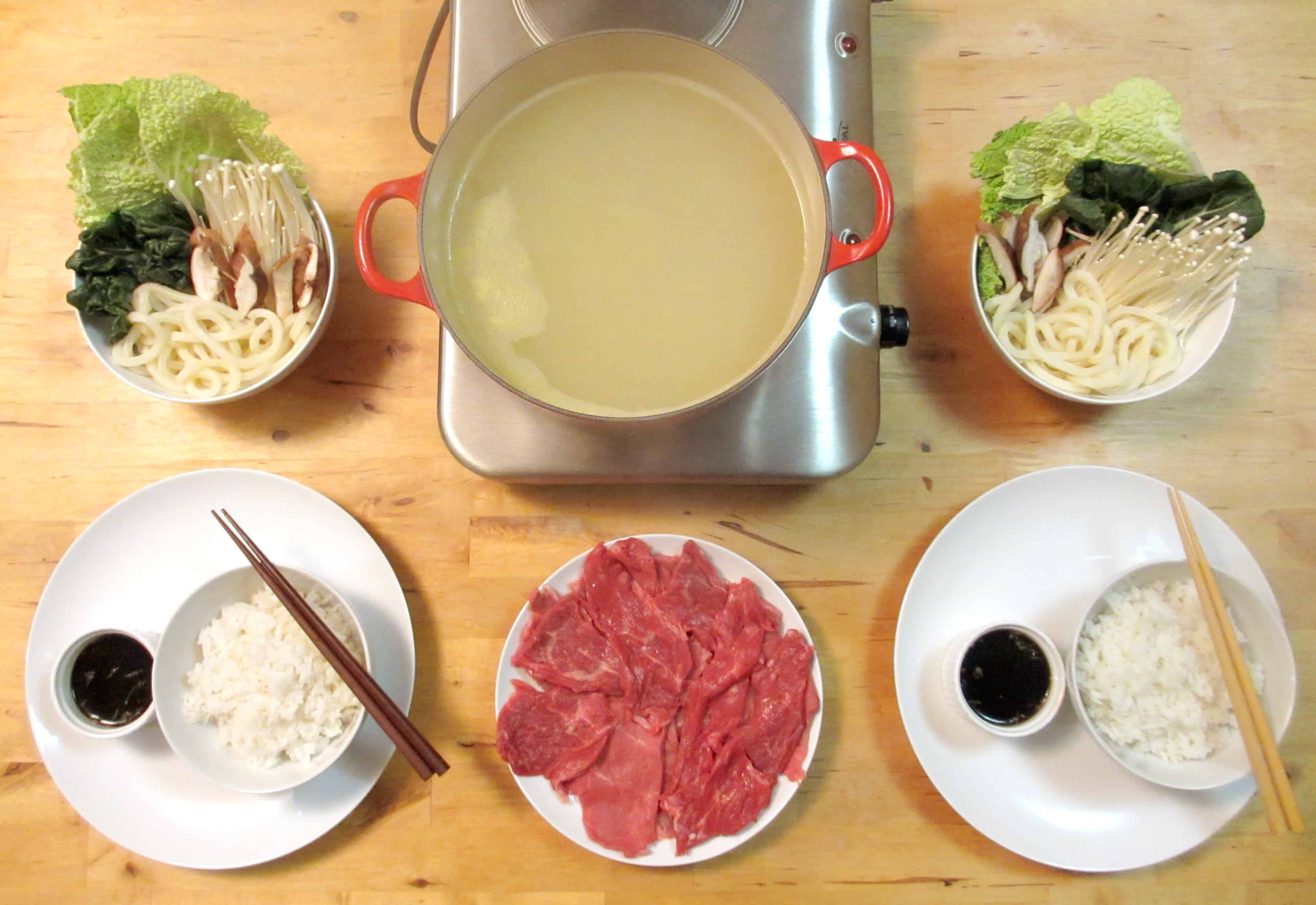 One of our choice date night meals is Shabu Shabu or, Japanese hot pot. Unfortunately, it also costs an arm and a leg (and you even cook your own food!). Shabu Shabu (named for the "swish swish" sound of the beef being stirred in the water) is a dining experience where you cook your own vegetables, udon noodles, and sliced sirloin in a pot of boiling water. You then dip each piece in ponzu or peanut sauce and enjoy with a bit of white rice.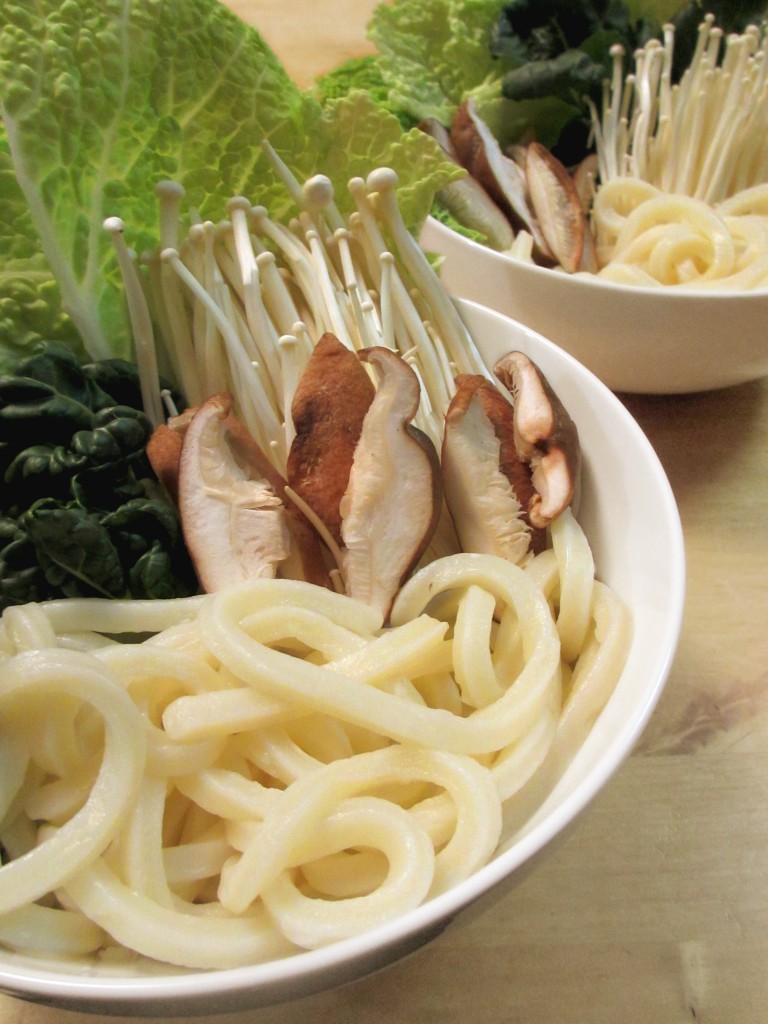 The first time I encountered Shabu Shabu was in Little Tokyo, Los Angeles, and the cook in me was instantly sold. A friend and I kept up a weekly date to Little Tokyo where we'd dine on Japanese hot pot and top the night off with a ball of mochi ice cream. My frequented Shabu Shabu restaurant became a go-to tourist attraction whenever my family or friends came to visit. That is, until it closed unexpectedly leaving me so very sad and so very hungry. I didn't have Shabu Shabu again until I moved to Berkeley two and a half years ago, but it wasn't for lack of trying. When I discovered a Shabu Shabu restaurant not too far from my new digs, I felt like I'd hit the jackpot. While Lucas and I love this dining experience, we don't love the outrageous prices. More specifically, we don't love paying for food we know we can make. So we did.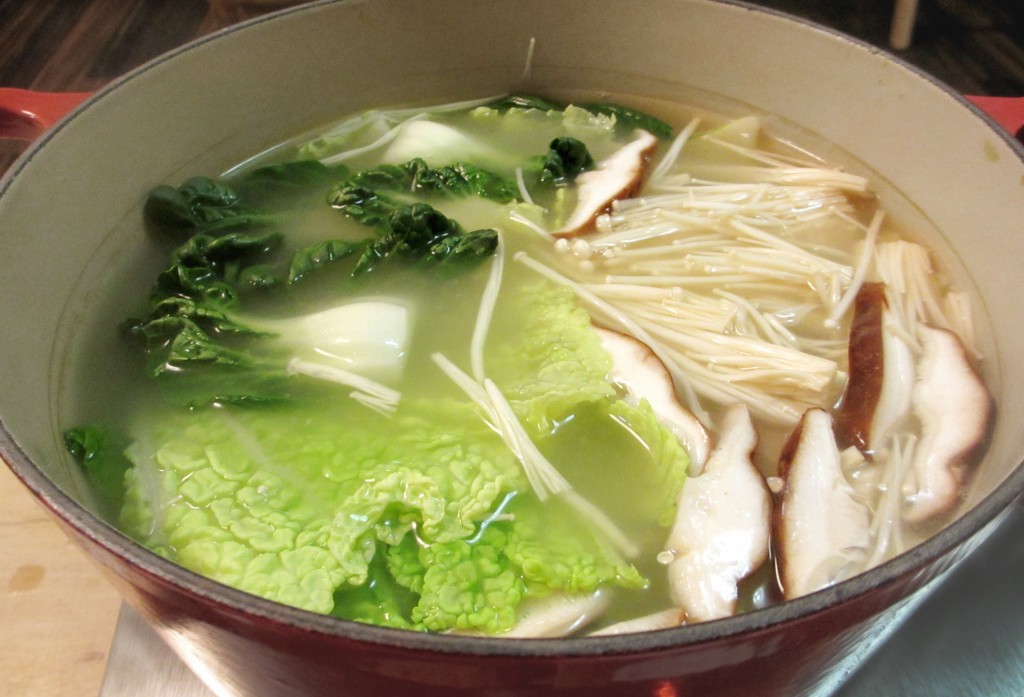 We borrowed our landlord's camping hot plate, and transformed our (coffee/kitchen) table into a Shabu Shabu feast with bowls of food lined up and ready to dive into the boiling water. We had an exciting date night in the middle of the week from our living room couch for only a fraction of the price.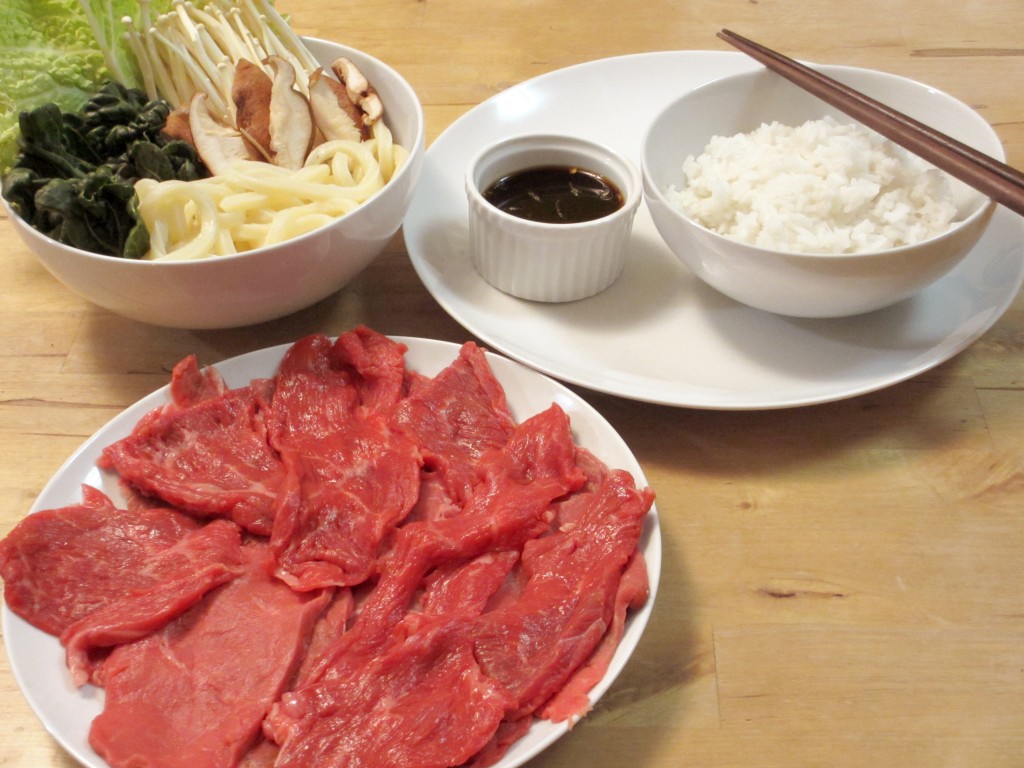 I hit the nail on the head as far as flavors go, but our one critique is that the beef wasn't sliced thin enough. Thinking the butcher would be much better equipped than I am to slice the sirloin paper thin (almost like carpaccio), I called on his help. Next time, though, I think I'll lightly freeze the beef for a couple of hours and then, using a mandoline slicer or by hand, slice the beef. Research also tells me that to get the meat paper thin, I might need to pound it with a mallet after I've sliced it. The point is, I will be making Shabu Shabu at home again.
Shabu Shabu
Head of green cabbage, outer leaves peeled off and cut in half
4 baby bok choy, leaves separated
1 package of enoki mushrooms, bottom inch of stems trimmed and discarded
4 shitake mushrooms, sliced
1 package udon noodles (I got these frozen from an Asian market)
½ pound sirloin, sliced paper thin (see note above)
2 cups chicken broth (optional: I added this to give the boiling broth a bit of flavor, but I've also had it with just water)
Water (as much as needed to fill your pot ¾ full)
1 cup steamed white rice, for serving
½ cup ponzu sauce, for dipping (recipe here)
Optional: tofu, carrots, green onion
Boil chicken broth and water in large pot over high heat. You could do this at your stove, but then you'd have to cook it all before eating it, or eat in front of your stove. I prefer to eat it as we go and as each piece is ready, so I recommend using a hot pot at your kitchen table.
Arrange vegetables, noodles, and beef on plates to prepare for boiling. Put rice and ponzu sauce in serving bowls.
Add vegetables to the broth and cook until ready (cabbage takes longer than mushrooms, which don't take as long as carrots, for example). Add udon noodles and boil until cooked through (the noodles don't take very long). Add a few slices of beef at a time and cook until no longer pink/red on the outside, or until desired (I used my metal hand strainer to cook the beef, so I didn't lose it under all the vegetables). Remove vegetables, noodles, and beef as desired and dip in ponzu sauce. Enjoy over white rice.