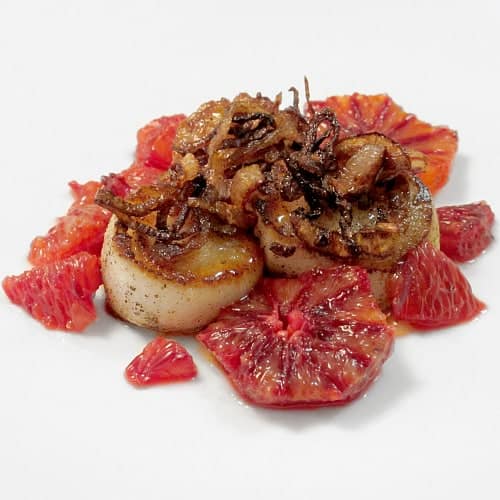 I declared this national citrus awareness day. Okay, so I don't have that power, but when planning today's meals, I couldn't help but be drawn to the bins of citrus at the produce market: grapefruit, blood oranges, navel oranges, lemon, etc. Whatever I decided to cook, I would be incorporating these fruit. Whenever I think of citrus, I have fond memories of picking ripe oranges with a basket picker from my (great) Grandpa and Grandma Ramonda's trees that shaded their patio. Recently, I've been enamored with the deep purple color of blood oranges and their potential in savory dishes.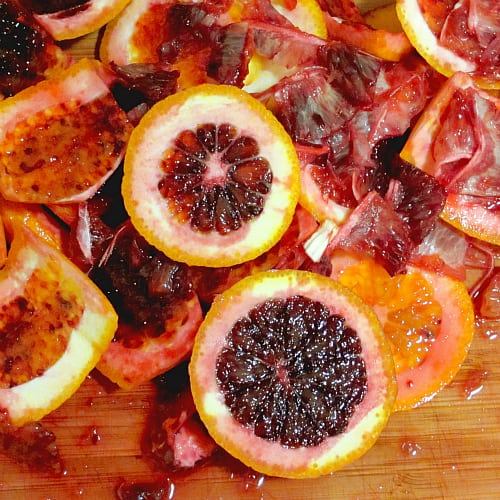 Lucas sweetly asked for seafood tonight (he had his eye on the 25 inch rainbow trout on ice at the fish market). My initial thought was to pan fry some rainbow trout with a bit of lemon, just as I ate every summer growing up (the first fish I caught was a 15 inch rainbow trout on Deer Creek). I immediately went back on this choice though, knowing I'd never get the trout to taste as good as when my dad cooked his morning catch. Another favorite from the seafood shop is fresh scallops. I figured that since we eat scallops with lemon, I could just as easily serve them with blood oranges and, not only would it be a beautiful platter, it'd probably taste just as good. As an added bonus, scallops (as with most seafood, really) are pretty healthy, which will make me feel less guilty about the dessert I'm bound to have afterward.
We set off to the market without a clear plan, but I was hoping the fruits and fish would speak to me. Let me take this chance to brag at how ridiculously cheap The Monterey Market is; we purchased: 6 organic blood oranges, 2 organic ruby red grapefruits, 1 giant bunch of organic kale, 1 shallot, 2 bosc pears, a bunch of bananas, 4 sweet potatoes, and 3 large organic artichokes for $11.32 - WOW!
When I got home, I started googling recipes for scallops with blood orange to get inspired, and stumbled across a Bon Appetit recipe for scallops with blood orange gastrique. I didn't have the necessary ingredients (in particular, the sherry wine vinegar), nor did I have any idea what a gastrique was, but I figured I could find another blood orange gastrique recipe that incorporated one of the ten vinegars I DID have on hand. I was right. First, a gastrique, I learned, is a syrupy sauce made from caramelized sugar, vinegar reduction, and in my case, fruit juice. The one I made was super sweet, but paired with the scallops perfectly. After preparing the gastrique, I seared the scallops in browned butter, drizzled them with the blood orange gastrique, topped them with pan-fried shallots, and served them with a dollop of fresh blood orange pieces. I felt like such a gourmet chef compiling my very own dish!
Seared scallops with blood orange gastrique and fried shallots (gastrique recipe from Emeril Lagasse)
Serves 2
6 sea scallops, outer muscle removed
Kosher salt, to taste
4 tablespoons unsalted butter
1 shallot, thinly sliced into rounds
4 blood oranges
1 cup granulated sugar
½ cup rice vinegar
Combine sugar, vinegar, and juice from 2 blood oranges in medium saucepan over medium heat. Bring to boil and cook, stirring occasionally, until reduced by ¾ or sauce has thickened into syrup, about 20 minutes. Remove from heat and set aside.
Slice off the top and bottom of remaining 2 blood oranges. Use knife to remove the peel and pith. Cut the fruit segments apart from in between the membranes, and cut chunks into bite-sized pieces. Set aside.
Salt scallops on both side, to taste.
Brown 2 tablespoons of butter in medium cast-iron skillet over medium high heat. Add shallots and fry until crispy. Using tongs, transfer shallots to a bowl and set aside.
Add remaining 2 tablespoons of butter to same skillet and brown over high heat until almost smoking. Add scallops to pan, resting the urge to move them, and cook for 2 minutes on each side. Remove from pan.
Add scallops to plate, and drizzle spoonful of gastrique over them, to taste. Top with shallots and serve with fresh orange pieces.
Note: the gastrique makes quite a bit, and you will have leftovers. I assume you could halve the recipe and that'd be sufficient.