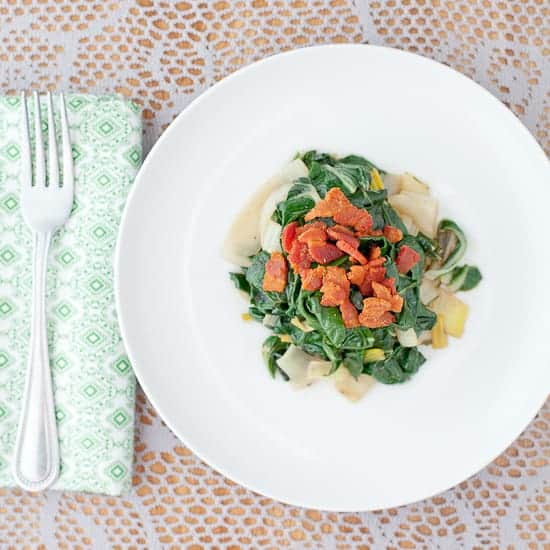 This chard lasted less than an hour from being picked to being served in a deliciously fresh dish. On Sunday, Lucas and I visited my cousin Scott's urban farm down in Hayward and came home with a bag bursting with freshly harvested citrus and greens. We first made a pit stop by his home garden where he sent us off with more Meyer lemons and baby blood oranges than a seasoned clown could juggle. We waved goodbye to the chickens and bees before heading on to our next stop - Mexican food to fill our bellies for a whole week, THEN to the second planted estate. At the farm, we gathered up bunches of kale, cabbage, and chard - the featured vegetable of this first dish from the weekend harvest.


The farm was super impressive. Smack dab in the middle of town, with an apartment complex backing into the lot, sprouts his plot of land with everything from potatoes to avocados to broccoli to artichokes to citrus to plums to fava beans to tulips (of course not all are in season just yet). I even came home with these beautiful bright red tulips. I love the juxtaposition of the dainty tulips growing against a metal fence and concrete jungle backdrop.

I aspire to call myself a foodie, but it became apparent on Sunday that I've got a ways to go; Scott is a fountain of knowledge about all things fresh vegetable related. I'll slowly share some of the things I discovered as I cook my way through this basket of food. For example, I learned that a Meyer lemon is a cross between a lemon and a mandarin or orange and not just a normal lemon people use to make their dishes sound fancier.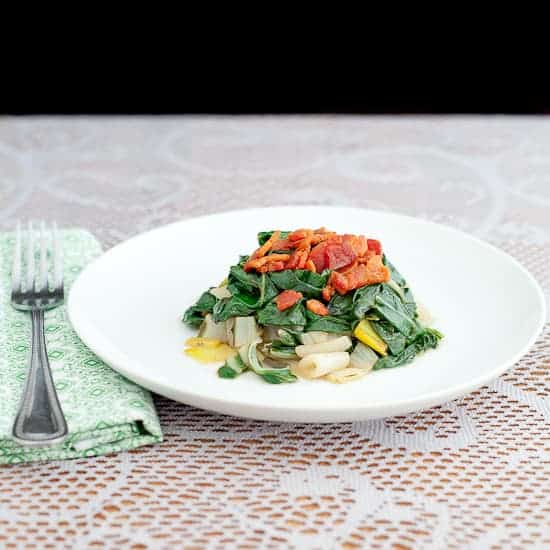 On our way home, we foodgawked and epicurioused (yes, I just turned those websites into verbs - just like "to google") furiously to come up with a dish we could make to use some of our vegetable treasures so Lucas could enjoy them before flying off to Taipei a couple hours later. I had a few slices of good-quality bacon that I purchased in preparation for the weekend, knowing that Lucas loves a traditional bacon and egg breakfast with his Sunday morning coffee. On that shopping trip, I hadn't put two and two together to realize that we wouldn't have time for this kind of breakfast before heading to the farm, so it was fortunately still on hand for a quick meal. We've also been talking about wanting to eat more leeks for awhile now and they seemed like the perfect addition to the light warmed salad.  Luckily, since I can't grow my own urban farm right now, I've got The Monterey Market down my street - the next best thing. On our way home, we snagged up a leek and this dish was plated less than 20 minutes later.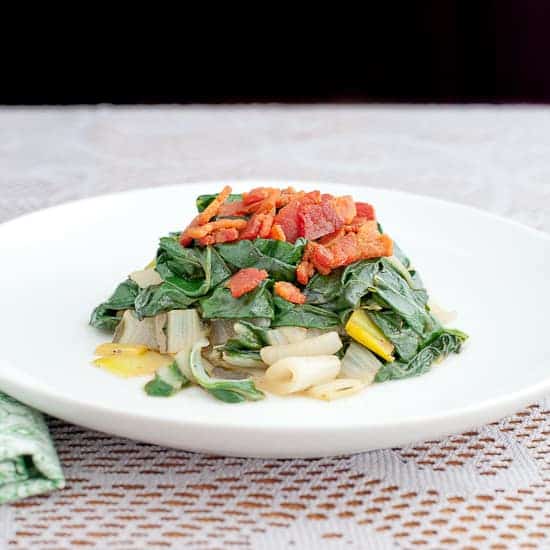 Of course, picking your own greens means less time for the critters to vacate their green homes in search of someplace new. While slicing up the chard, a handsome yet super scary spider crawled out onto my cutting board. Lucas saved the day - phew. We ate this as our main course because we were stuffed with beans and rice, but the portions are much more appropriate for a side dish to a juicy steak or a tender chicken breast.
Seared swiss chard and leeks topped with crispy bacon (Adapted from Gourmet)
Serves 4 side dishes
 2 bunches of swiss card
1 large leek
4 slices of good-quality bacon
Juice of 1 Meyer lemon
½ tablespoon butter
Kosher salt and freshly ground black pepper, to taste
Cut the stems and center rib from the chard. Slice the stems and ribs crosswise into ¼-inch slices.
Roll the chard leaves up lengthwise and cut them into 1-inch wide strips.
Cut the leek in half lengthwise, and slice crosswise into ¼-inch slices.
Cut the bacon crosswise into ¼-inch slices.
In a large pot (I used my 3.5-quart Le Creuset), fry the bacon on medium heat until it's extra crispy. Transfer the bacon pieces to a paper towel to drain.
Remove the grease, leaving about 2-3 tablespoons in the pot (I left all the grease in and have no complaints, but think just a little less might be even better). Add the butter to the pot and heat until the foam subsides.
Add the leek, chard stems and ribs, and lemon juice. Cook, stirring, until softened, about 3-5 minutes. Add salt and pepper to taste.
Add the chard leaf strips and cook, stirring, until just wilted (don't be alarmed that the pot will be overflowing at first, the chard cooks down quite a bit). If needed, add a few drops of water for moisture (since I left all the bacon grease in the pot and my bacon was extra greasy, I didn't need to because there was plenty of moisture). Remove from heat.
Top with bacon pieces and serve warm.