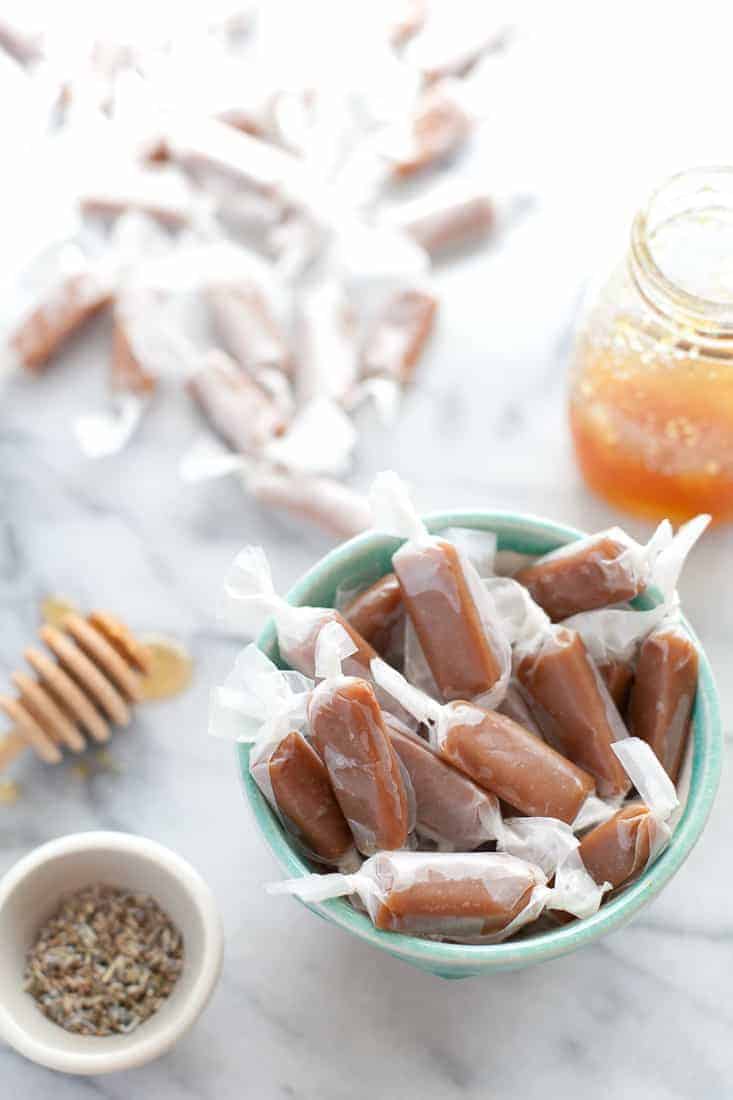 My actions are speaking louder than words right now, but please hear me out. I've kept these creamy salted honey lavender caramels from you out of shame and fear of judgement; I've got an arsenal of sweets to paste up here over the next couple of weeks. I need you to know though that I don't just sit at home eating entire batches of gluten-free carrot cupcakes and sheets of salted honey lavender caramels all by myself while binge watching Scandal. I'd certainly like to, but that's not what's going on behind the scenes here. The sweets part, the binge-watching is a whole different story. We've actually been keeping up with our weekly meal planning and eating lots of quick healthy dinners. Straight from stove to plate to belly without stopping to snap a picture or keep track of ingredients.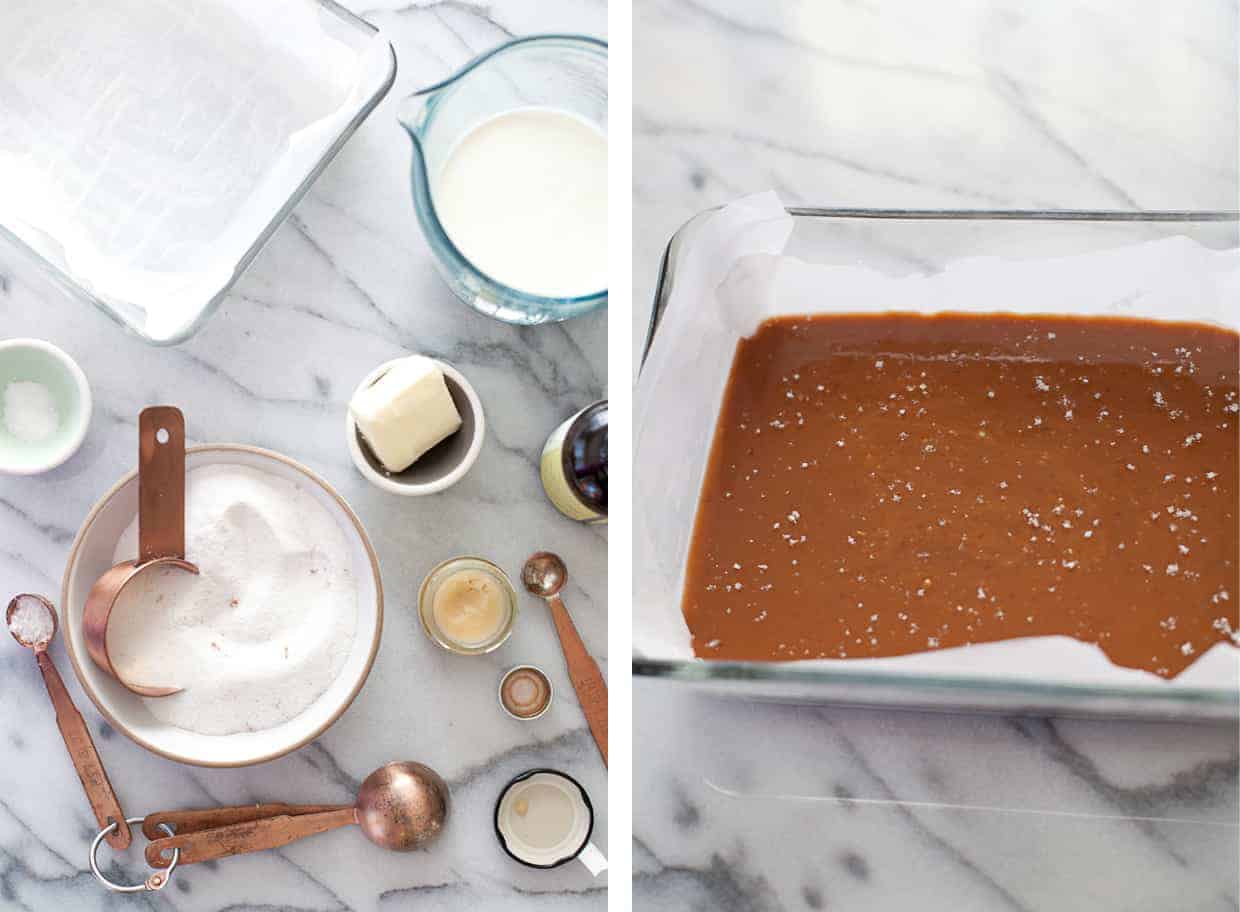 I'm a wound up ball of stress and I've been using desserts for friends and special occasions as my leisurely outlet. Feel like crying, Sarah? Pause, measure out the sugar and vanilla, make dessert, breathe. Just so we're clear about what's happening right now - I'm 100% justifying the piles of sweets I'm force feeding you. While we're on the topic of stress, I've also made another seemingly contradictory life change to deal with the chronic shoulder tension - I signed up for a 5k in June! To many of you, this probably sounds like no big deal, but to a girl who has barely run 1 consecutive mile in her life, this is no small feat.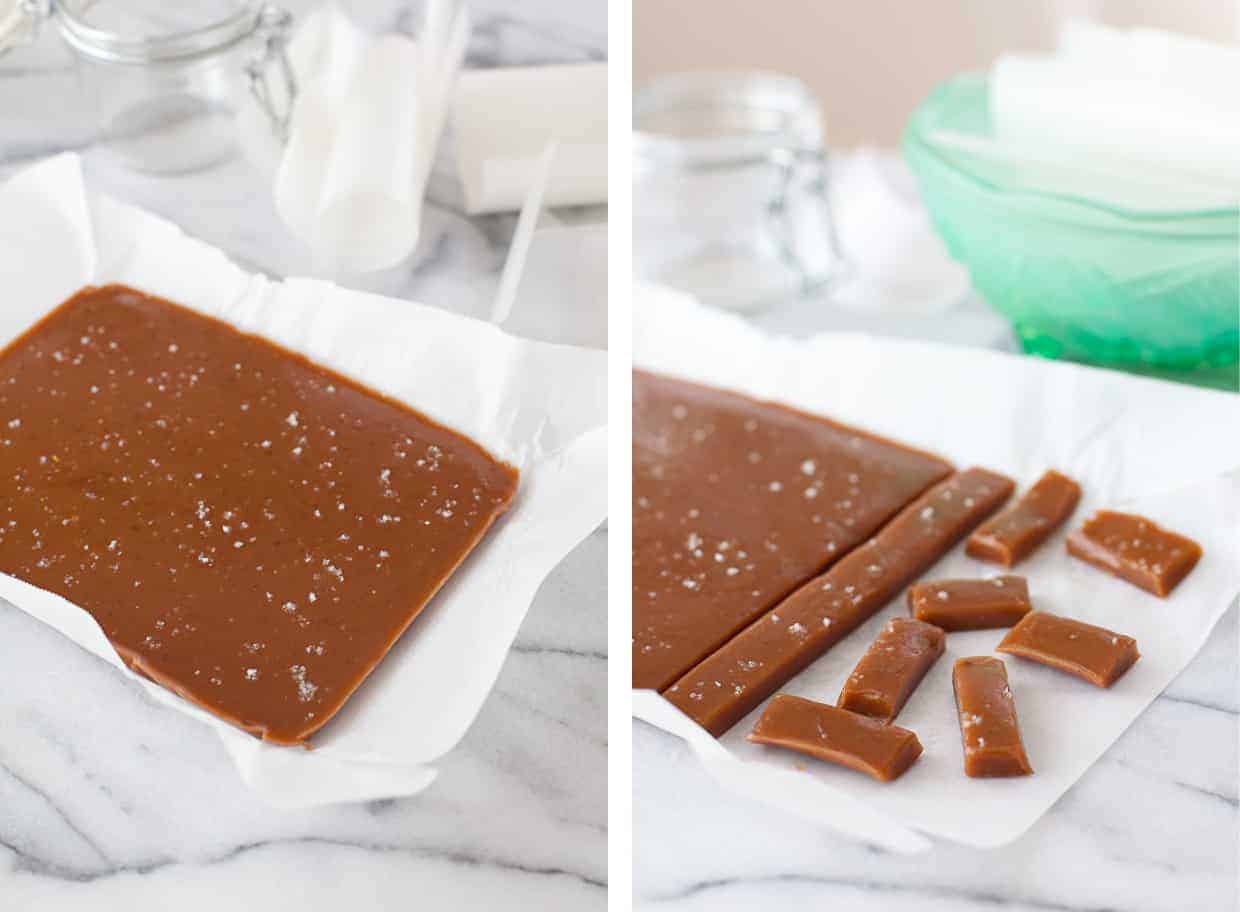 Back to the sweets. I'm of the camp that believes desserts in moderation are just fine. Eat a caprese salad quinoa stuffed portabella mushroom for dinner. Then feel totally free to make a blueberry Nutella cream pie, eat a sliver, and share the rest at a potluck. Make a few dozen of these salted honey lavender caramels and immediately wrap and bag them with cute little labels as an "I love you" gift for your friends. Try one first, though. Seriously. There's something special that happens to your taste buds when lavender mingles with honey.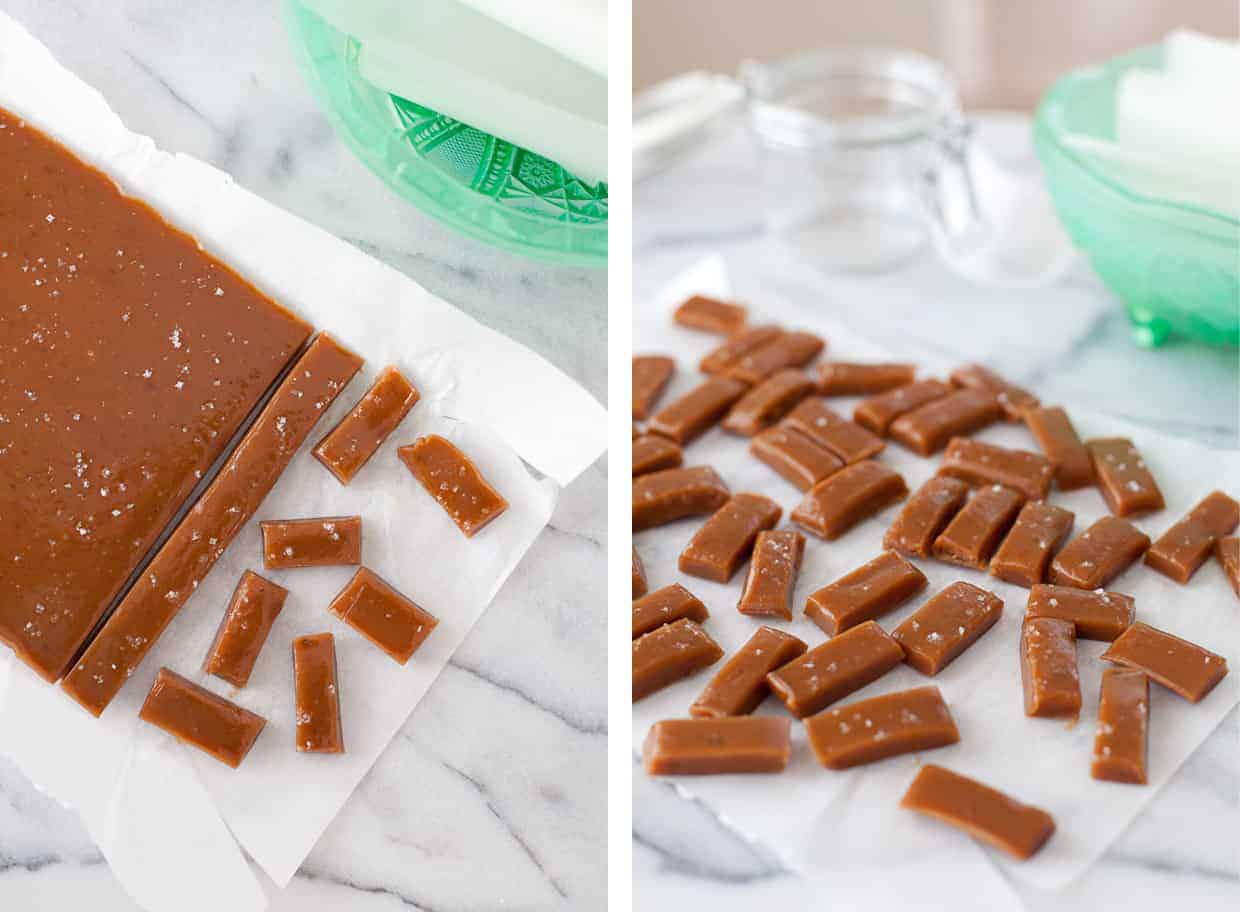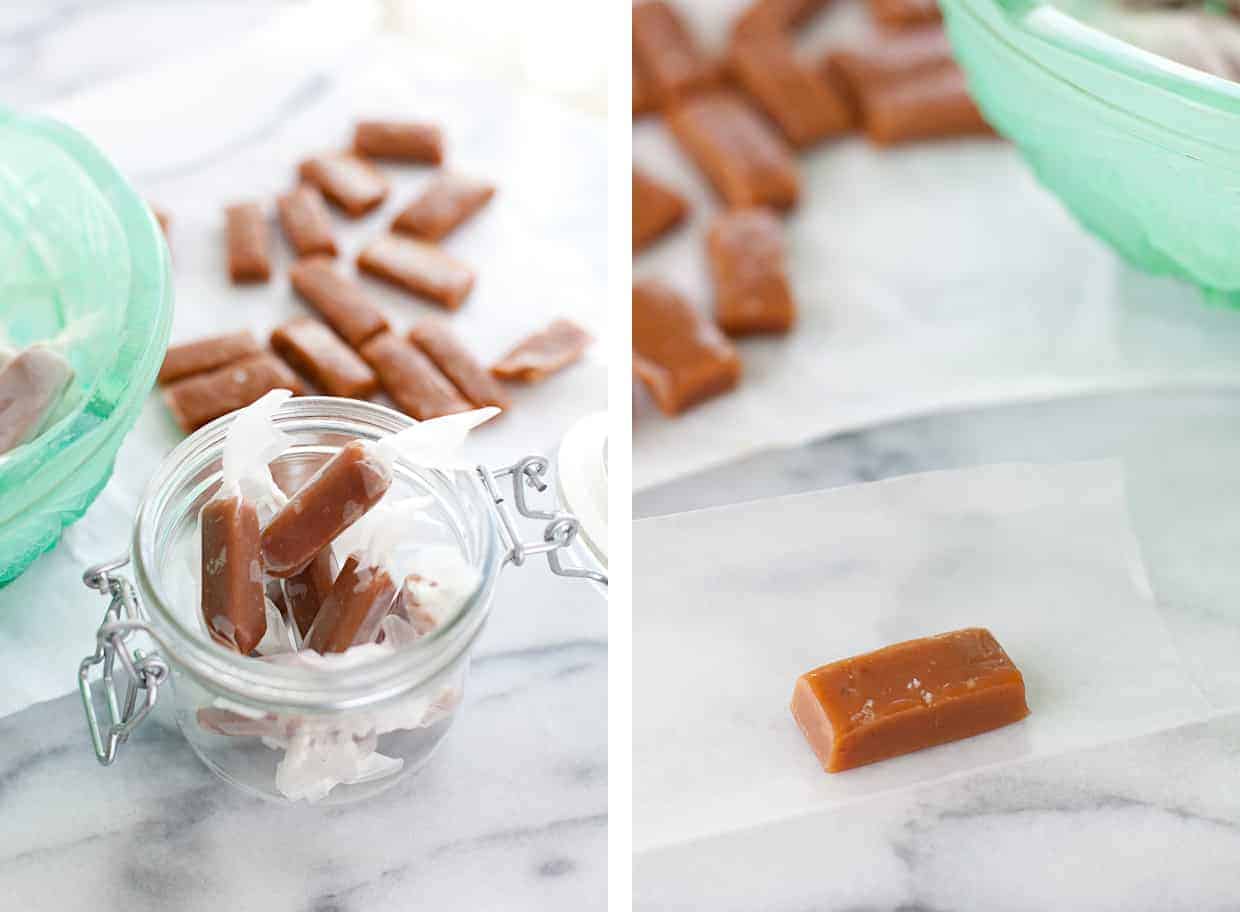 Right before my friend Cas first moved to the Bay in 2010, she stayed with me during a grad school interview and we dove right back into our former cooking-together habits. She'd just returned from three years in The Gambia and it had been nearly 4 since we'd last seen each other. We rekindled our friendship over homemade cupcakes with spun sugar decorations on top. In my tiny kitchen with a wonky stove. To make the spun sugar, we used electrical tape, a rubber band, and a birthday napkin to secure a meat thermometer to the edge of my cheap pot (exhibit A), we stabilized four skewers over the edge of the counter with a dirty old hammer and a bowl of ice, and protected the floor with brown paper bags (exhibit B). I mean, this is all really technical stuff, so I'm sure you'll be surprised to hear our spun caramel nests tasted like bitter burnt sugar. They were delicate and pretty though, so we stuck them on top anyways and told people they were inedible decoration.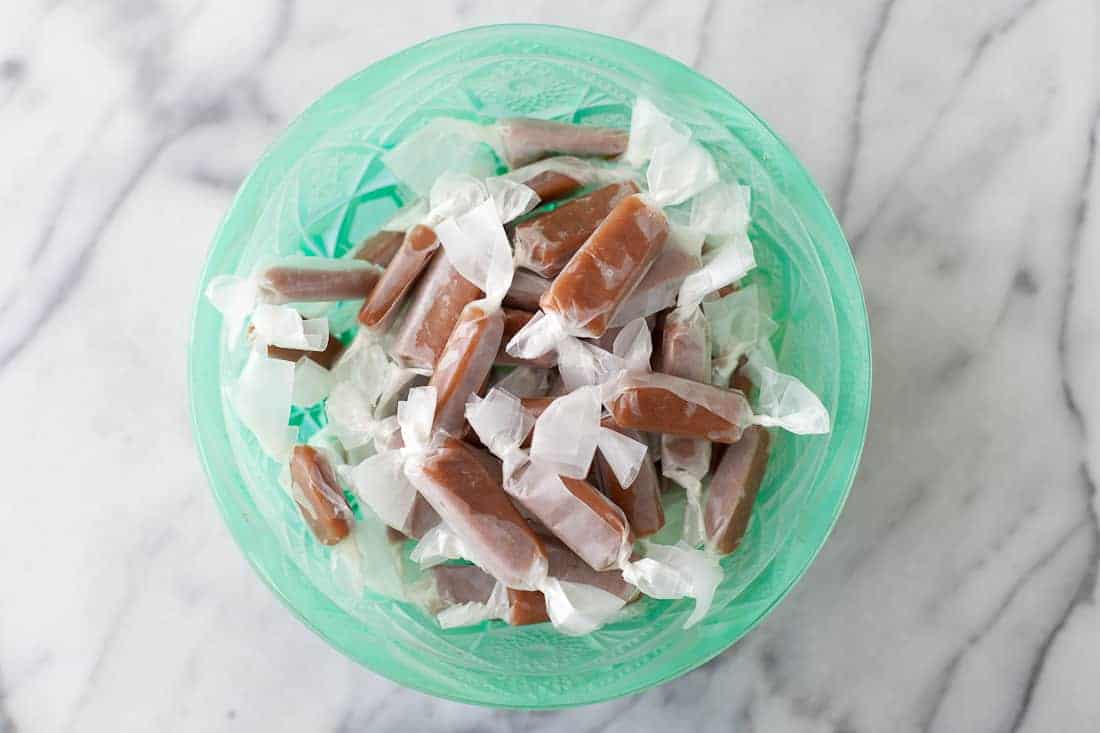 I didn't try caramel candy again until a couple of years later when I made a batch of caramel shortbread bars to celebrate Tina emerging from her cave after a month-long study-for-the-bar hibernation. Imagine a Twix bar without the chocolate. They came with the following verbatim instructions though: "so here's how I recommend eating them. Eat the shortbread, then suck on the caramel like it's a sugar daddy." That's right, again not using the proper equipment, I overcooked them. Except this time the caramel tasted like a delicious hard butter toffee, which would be a totally happy accident if I hadn't poured it on top of a crumbly cookie. If there's anything you take away from my caramel failures it's that a) third time's a charm and b) get yourself a candy thermometer already.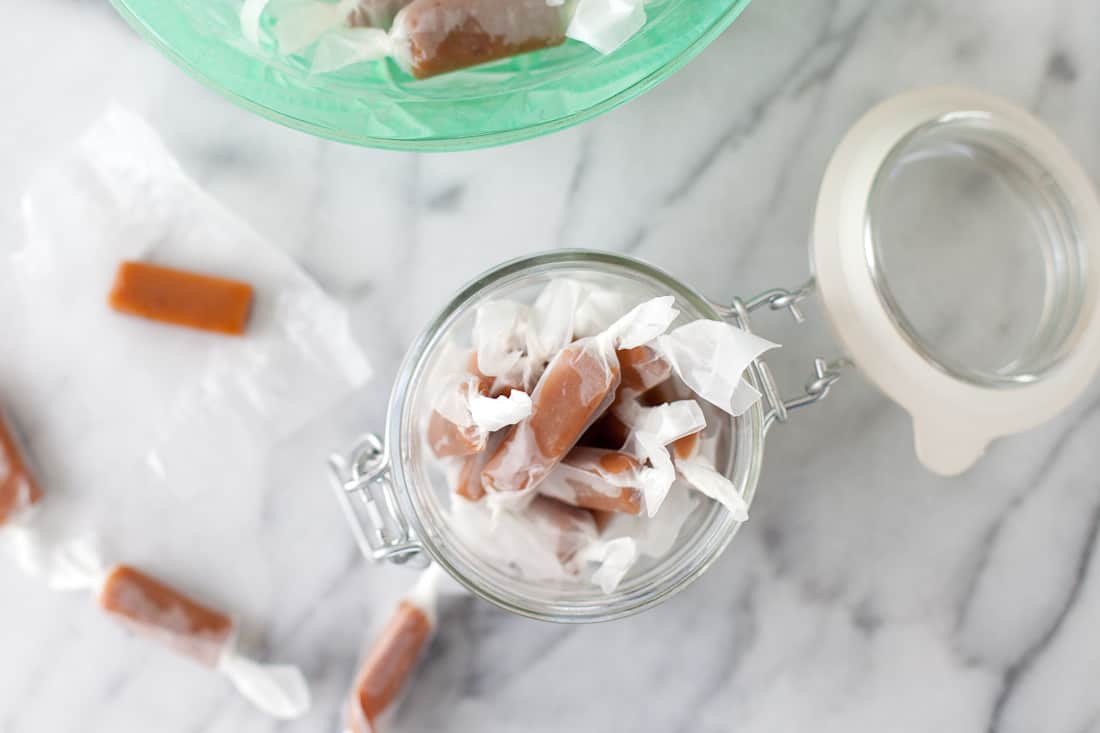 These salted honey lavender caramels do their part to redeem my caramel making skills. They turned out so smooth and chewy that I made a second identical batch with the last of my playhouse honey, and then things got a little crazy when I made another batch of honey matcha green tea caramels. Don't worry, I'll share that recipe in another post soon, but first, you need to know about these salted honey lavender caramels. Each one tastes like spoonful of honey packed up into a creamy bite with just a hint of fresh lavender and kick of fleur de sel to complement the sweetness. As long as you have the proper sized pot and a candy thermometer this is a foolproof recipe that will leave you with piles of sweet caramels to give out to your friends...or make new friends with...or to eat all by yourself.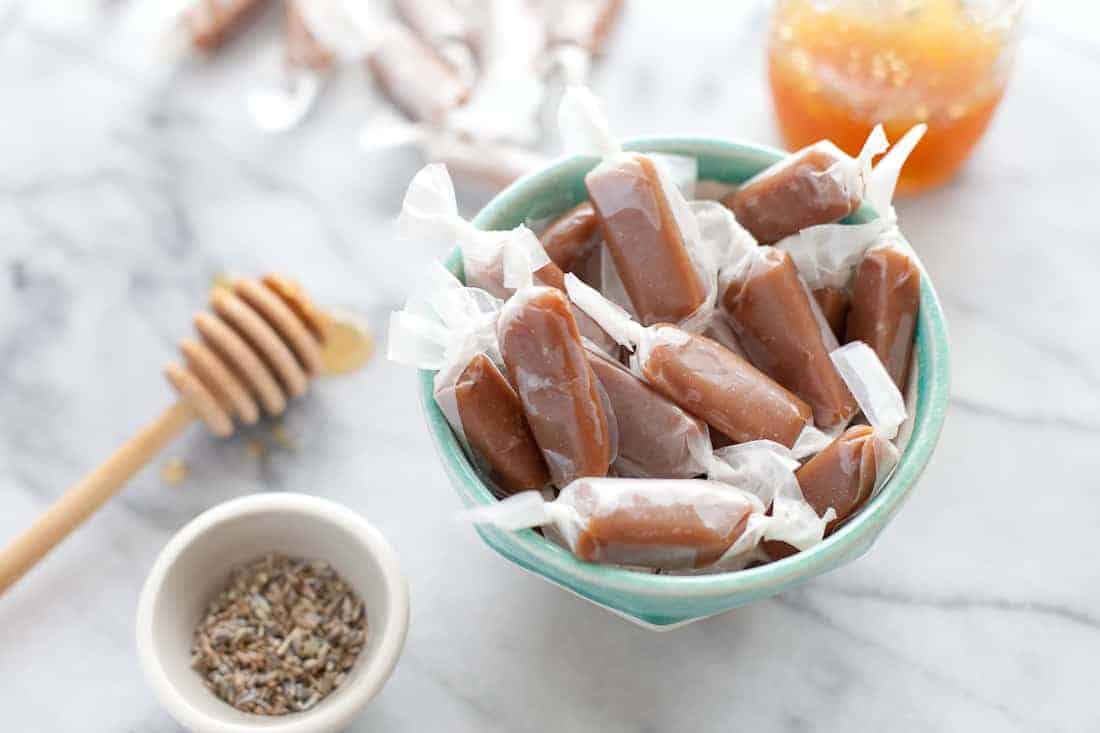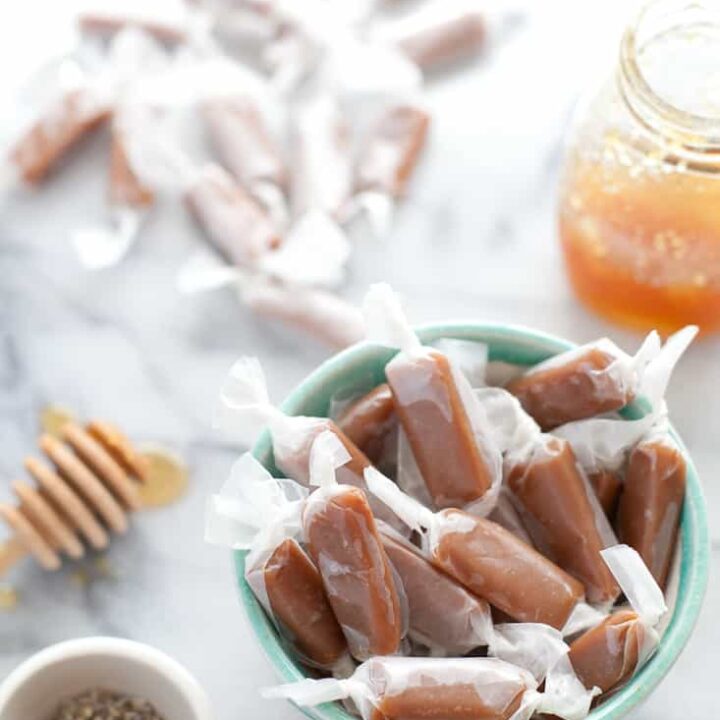 Salted honey lavender caramels
Ingredients
¾ cups sugar
1 teaspoon dried lavender
200 ml (⅚ cup) heavy whipping cream
3 tablespoons honey
1½ tablespoons unsalted butter, room temperature (plus more for the pan)
½ teaspoon kosher salt
¼ teaspoon fleur de sel
Instructions
Read all the directions before getting started. Stuff happens so fast and you want to make sure you're prepared for what's coming next. The times in this recipe are estimates and will depend on the size of pot you're using, so use the temperatures as your guide. Also, make sure that you have an accurate candy thermometer - 5 degrees off will drastically change the texture of your caramels from soft and chewy to more like sugar daddies. Here's a handy article on how to calibrate your candy thermometer.
Begin by making lavender sugar. Pulse the sugar and lavender in a food processor until the lavender is finely ground.
Butter an 8x4-inch baking pan and line the bottom and edges with parchment paper, cutting slits in the corners so it will lay flat. Butter the parchment paper, as well. (I used a glass bread dish for one batch and another smaller baking dish for a second batch. If you only have an 8x8 pan, double the recipe.)
In a small saucepan, heat the heavy whipping cream and vanilla over medium heat until it just begins to simmer. Reduce the heat to low to keep it warm while you prepare the rest.
Heat the sugar and honey in a separate small saucepan over medium heat, stirring occasionally with a wooden spoon until the sugar dissolves and it starts to boil, about 4 minutes. (I recommend between a 1.5-quart and 2.5-quart saucepan; any larger and you'll have a hard time using the candy thermometer as it won't full submerge in the caramel).
Stop stirring and clip a candy thermometer to the edge of the pot. Let the sugar boil without stirring at all, until it reaches 302°F, about 3-5 minutes. While it boils, grab a clean wooden spoon or rinse and dry the one you were stirring with before.
Add the butter and kosher salt, and slowly stir in the warm whipping cream. Be careful, as it will react and sizzle quite a bit when you start adding the cream. The temperature will also drop when you add the cream.
Keeping a close eye on the thermometer, continue stirring until the temperature is back up to 248°F. Immediately remove the pan from the heat and pour the hot caramel into the prepared pan. DO NOT scrape the pot or you'll end up with crispy bits in your caramels.
Sprinkle the fleur de sel on top and set the pan on a wire rack to cool until fully set, at least 5 hours (I kept mine overnight).
Use the parchment paper to pull the caramel sheet out of the pan and place it on a pastry board or cutting board. Peel the parchment paper down from the edges. With a large sharp knife, cut the caramels into bite-sized squares (I cut 13 rows of 4) and wrap them tightly in wax paper or parchment paper squares. The caramels will keep wrapped for up to one month.