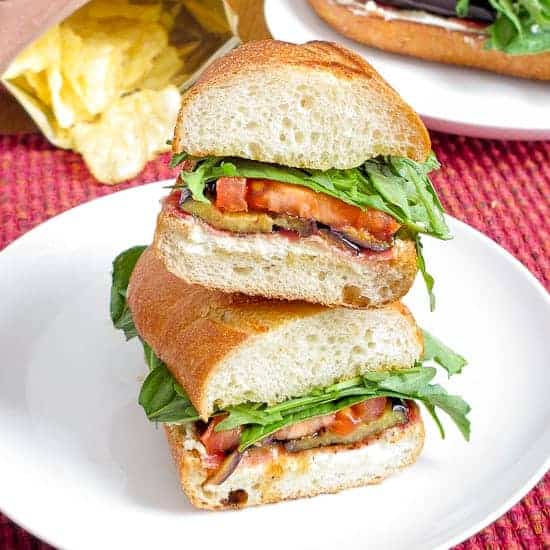 While a third and final qualifying paper tops my to-do list, I spend my time drooling over pictures of food, whipping up dishes of my own, eating myself out of house and home, and writing about all of it. It's not that I'm avoiding work, but every time I sit down to read or write about student positioning in the classroom, the task seems so daunting that I paralyze myself from making progress. And then, once I've sufficiently moped about my writer's block, I'm inevitably hungry again. My productivity now depends on rewards for each step I take; I've annotated an article on student cognition and learning in classroom interactions, so now I'm allowed to post about this sandwich. I'm like a child being told that before I dig into dessert, I have to finish my peas and carrots. There were so many intense flavors in this sandwich that after gushing about it, I'll most definitely need a food break. Professional procrastinator at your service.
As much as I'm addicted to bread and cheese, sandwiches don't often appear on our dinner menu. The exception is concert night. Doors open too early for Lucas to come home beforehand, and I cringe at the thought of spending way too much on a mediocre quick bite in the Mission.  This gourmet roll was our fuel before Fun. On a tangent, if you've never listened to Fun., your life isn't complete yet. They played Thursday at a tiny venue disguised within a residential neighborhood in SF, where their booming energy vibrated off the walls. We bought these tickets months ago, just before We Are Young hit #1 on Billboard's Top 100. Lucky us. With their over the top, yet brilliantly complex pop sounds, I almost forgot that the front half of the crowd had barely turned 18.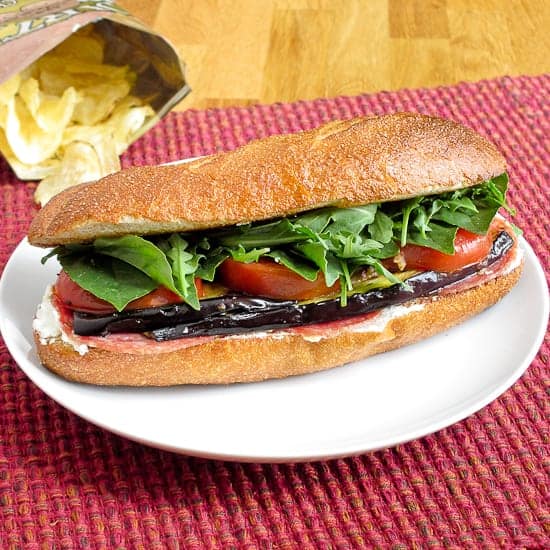 This eggplant sandwich was the perfect note before our night of Fun. As a bit of a sandwich snob, coercion is usually required to get me to choose a sandwich over any other option. Unless it's stuffed with unlikely ingredients, and the (good-quality) bread is just the plate for their presentation. This sandwich was just that - it packed rich layers of flavors that revealed themselves in progression, ending with a perfect balance between salty and sweet. Go make this sandwich, blast Walking the Dog on your headphones, and rock out.
Salami, eggplant, tomato, and goat cheese sandwich (Adapted from Bon Appétit)
Makes 2 large sandwiches
Two 6-8" sour dough panini rolls, sliced in half lengthwise
5 tablespoons olive oil
2 cloves garlic, minced
2 small Italian eggplants, sliced lengthwise into ¼-inch thick slices
2 medium to large tomatoes, sliced into ¼-inch thick rounds (I used romas)
3 ounces spreadable goat cheese
6 slices of dry salami
15 fresh basil leaves
½ cup arugula
Preheat the broiler.
Combine the oil and garlic in a small bowl.
Brush the garlic olive oil on the cut faces of each piece of bread and put them in the broiler for about 2-4 minutes on each side, until toasted. Watch them carefully, as they'll burn quickly.
Spread goat cheese on the bottom piece of each roll. Lay three pieces of salami on top of the goat cheese.
Brush the both sides of the eggplant and tomato slices with the garlic olive oil.
Heat a medium or large cast-iron skillet over medium high heat. Spread out the eggplant in a single layer in the skillet and heat for 4-5 minutes on each side, until cooked through. The eggplant will blacken in spots, but it tastes good:)
Divide the eggplant among the two rolls, layering the pieces on top of the salami.
Spread out the tomato slices in a single layer in the same skillet and heat for 1 minute on each side.
Divide the tomato slices among the two rolls, layering them on top of the eggplant.
Layer the basil and arugula on top. Place the top piece of bread on and serve.