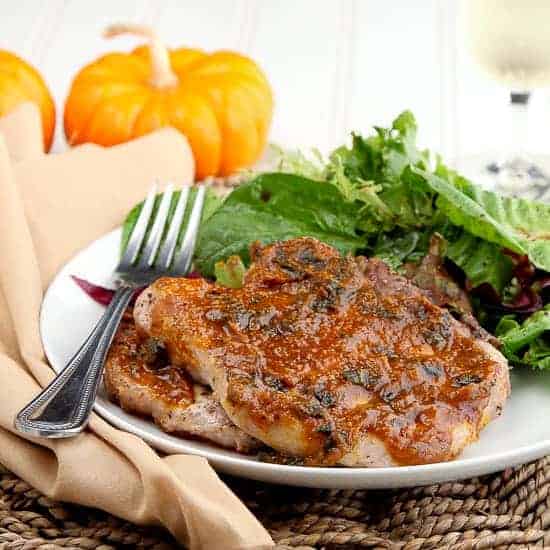 I'm jumping on the pumpkin bandwagon, guys. I had some leftover pumpkin purée from my pumpkin pie muffins last week and I didn't want it to go to waste. So I mustered up all the self-control I could find to keep from making pumpkin cupcakes loaded with honey cream cheese frosting and instead planned a recipe for sage pumpkin pork chops. Only the recipe I came up with required more purée than I had left, so I had to do the only logical thing and open a second can of pumpkin. I now have even more leftover pumpkin, so expect a pumpkin cooking theme as Halloween approaches (including pumpkin pie oatmeal to come shortly!).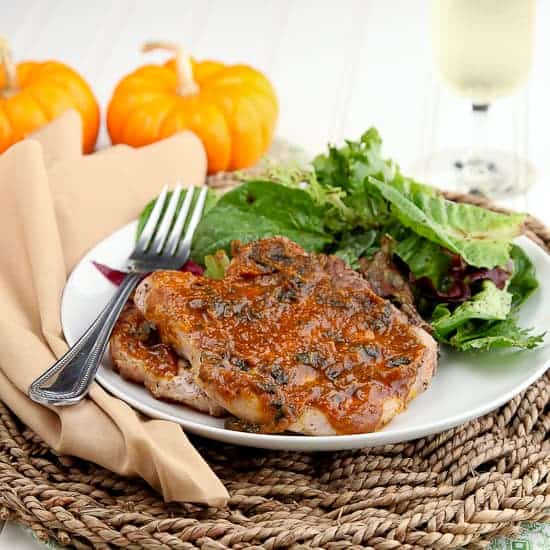 Beyond pure convenience, I was feeling inspired by the makeshift pumpkin patch mountain at the produce market. So inspired that I couldn't help myself when I came across a pile mini apartment-sized pumpkins and swooped up two of them for the coffee table. This time last year, Lucas and I were wrapped up in the Halloween spirit and filled our house to the brim with pumpkin decorations. We even made our baby kitty dress up as a pumpkin (which he, of course, loved -  ha!) for our prize-filled Halloween celebration complete with at least 8 homemade spooky-themed snacks. With all my studying, this October 31st is going to be a lot more mellow than the last, but I plan to make up for it by overeating pumpkin flavored food from now until...well, let's be honest, probably well into the new year.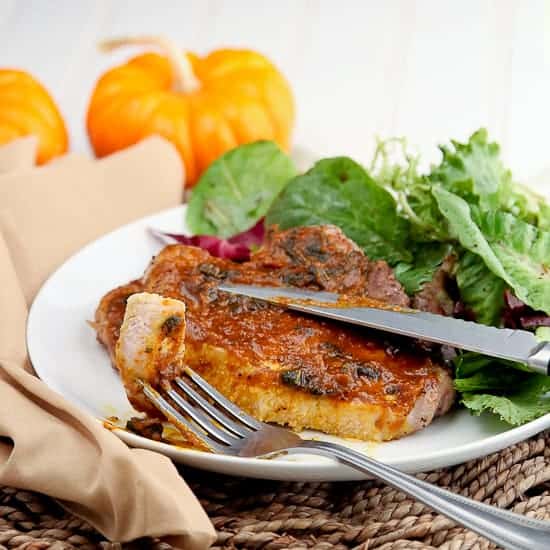 At this time of year, I'm usually getting excited for pumpkin ravioli with sage browned butter sauce, but since I'm cutting down on my pasta intake, I looked for an alternative. For some inexplicable reason, I decided pumpkin would pair well with pork chops. I wrapped up all the flavors of my favorite ravioli into a sauce to slather all over two thin slices of seared pork. Sometimes strange pairings turn up something totally unexpected, but 100% delicious, and that's just what happened when pumpkin met pork tonight. The two didn't just tolerate one another, they danced in unison with every bite; the pork tamed the sweetness of the pumpkin, and the pumpkin made the pork chops even more tender and juicy than they already were. Fall's treating my taste buds right, it seems.
Sage pumpkin pork chops
Serves 2
2 thinly sliced bone-in pork chops (about ½ to ¾-inch thick)
3 tablespoons butter
2½ tablespoons pumpkin purée
1 tablespoon fresh sage leaves, chopped
1 tablespoon olive oil
Salt and pepper, to taste
Preheat the oven to 350ºF.
Heat the olive oil in a medium cast-iron skillet over medium high heat.
Sprinkle both sides of the pork chops with salt and pepper (be generous with the pepper).
When the skillet is heated, add the pork chops, cooking until the bottom develops a nice brown sear. Flip and repeat until the second side also has a nice brown sear (about 1-2 minutes per side).
Transfer the skillet to the oven to finish cooking, until a meat thermometer inserted into the thickest part reads 160ºF. For me, this took about 2-3 minutes.
Transfer the cooked pork chops to a plate and let rest while you prepare the sauce.
Melt 2 tablespoons of butter over medium high heat in a separate skillet. Add the sage and continue cooking until the butter is browned, being careful not to burn it (about 2-3 minutes).
Add the pumpkin purée and stir until completely combined. Add salt and pepper to taste.
Add the final tablespoon of butter and stir until just melted.
Divide the sauce over the two pork chops and serve.