Last updated on March 7th, 2013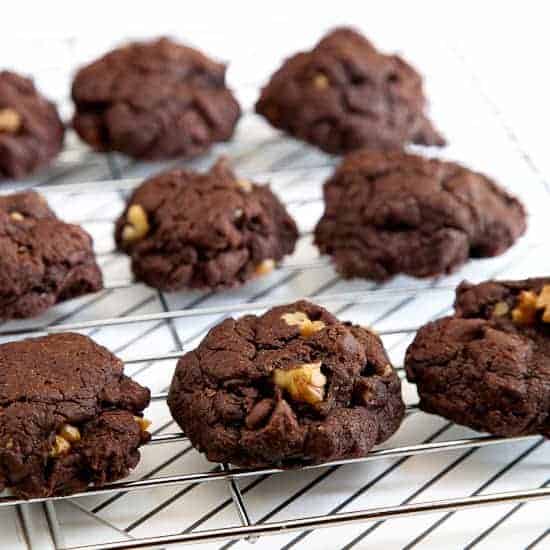 After running his own business building custom homes for the past 30+ years, my dad recently took a job as a civil inspector for the gas and electric company. This career shift requires him to live out of a suitcase in hotels around Northern California five days a week. Bummer for my mom and the lonesome pup who longingly waits by the back door hoping for his best friend's return each night, but big bonus for me. You see, at least 75% of this on-the-road life brings him to the Bay Area where it's convenient to squeeze in a weeknight father-daughter dinner. A perk of the job. When before I was lucky if I got to see my dad every three months or so, NOW he's just a BART ride away. Occasionally I can even twist his arm enough to get him come all the way to Berkeley for a home cooked meal, a welcome change from all the eating out I'm sure. And Wednesday night I dragged him to our place with the promise of a Father's Day feast, topped off with these chunky gooey rocky road cookies to say "I love you."
As close as I am with my mama, I was a daddy's girl growing up (except when I got into trouble). We may or may not have worn matching In-N-Out tee shirts and Indiana Jones hats. Aside from my sarcasm and giant bushy eyebrows, my dad gave me the skill of using power tools, and for that I am eternally grateful. I know most daughters probably say this, but I mean it when I say my dad can fix anything. Oh, and he kicks butt at Trivial Pursuit too; sometimes Lucas and I call him to settle disputes because he always knows the answer to even the most obscure questions. Needless to say, my dad's a pretty cool dude. Back when his visits were less frequent, he'd be welcomed with a mile long daddy-do-list, but I decided to give him a night off for Father's Day;). He's been complaining for a while now that I must not really love him since I've never made him the lasagna that he's heard so much about. So I served up a heaping slice of homemade lasagna as the first course before these chocolatey bites.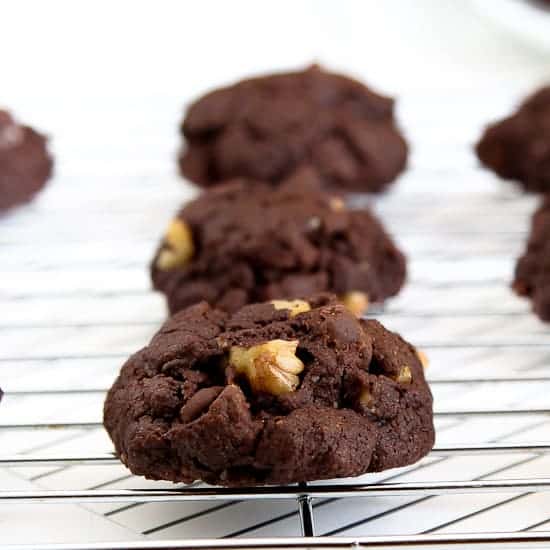 I inherited my immense sweet tooth from both parents, but dessert is one of my dad's most important meals of the day. As a child, my dad taught me the proper way to eat ice cream: overflowing from a giant bowl with no less than two cups full. Nowadays, if the restaurant we're dining at has a poor dessert selection, we always make sure to find a suitable sweet alternative before parting ways. His Father's Day meal wouldn't be complete without a dessert nightcap. As a tribute to one of his favorite ice cream flavors, Rocky Road, I whipped him up a batch of cookies. A taste of home while on the road. Just to make sure they weren't poisonous, I split one with Lucas the night before. Even though chocolate isn't my thing, I'm pretty confident they'd make a chocoholic spin in circles. They were rich and dense, a cross between brownies and fudge with a crunchy cookie exterior. Dad scarfed down three of them in about 30 seconds flat, so I'm pretty sure he loved them.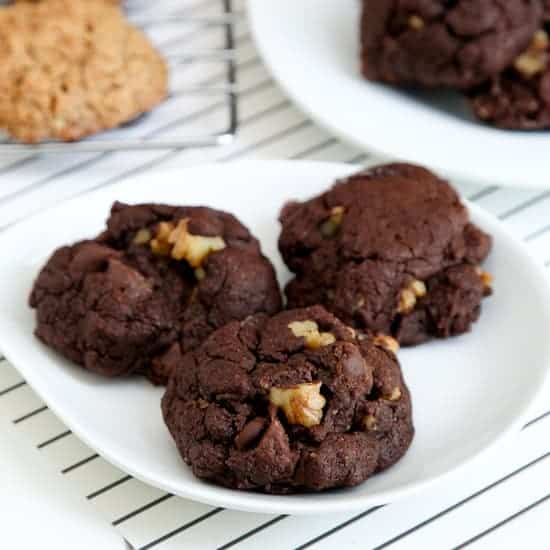 I also made a batch of Lucas's dad's favorite oatmeal raisin cookies. When the honey lemon chamomile cookies arrived for Mother's day, his dad was jokingly concerned that there weren't any oatmeal raisin ones in the box. So we wanted to surprise him with his request. Unfortunately, the recipe produced crunchy biscuits, and by the time they would have arrived in Texas they'd break Roy's teeth. Don't worry Roy, we've got a second try in the oven right now that'll be shipped off tomorrow! I sent the crumbly batch with my dad to share on the job site and was told that all three dozen rocky road and oatmeal raisin cookies disappeared during lunch hour. Success. Happy Father's Day, Daddy!
Rocky Road Cookies (Adapted from Martha Stewart)
Makes about 16 cookies
½ cup all-purpose flour
¼ cup unsweetened Dutch-process cocoa powder
¼ teaspoon baking soda
¼ teaspoon salt
½ cup semisweet or bittersweet chocolate chips (I used ¼ cup of each)
½ stick (4 tablespoons) unsalted butter
¾ cup sugar
1 large egg
½ teaspoon pure vanilla extract
¼ cup chopped walnuts
¼ cup mini marshmallows
Preheat the oven to 325ºF.
In a medium bowl, sift together the flour, cocoa powder, baking soda and salt.
Melt half of the chocolate chips with the butter in a heatproof bowl set over a pot of boiling water.
Transfer the melted chocolate to the bowl of an electric mixer with a paddle attachment. Add sugar, egg, and vanilla. Mix to combine.
On low speed, slowly add the dry ingredients, mixing just until combined.
Fold in the remaining chocolate chips, walnuts, and marshmallows.
Drop about a tablespoon of dough onto a parchment-lined baking sheet about 2 inches apart, making sure that the marshmallows are not exposed. The marshmallows will melt in the oven, so it's best if they're inside the balls of dough or they'll leave a void on the top of the cookie when they melt. Next time, I might try adding a couple marshmallows on top just before the cookies are done like I did with my s'mores cookies. Check out that recipe if you'd like just a little more marshmallow gooeyness.
Bake for 12-15 minutes, until the surface begins to crack. Transfer to a wire rack to cool. Serve with a cold glass of milk.