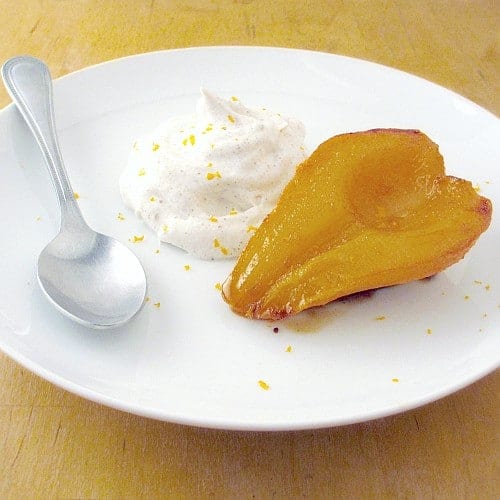 If I didn't have The Monterey Market to guide me, I don't think I would ever have learned what fruits and vegetables are in season. If I went by Safeway's produce section, it would seem everything's in season all the time. Unlike Safeway, our little market down the street lets you know what's in season by stocking more than five varieties of the seasonal produce and lining the entry way with them. What I learned from my most recent trip, as you can already tell from my previous posts, is that kale, citrus, sweet potatoes, and PEARS are in season right now. Pears make the perfect wintry dessert. And, they're fruit, so they can't be THAT bad for you, right? ...right? (Did I mention that I packed them with brown sugar and served them with whipped cream?)
What I love most about this recipe is that it takes less than five minutes of hands-on time for a warm decadent dessert. After dropping the pears off in the oven, I set two timers: one to tell me they're done and another five minutes earlier to remind me to start beating the whipped cream. What's more, I get to use my KitchenAid mixer, which is always exciting. The roasted pears with accompanying cinnamon nutmeg whipped cream was a light confection packed with flavor. And Lucas, who seems to be missing his sweet tooth, asked for seconds!
The only warning I send when replicating this treat is to use a glass baking dish because the brown sugar packed into the pears will caramelize and harden; I soaked my pyrex for about 10 minutes and the hardened caramel was gone, but I suspect the tune might be different and sadder for a non-stick metal baking pan. I send this warning as someone who, until Christmas, didn't own any pyrex baking dishes, and consequently destroyed the non-stick in two baking pans with her dangerous oven stunts.
Roasted pears with cinnamon nutmeg whipped cream
2 bosc pears, peeled
About ½ cup brown sugar
½ cup heavy whipping cream
½ teaspoon cinnamon, or to taste
1 teaspoon ground nutmeg, or to taste
¼ cup powdered sugar, or to taste
Zest of 1 mandarin
Preheat the oven to 400°F.
Cut the pears in half and spoon out the seeded center (I also cut out the stem-y strip from the top to the stomach of the pear but I don't think this is absolutely necessary).
Pack each pear stomach with brown sugar and place face down on a glass baking dish. Bake for 30-40 minutes, until tender.
With stand mixer or by hand, beat heavy whipping cream until it begins to froth, a couple of minutes. Add powdered sugar, cinnamon, and nutmeg and continue beating until soft peaks form (I recommend adding the sugar and spices slowly so you can adjust the flavors to your liking. Usually I add vanilla, but sadly, I ran out).
Serve baked pear with whipped cream on the side. Zest mandarin skin on top to garnish.