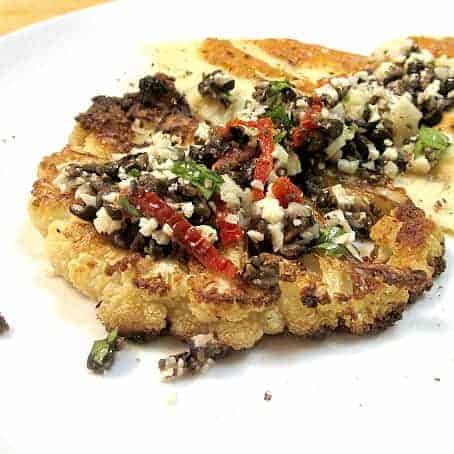 I've been receiving Bon Appétit for almost two years now, and always enjoy flipping through the pictures of mouth-watering food. I need a better system for flagging recipes I'd like to try though because whenever it comes to meal planning night, I always forget about the stack of shiny pages of food waiting to be prepared. I have made it my mission to get through some of these recipes in 2012, and these cauliflower steaks are one of them. We worried about the cauliflower steaks not being filling enough on their own (which they weren't) since usually the two of us devour an entire head of cauliflower as a side. So, I decided to use the remaining cauliflower scraps to make hand-cut ravioli to serve with the steaks. This was a good idea, as the consensus was that although we enjoyed the cauliflower steaks with olive relish, we didn't love them, and in fact, preferred the creamy cauliflower ravioli with the roasted tomato sauce. I'm not opposed to trying again, but next time, I would double the amount of tomato sauce and steam the cauliflower bits that are in the relish beforehand.
Remember my love of the KitchenAid mixer? For my birthday last year, my parents, brother, and boyfriend got me a six-piece pasta attachment kit and I have gotten so quick at making fresh pasta that it ends up taking almost the same amount of time as cooking boxed pasta (aside from the 30 minutes you have to let the dough rest before rolling it), and is more than twice as tasty. My boyfriend made the bold statement two weeks ago, "mark my words, I will never pay for pasta that isn't fresh ever again." I agree - once you've had fresh pasta, you feel cheated, like you were lied to your entire life about what pasta should taste like. The kit comes with a ravioli maker attachment, but because I was making such a small batch of ravioli, I decided to hand cut the pasta instead. This recipe that took advantage of whatever I had left in my fridge was probably the best ravioli I've ever made, and paired perfectly with Bon Appétit's tomato sauce. In the words of Lucas, "this is a repeater."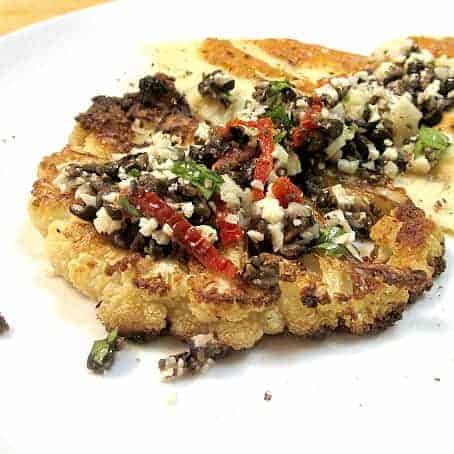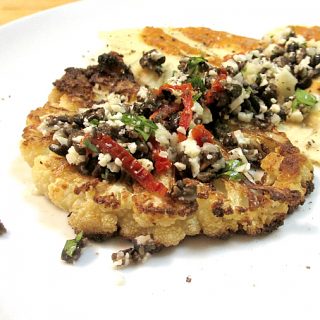 Roasted cauliflower steaks with olive relish and tomato sauce 
Ingredients
1 large head of cauliflower
½ cup chopped black olives, drained
3 sun-dried tomatoes, thinly sliced
3 ½ tablespoons olive oil, divided, plus more
2 tablespoons chopped flat-leaf parsley
1 teaspoon fresh lemon juice
Kosher salt and freshly ground black pepper, to taste
5 garlic cloves
4 plum tomatoes, cored, quartered
Instructions
Remove leaves and trim stem end of cauliflower, leaving core intact. Place cauliflower core side down on a work surface. Using a large knife, slice cauliflower into four ½" "steaks" from center of cauliflower (some florets will break loose; reserve). Finely chop enough loose florets to measure ½ cup (reserve the rest for the ravioli).
Transfer chopped florets to a small bowl and mix with olives, sun-dried tomatoes, 1 Tbsp. oil, parsley, and lemon juice. Season relish with salt and pepper.
Preheat oven to 400°. Heat 1 tablespoon olive oil in a large heavy oven proof skillet over medium-high heat. Working in 2 batches, cook cauliflower steaks until golden brown, about 2 minutes per side, adding 1 Tbsp. oil to pan between batches. Transfer steaks to a large rimmed baking sheet. Reserve skillet. Roast cauliflower until tender, about 15 minutes.
Meanwhile, return skillet to medium-high heat and add garlic cloves and tomatoes, one cut side down. Cook until tomatoes are browned; turn tomatoes over to other cut side and transfer skillet to oven with cauliflower. Roast garlic and tomatoes until tender, about 12 minutes.
Transfer garlic, tomatoes, and ½ tablespoon oil to a food processor; purée until smooth. Season with salt and pepper to taste. Divide tomato sauce among plates. Place 1 cauliflower steak and three ravioli (see below) on each plate; spoon relish over. Serve warm or at room temperature.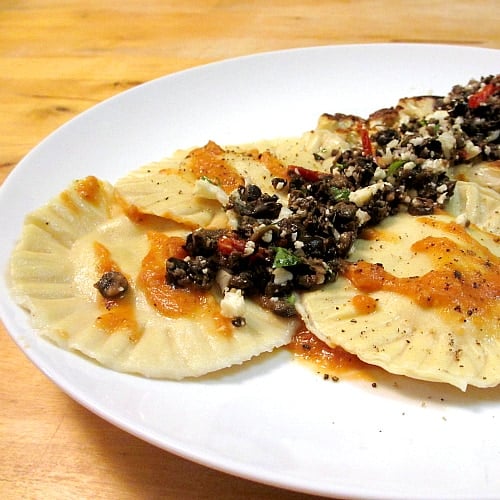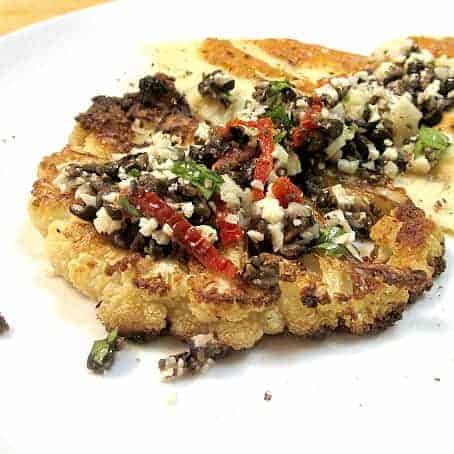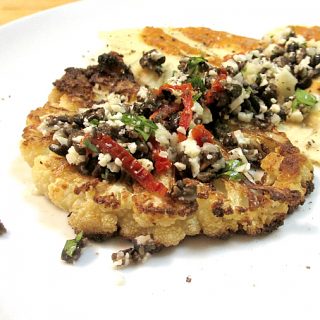 Creamy Cauliflower Ravioli
Ingredients
Basic egg pasta dough
3 cups all-purpose flour, plus extra for kneading and rolling
4 large eggs, plus 1 for binding ravioli
1 tablespoon olive oil
½ teaspoon salt
Water, as needed
Creamy cauliflower filling
1 ½ cups chopped cauliflower
2 tablespoons butter
2 tablespoons heavy cream
2 tablespoons whole milk
¾ cup finely grated parmesan
Dash of dried sage
Kosher salt and freshly ground black pepper, to taste
1 ½ cups shiitake mushrooms, thinly sliced
Instructions
Basic Egg Pasta Dough
Sift the flour into a large bowl (or KitchenAid bowl with flat beater attachment).
In a separate bowl, beat 4 eggs, olive oil, and salt together until combined.
Pour egg mixture into flour and mix (it may be crumbly still).
Using your hands, knead until dough forms. In my experience, the mixture is really dry, so I add ½ teaspoon of water at a time while kneading. Knead until dough is smooth and elastic. Wrap in plastic wrap and let rest for 30 minutes. Prepare ravioli filling as below.
After 30 minutes, cut dough into 6 equal pieces. With rolling pin or with a pasta maker attachment, roll out one piece at a time, reserving the others in plastic wrap. I had a really hard time rolling the dough by hand before I had the pasta maker attachment, but I hear it's possible. If using a pasta maker, I roll dough to 5 thickness for ravioli. Be sure to flour both sides of the rolled out pasta as you go so it doesn't get too sticky.
Cut ravioli shapes out of the pasta (I used a cup because I still don't have a circle cookie cutter), reserving the scraps to roll out again (like making sugar cookies:).
Put a drop of filling (see below) onto one side of the ravioli (depending on how big you make your shapes). Whisk remaining egg in a small bowl, and brush egg along the inside edge of the ravioli. Place another side of ravioli over to cover filling, pressing edges together. Use a fork to bind edges together. Cook in boiling salted water for 3 to 4 minutes (or longer depending on how thick the pasta is). Serve with tomato sauce.
Creamy Cauliflower Filling
In medium skillet, brown butter over medium high heat. Add chopped cauliflower and cook until tender. Remove from skillet.
Add mushroom slices and cook until tender. Reserve.
Add cauliflower, cream, milk, parmesan, sage, salt, and pepper to food processor and purée until smooth. Mix with cooked mushrooms.
Chill. This step is important because if you put the steaming hot filling onto the raw ravioli, it'll make the pasta flimsy and sticky.
Fill ravioli, cook, and serve with tomato sauce (above).