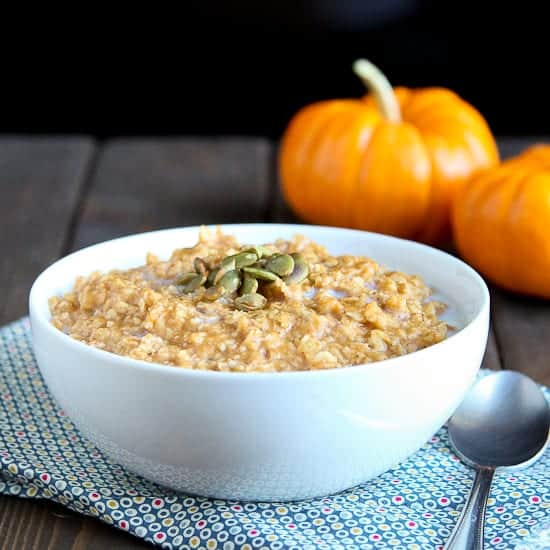 Like I said, pumpkin is taking over my blog! That's what happens when you don't want to let just one spoonful of pumpkin purée go to waste. Who knows what's next: Pumpkin cookies? Pumpkin cupcakes? Pumpkin cheesecake?! Clearly I've got a one track mind for sweets right now. To try to fulfill my pumpkin pie cravings in a healthier way, I bring to you: pumpkin pie oatmeal! I mean, let's get real for a minute here, who hasn't snuck a slice of pie before noon the day after Thanksgiving? (And then again for lunch...and dinner...and dessert). At least this way, you can feel much less guilty about it.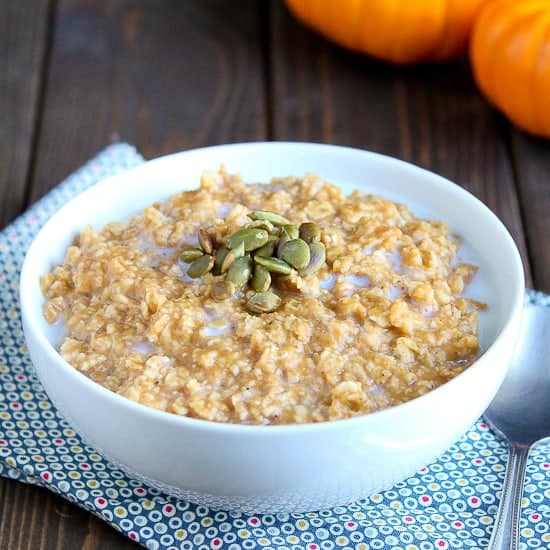 I have a bitter-sweet relationship with this pumpkin pie oatmeal. On the one hand, I embrace fall and all its pumpkin glory with open arms. Bring it on, fall! On the other hand, I really miss summer peaches. For the past few months, I've been cooking up rolled oats with chopped fresh peaches for breakfast every single day and loving every single minute of it. This pumpkin pie oatmeal is a tasty fall replacement, but I'm going to have to alternate it with some apple pie oatmeal to make sure I get my fruit fix.
For convenience, I normally cook oatmeal in the microwave, but for this special occasion I went all out with a pot on the stove (and it still took very little time!). I'm just that fancy. I'm sure it changed nothing about the flavor though, so feel free to trade in your saucepan for a microwaveable bowl and nuke it for a couple of minutes. Either way, it tastes like a heathy version of your favorite fall sweet, made savory and filling for a morning boost.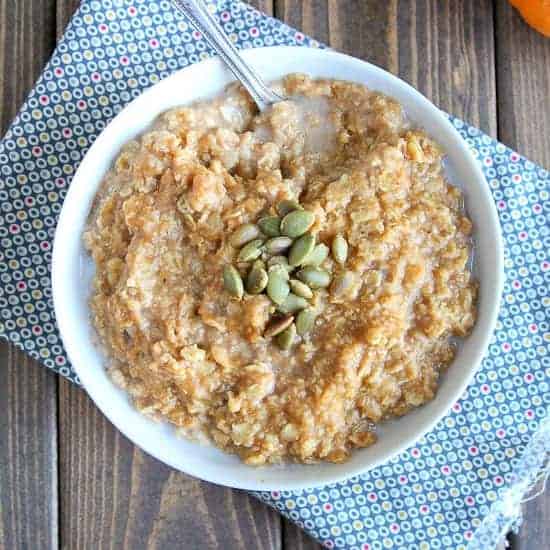 In other exciting news, I bought a wedding dress on Sunday! It only took 7 dress shops and about 60 dresses to fall in love. We spent Saturday night watching (and mocking) Say Yes to the Dress and the outrageous amounts of money people are willing to spend on a white dress. On one episode, the father spontaneously removed his daughter's $5000 budget (!) when she hadn't found 'the one,' and she wound up choosing a $10,000 gown! O. M. G. There are no other words. We promptly got my dad on speaker phone to find out what he thought was a reasonable price for a wedding dress. His hypothetical price could have probably afforded the zipper on her gown. Maybe. Oh Dad, don't you know I can only truly know the extent of your love if you're willing to sell your motorcycle, television, and kidney for my dress??! (Just to be clear: that is sarcasm). Just when my mom started talking about lowering our expectations, we stumbled upon a quaint little shop in Marin county stocked with beautiful gowns all under our budget. Score! Happy camper here. Maybe I'll celebrate with homemade pumpkin pie...
Pumpkin pie oatmeal
Serves 2
1 cup rolled oats
4½ tablespoons pumpkin purée
½ teaspoon cinnamon
¼ teaspoon ground nutmeg
¼ teaspoon ground ginger
Smidgen ground cloves
A pinch of salt
1½ cups water
2 tablespoons brown sugar
Optional: Milk & pepitas, for serving
Combine everything except the milk and pepitas in a small pot over medium heat.

When it begins to boil, reduce heat to low and continue cooking, stirring occasionally, for a few minutes, until the oats are cooked through and the water evaporates.

Remove from heat, divide between two bowls, and top with about a teaspoon of milk and a teaspoon of pepitas. Serve warm.