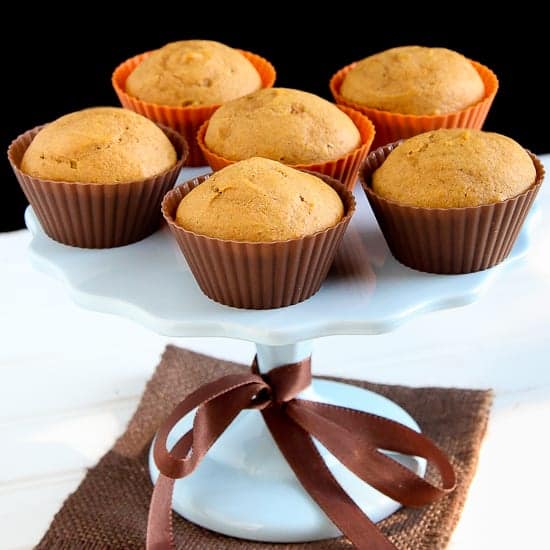 Fall is coming! Or at least there was a hint of fall approaching last Friday. The sky was overcast, the sun went down early, and there was a chill in the air. I spent the afternoon mourning the loss of summer, and by 5 o'clock, I was ready to bundle up in a blanket in front of the fireplace to watch a movie while sipping a mug of hot cocoa. With a dollop of whipped cream on top. I'd gotten used to the idea of fall weather. Convinced myself that it wasn't all that bad. I mean, there are lots of great things about fall. Best of which are the endless possibilities for pumpkin desserts. So we marked the change in seasons with a heaping bowl of Trader Joe's pumpkin ice cream Friday night, followed by these freshly baked pumpkin pie muffins in the morning.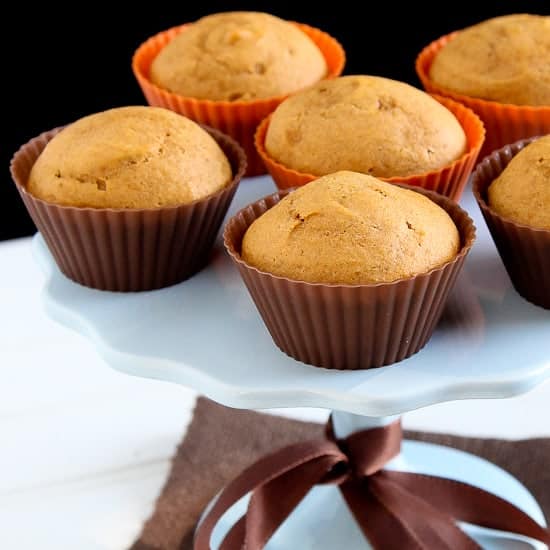 Signs of fall were all around as the weekend began. The Monterey Market received this year's enormous pumpkin for their annual guess-the-weight contest. The aisles of Safeway donned cheesy turkey-themed decorations. The fenced-in urban pumpkin patch opened its doors in Emeryville. An orange leaf floated into my picture frame from the tree above. By Saturday afternoon, we were dreaming of Thanksgiving over these fluffy spiced pumpkin pie muffins. And by evening, we'd caved to the teasing of the season and pulled our electric blanket out of storage. And then BOOM! Just when you think fall is here to stay, summer barrels back through, wiping out any signs of autumn. Yesterday reached a record-breaking sweltering 95ºF. Our tiny air conditioner-less apartment turned into a sauna as it soaked up the heat coming in from our west-facing sliding glass door. Interrupting my reading to stick my head in the freezer, I thought, "at least I have these muffins to console me."
For one tiny moment in time, these muffins transported us to the coming season. Imagine all the spices of your favorite Thanksgiving pumpkin pie mixed up into a moist fluffy morsel. Each bite (slightly) healthier than a sugary cupcake, but loaded with just as much flavor pizaz. Yummy! They were also the perfect excuse to pull out my new baby blue cake stand from Collete @ Just for Foodies. With these muffins for breakfast, I'll happily let go of summer.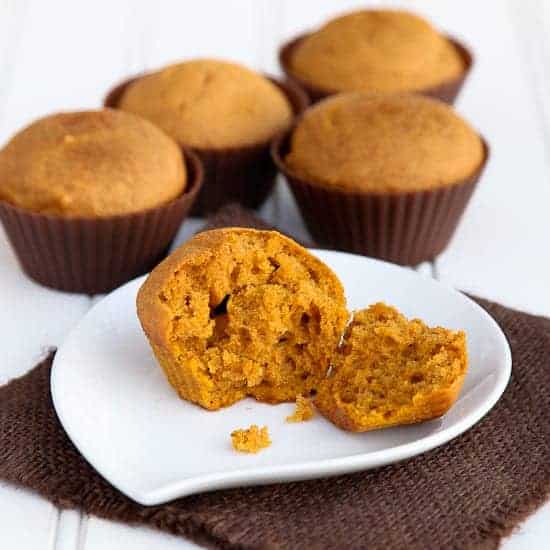 Pumpkin Pie Muffins
Makes about a dozen
1 cup pumpkin puree (not pumpkin pie filling)
¾ cup sugar
⅓ cup vegetable oil
2 eggs
¾ teaspoon cinnamon
½ teaspoon ginger
⅛ teaspoon cloves
⅛ teaspoon nutmeg
½ teaspoon baking soda
½ teaspoon salt
1½ cups flour
Preheat the oven to 350ºF.
In the bowl of an electric mixer, combine the pumpkin, sugar, vegetable oil, and eggs. Mix until smooth.
In a separate bowl, whisk together the cinnamon, ginger, cloves, nutmeg, baking soda, salt, and flour.
Gradually add the dry ingredients to the pumpkin mixture, and mix on low until just combined.
Divide the batter among lined muffin tins, filling each cup ¾ full.
Bake for 17-22 minutes, or until a toothpick stuck in the middle comes out with just a few crumbs.