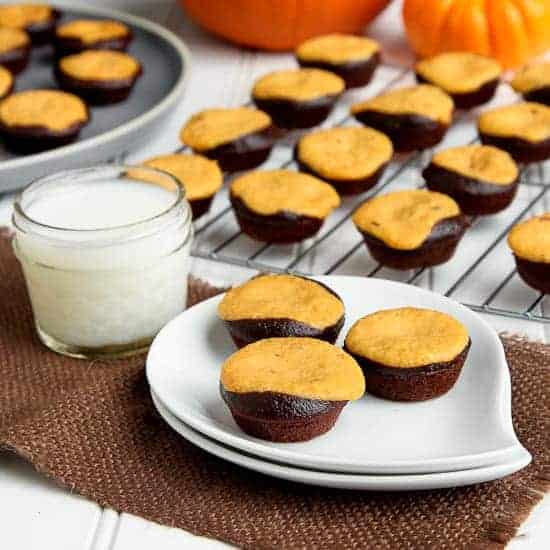 October has come and gone, but my obsession with pumpkin recipes didn't end when the lights in the Jack-O'-Lanterns flickered out on November 1st. No, it's becoming clear that pumpkin is gonna keep turning up on my menu for quite some time. In fact, no one can say with certainty, but it's very possible that I stress ate a pumpkin spice cupcake, followed by a scoop of creamy pumpkin ice cream tonight. When I saw Lucas serving himself a bowl of ice cream and asked for some, he disapprovingly reminded me that I had already scarfed down all but one bite of the pumpkin cupcake we got to split at the food truck festival this evening. But GEEZ, Lucas, that was at least 2 hours earlier. Which means it doesn't count. Not even a little bit. Plus, we shared that cupcake, remember?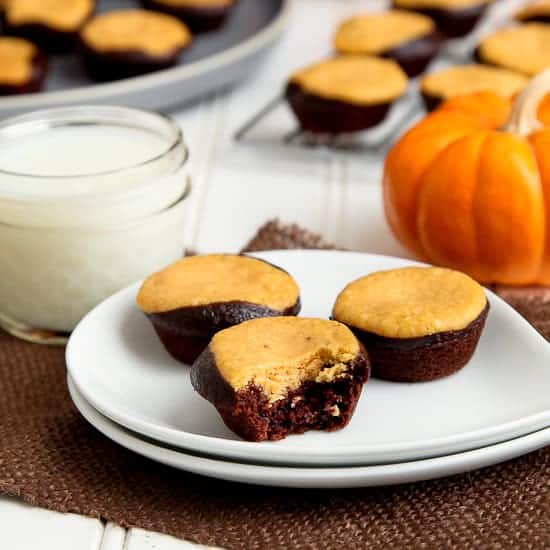 I must admit, these pumpkin cheesecake brownie bites actually came out of the oven about an hour after the healthy Halloween snacks I posted last week. If you thought I was avoiding the candy-filled holiday with my apples and snap peas, you were mistaken, my friend. I may not have dressed up or thrown a spooky party, but I will never pass up an opportunity to partake in a holiday that endorses sugar comas. Impossible. Growing up, my BFF Kira and I would throw on our best homemade costumes (see below) and hit the streets early to fill our pillow cases to the brim with Butterfingers and DumDums. Yes, you read that right, full-sized pillow cases. We were very strategic about our route too, knowing that houses on the darker, less frequented streets were much more likely to toss a full-sized candy bar into the bag. We'd need her dad to drive us though, as the houses were also further apart from one another. Then, when we'd taken advantage of all these highly-prized spots, he'd drop us off in the popular neighborhood where we'd stick around until we'd knocked on every. single. door. At which point, we'd promptly head home and devour at least half of the loot in one sitting. Ah the good ole' days.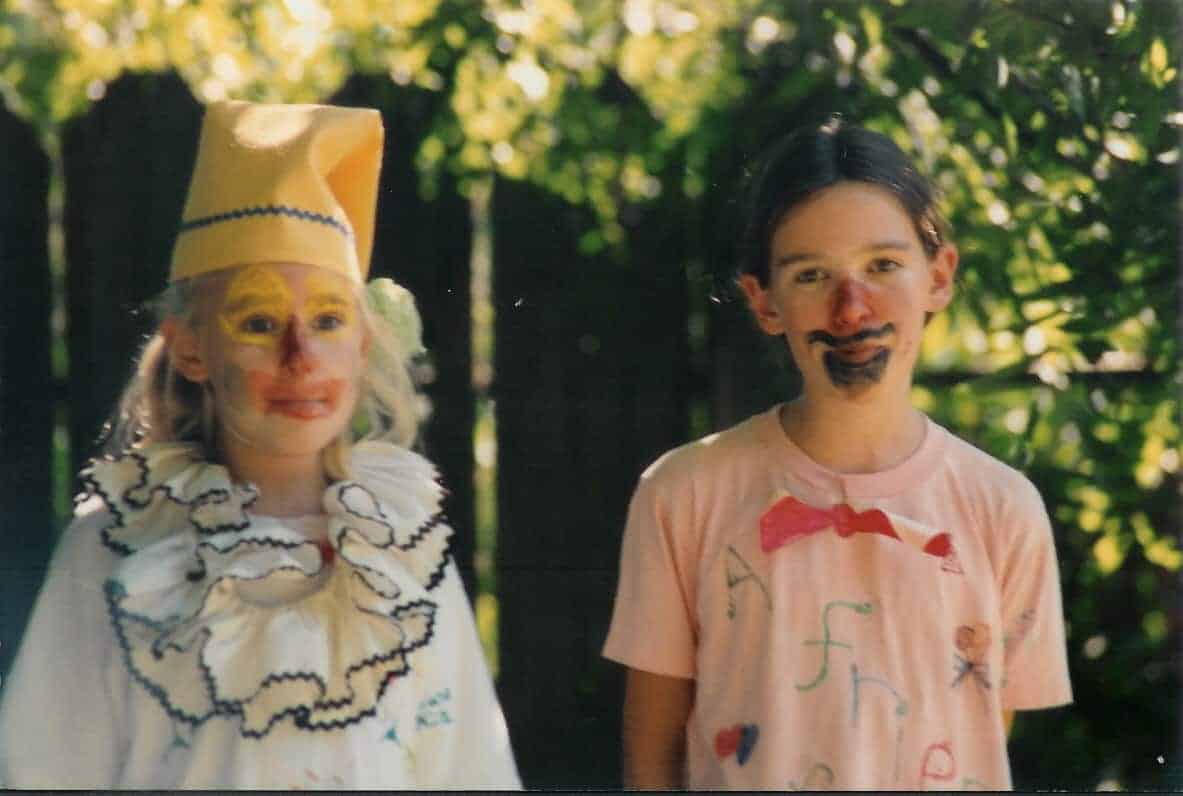 One of our super creative homemade costume ideas. And this wasn't even Halloween.
As if the idea of a potential Halloween sugar rush weren't enough, these bite-sized confections were actually made for two special occasions, which made me feel much less guilty about taking an hour off from studying to bake. First, our landlords' daughter Emma turned 17 on Halloween and definitely needed a special sweet treat to celebrate. Also, my friend Diane took her qualifying exam last week, which was the perfect excuse to whip up something delicious for her committee. (She, of course, rocked her exam). My pal Nicole gears up to take hers next week, which means mine are that much closer and my stress that much higher. In the next three weeks, I can use all the good energy sent my way as I wade through the dense set of readings I've chosen. And, as all my conversations for the past month have been going, I've managed to bring thoughts about how identity gets negotiated in classroom discourses to the fore while trying to simply share a recipe. I JUST WANT TO TALK ABOUT BROWNIE BITES, GOSHDARNIT, BRAIN!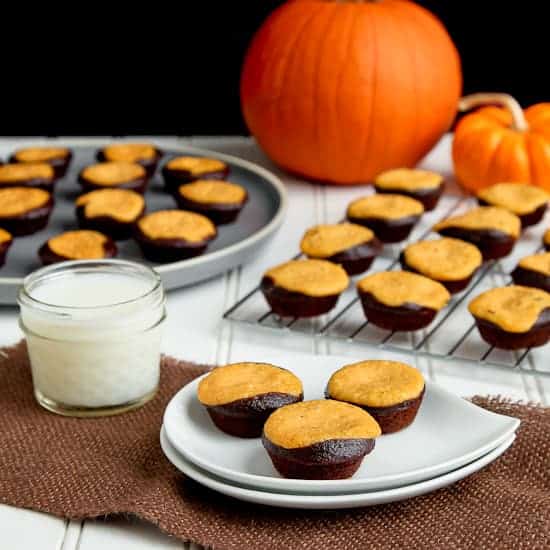 Those of you who've flipped to the About Me section here on Snixy Kitchen to figure out what I'm all about might be totally confused why I, as a self-proclaimed chocolate hater, chose a chocolate-based recipe. And liked it. No, loved it. Something's up, right? Yes. A couple of weeks ago, the sweet people over at Rodelle sent me some baking goodies as a thanks for my guest post awhile back. In the package was a little glass bottled labeled "chocolate extract." I've heard of vanilla, lemon, raspberry, younameit extract, but the idea that you'd need chocolate extract seemed a bit preposterous to me. I mean, couldn't you just add cocoa powder? Or melt up a bar of baking chocolate? A bit of research led me to discover that some of the richness of pure chocolate is actually lost when making cocoa powder or bar chocolate, and adding a dash of chocolate extract rounds out the top notes in an "indescribable way." I was skeptical. Since I was already using this rare baking opportunity to kill three birds with one stone, I might as well knock another one out and test the theory. I'm no chocolate expert like the little old lady who runs the coffee market down my street, but as someone who would rather pick up any other kind of cupcake besides chocolate, I thought they were I-need-to-eat-five-and-another-and-another-and-can't-get-enough scrumptious. I may not be a chocolate loving convert just yet, but I could easily eat a dozen of these mini bites in one sitting. And that's just what I did. Maybe I'll try again with a control group for Nicole's exams next week.
On a much sadder note, I'd like to dedicate these brownie bites to my amazing chocoholic advisor Randi Engle, who passed away on October 26th after a 2-year battle with pancreatic cancer. She was a tremendous inspiration in my studies and I feel very lucky to have had the opportunity to learn from her brilliant mind and vivacious spirit. Just as I am, she was incredibly verbose in her writing, and often confessed, "I sent you a long e-mail because I didn't have time to make it shorter." You'll notice this post is much longer than usual, and, as Randi would say, it's because I didn't have time to make it shorter.
Pumpkin cheesecake brownie bites (Adapted from Smitten Kitchen)
Makes about 5 dozen mini
Pumpkin cheesecake filling
12 ounces cream cheese, at room temperature
½ cup sugar
1 large egg, room temperature
¼ cup pumpkin puree
½ teaspoon vanilla extract
½ teaspoon cinnamon
½ teaspoon ground ginger
Pinch of nutmeg
Pinch of salt
In the bowl of an electric mixer, combine all of the ingredients.
Beat the mixture on medium-high until completely combined.
Set aside while you make the brownie batter.
Brownie batter
1 ½ cups all-purpose flour
1 cup packed light brown sugar
5 tablespoons unsweetened cocoa powder
1 teaspoon baking soda
¼ teaspoon salt
1 cup water
⅓ cup vegetable oil
, plus a little extra for greasing the tins
1 tablespoon apple cider vinegar
1 teaspoon vanilla extract
1 teaspoon chocolate extract
Preheat the oven to 350°F. Using a paper towel, lightly grease a 12-cup mini muffin tin with vegetable oil (or line with paper cups).
In a medium bowl, whisk together the flour, brown sugar, cocoa powder, baking soda, and salt.
In a separate bowl, whisk together the water, vegetable oil, vinegar, vanilla extract, and chocolate extract.
Pour the wet ingredients into the center of the dry ingredients, and whisk just until smooth.
Fill each muffin cup just less than halfway with about 1 tablespoon of brownie batter. Spoon about half a tablespoon of cheesecake mix on top of the brownie batter, filling the cups just a little bit less than completely full.
Bake for about 10-12 minutes, until the tops are slightly golden brown.
Transfer to a wire rack to cool and store in an air tight container. (You can keep these unrefrigerated for a couple of days, but I actually really like them refrigerated too.)