Sometimes it's nice to take a break from studying to spend an entire day in the kitchen. Well at least the second half of the day that you didn't spend sleeping in. A group of Lucas's college friends (and now my new friends!) threw a potluck on Sunday to toast our engagement, and I seized the opportunity to make my kitchen feel loved and wanted again. It'd been awhile since I coated every surface with flour and I could tell my KitchenAid was feeling neglected. So I threw on an apron first thing in the morning (read: 12:00pm) and got to work making these SUPER ADDICTING pretzel bites.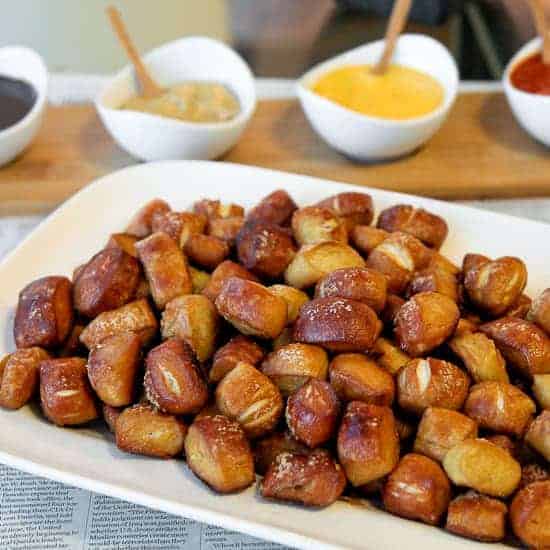 These bites of heaven were actually inspired by my fancy new serving dish. Back when Groupon was just getting popular - you know, when they'd offer Fandango movie tickets for next to nothing - I accumulated a bank of Groupon bucks for referring my friends. And now that Groupon's specialty is Lasik eye surgery and liposuction (both of which I'd be very skeptical to get a "deal" on), it's rare that I actually find something worth using my promo money to buy. So when I snagged this serving dish made by Core Bamboo with four little white asymmetrical bowls and accompanying teeny-tiny spoons, I was thrilled! More excuses to cook, and one more pretty way to present food. Without a proper excuse to use it, it's been in the box since it arrived...until now. What better to serve with a cute little platter than miniature pretzel bites served with a sampler of sauces?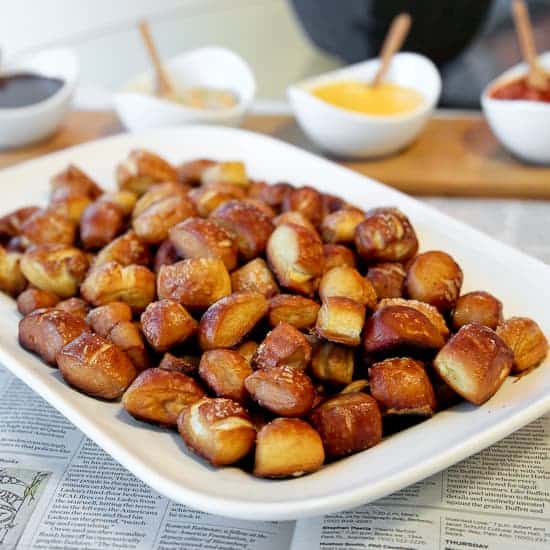 As soon as the timer went off, Lucas popped a warm pretzel bite into his mouth and exclaimed, "WHAT makes these SO pretzel-y!?!!?" The trick, my friends, is a quick dunk in a boiling bath of water and baking soda before sticking them in the oven, and you'll wind up with a bite that puts all other pretzels to shame. Despite the spread of delicious eats on the table Sunday evening, all 160 of these pretzel bites disappeared within an hour. People had to get up from the couch and move across the room to refrain from dunking one fluffy bite after another into gooey cheddar cheese...and spicy Pale Ale mustard...and warm pizza sauce...and finally creamy melted chocolate for salty meets sweet perfection. And repeat. Like I said, dangerously addicting.
Pretzel bites with four distinct dipping sauces
Pretzel Bites (recipe slightly adapted from Bobby Flay)
Makes about 160
1½ cups warm water
2 tablespoons light brown sugar
1 package active dry yeast
6 tablespoons unsalted butter, melted
2½ teaspoons kosher salt
4¾ cups all-purpose flour
Vegetable oil
12 cups water
¾ cup baking soda
1 egg, beaten
Salt (I recommend using pretzel salt or coarse sea salt, but I only had kosher salt, so that's what I used and they were still delicious)
Combine the water, sugar, yeast, and butter in the bowl of an electric mixer with the dough hook. Once combined, let sit for 5 minutes.
In a separate bowl, mix together the flour and salt. Add the dry ingredients to the wet ingredients and mix on low-speed until combined.
Increase the speed to medium until the dough is smooth and pulling away from the sides of the bowl, about 3 minutes.
Remove from the bowl and knead on a flat surface for an additional minute.
Grease the inside of the bowl with vegetable oil and return the dough to the bowl, turning until coated with oil. Cover with a kitchen towel and let stand for an hour.
Meanwhile, prepare the dips according to the recipes below.
Preheat the oven to 425ºF.
Bring a large pot full of water mixed with baking soda to boil over high heat.
Remove the dough from the bowl and on a flat surface, divide the dough into 8 equal pieces.
One at a time, roll each piece into a long rope about 22 inches. Cut each rope into 1" pieces.
Working in batches of about 22 pieces, boil the pretzel bites for 30 seconds, being sure to stir the pot so all sides are covered. Use a strainer to remove the bites from the water and place on a parchment-lined baking sheet so they aren't touching. Repeat with all pretzel bites.
Brush the tops with the egg wash and season liberally with salt.
Bake for 10-11 minutes, until golden brown (Be careful not to over bake, or the bottoms will start to burn).
Remove from oven and let cool on a baking rack.
Serve with mustard, pizza sauce, cheese dip, or melted chocolate. (I used store-bought pizza sauce and Sierra Nevada's Pale Ale mustard)
Cheese dip
½ tablespoon unsalted butter
½ tablespoon all-purpose flour
¾ cup milk
8 ounces of cheddar cheese, grated  (grate it yourself)
½ teaspoon cayenne pepper
Salt and pepper, to taste
In a medium sauce pan, melt the butter over medium heat.
Add the flour and cook for 2 minutes, whisking constantly, until it begins to brown.
Add the milk, slowly, and cook, whisking, until it begins to thicken.
Add the grated cheddar cheese and stir until melted.
Remove from heat and add the cayenne, salt, and pepper. Serve warm. (If it begins to harden before you're ready to serve it, just zap it in the microwave for a few seconds to soften it up again)
Chocolate sauce
1 cup semi-sweet chocolate chips
1 cup heavy whipping cream
½ teaspoon chocolate extract (optional, but it tastes so good!)
Boil an inch of water in a small/medium saucepan over low heat. Place a heat-proof bowl over the top, so the bottom of the bowl is not touching the bottom of the pan.
Add the chocolate chips to the bowl and stir until melted. Add the heavy whipping cream and chocolate extract and stir until combined. Continue cooking until warm.
Remove from heat and serve warm.