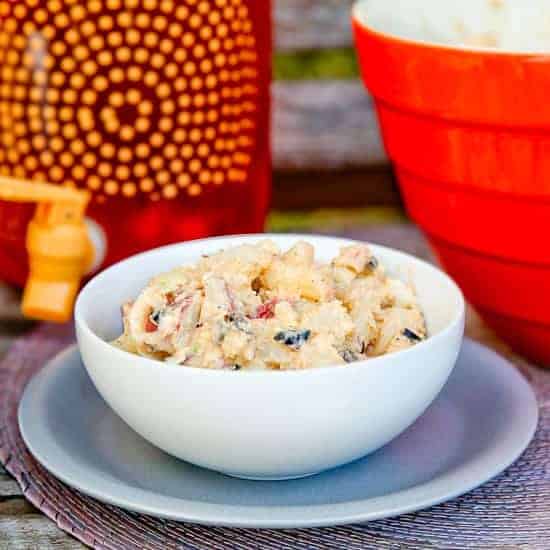 Turns out that delicious homemade potluck-style potato salad is a bit of an enigma. Everybody's mom, aunt, grandma, and third cousin brings an award-worthy heaping bowl of it to the family cookout, but no one will divulge their recipe.
"I do it by taste," they say, as if it's a giant secret. Everyone makes it, but no one knows how.
Relatively new to the kitchen, when making a dish everyone's tasted, I like definitive quantities, thorough steps, a time-tested recipe that's guaranteed to turn out yummy. Alas, I embarked on a potato salad mission with only a few passed-down pieces of wisdom: 1. Big Sarah shared, "Cutting up whole olives releases more flavors than pre-diced," and 2. Mama chimed in, "You want the potatoes not too silky when you cut into them, but not falling apart either. And make sure to chill the whole cooked potatoes before chopping them up."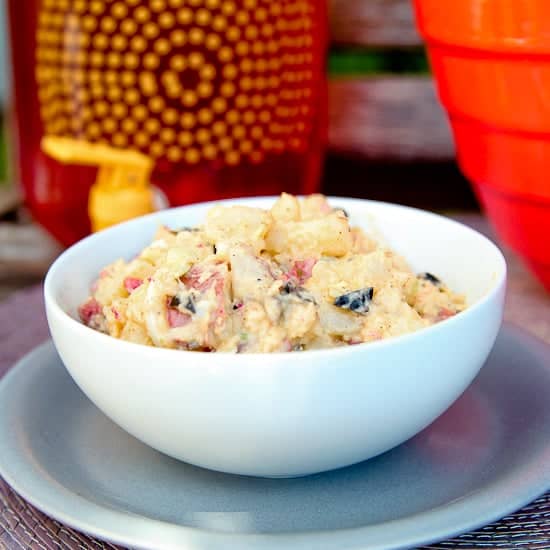 With this advice, I set out to make a potato salad for a Memorial Day barbecue with Lucas's college buddies (read: 12 hungry boys). Like my predecessors, I did it by taste, but I kept track of precise amounts so, unlike me, you won't have to go with your gut and risk a belly flop when making a classic salad.
Preparing for our grill fest (and apparently a natural disaster), I lugged 5 pounds of potatoes, 3 pounds of strawberries, 10 ears of corn, 2 giant eggplants, 3 zucchini, 3 onions, 3 bell peppers, a stalk of celery, 5 portabella mushrooms, 17 cremini mushrooms, 2 shallots, 2 lemons, and a clove of garlic back up the hill to our apartment Saturday morning. It took me nearly 15 minutes to walk 2 blocks, and I huffed and puffed the entire way.
Taking after my mother, I overbought...clearly 15 people weren't going to drink 60 sodas, but what if something terrible happened and we all got trapped inside for a week? If you're going to invite that many people over, you better be prepared to care for them in an emergency.
So maybe we didn't need all those veggies on top of the BYO meat each guest contributed, but on the bright side, leftover potato salad and vegetables for the week. Well, not that much uneaten potato salad, but I'm up to my ears in corn (see what I did there?).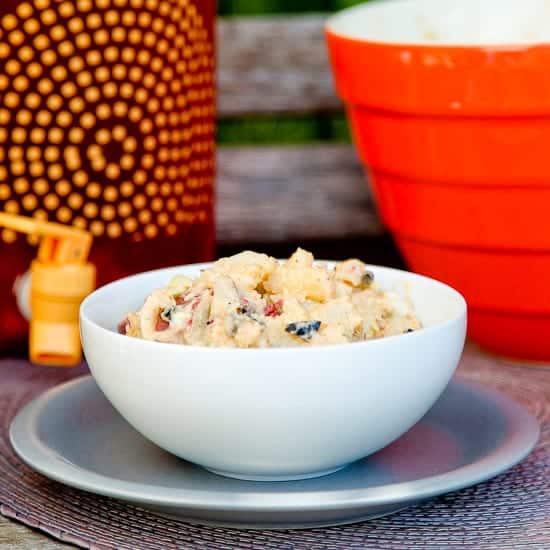 This by-taste potato salad pursuit was a big win in my book. Before even adding the dressing and add-ins, the chilled potatoes alone were incredibly flavorful; I don't usually like plain potatoes, but these made a delicious base. Opting for black olives over the more traditionally used relish or pickles was another wise choice...especially because it meant I could put five on my fingertips and eat them one by one.
Rather than being mushy from overcooked potatoes and too much mayonnaise, each bite of this potato salad tasted fresh and hearty. It was such a hit that Sandy told me I could open a deli with this recipe. If you're looking for the perfect homemade potato salad to bring to your next potluck, look no further.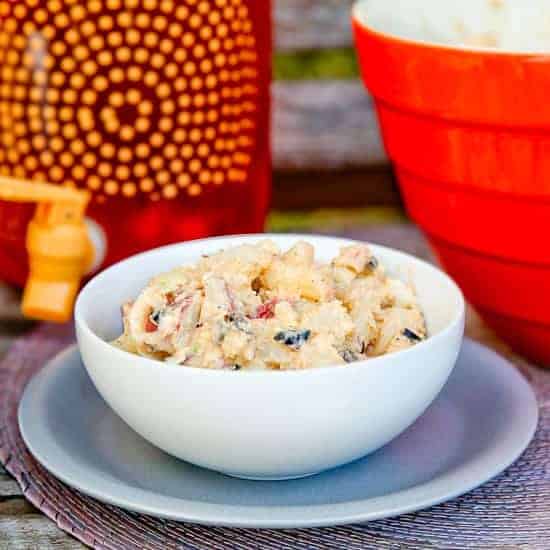 Potluck potato salad
Yield:
15-20 side servings
Ingredients
5 lbs red potatoes, washed
1 red onion, diced
1 14.5-ounce can whole black olives, drained and chopped
4 celery ribs, diced
6 hardboiled eggs, chopped
2 teaspoons paprika
1¼ cup olive oil mayonnaise
1 tablespoon olive oil
¼ cup water
⅓ cup plus 2 tablespoons white and cider vinegars (I mixed it 50/50)
Kosher salt, to taste (I used about 2 teaspoons)
Black pepper, to taste (I used about a teaspoon)
Instructions
Put the red potatoes in a giant pot and fill it with water until the potatoes are covered. Cook, covered, over medium heat until potatoes are tender when pierced with a fork. You don't want the potatoes so soft that they're falling apart, just enough that the fork easily pierces it. Cut one in half and if it's still shiny, then cook a little longer.
Transfer the potatoes to a large bowl and refrigerate, covered, until chilled (I refrigerated mine overnight).
Chop the chilled potatoes into bite-sized pieces.
In a large bowl, combine the potatoes with the rest of the ingredients and toss well to combine. Add salt and pepper, to taste.
Serve immediately or refrigerate until ready to serve.