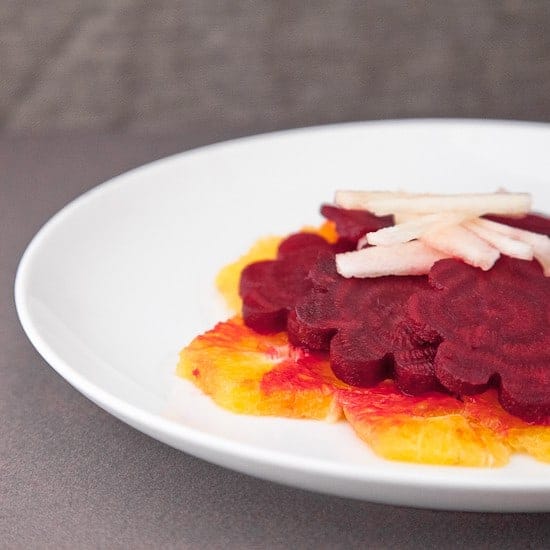 I went to Sur La Table to find a heart-shaped cookie cutter today and would you believe it - they're sold out! They were even totally all out of the sets that included a heart cookie cutter. I figured that if I'm going to be making cutesy Valentine's Day food, I should invest $1 in a cookie cutter and save myself from having to hand cut each heart with a stencil like I did for the tortilla chips. Tonight I had elaborate plans to make a love-themed salad to honor the holiday d'amour and to celebrate Lucas's return from Taiwan, but I was not about to hand-cut hearts out of beets. Instead, I went with a flower cookie cutter, which is about as close to Valentine's Day as you get without hearts.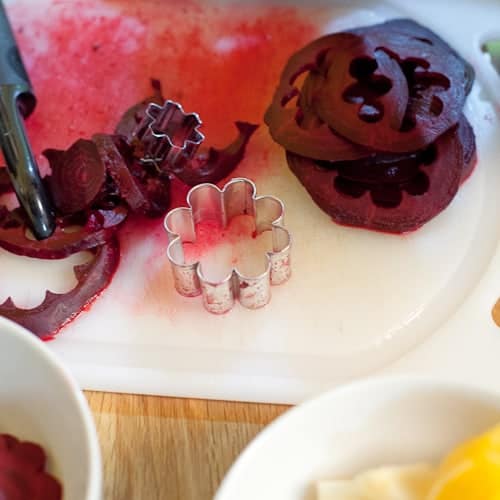 My hands are bright red (and so is every surface of our kitchen), but I sure did have fun making shapes with my vegetables. Whoever said you're not allowed to play with your food was just plain WRONG. However, this is certainly a salad I'd never be allowed to eat a Jenny's house; in middle and high school, my clumsy way with all food bright red on Jenny's bedroom carpet (pizza, Hawaiian punch, tomato soup) led to a ban on Banana (that's their nickname for me) eating anywhere but the kitchen table. Her mom even bought me a child's sippy cup to use for all my beverages. In high school, I would have most definitely gotten the beet blood from this salad all over the carpet.
Don't worry, the edges of the beet that got sacrificed for the floral fun are not going to waste, I'll purée them and put them to use later in the week. We were quite impressed by the salad - the sweetness from the oranges and lemon balanced with the rich flavors of the beet; it was a perfect light side salad to our heavy mac and cheese.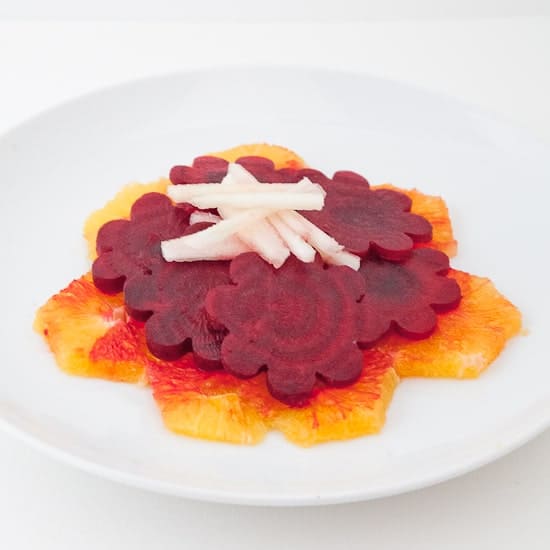 Beet orange salad
Serves 2
 1 large beet
3 oranges
1 bosc pear, peeled
1 lemon
1 tablespoon olive oil (I used lemon-infused olive oil)
Preheat oven to 375ºF.
Thoroughly clean the beet. Place beet on a piece of foil and cover with olive oil. Wrap foil around the beet to make a pouch. Bake for 40 minutes or until soft when pierced with the fork.
Meanwhile, slice top and bottom off of the oranges. Use knife to remove the peel and pith. Slice into thin circular cross-sections. Set aside.
Slice pear into thin slices, then cut into matchstick sized pieces. Set aside.
When beet is cool, use a paper towel to wipe skin off.
Slice beet into thin slices. Optional: Use a cookie cutter of your choice to press fun shapes into the beet. Reserve the trim for another project.
Lay orange circles on a plate. Cover with beet shapes and top with pear sticks. Squeeze the juice of the lemon over top and serve.