This pistachio-crusted whole roasted cauliflower is so easy to make it's deceptively gourmet! Drizzled with parsley pistachio cream sauce, this loaded cauliflower is perfect as a vegetarian main dish show stopper or a weeknight side dish.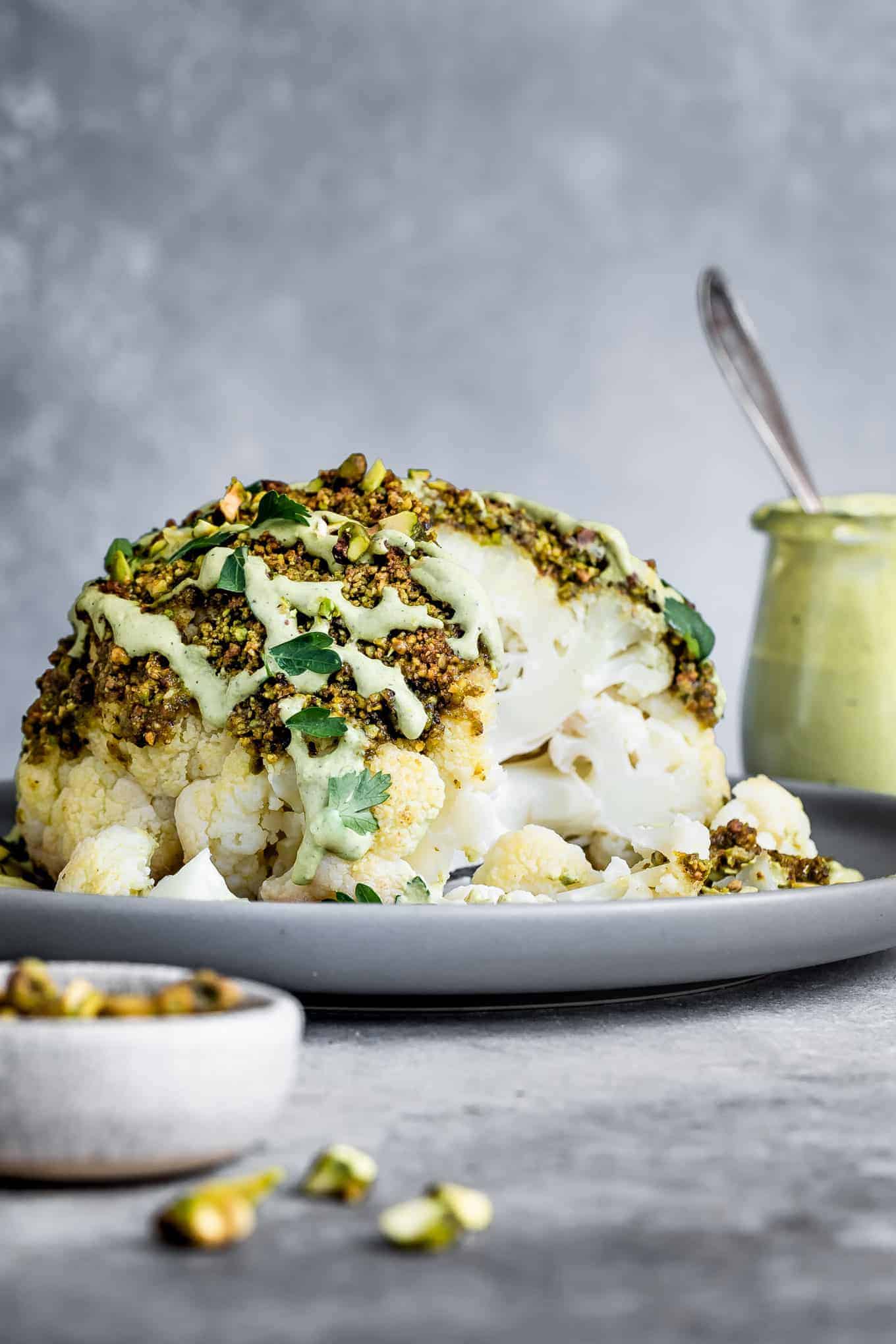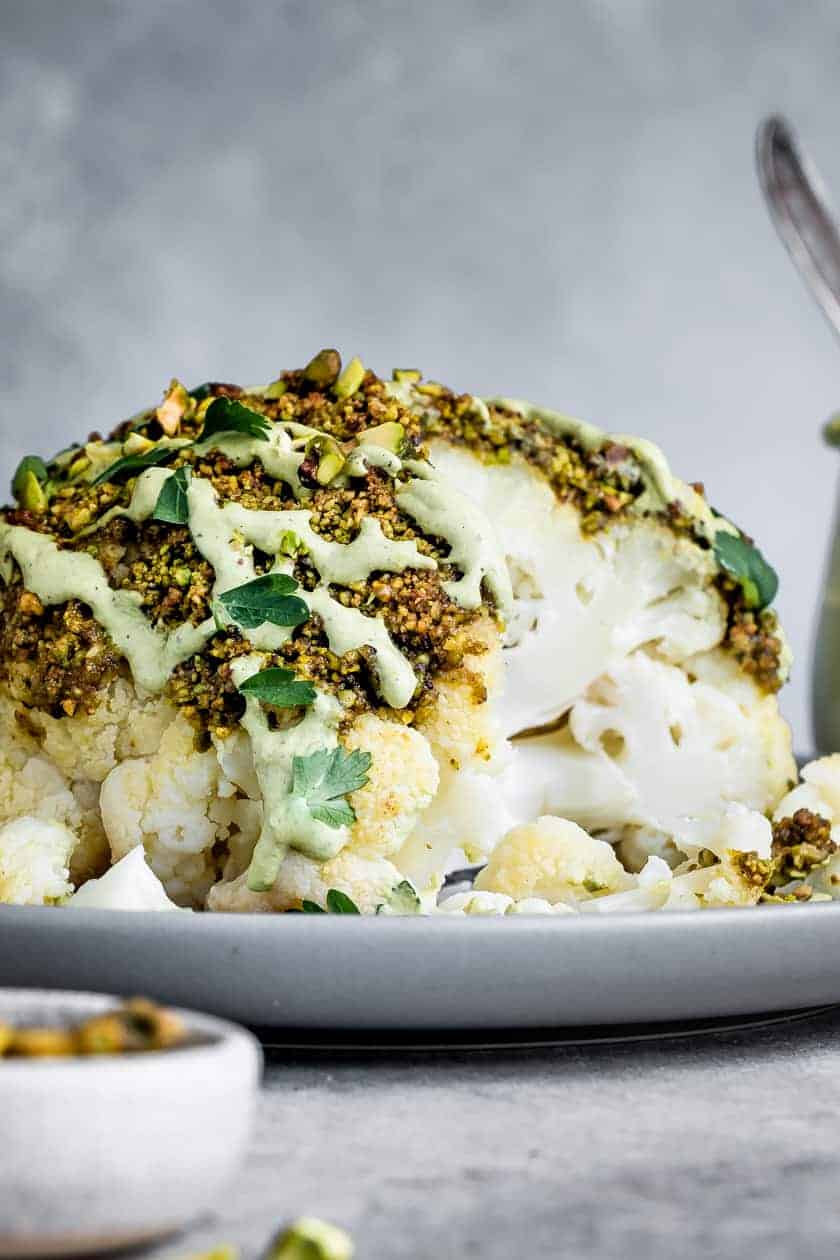 I've had visions of this pistachio-crusted whole roasted cauliflower since our trip to Paris a year ago. I fell in love with a simple whole roasted cauliflower with lemon and capers and added it to my to-make list. I roast florets all the time, but I'd never made a whole roasted cauliflower.
The pistachio inspiration came a year later on my trip to New York this past October. My cousin and I swooned over a whole roasted cauliflower with tahini and a sprinkle of pistachios at abcV kitchen. If I hadn't a flight to catch, we would have ordered a second. Maybe a third.
For my whole roasted cauliflower interpretation, I took the pieces I loved from these two of my travels. Roasted florets with a smooth creamy center topped with crunchy pistachios and a drizzle of sauce. From there, I highlighted roasted pistachios as the star. Made in partnership with Wonderful Pistachios, this pistachio-crusted whole roasted cauliflower with parsley pistachio cream sauce uses their Wonderful Pistachio No Shells, Roasted & Salted in three different ways.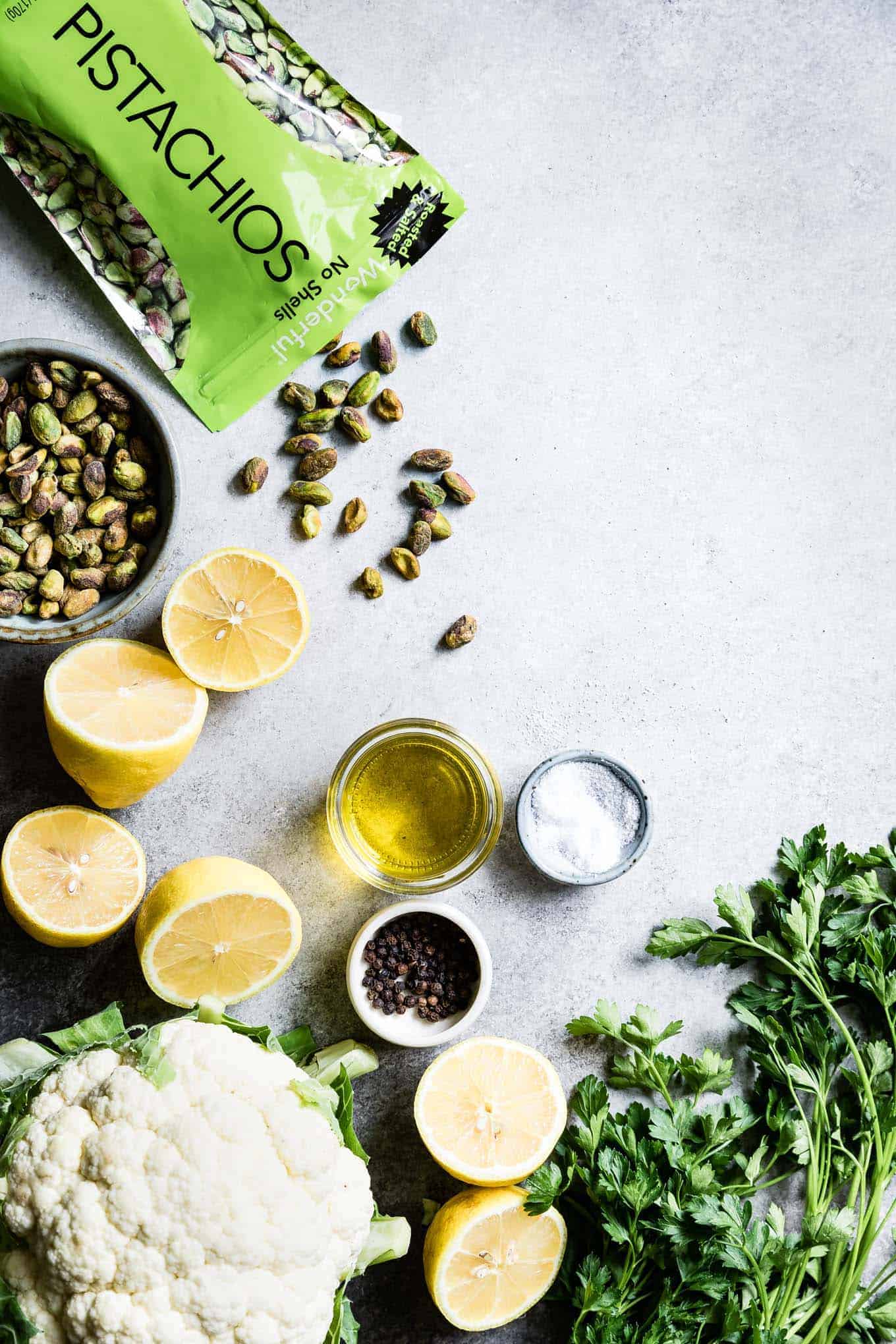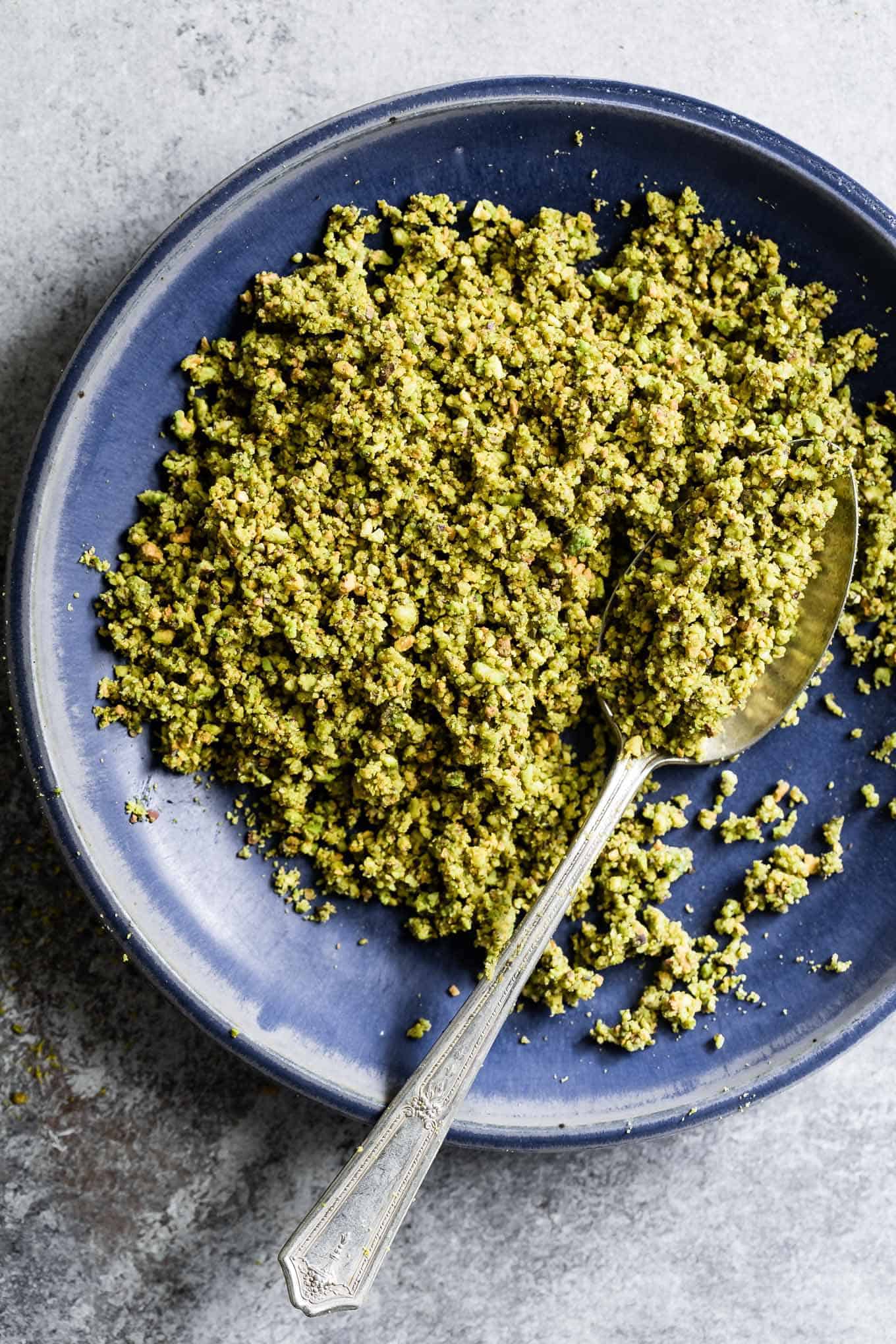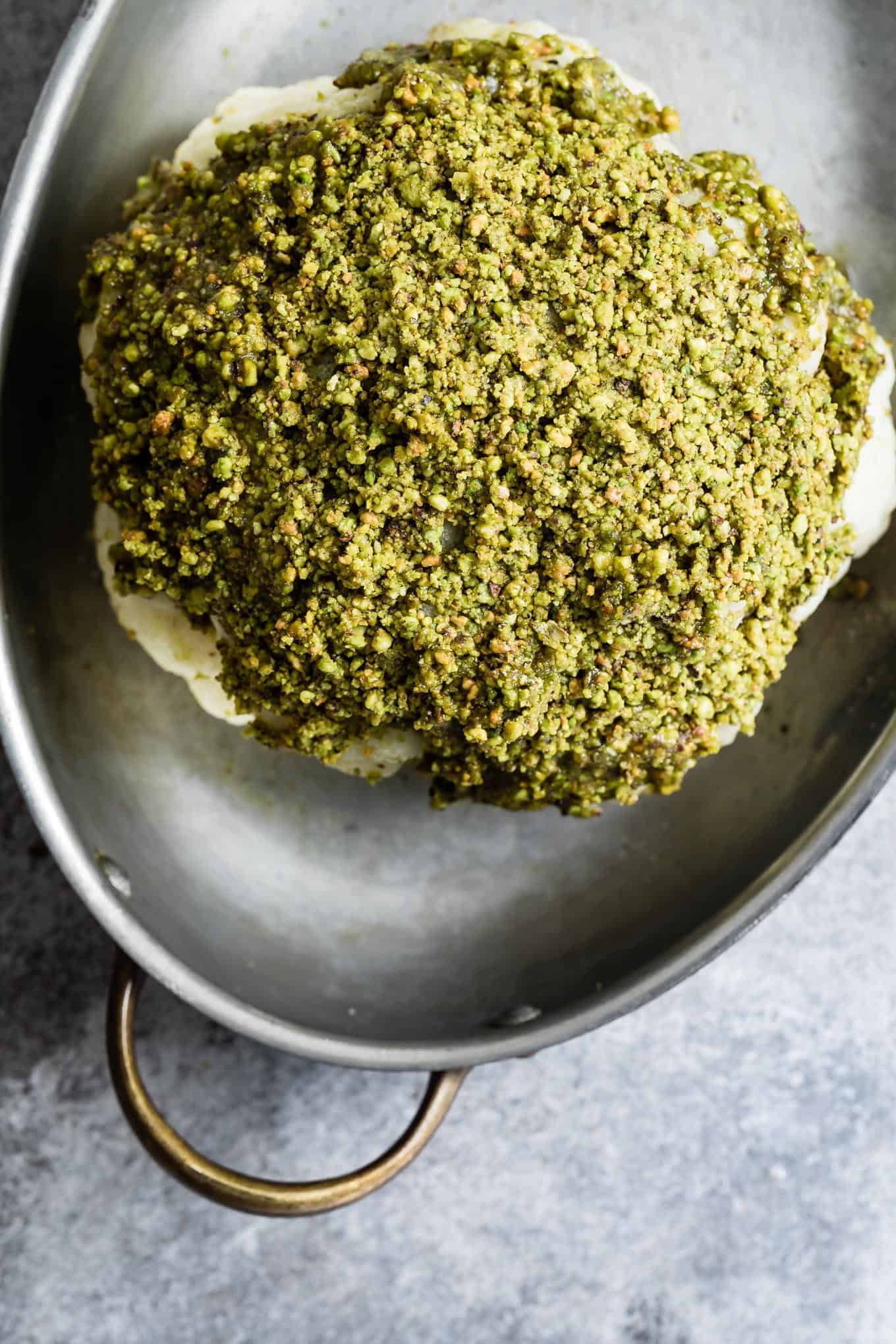 Easy Vegan Holiday Roast
With roasted and salted pistachios used three ways, this pistachio-crusted whole roasted cauliflower will elevate your holiday table. Festive green pistachios turn this roasted cauliflower into a vegetarian centerpiece or elegant vegetable side dish. The best part? The simplicity of the ingredients. Most everything in this recipe is a kitchen staple. The result is a showstopper for a holiday party, that's approachable enough for the family dinner table. Even with such few ingredients, this healthy whole roasted cauliflower is both varied in texture and dynamic and rich in flavor with the help of pistachios.
The soft subtle cauliflower core contrasts the crispy and deeply roasted pistachio crust. A creamy bright lemony parsley pistachio sauce drizzled over the top adds depth of flavor. Then a garnish of coarsely chopped pistachios emphasizes the crunch and buttery nutty notes. Incorporating pistachios in these three simple ways creates a dish that is deceivingly gourmet.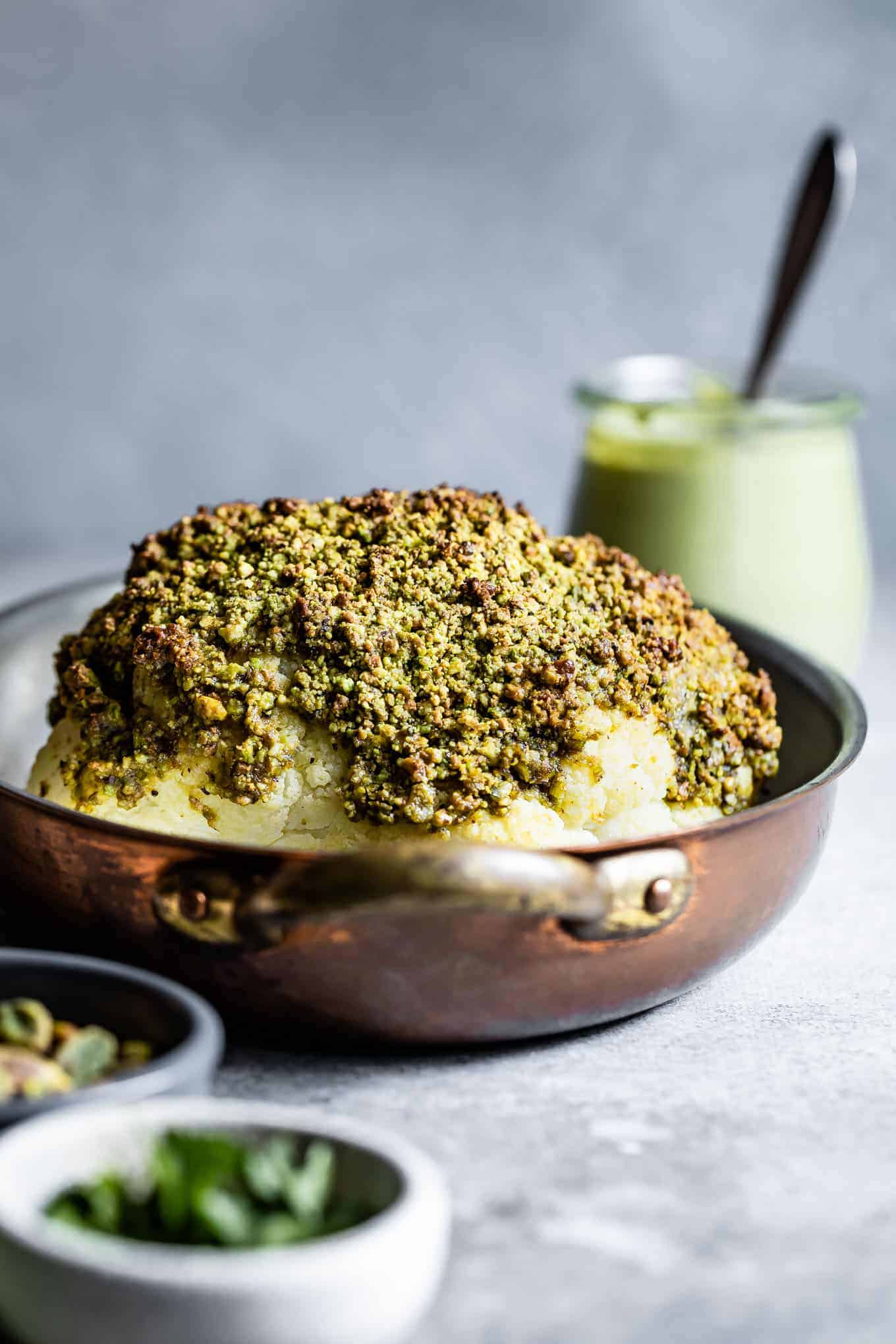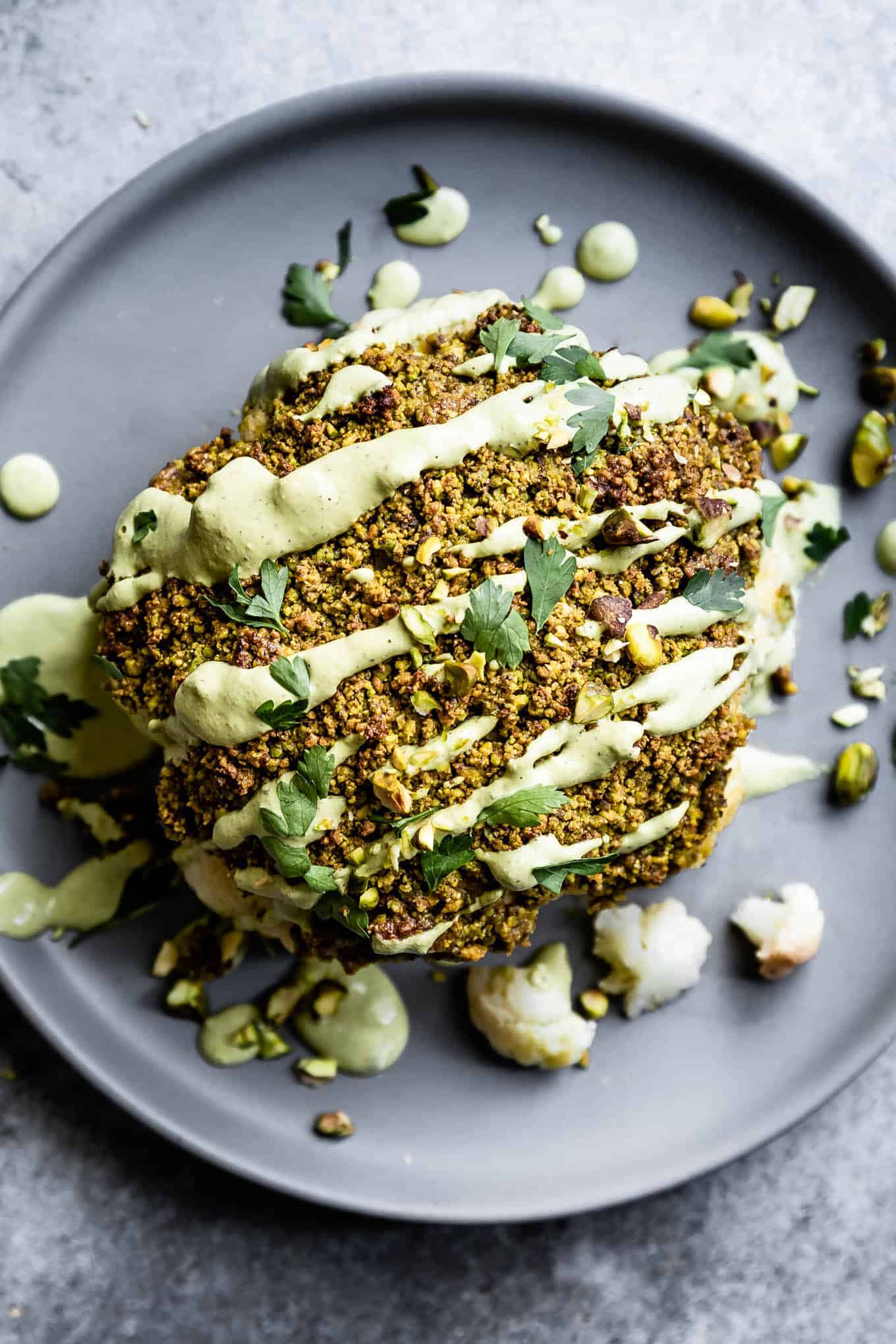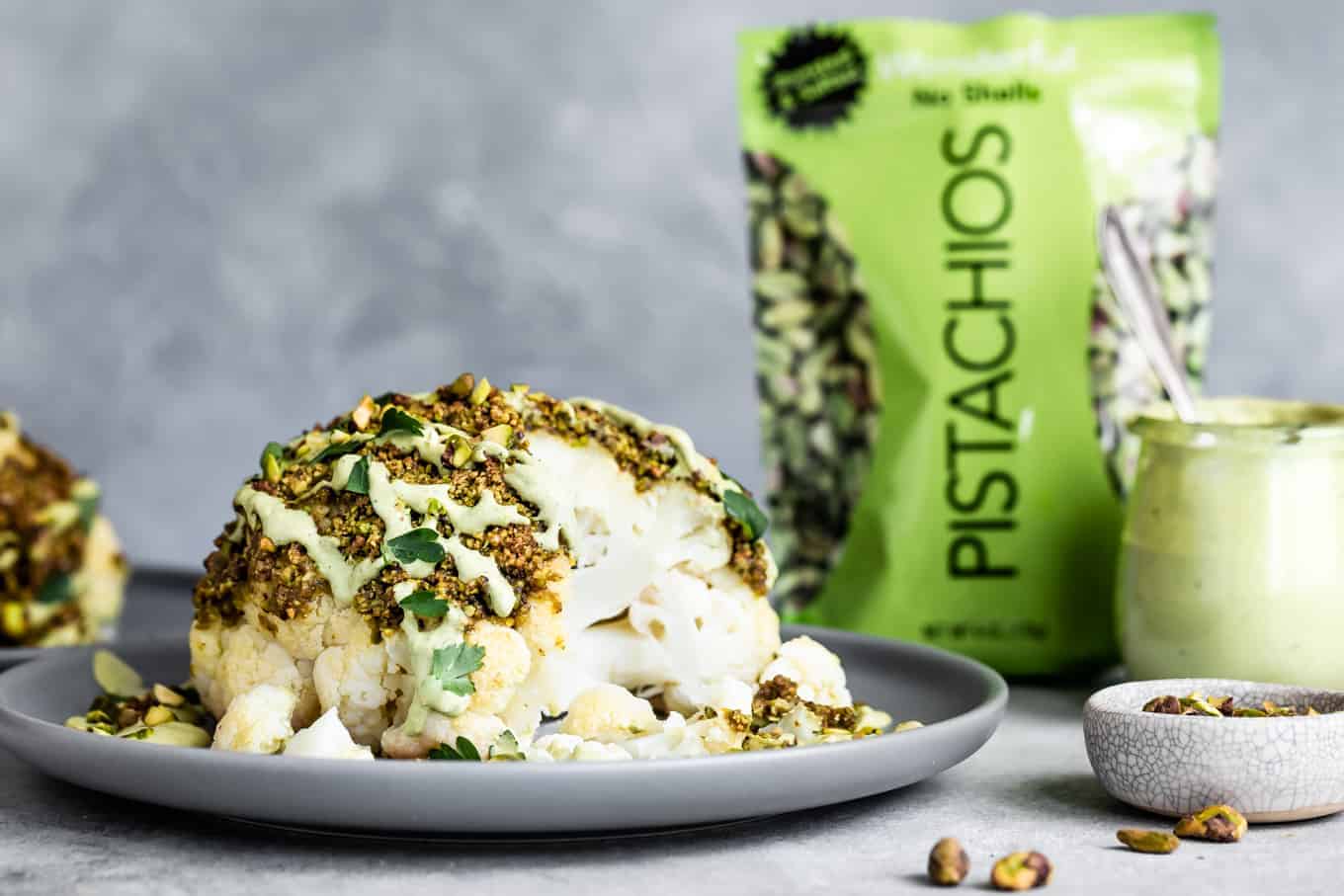 Roasted and Salted No Shells Pistachios
Using roasted and salted no shell pistachios is the key to keeping this dish as low-fuss as possible. I've said 100 times before that you should always toast your nuts before cooking with them for maximum flavor and texture. These no shell pistachios literally do all the busy work for you. They're roasted and cracked out of their shells already. You're left with the same buttery rich taste and crunchy pistachio texture, but without all the hassle of shells or toasting. You can get right down to cooking (and snacking).
I recommend pouring a second bag of their lightly salted no shell pistachios into a bowl to crunch on while you cook. Lest you eat all the topping before it's goes in the oven.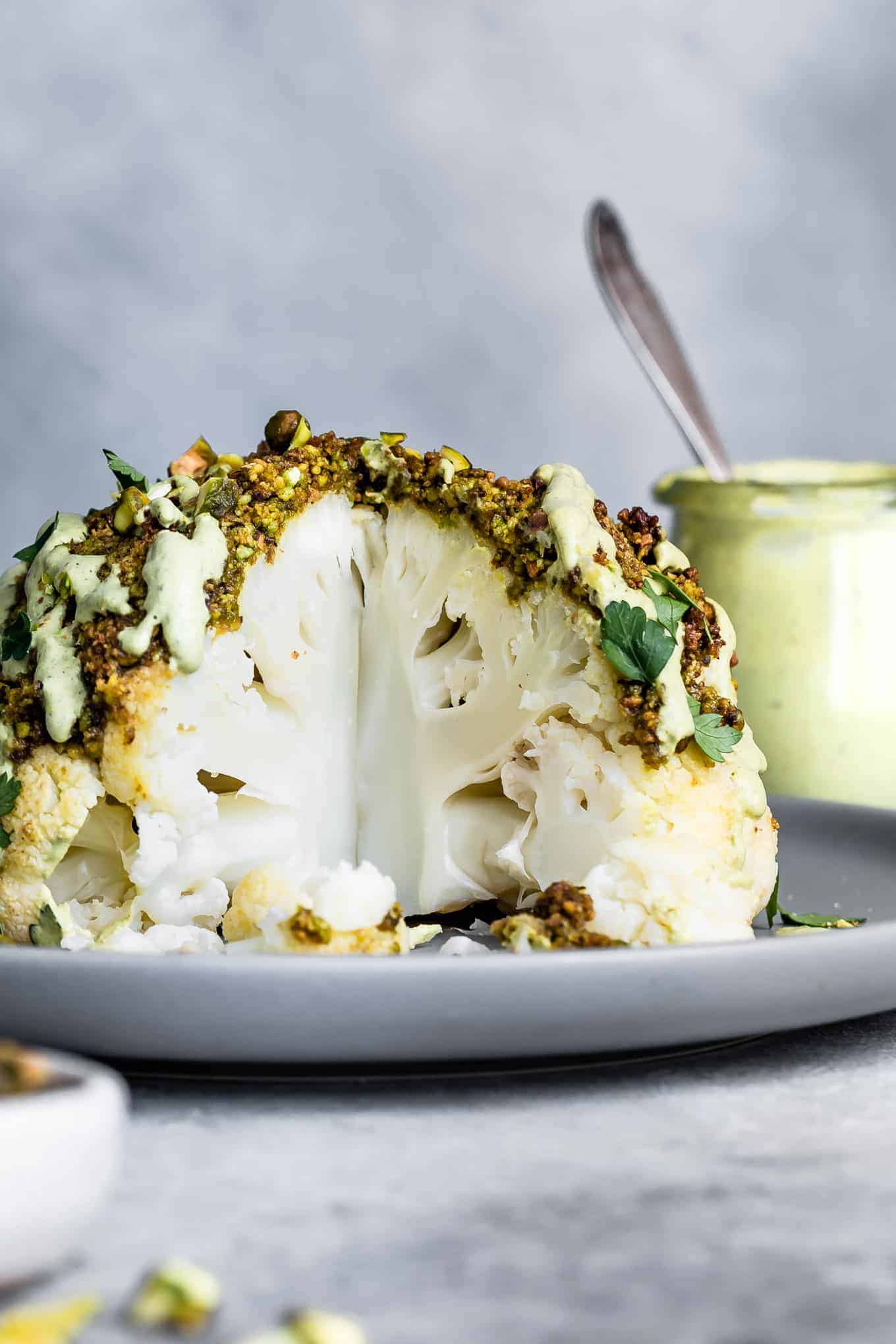 How to roast whole cauliflower
Possibly one of my favorite parts of a whole roasted cauliflower is that you even eat the core - not just the florets. Whenever I'm roasting up florets, so much of the core ends up in the compost, but why? It's perfectly edible!
Before roasting, boil the cauliflower in a flavorful broth with plenty of salt. This will infuse flavor into the center and develop the creamy soft cauliflower core without over baking the crust. Letting the boiled cauliflower rest for 10-15 minutes to dry out will allow the crust to stick to the florets more easily.
Give a quick sprinkle of garlic and salt on the outside, like you would with a piece of meat. Then rub the cauliflower with olive oil to help the pistachio meal stick to the outside. This will also help draw out the roasted notes of the cauliflower.
Once you've pressed on the oiled pistachio crust, roast it until golden brown and cooked through.
Serving the roasted cauliflower up with a lemon parsley pistachio cream sauce will create varied flavor when cutting into the core!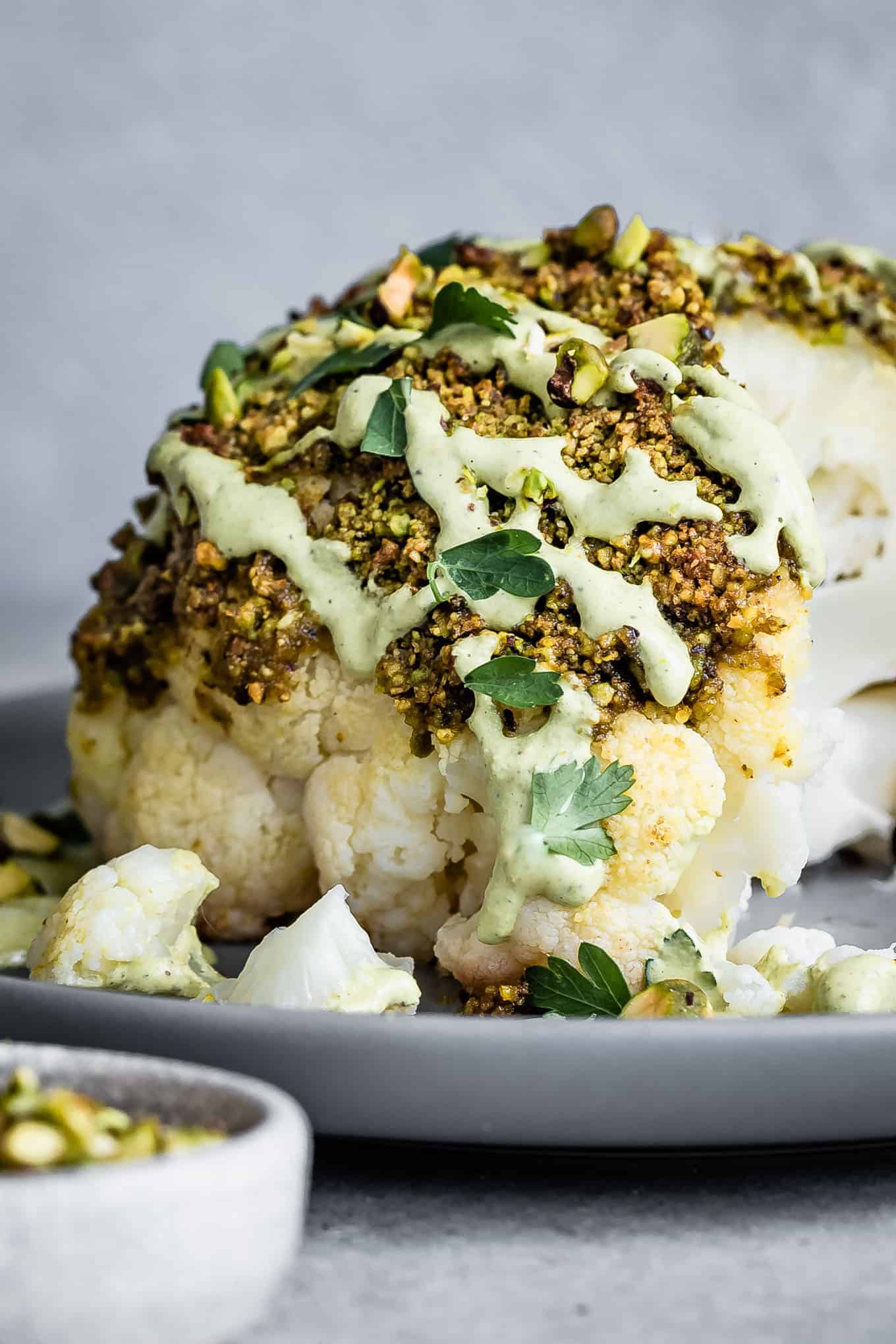 Simple enough for even a novice home cook, this healthy pistachio-crusted whole roasted cauliflower is a flavorful showstopper for the dinner table!
Disclosure: Special thanks to Wonderful Pistachios for providing the pistachios for this recipe and sponsoring this post! And thanks to you for supporting the companies that keep Snixy Kitchen cooking!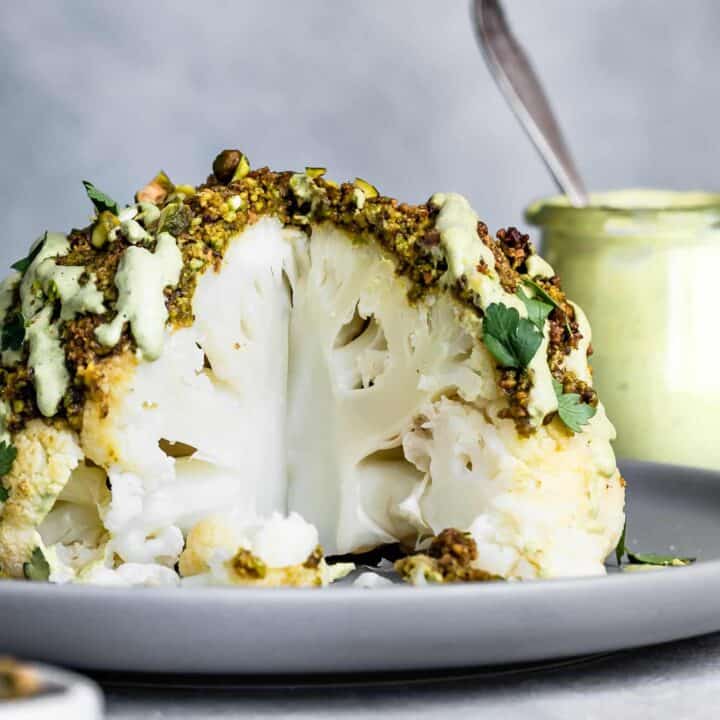 Pistachio-Crusted Whole Roasted Cauliflower with Pistachio Cream Sauce
Additional Time:
15 minutes
Total Time:
1 hour
7 minutes
This pistachio-crusted whole roasted cauliflower is so easy to make it's deceptively gourmet! Drizzled with parsley pistachio cream sauce, this loaded cauliflower is perfect as a vegetarian main dish show stopper or a weeknight side dish. 
Ingredients
Pistachio-Crusted Cauliflower
1 medium cauliflower head, trimmed with core still intact
½ cup Wonderful Pistachios No Shells, Roasted & Salted, plus more for garnish
¼ teaspoon pepper
1 tablespoon + 2 teaspoons extra virgin olive oil, divided
8 cups vegetable broth (or water)*
6-8 cups water, to cover
1 whole lemon, halved and juiced
2 teaspoons + a pinch of kosher salt, divided
2 teaspoons lemon juice
Pinch of garlic powder
Parsley Pistachio Cream Sauce
¼ cup water
¼ cup loosely packed parsley leaves, plus more for garnish
3 tablespoons freshly squeeze lemon juice
1 tablespoon extra virgin olive oil
¼ teaspoon each salt and pepper
Instructions
Preheat oven to 375°F.
Using a high powered blender or food processor, grind the pistachios until finely chopped. Alternatively you can do this by hand with a knife, but it will take longer. Mix the ground pistachios with ¼ teaspoon of pepper. Add 2 teaspoons of olive oil and mix until well combined. The oil will help the crumbs stick to the cauliflower and keep them from burning in the oven. Set aside.
Bring 8 cups of vegetable broth + 6-8 cups of water to boil in a pot large enough to fully submerge your cauliflower upside down. Add the whole lemon with its juice and 2 teaspoons of salt. Once boiling, submerge the cauliflower in the water upside down and boil for 11-13 minutes until a knife inserted into the core meets only a little resistance (not soft, but nearly cooked). Transfer the cauliflower to a colander face up and let sit for 15 minutes to dry.
Place the cauliflower in a roasting pan and rub it all over with 1 tablespoon olive oil and 2 teaspoons lemon juice. Sprinkle with a pinch of salt and garlic powder. Press the pistachio crumbs all over the top and sides of the cauliflower. Place in the oven on the middle rack and roast for 20-25 minutes until cooked through and turning golden brown. If the crust starts to get too dark, cover it lightly with a piece of foil to keep it from burning.
Meanwhile prepare the pistachio cream sauce. Add the pistachios, water, and parsley to a high powered blender and blend until completely smooth. Add the lemon juice, olive oil, salt, and pepper and blend to combine.
Serve cauliflower wedges topped with pistachio cream sauce, fresh parsley, and more chopped pistachios.