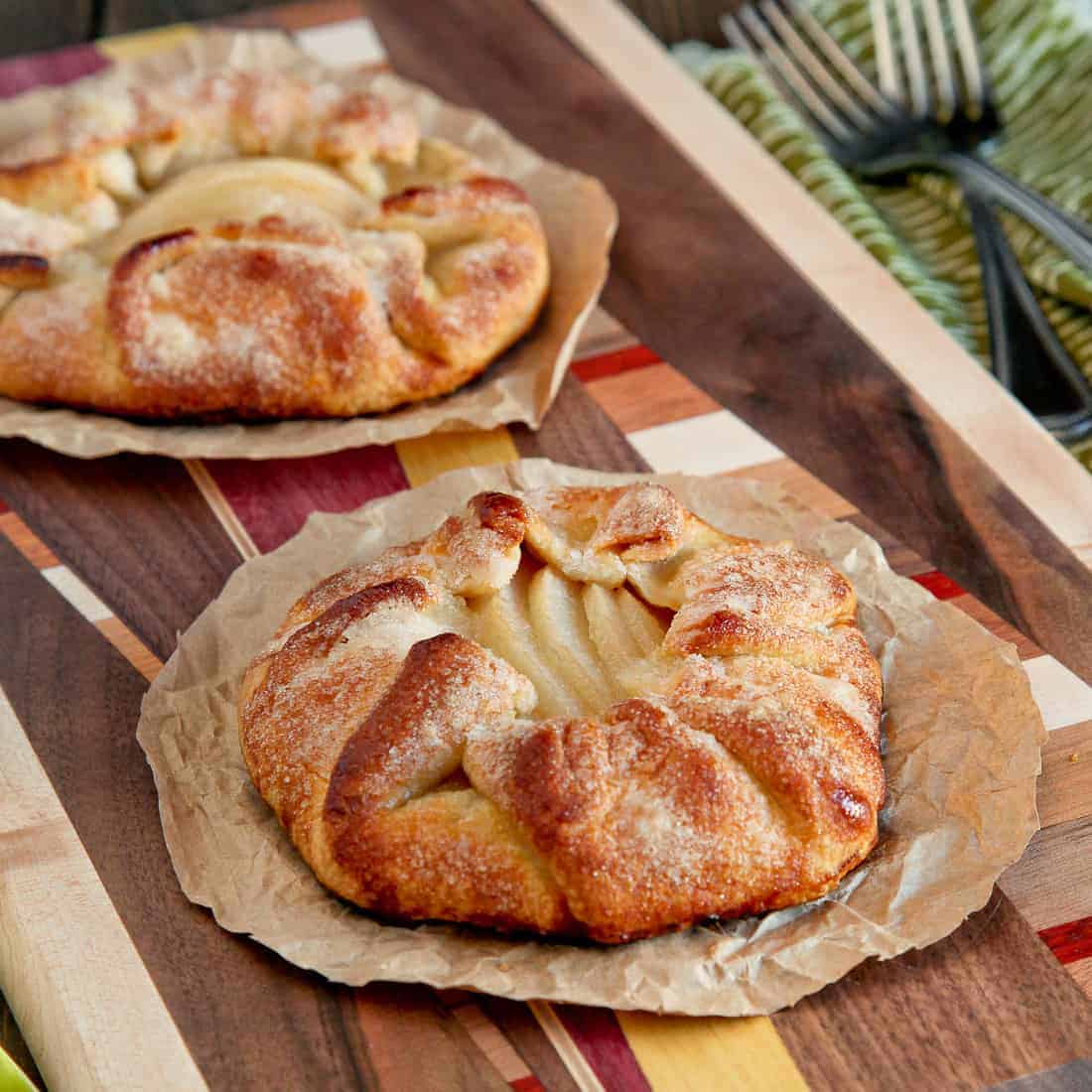 I bribe my friends with baked goods. And fortunately for me, my friend Angi has a nagging sweet tooth she can't ignore. Like me, she swoons over freshly baked desserts, but turns her nose up at chocolate. So when I needed someone with impeccable handwriting to help me address our Save-the-Date cards, I pulled out the flour, sugar, and butter to lure Angi and her steady penmanship over for the evening. It also just so happened to be a few days after her birthday, so these personal pear galettes served a dual purpose. Win-win.
To add icing on the cake, my friend Spike had just inquired about the whereabouts of his Save-the-Date the day before. He'd already received a Save-the-Date for another wedding on the same day as ours and wanted to know what I could do to convince him to come to ours. When I told him I'd hand deliver it the next day, he responded, "hand delivered with delicious _______." He was about 75% joking and 25% secretly hoping I'd see past his sarcasm and show up with a piping hot pastry. With luck on his side, I pulled into his driveway with a personal pear galette in one hand and his Save-the-Date card in the other. And within minutes, I got a text that read, "was I only supposed to eat part of that? because I ate the whole thing." I normally make this galette as a full-sized tart, but it's so addicting that I think turning it into a personal serving helps with portion control. Flakey buttery crust, warm juicy pears, and a hint of sweetness to tie it all together. Certainly not on the pre-wedding healthy eating regimen, but a welcome indulgence when your friends need freshly baked dessert.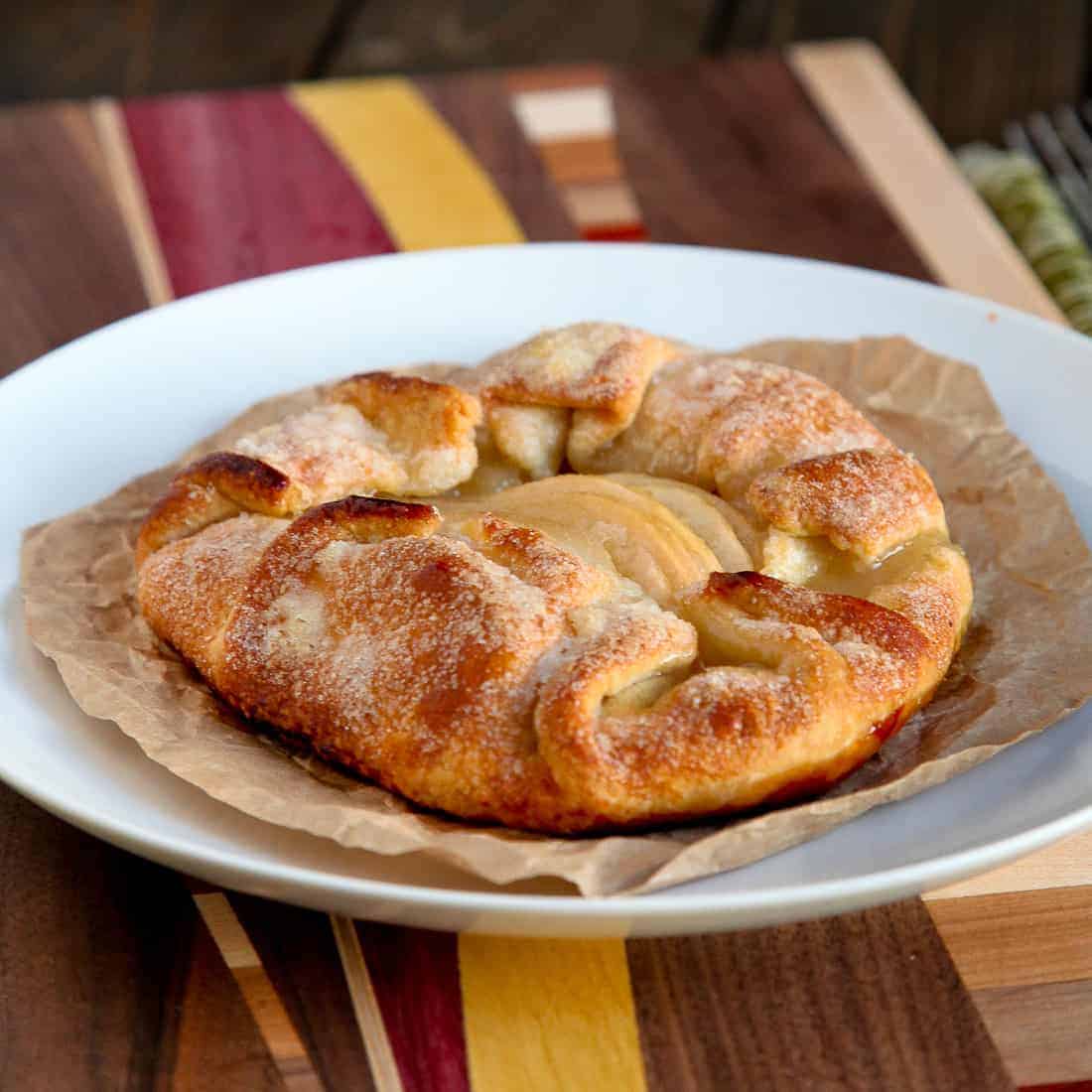 Plus, this tart recipe is about the easiest dessert you can make, while still serving up a warm pastry that feels super fancy. With balancing writing, data collection, wedding planning, and preparing to move, quick and easy is the best kind of after-dinner treat. Yup, you heard me, WE'RE MOVING! On March 1st, we're upgrading from about 350 square feet to 1400 square feet with a full kitchen, a dining room, and mature pear, fig, and lemon trees in the backyard! I foresee a lot more pear galettes in my future. We're certainly sad to leave our little character-filled in-law, amazing landlords that have become like family, and quaint neighborhood, but we're looking forward to being able to own more than 4 cups, store our stock pot out of its box in the garage, and cook dinner and dessert without having to do the dishes in between. That's right - our move to El Cerrito means no more pint-sized kitchen for this home cook!
Personal pear galettes (Adapted from Smitten Kitchen)
Makes 6 personal pear galettes, or 2 larger galettes
Pastry crust
2 cups all-purpose flour

1 teaspoon sugar
¼ teaspoon salt
12 tablespoons of unsalted butter, sliced into tablespoon-sized pieces, softened to room temperature
7 tablespoons of iced water (ice removed)
Pear filling 
4-5 pears (I used anjou pears), peeled, cored, and sliced thin
4 tablespoons unsalted butter, melted
6 tablespoons of sugar (divided by how many galettes you're making)
First prepare the dough. Combine the flour, sugar, and salt in the bowl of a food processor (you can also do all of this with your hands if you don't have a food processor).
Add the softened butter and pulse until the largest pieces are about the size of a pea.
One tablespoon at a time, dribble in the iced water, pulsing until the dough holds together when pinched with your fingers.
Roll the dough into a ball and flatten into a disc. Wrap with plastic and refrigerate for 30 minutes.
Preheat the oven to 400ºF.
Divide the dough into 6 equal pieces. One at a time, roll out the dough with a bit of flour on a piece of wax or parchment paper, until it's about 8-10 inches in diameter. Place each rolled-out disc of dough on a parchment-lined (or lightly greased) baking sheet.
Overlap the pears on each rolled-out disc of dough, leaving a 2 inch ring around the outside. Fold the dough on the edges back over the pears, crimping the edges.
Brush the dough and pears with the melted butter. Sprinkle a teaspoon of sugar each over the dough edge. Sprinkle 2 teaspoons of sugar over the pears on each galette.
Bake until the pastry crust has turned to a dark golden brown, about 30-35 minutes, rotating the pan halfway through.