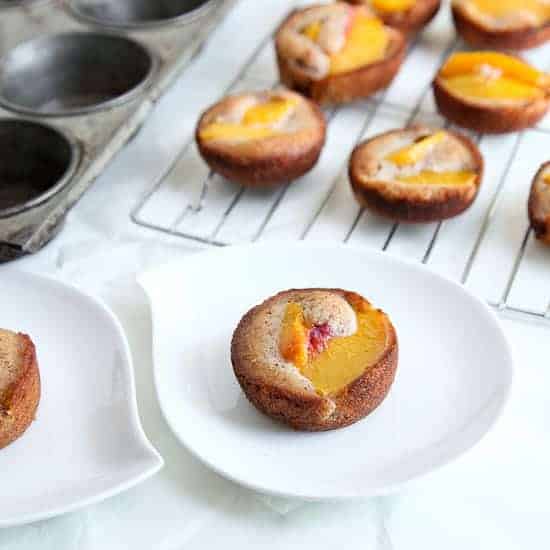 My friend Cas and I have a standing Monday morning yoga date (my attempt to relieve my chronic tension headaches), but sometimes 8am comes too quickly and we wind up strolling around the neighborhood chatting instead. Cas's birthday fell on one of our off-weeks from class. So as a slightly belated birthday breakfast, I baked these peach financiers to celebrate. What could be better than cake for breakfast? (Note: these are not on the pre-wedding diet, but in my defense, I didn't yet know I'd be getting married next year when I served them up with our tea. Plus, you get to make exceptions for your best friends' birthdays).
I got to try my new almond and vanilla extracts Rodelle generously sent me to test out. The gift box arrived with several baking goodies and a very sweet hand-written note; I could barely wait five minutes before turning on the oven to begin baking with the contents. My mouth is salivating just thinking about describing these incredible bites to you. Rich sweetness from the baked peaches mixed with intense nuttiness from the almond meal and extract and browned butter. A perfect way to indulge for your birthday. And just because I love you, here's another picture of the financiers to drool over. and another.
Click here to read my guest post on Rodelle's Blog where you'll find out more about these sinful breakfast cakes (or skip straight to the recipe here).