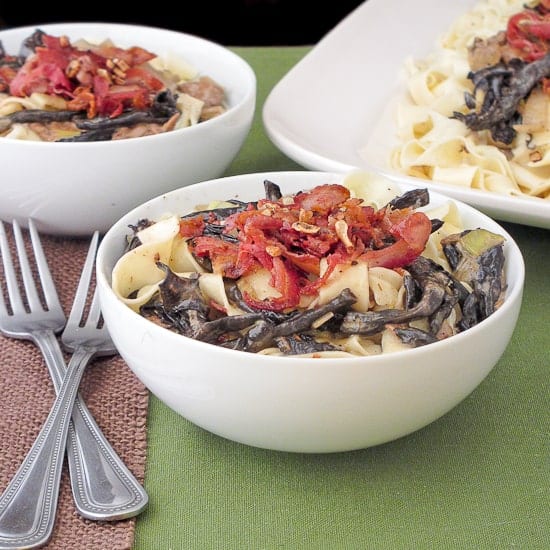 Remember my mushroom craving last week? Well, I finally got my mushroom fix. Thursday night was an exploration in hen of the woods and black trumpet mushrooms; I discovered that both types are rich and flavorful, and their aroma is rather pleasant and innocuous. Beyond the basic fungi (cremini, portabella, shiitake, enoki), I don't really know all of the varieties of mushrooms or their differences in taste. In fact, I make a mushroom and cheese ravioli, and I usually just pick about ten different species of mushrooms based on appearance to mix together. It's typically a hit, but last time there was one offending mushroom hiding with the bunch, and I've yet to identify the culprit. Given the extensive collection of mushrooms to choose from at our local produce market (see picture here), I'm slowing attempting to learn more about what each type adds to a dish. I can now put hen of the woods and black trumpets on my known list.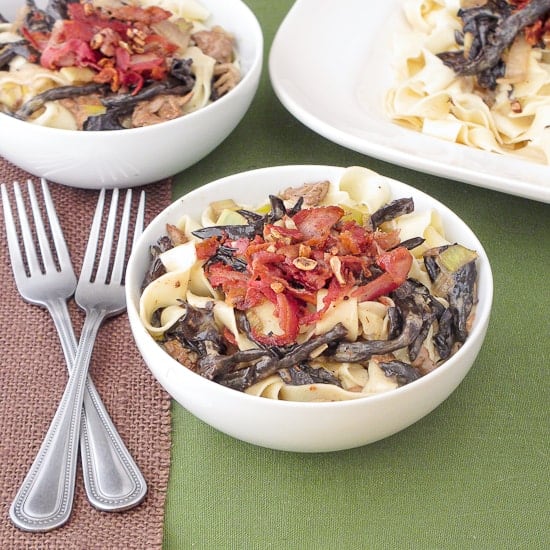 This dish was inspired by one we shared at my birthday dinner last Sunday. Lucas and I went to Revival, an upscale restaurant that remains hidden and inconspicuous despite being situated across from the bustling Downtown Berkeley BART exit. I've lived in Berkeley for almost three years and have never noticed this restaurant, which is a shame because the food was incredible. While we were there, Match.com was filming a commercial at a table a few feet from us - there were at least five cameras strewn about the dining room with a big stage light hanging amongst the chandeliers. I'm sure many restaurant-goers might think this situation would ruin the ambiance, but Lucas and I were very amused. From our observations (okay, so we stared), it seemed like they were filming an actual first date from beginning to end - awkward and invasive, but I guess that's what people on The Bachelor must feel like. We joked about how I would definitely knock my soup into my lap if I were in the hot seat, and come to think of it, I definitely spilled fish and rice all over the table as I took a bite of sushi on our first date. Such a lady. Moving on....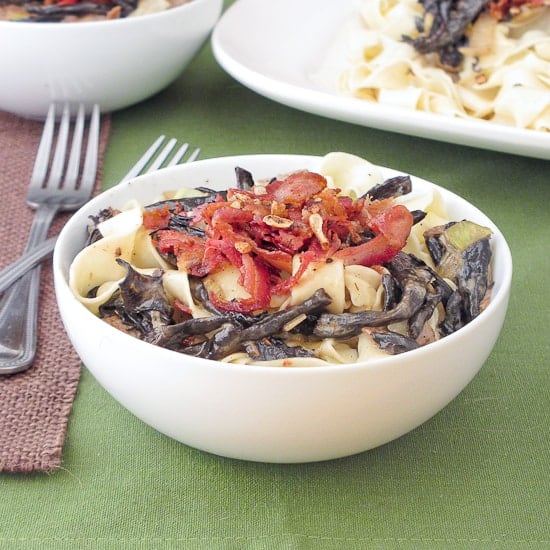 One of the entrées we split was a creamy pasta with hen of the woods and black trumpet mushrooms. It actually took us a few bites to realize that the long dark bits weren't cooked greens, but delicious and smooth mushrooms. I'm pretty sure Lucas said "mmm" with every bite. Always on the lookout for new pasta dishes, I adapted that one based on memory, adding a bit of crispy pancetta because bacon makes everything better. Although really only a nod to the original, my remake was just as flavorful and mouth-watering. These mushrooms pair perfectly with the light creamy sauce, and the pancetta and parmesan add just the right amount of salty flavor. I wanted to call this dish "Fresh pappardelle with hen of the woods and black trumpet mushrooms and brown-buttered leeks in a light cream sauce topped with crispy pancetta and garlic" because the power of this pasta can only be told by all of its ingredients, but it was too long.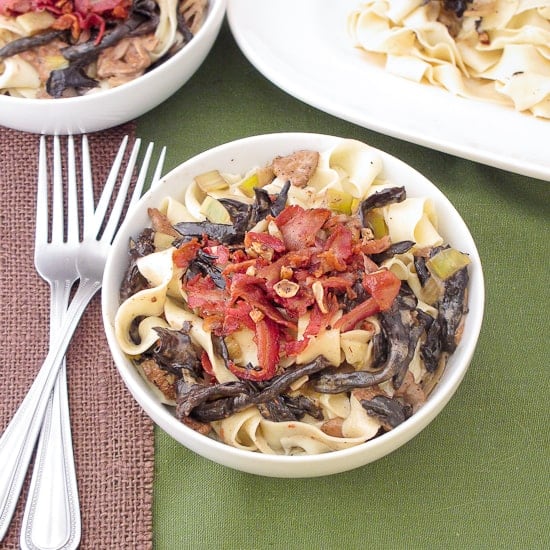 Mushroom and leek pappardelle topped with crispy pancetta
Serves 6
A pound of fresh pasta (recipe below)
4 tablespoons of butter
2 leeks (white part only), sliced into rings horizontally
3-4 cups black trumpet mushrooms
3-4 cups hen of the woods mushrooms
⅔ cups plus 3 tablespoons heavy cream
8 ounces of thinly sliced pancetta
4-5 cloves garlic, coarsely chopped
Pinch of dried sage
Kosher salt and freshly ground black pepper, to taste
½ cup freshly grated parmesan cheese (optional)
If making your own pasta, prepare it according to the recipe below.
In a medium saucepan, melt 3 tablespoons of butter over medium high heat. Add leeks and cook undisturbed until the butter browns.
Meanwhile bring large pot of salted water to boil for the pasta.
Add mushrooms and cook, stirring occasionally, until the leeks are cooked through and perhaps even turning a bit golden brown.
Meanwhile, heat a large cast iron skillet over medium heat and cook the pancetta until crispy. Transfer to a paper towel to drain. Pour out all but a tablespoon of the grease. Add the garlic to the same skillet and cook in the pancetta grease until crispy and browned, but not burned. Transfer to a small bowl.
Add ⅔ cup of cream, sage, salt, and pepper to the mushroom and leek pan. Cook until it begins to get thick and creamy.
By this time your pasta water should be boiling. Cook the fresh pasta for about 3-4 minutes. Reserve 1½ cups of the pasta water and strain the pasta.
Put the cooked pasta back in the pot and add the remaining 3 tablespoons of cream and 1 tablespoon of butter. Add the reserved pasta water and toss to combine.
Split the pasta among bowls and spoon the mushroom, leeks, and cream sauce over the pappardelle. Top with pancetta, garlic, and grated parmesan. Serve.
3 cups all-purpose flour, plus extra for kneading and rolling
4 large eggs
1 tablespoon olive oil
½ teaspoon salt
Water, as needed
Sift the flour into a large bowl (or KitchenAid bowl with flat beater attachment).
In a separate bowl, beat 4 eggs, olive oil, and salt together until combined.
Pour egg mixture into flour and mix (it may be crumbly still).
Using your hands, knead until dough forms. In my experience, the mixture is really dry, so I add ½ teaspoon of water at a time while kneading. Knead until dough is smooth and elastic. Wrap in plastic wrap and let rest for 30 minutes.
After 30 minutes, cut dough into 6 equal pieces.
With a rolling pin or with a pasta maker attachment, roll out one piece at a time, reserving the others in plastic wrap. I had a really hard time rolling the dough by hand before I had the pasta maker attachment, but I hear it's possible. If using a pasta maker, I roll dough to 5 or 6 thickness for pappardelle. Be sure to flour both sides of the rolled out pasta as you go so it doesn't get too sticky. Either by hand or using the thick noodle cutter attachment, cut each sheet into thick noodle strips.