Last updated on March 30th, 2014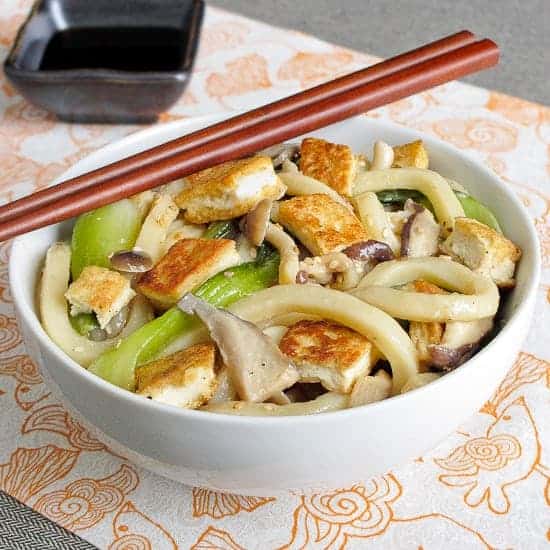 Even when life's too hectic for meal-planning, I'm much too cheap to eat out, especially since we're saving our pennies for the fancy schmancy camera of Lucas's dreams. Plus, I always feel super guilty about splurging on food that's likely terrible for us, even if we happen to select a healthy dish off the menu (which, let's be honest, rarely happens). And I can't resist ordering dessert – zero self-control in the face of sweets. Needless to say, dining out regularly is an all-around bad idea for me. So when I don't have tons of time to spend in the kitchen, I usually wind up lightly seasoning a skin-on chicken breast or leg and bake it until crispy and juicy. This quick solution doesn't get documented here, but we've been eating a LOT of chicken lately. We needed a break from meat. In comes tofu and bok choy, guest-stars in my kitchen that, after this dish, have been upgraded to season regulars.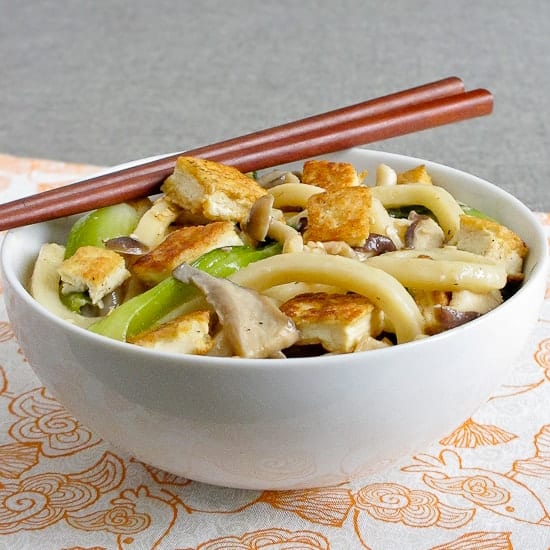 Before I gush about this recipe, remember the kitty bok choy incident? Chewed cabbage scattered across the floor? Well it turns out bok choy wasn't just a randomly selected vegetable – it's like catnip for my feline friends. With the bag of baby cabbage resting slightly open on the kitchen counter among the unpacked groceries, Arti tried every which way to get as close as possible to the leafy greens. He stood on his hind legs with his pink nose barely reaching the edge of the bag, and ended up stretched out on the back of the nearby armchair starring it down, repeatedly vocalizing his desire for a taste of some crunchy bok choy. His desperate mews didn't cease until I closed the bag and hid it out of sight. With a sensitive stomach, Arti can't eat normal grain-full kitty treats, but perhaps I can train him to do tricks using bok choy bits.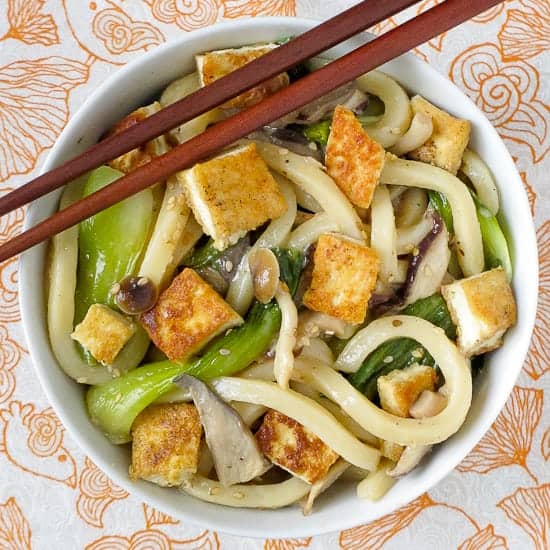 With meat weighing me down on the couch the other night, my stomach, like Arti, begged for bok choy. I'm not sure where this craving came from – I'm pretty sure I'd never eaten the tiny cabbage until my adult years. The voice in my stomach couldn't be ignored, so I developed this dish around my appetite. Turns out my stomach knows what it wants because this noodle bowl was incredible. Miso sauce perfectly enhances the healthy flavors of the baby bok choy and mushrooms. Topping the noodles with crispy pan-fried tofu was life-changing (with cooking advice from my tofu-lovin' brother). Last time I fried tofu, I loved it, but this time made me wonder why tofu doesn't make it in my shopping cart every week. Why haven't I jumped on the meat-substitute bandwagon already? I've learned my lesson for future grocery lists. For tonight's dish, I used extra firm tofu and fried it up in my cast-iron skillet until the outside had a bit of crunch. The texture and flavor was the perfect complement to these miso udon noodles. When I bought white miso paste a year or two ago, I used a tablespoon and let the rest sit in the back of the fridge until using it was a risky choice. As expected, it stayed longer than it should have and I mourned when I had to toss it out. The container I bought for this sauce will get used goshdarnit, so expect many more miso dishes to come.
Miso udon noodles with tofu
Serves 3-4
1 lb. of tofu, rinsed and pressed between two plates to dry.
5 baby bok choy, coarsely chopped
1 cup shimeji mushrooms, sliced
1 cup shitake mushrooms, sliced
1 cup oyster mushrooms, sliced
2 packets udon noodles
2 tablespoons white miso paste
2 tablespoons olive oil plus extra for frying tofu
½ teaspoon mirin
1 tablespoon soy sauce
2 teaspoons rice vinegar
A couple splashes of sesame seed oil
2 tablespoons water
Salt and pepper, to taste
Optional: sesame seeds
Cut tofu into ½ to 1-inch pieces and sprinkle with salt.
Heat 1-2 tablespoons of olive oil over medium heat in a medium cast-iron skillet. Add tofu in batches and cook, undisturbed, for 4-5 minutes, until crispy and browned. Use tongs to flip the tofu and cook on the other side for an additional 4-5 minutes. Transfer to a paper towel and set aside.
Heat a couple splashes of sesame seed oil over medium heat in a large pot. Add the bok choy and stir to coat, cooking for about a minute. Cover and cook for two more minutes. Add a splash of water if needed and cook covered for an additional minute. Transfer to a bowl and set aside.
In the same pot, heat a couple more splashes of sesame seed oil over medium heat. Add the mushrooms and cook in the same way as the bok choy. Transfer to the bok choy bowl and set aside.
Mix white miso paste, 2 tablespoons olive oil, mirin, soy sauce, rice vinegar, a splash of sesame seed oil, and water in a small bowl. Whisk to combine.
Cook the udon noodles according to the package. Return to pot. Add vegetables, miso sauce, salt, and pepper and toss to combine.
Split the noodles and vegetables among bowls. Distribute the tofu among the bowls, and top with a few sesame seeds to serve.