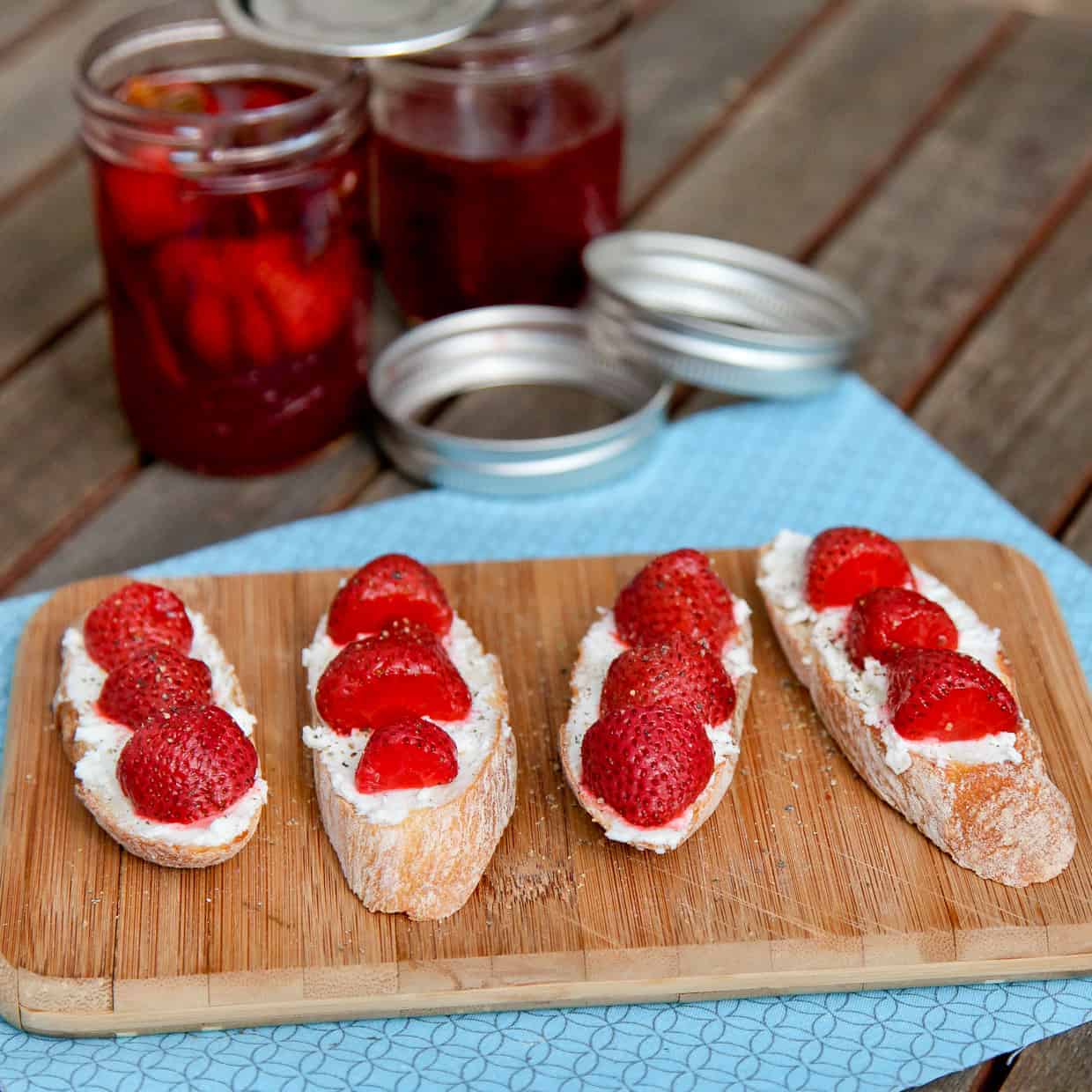 Hold on to your seat, I'm about to tell you something wild. I pickled strawberries. That's right, I took sweet juicy organic strawberries and canned them in sour red wine vinegar with a few sprigs of mint. And they turned out edible. In fact, they were more than just tolerable, the pickling enhanced the strawberry and mint flavors, while simultaneously turning a sugary strawberry into a savory fruit.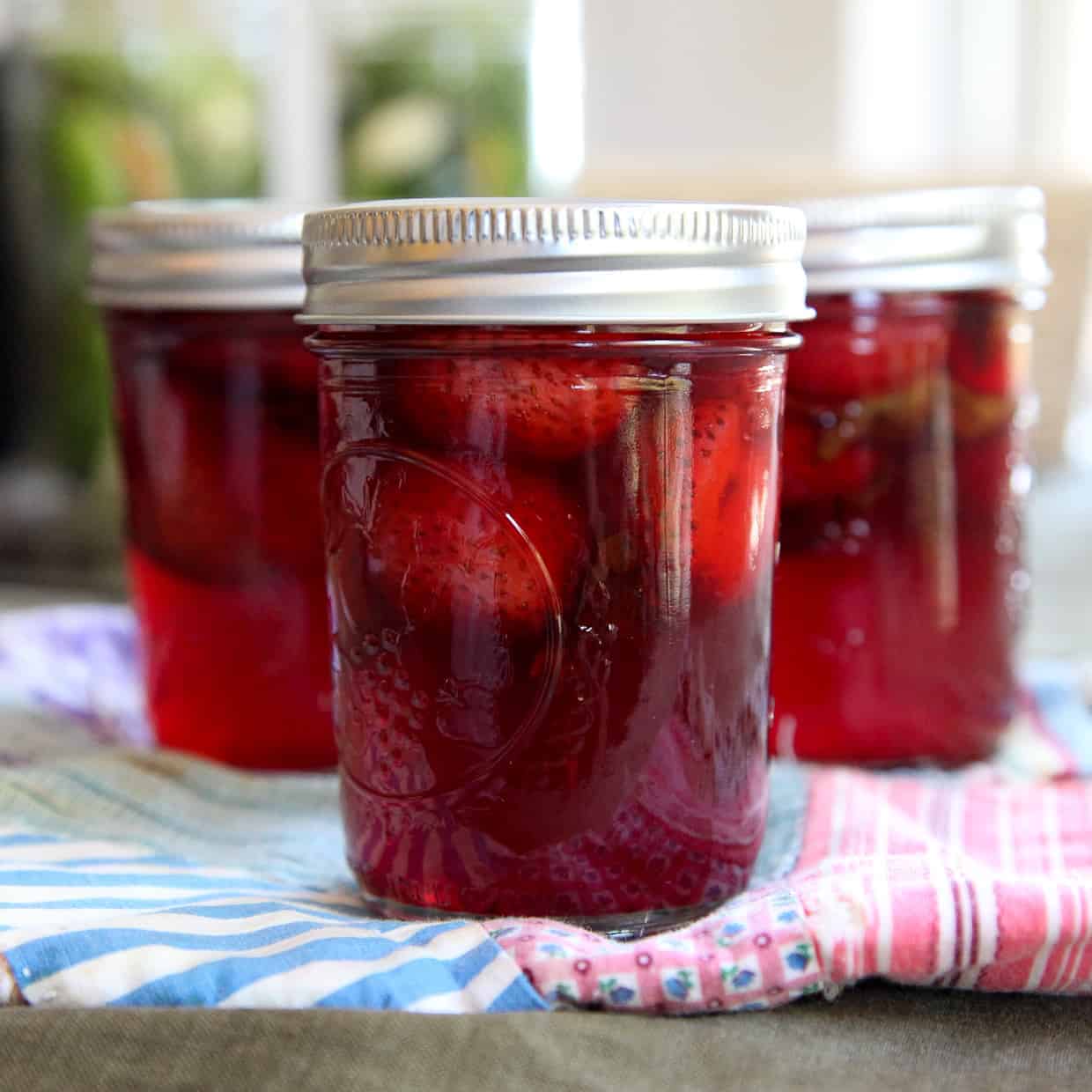 Last Saturday was National Can-It-Forward Day and by happenstance, my friend Cas threw an all-day pickle party the same day. Let me tell you about Cas: we took a theatre class together in undergrad and developed a friendship because we were both 100% positive we knew each other already. To this day, we've never figured out when we met prior to that course, but sometime somewhere (maybe in a past life?) we were friends before. Now that she's in grad school in the bay, Cas has picked up the hobby of pickling veggies and canning fruit jam and marmalade to let off stress. And I am often the lucky recipient of the fruits of her labor.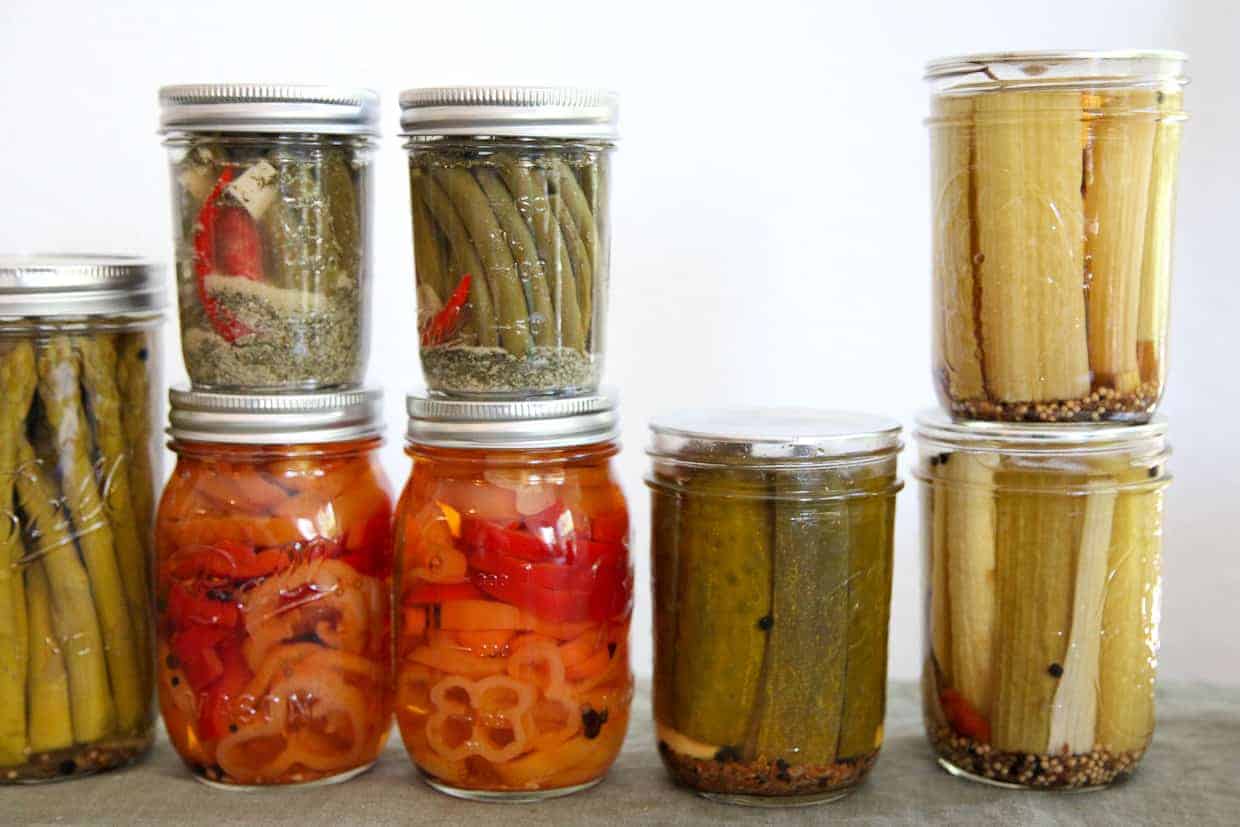 This weekend she offered up her pickling expertise to anyone who wanted it. Bring whatever veggies you wanted to pickle and she'd help with the rest. I don't know what got into me; I love pickled veggies, but when I went to the market, the bright red bins of aromatic strawberries screamed "pickle me! pickle me!" So I obliged. While we snacked on Cas's pickled cucumbers, green beans, asparagus, and other typically pickled veggies, I prepped the berries for their uncertain fate. Totally unsure if I was about to ruin a pound of shiny berries by dunking them in vinegar. I mean, what crazy fool would take such a perfect fruit and soak it in fermented wine? This one. I know what pickled veggies taste like, so what's the fun in spending a pickle party doing something guaranteed to turn out tasty? Being adventurous is way more exciting.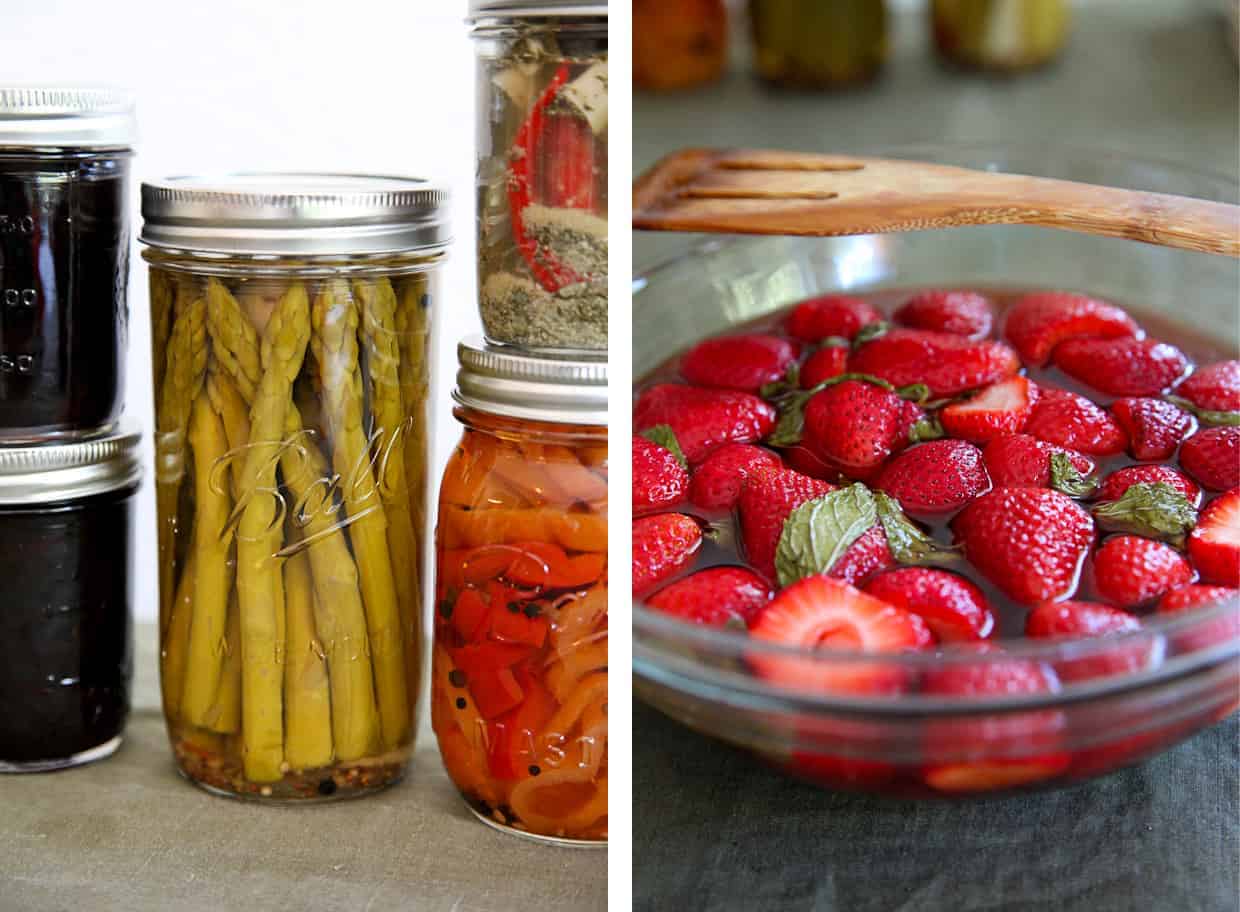 The risk paid off. One bonus to pickled strawberries is that you get to taste the results far more quickly than pickled veggies. You don't have to spend 2 weeks staring at the jars wishing they'd pickle faster, they're ready to eat in just 12 hours. We served them with cracked black pepper over a toasted baguette spread with goat cheese. The first bite is definitely bizarre. Your tastebuds will be confused by the sweet and sour combination, but once you commit to these strawberries as a savory topping, you'll want more. The mint leaves infused their flavor into the super sweet berries, bridging the gap between the seemingly mismatched red wine vinegar and fruity flavors. I think I've just discovered the perfect panini condiment.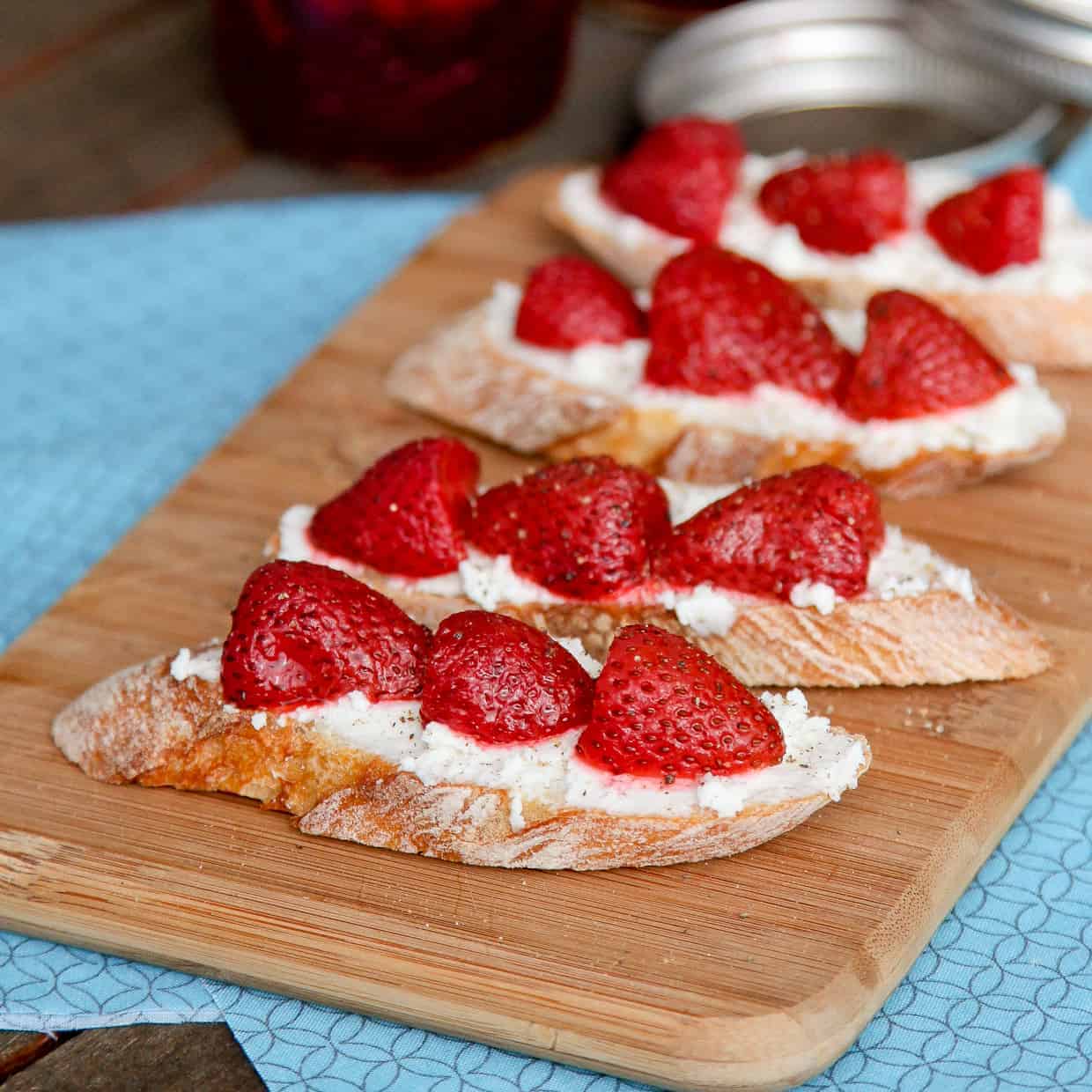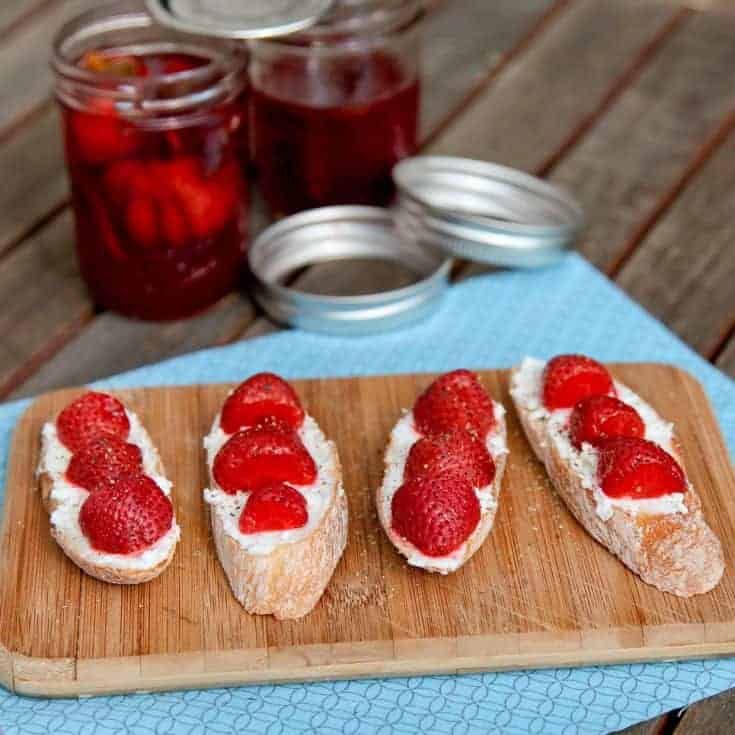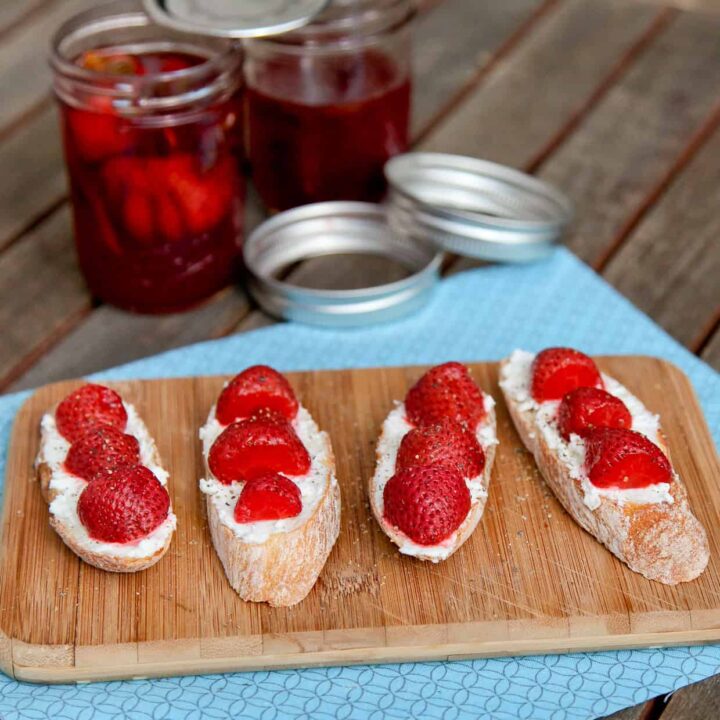 Mint pickled strawberries
Ingredients
1 pound of strawberries, cleaned and stems removed
15 leaves of fresh mint
2 cups red wine vinegar
1 teaspoon vanilla extract
¾ cup sugar
2 tablespoons honey
1 teaspoon salt
Optional: baguette, goat cheese, black pepper
Instructions
Sterilize four half pint canning jars in the oven for 10 minutes. Sterilize the lids by boiling them for 10 minutes.
Layer the strawberries and mint leaves in the four jars.
In a medium pan over medium heat, cook the vinegar, vanilla, sugar, honey, and salt until the sugar melts and the mixture begins to simmer.
Meanwhile, bring a pot of water large enough cover the jars with an inch of water to boil. Place a rack in the bottom of the pan.
Pour the boiling vinegar over the strawberries into the four jars. Twist the lids onto the jars using three fingers.
Carefully place the jars on the rack in the pot of boiling water. As soon as the water comes to a rapid boil, set the timer for 10 minutes.
Remove the jars from the boiling water after 10 minutes. When the jars cool, check for a seal by pressing on the lid to make sure it isn't popped up.
Refrigerate for 12 to 24 hours before serving.
Optional: serve over toasted baguette with goat cheese and cracked black pepper.