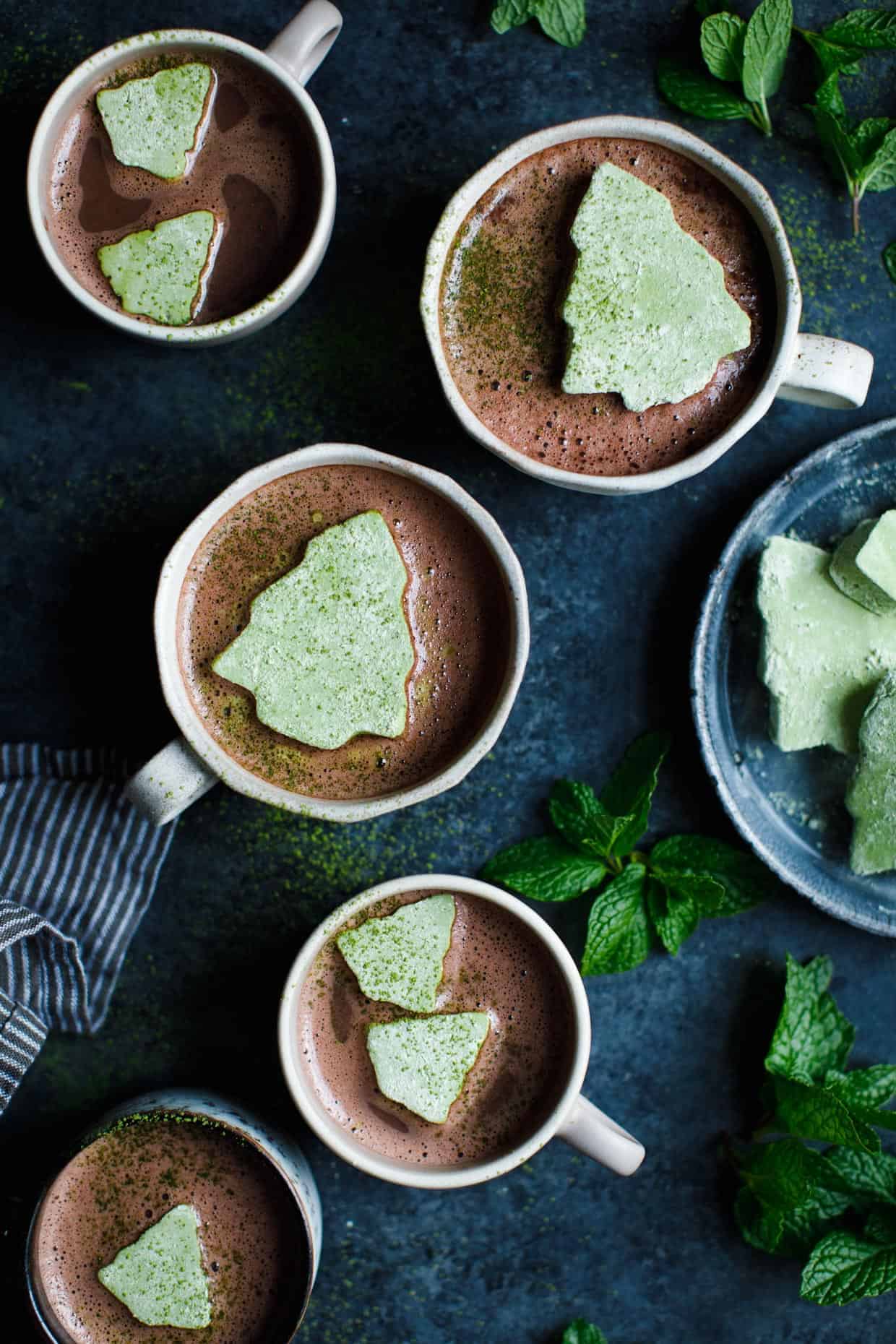 Just in time for the holidays, it's finally getting cold enough over here that I'm shivering through each spoonful of ice cream as I'm bundled up under blankets (dessert dedication). Without central heat, it's (debatably) too cold for ice cream right now though (Oh hi over there with your -18°F windchill, Midwest/East Coast friends!). In times like these, I'll happily swap out my tub of ice cream for homemade marshmallows swimming in a steamy mug of hot cocoa. Mittens optional.
Alanna and I are sharing an festive spin on hot cocoa + marshmallows that also happens to make an easy DIY gift (act surprised, friends!). We've dunked my matcha marshmallow Christmas trees in her creamy fresh mint hot cocoa and it's holiday heaven.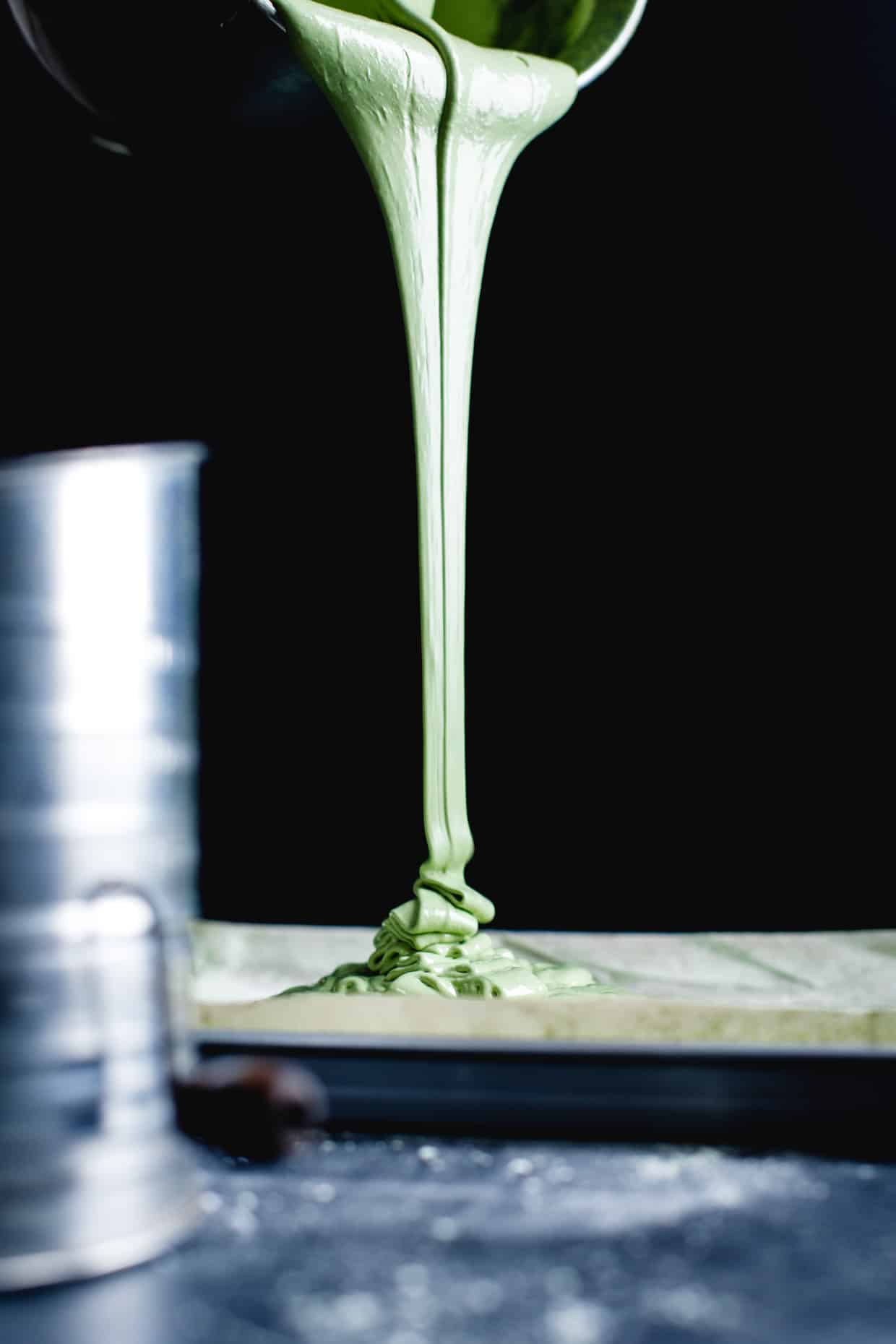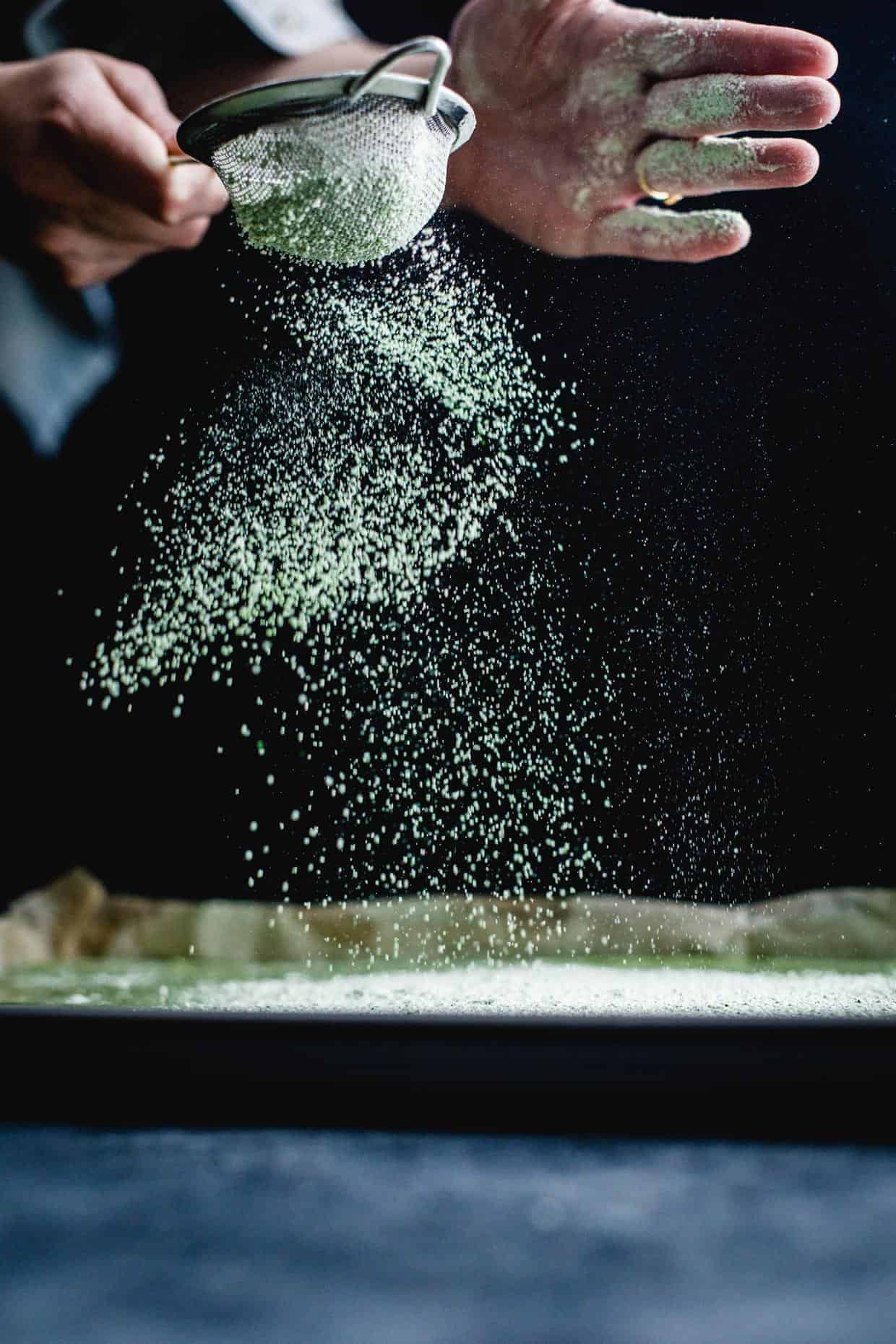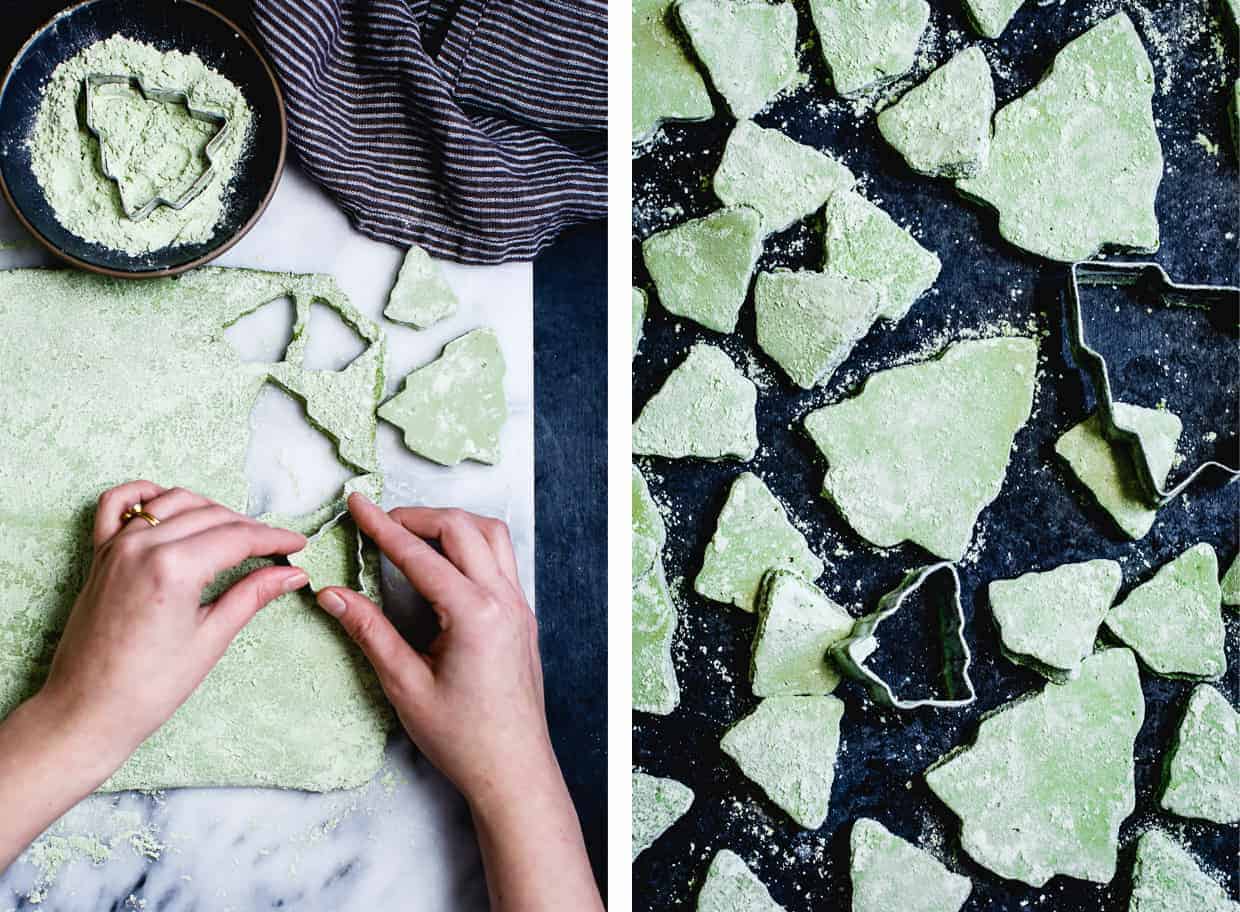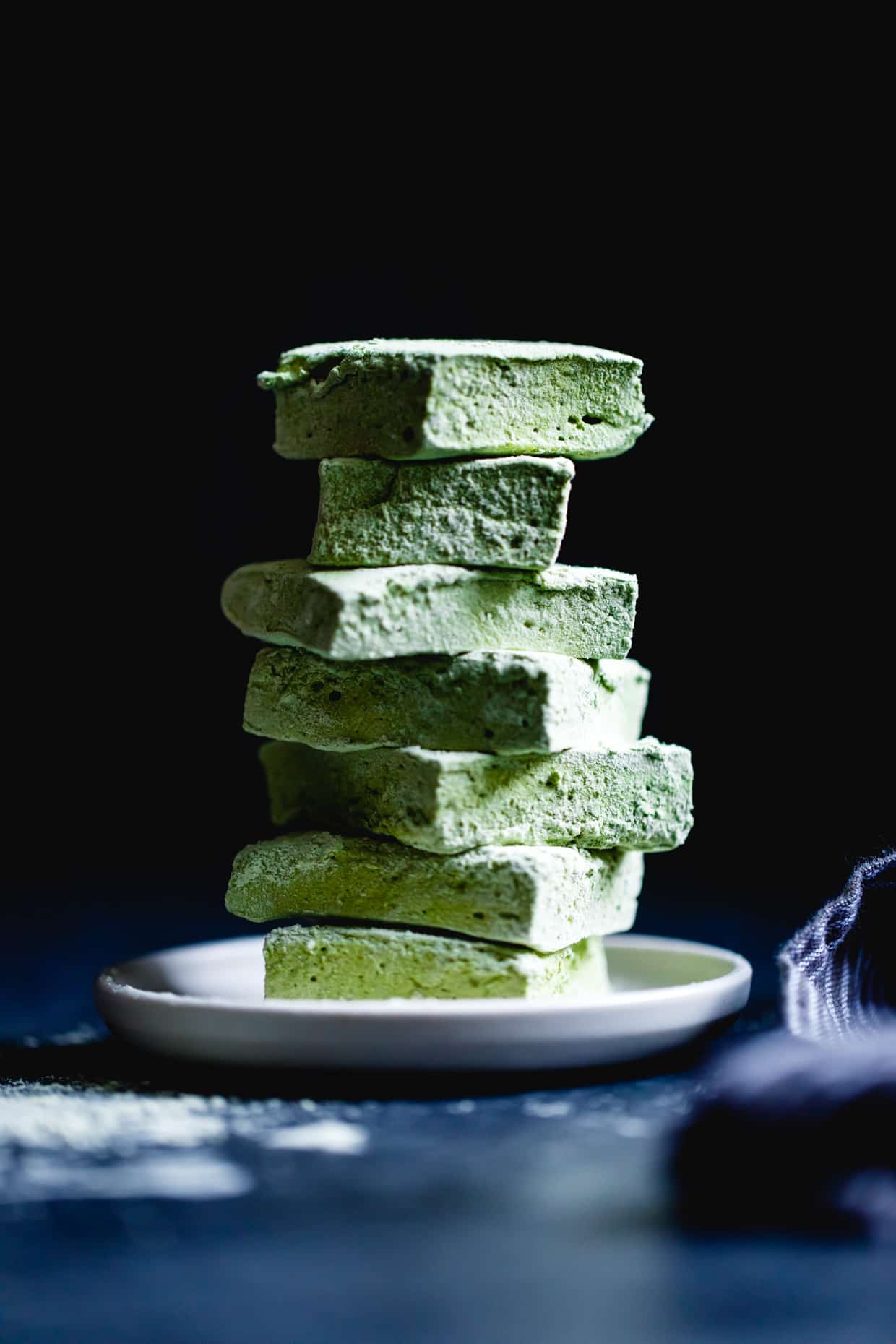 Today's wintry hot cocoa with homemade marshmallow trees pairing is inspired by the gingerbread hot cocoa topped with gingerbread marshmallow men that we made in collaboration with KitchenAid and Rodelle. We teamed up to create a five-video holiday recipe series - all shot in my KitchenAid equipped kitchen!
For that gingerbread hot cocoa we frothed up warm milk with Rodelle's rich dark baking cocoa, spices, and molasses-laden dark brown sugar - then plopped the cutest gingerbread marshmallow men on top. Get ready to feel merry and bright.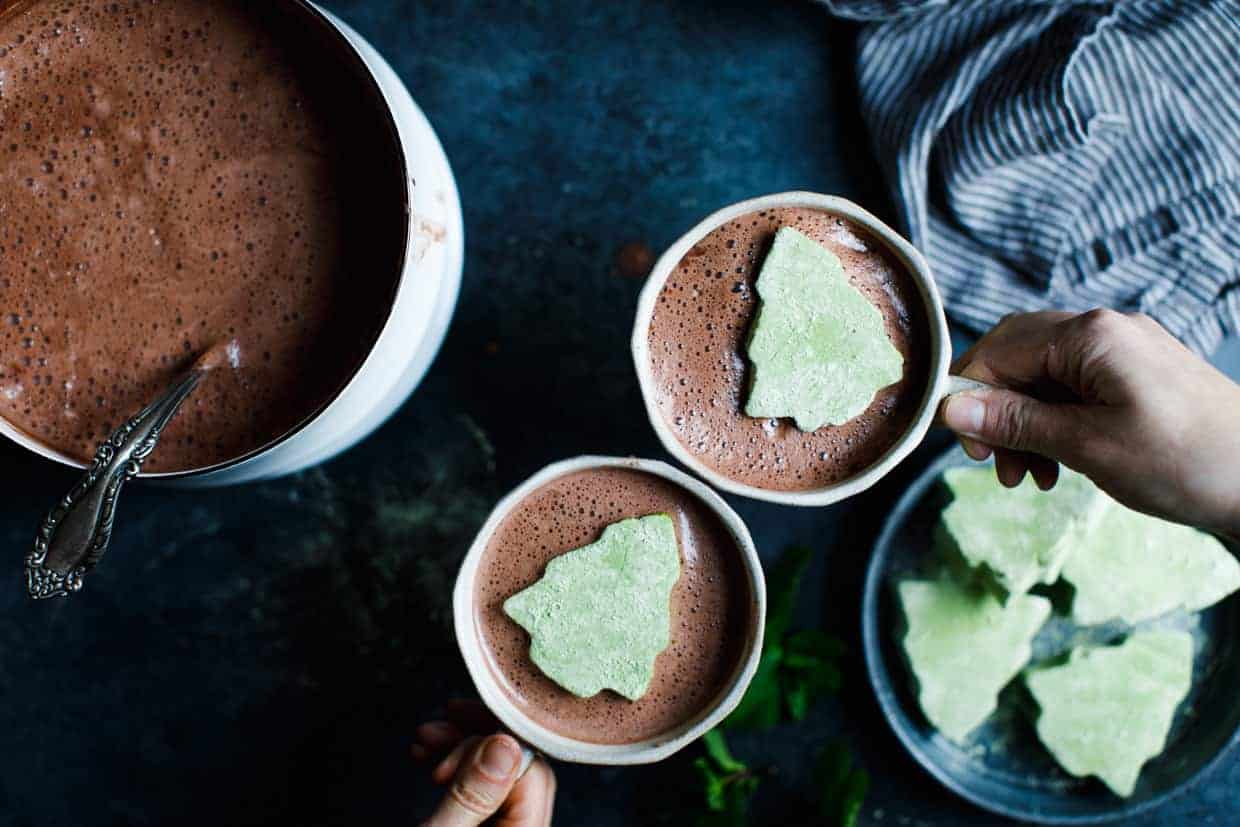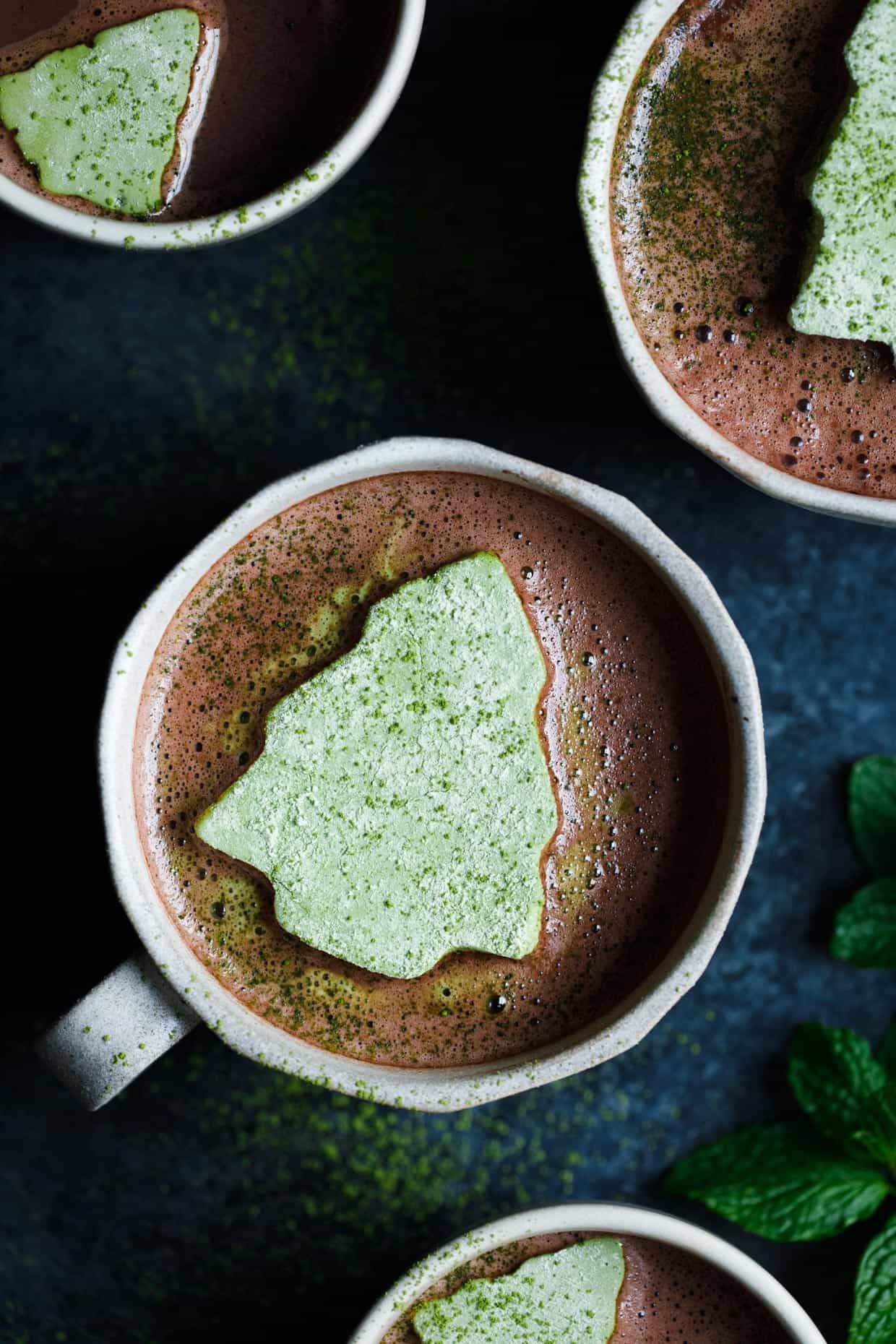 We didn't put up a Christmas tree this year (for a number of reasons, not least of which is a mobile 10 month old baby), so I instead made cut-out matcha marshmallow trees to fill our house with some holiday cheer (it's working).
I've found that you get cleaner shapes that also float more upright in hot cocoa with thinner marshmallows. However, if you'd prefer squares, use a 9x12 baking pan instead to get the tallest fluffiest marshmallows. If you do cut out your marshmallows into shapes, you'll have festive marshmallows that you can wrap up as gifts with a jar of homemade hot cocoa mix and some tasty scraps to turn into matcha rice krispie treats for yourself. Win-win.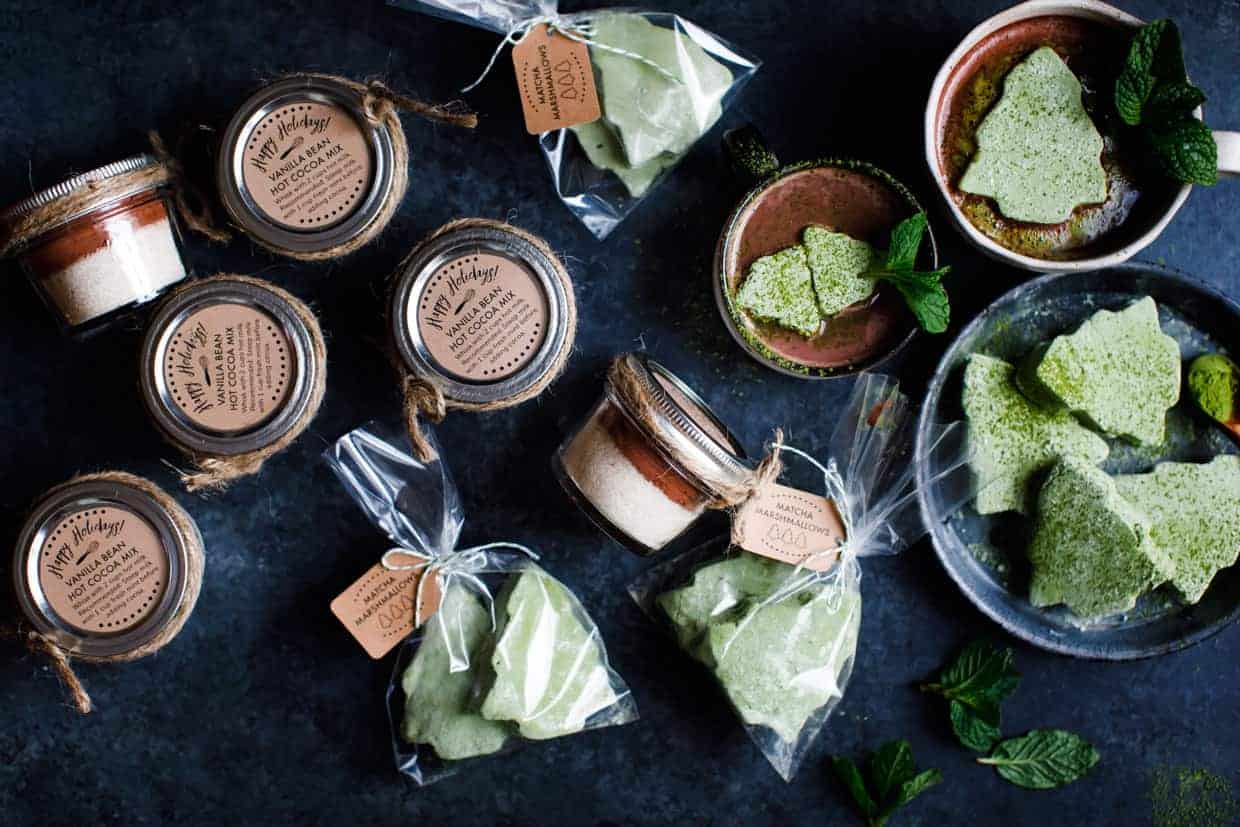 I made these matcha marshmallows corn syrup-free by subbing in brown rice syrup (found at Whole Foods). In a side-by-side comparison, while equally delicious, the brown rice syrup marshmallows were moderately less fluffy and sticky than the batch with corn syrup. Even still, they duped folks in a blind taste test, so I consider that a major success!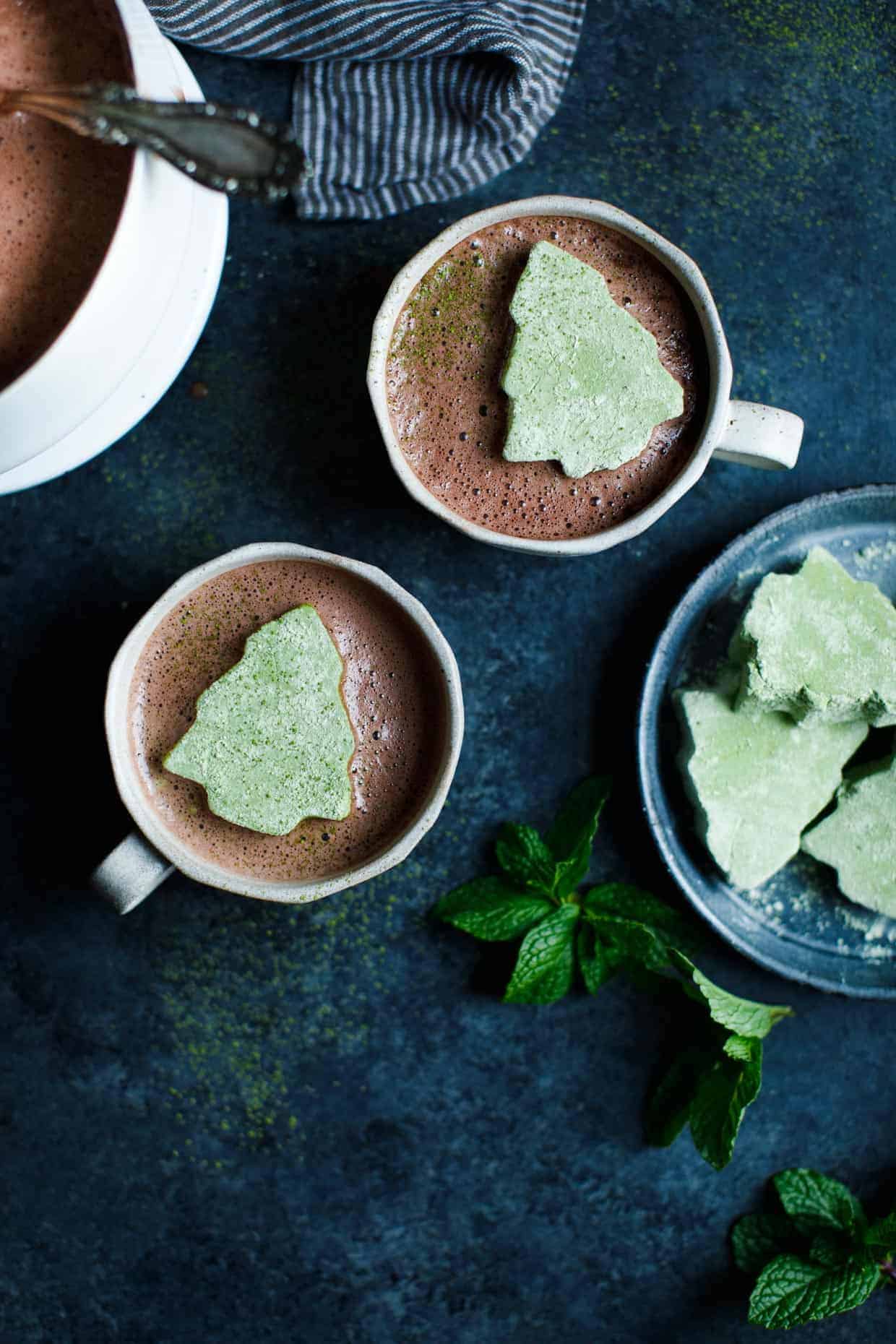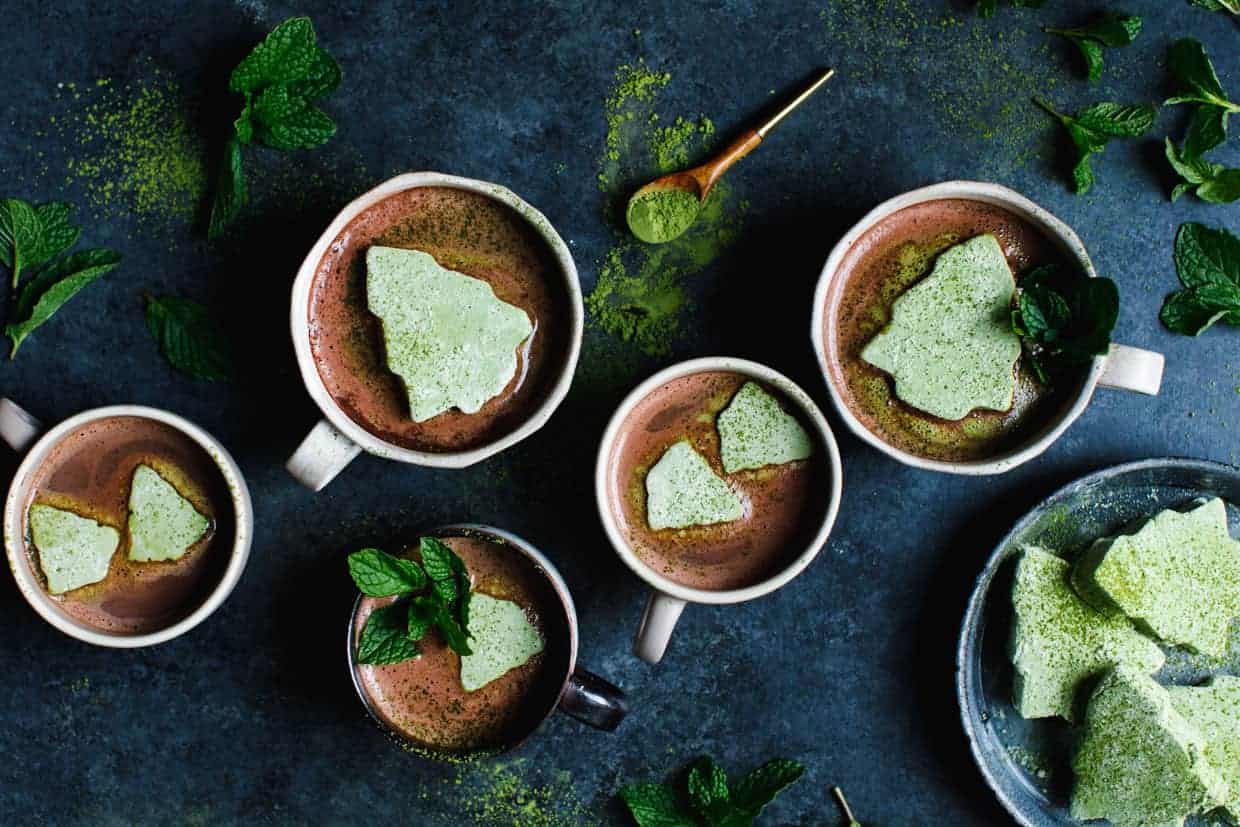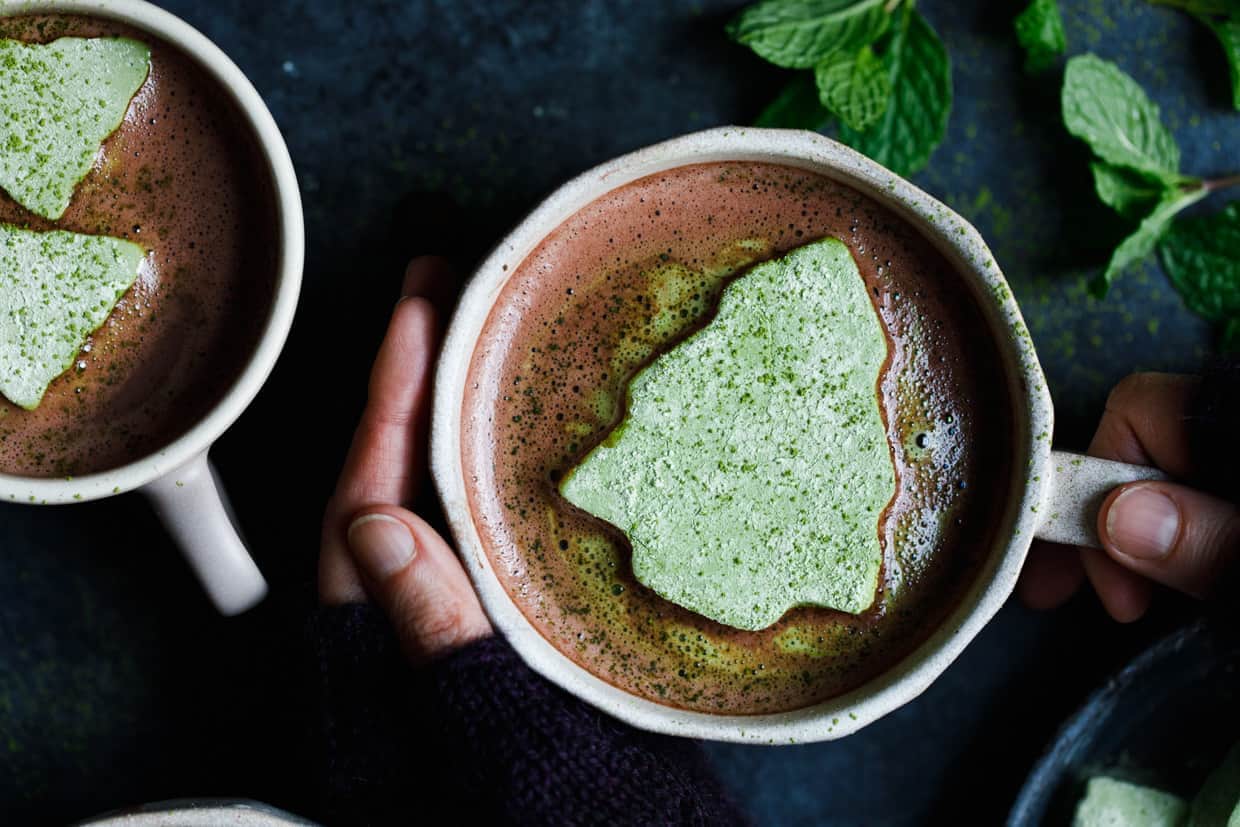 Matcha and chocolate form an unlikely duo that's got both Alanna and I swooning since the matcha chocolate cupcakes I made for my birthday potluck two years ago. Alanna added mint to matcha chocolate chip ice cream and the flavor trio plays a symphony in my mouth. Today we've brought the band back together for a merry warm sip that's the ultimate winter comfort. Earthy bitter notes of matcha green tea melt and swirl around the surface of a deep dark chocolate cocoa spiked with bright fresh mint.
The recipe for the matcha marshmallow trees is below - get the recipe for the fresh mint hot cocoa (plus how to turn it into the perfect DIY gift) over on The Bojon Gourmet.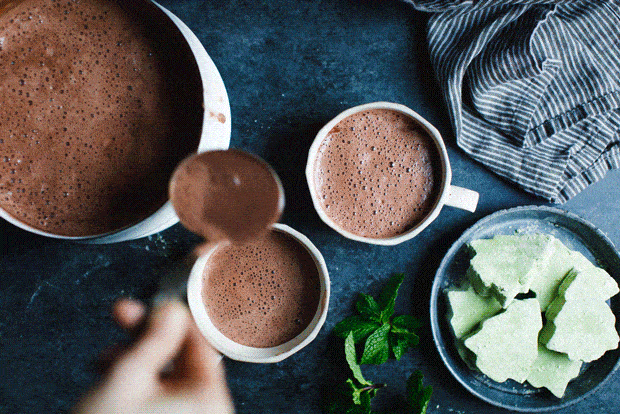 Stay warm, my friends!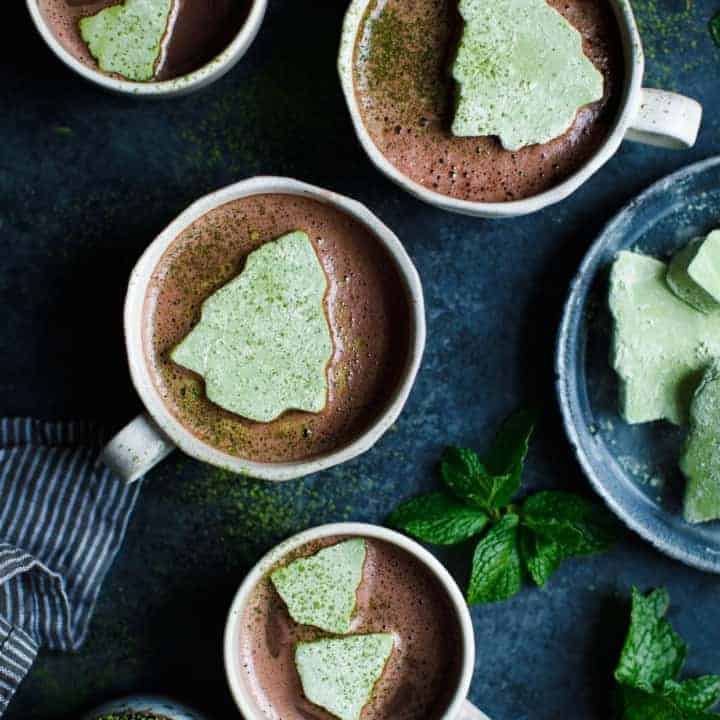 Matcha Marshmallows
Yield:
30-40 marshmallows
Ingredients
½ cup powdered sugar for dusting
3 quarter-ounce packages unflavored powdered gelatin
1 cup cold water, divided
1½ cups sugar
1 cup brown rice syrup (or organic corn syrup)
2 teaspoons Rodelle vanilla extract
¼ teaspoon sea salt
Instructions
Sift together the powdered sugar with 2 teaspoons matcha powder.
Line a lightly-oiled 10x15 baking sheet with parchment or wax paper (if you're not planning to use cookie cutters and you just want marshmallow squares, use a 9x12 baking pan). Lightly spray the paper with oil and gently dust it with a bit of the matcha powdered sugar. Set the matcha powdered sugar aside for later.
In the bowl of the KitchenAid Stand Mixer fitted with the whisk attachment, whisk together the powdered gelatin and ½ cup of the water. Let sit while you prepare the rest.
In a 3.0-quart saucepan, combine the sugar, brown rice syrup, and remaining ½ cup of water, and cook over medium heat, stirring, until the sugar dissolves, about 3-5 minutes.
Insert a candy thermometer and increase the heat to medium-high. Cook, stirring occasionally, until the syrup reaches 240°F.
Turn the stand mixer to low and gently pour the syrup into the gelatin mixture along the side of the bowl (to avoid splatters). Increase the speed to high and whip for about 15 minutes, until the mixture nearly triples in size and becomes white and fluffy.
With the mixer on low, slowly add the remaining ¼ cup of matcha powder, vanilla, and salt, and mix until completely combined.
Pour the marshmallow cream into the prepared baking sheet and smooth the top with a spatula.
Leave the pan to dry out, uncovered, overnight.
The next day, dust the top of the marshmallows and a cutting board with the remaining matcha powdered sugar.
Use the parchment paper to help you turn the marshmallows out onto the dusted cutting board. Use a lightly oiled cookie cutter to cut the marshmallows into shapes (reserve any excess trim for making rice krispie treats!) or use a warm knife to slice into squares.
Toss each marshmallow in the matcha powdered sugar until it's no longer sticky on any side.
Serve over warm fresh mint hot cocoa - get the recipe over on The Bojon Gourmet.