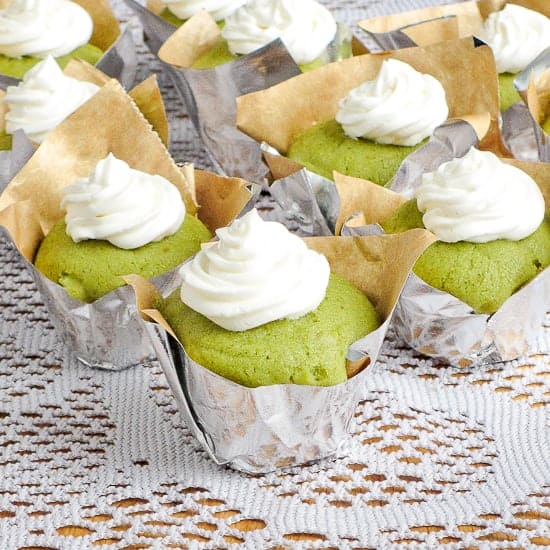 I baked these green cupcakes with St. Patrick's Day in mind, but then immediately headed for the mountains to enjoy clouds of fresh powder on the slopes. Tahoe has finally gotten some much overdue snow cover, and I've consequently been MIA from chronicling my cooking while I hole up in a wintry cabin with good company, hilarious board games, and no Internet. I'm sorry that these delicious treats are arriving to you late, but I'm not sorry that I made fresh tracks under the Exhibition chair at Squaw Valley (you should be jealous, not mad).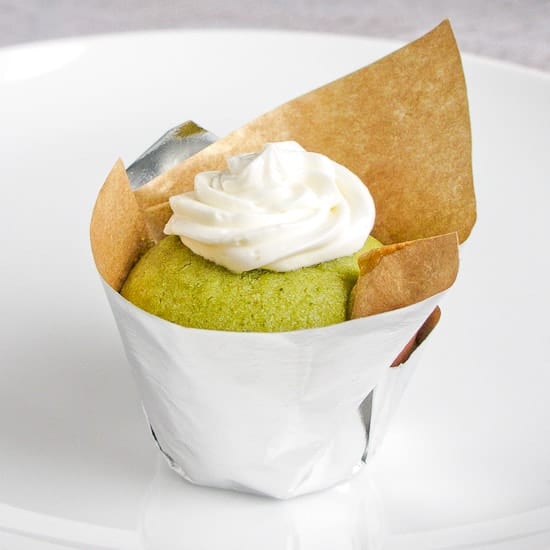 There are a billion different dishes you can make to honor this emerald Irish holiday, but what I love about these cupcakes is that the green hue comes naturally from the matcha powder – no food coloring is used in the baking of these sweets. Plus, I'm all about unique flavors when it comes to cupcakes (and ice cream too, for that matter). When I ran out of silicon mini holders and green paper muffin liners, I cut some double-sided foil/parchment paper into squares to hold my tiny cakes. I was so pleasantly surprised by how cute this substitute turned out that it might become my go-to liner from now on.
While continuing my nod to the green theme, I baked these cupcakes with multiple people in mind. First, and most importantly, I wanted celebrate my landlady, Cordula's birthday with something sugary. My research group also deserved some thanks in the form of food for giving me advice to help me recover from a stress fest about my theoretical qualifying paper. Any leftovers would be carted to Tahoe, as they'd surely be devoured by the nine hungry boys after a long, hard day of powder skiing.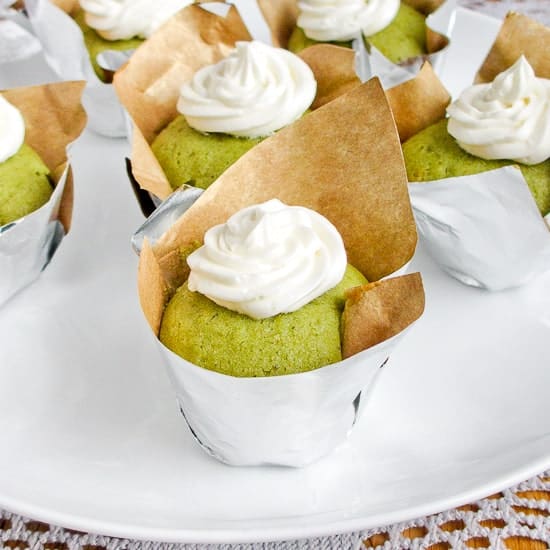 Lucas and I found the cupcakes to be perfectly moist and not too sweet, which was just right to offset to the incredibly rich and buttery frosting. Cordula likewise gushed about how yummy they were, and my research group quickly gulped down two dozen. The fluffy treats were lost, however, on the last audience; what are the odds that everyone at the cabin was born without a sweet tooth?! And, what's more, that there would be three separate cupcake options?!
Yes, THREE: My friend Tina (of Just Putzing Around the Kitchen) sent eight of her Irish car bomb cupcakes with her fiancé Dan all the way from Virginia, and Lucas also had 1½ dozen light, fluffy, and moist cupcakes secretly delivered in advance to celebrate my birthday (Why is it that 27 sounds so much older than 26? I'm an old lady now). All of these SUPER delicious cupcakes and a chalet full of boys that insisted that savory is far superior to sweet - blasphemy. The debate got heated, and, in the end, I headed down the hill with some leftover cupcakes to share with people who aren't lacking in the taste bud department. Trust me, a cupcake connoisseur, when I tell you that these tiny cakes are something special.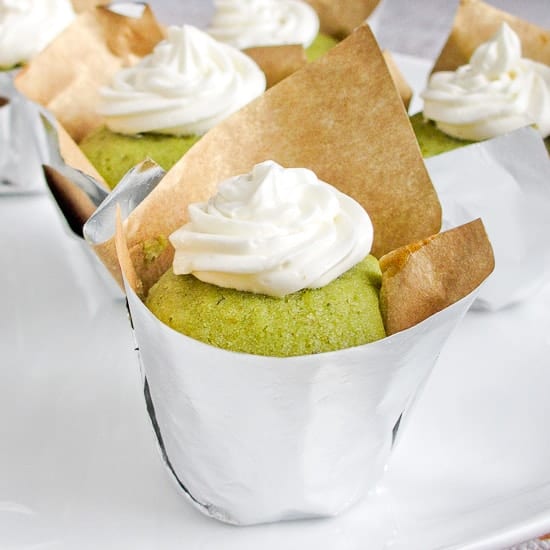 Matcha green tea cupcakes (Adapted from Baked In)
Makes 5-6 dozen mini cupcakes
1½ cups cake flour
1 cup all-purpose flour
1¼ cups sugar
1 tablespoon baking powder
1 teaspoon salt
2 teaspoons matcha green tea powder (I got this at a tea & coffee shop - For a stronger matcha flavor, add 1-1.5 tablespoons)
1 cup milk
2 large eggs
½ cup unsalted butter, room temperature
Zest of one lemon
Preheat the oven to 350ºF.
In a large bowl, whisk together the flours, sugar, baking powder, salt, and matcha green tea powder.
In a separate bowl (or the bowl of stand mixer), beat together milk, eggs, butter, and lemon zest until combined.
With the mixer on medium low, slowly add the flour mixture just until combined.
Fill each lined mini muffin tin ⅔ full. Bake for 12-15 minutes, until a toothpick inserted in the middle comes out with just a few crumbs.
Honey buttercream (Recipe from Baked In)
2 large egg whites
½ cup plus 2 tablespoons sugar
¾ cup of unsalted butter, room temperature (next time, I might reduce this to just half of a cup, as it was really buttery, but if that's how you like it, keep as is:)
2 tablespoons honey
Bring a couple of inches of water to simmer in a medium sauce pan over medium heat.
In the bowl of a stand mixer, stir together egg whites and sugar until combined.
Place bowl over the sauce pan and whisk continuously until the sugar is complete dissolved and it becomes glossy and white, or until it reaches 140ºF.
Transfer to the bowl of a stand mixer, and using the whisk attachment, whisk the mixture until it cools, and holds stiff peaks (about 8 minutes).
Using the paddle attachment, add the butter 2 tablespoons at a time, until completely combined. Beat until smooth, about 3-5 minutes (it's possible there will be a point when your frosting looks curdled, but keep beating until it smooths out - this didn't happen to me, but the original recipe warned me of this).
Add the honey and mix until combined.
Frost cupcakes and devour!