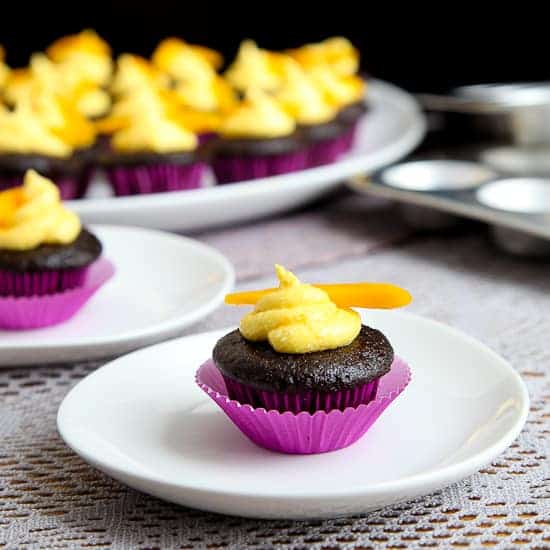 You never thought you'd find chocolate cake here, did you? Just when you had me all figured out, I pull this stunt out of left field. What's more? I liked - no LOVED - these bite-sized chocolate-y treats! I surprise just when you least expect it. When you think I'll zig, I zag. The excuse? Jen's oral qualifying exam was last week and she put me in charge of organizing the snacks for the occasion. Her only guidance was that one of her committee members has a wicked sweet tooth for chocolate. A tall order for a baker who prefers anything but chocolate (except for a brief period of intense cravings that occur like clockwork each month;). As with the molasses bars I whipped up for Dan's orals last month, I knew that I'd have to sample whatever I baked. So, even though chocolate is at the bottom of the totem pole of my choice desserts, I hate it less when paired with the sweetness of fresh fruit. Mango elevates these mini cupcakes from blah to breathtakingly delicious in one fell swoop.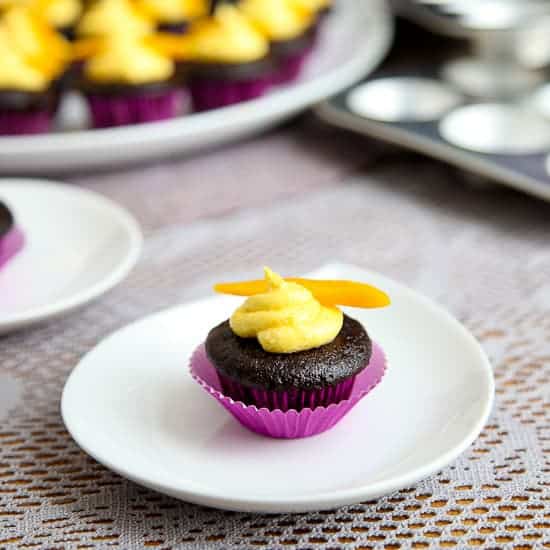 Actually, if I'm being totally honest, I may have (most definitely) enjoyed a few frosting-free bites straight out of the oven. Who knows - maybe I'm becoming more lenient on my anti-chocolate crusade in my old age, or maybe these cupcakes are just THAT good. I'll put money on the latter because the thought of a Snickers still doesn't sound satisfying. Not too sugary and not too bitter, the cake itself has the most ideal texture: incredibly moist and super fluffy. Add a creamy sweet mango topping and even chocolate-haters won't be able to resist. The proof is in the pudding - the tray of treats quickly dwindled as I photographed them. My hips are lucky that I had to reserve the majority of these dainty desserts for Jen's committee. And Jen is also lucky that I was able to exercise extreme self-control.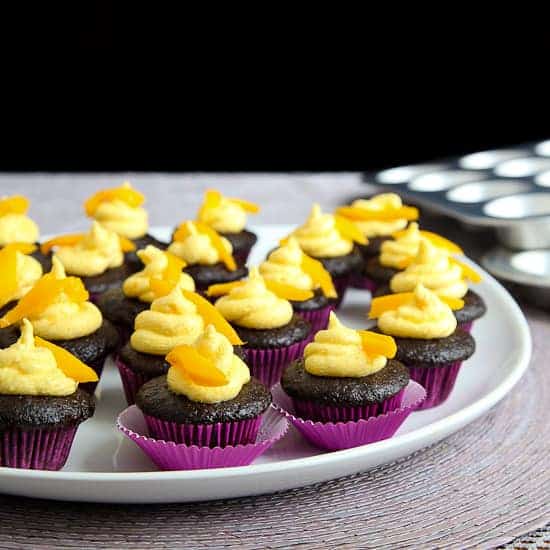 On a related note, this post is the debut of our new camera! We finally bit the bullet and upgraded our beloved Canon Powershot Elph point-and-shoot to a Canon 5d Mark II. A monumental change, I know, but we made a deal that once we sold our van, we could get a new camera of Lucas's choosing. Someone bought the van in March, and it took us until now to commit to the camera purchase. Beginning my blog journey with my trusty point-and-shoot taught me the ins and outs editing photos until the food looks appetizing. However, I'm happy to push the Powershot aside on the shelf and let this new bad boy work its magic. Can you tell I have no clue how to use it yet? (And it helps that I left the hardcopy manual on the airplane...). For example, I accidentally turned the image stabilization off while (frustratingly) taking these first photos, so they're not as crisp as I'd like. Regardless, the mango chocolate cupcakes were much too tasty for me to withhold them from you.
Chocolate cupcakes with mango cream cheese frosting
Makes about 3 dozen mini cupcakes
Chocolate cupcakes (Adapted from Martha Stewart)
Scant ⅜ cup milk
Scant ½ tablespoon white distilled vinegar
6 tablespoons unsweetened cocoa powder
¾ cups all-purpose flour
¾ cups sugar
¾ teaspoons baking soda
¼ teaspoon plus 1 dash baking powder
¼ teaspoon plus 1 dash teaspoon salt
1 large egg
6 tablespoons warm water
1½ tablespoons canola oil
½ teaspoon pure vanilla extract
Combine the milk and vinegar in a cup and let sit for 10 minutes.
Preheat the oven to 350ºF.
Sift together the cocoa powder, flour, sugar, baking soda, baking powder, and salt in the bowl of an electric mixer (or a medium bowl if working by hand).
Add the egg, water, milk, oil, and vanilla, and stir until just smooth.
Fill lined mini muffin tins ⅔ full.
Bake about 10-14 minutes, until a toothpick inserted in the center comes out without any batter and perhaps just a few crumbs.
Let cool on a wire rack before frosting.
Mango cream cheese frosting*
½ cup cream cheese, softened
¼ cup unsalted butter, softened
¼ cup + 2 tablespoons mango purée (about ⅓ of a mango)
36 tiny fresh mango slivers (optional)
Combine the cream cheese, butter, and mango purée in the bowl of an electric mixer.
Mix on medium-high until creamy and smooth.
Fill a pastry bag and frost the cupcakes.
Top each with a mango sliver (optional, but highly recommended) .
*Note: One reader found the cream cheese to be overwhelming. We loved it, but for those of you who don't love cream cheese as much, try reducing the amount by half.