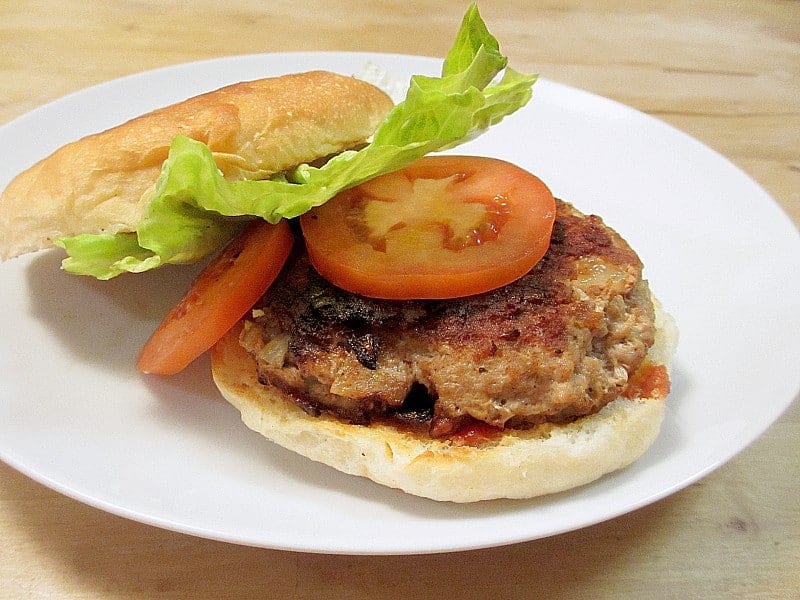 Let me start by saying that Lucas and I faced an obstacle  in food blogging today: it is not easy to make a burger look appealing in photographs. I'll continue by telling you that this turkey burger recipe (courtesy of Lucas) is the juiciest, most flavorful turkey burger I've ever eaten. I am not a burger-making aficionado, but Lucas is teaching me the tricks of the trade. It all began when, on his birthday last year, I got up early, went shopping, and began preparing a BBQ feast for a (somewhat) surprise party, exiling Lucas to the bedroom as I cooked. I'd seen people make burgers a billion times before, how hard could it be? I should mention that I'd never actually made a burger on my own before (I know, I know, how un-American). I wanted to make them Lucas's way, chopped onions and cheese mixed in with the beef. All was going swimmingly until I burned the first batch of cheesecake brownie bites while my hands were covered in raw beef, and I got upset. I'm not sure what I said, but Lucas knew to break down the invisible door between the bedroom and the kitchen and come to my rescue. Good thing he did too, because it turns out I was generously making patties the size of frisbees. He took me under his wing, and has been training me in the art of burgers ever since.
What makes Lucas's burger so special, you ask? (I'm so glad you asked). He not only mixes chopped up onion (or shallots if that's what we have on hand) and shredded cheese (in tonight's case, white cheddar) into the ground meat, but he also adds some Rudy's Rub to give it some spice and bring in his Texan roots. The juices from the onion and cheese give the often dry turkey burger the perfect boost of moisture, and the rub bumps it up from bland to flavorful. Tonight, after months of training, Lucas passed on the reigns and gave me a shot at becoming a turkey burger master.
As much as Lucas loves grilling (and his new grill set), the time it takes to heat up the charcoals, combined with the rainy storms happening outside made the thought of grilling less than ideal. Our apartment-dwelling solution was to fry them (in bacon grease) in the cast-iron skillet. Aside from moderately smoking up our apartment, we found a successful way to quench our burger cravings.
Lucas's skillet-fried white cheddar turkey burger
Makes 4
1 ¼ pounds ground turkey
1 ½ tablespoons Rudy's Rub
½ onion, diced (or equivalent in diced shallots)
1 cup shredded white cheddar cheese
4 sourdough buns
Tomato, sliced (optional)
Lettuce (optional)
Mayonnaise (optional)
Ketchup (optional)
Combine ingredients in bowl with hands. Pat into four equal patties (flattened because they will shrink up).
Heat cast-iron skillet over medium high heat (bonus flavor if you've got some bacon grease in the skillet:).
Fry patties, two at a time (or more depending on skillet size), for five minutes on each side.
Serve on bun with choice toppings (recommended: tomato, lettuce, mayonnaise, and ketchup).