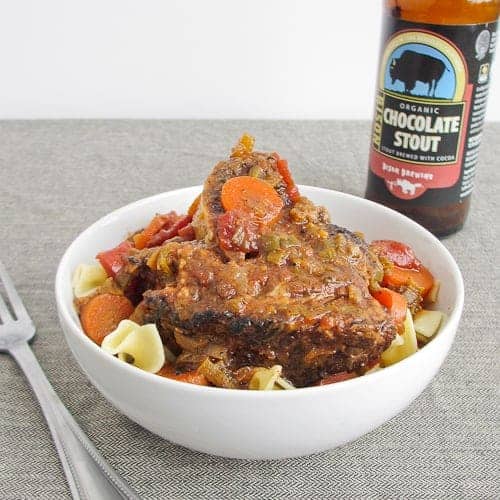 For the second course of our two-part anniversary dinner, Lucas was concocting something special. I'll narrate my perspective first and he'll chime in with his side of the story after. We each walked to the produce market separately Saturday afternoon to keep the mystery of each of our dishes alive as long as possible, but bumped into each other in the specialty spice corner. We played it cool and both pretended we were just passing by. As I was finishing up, I called him to see if he was done and wanted to walk home with me, only to discover he hadn't yet put anything in his cart, and was frustratingly trying to figure out what the heck a leek looked like. Sarah to the rescue.
When we got home, we discovered our first defect in this otherwise flawless anniversary food fete: we didn't coordinate about oven use. I needed to bake cupcakes at 350ºF for 15 minutes (x2 batches), then bake pear chips at 220ºF for 2 hours; Lucas needed to braise short ribs in the oven at 375ºF for 2 hours. Luckily our landlords (saving the day AGAIN) were heading to a movie that night and graciously let me bake my chips in their oven (and also lent Lucas a gigantic oven-safe pot when he discovered the SEVEN short ribs he was making wouldn't fit in my 3.5 quart Le Creuset-doh). Even with the two ovens, we didn't eat our first course until 9pm and the second at 10pm, but it was worth the wait. Keep in mind, at this point, I still had no idea what Lucas was making, except that it involved leeks, a giant pot, and two hours of oven time. I watched as he carefully measured spices (and discovered that dry mustard is a little bitter when you put a drop on your tongue) and watchfully tended to the meat, worrying over every step. I told you, Lucas does NOT mess around - he is so precise that I had full confidence his meal would earn a gold star. And boy did it ever - these short ribs were so perfectly tender with lots of flavor, and they were even BETTER for lunch the next day. I am so lucky to have these leftovers for the rest of the week while he jet sets off to Taiwan, and more importantly, to have a boyfriend that can cook (and enjoys it too).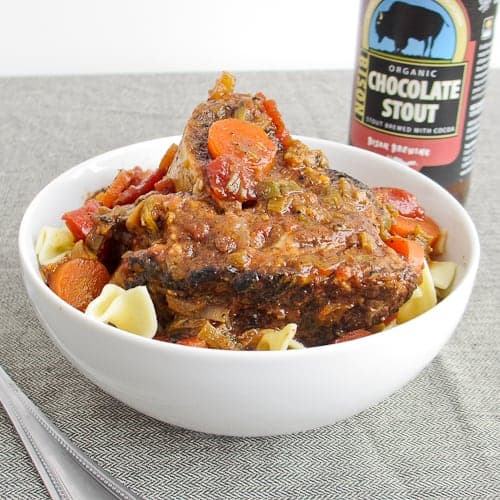 And now for Lucas's point of view....
Hello Snixy Kitchen, I am the aforementioned boyfriend.  Thank you for the warm welcome. First off, I know what a leek looks like, but they flipped the produce market around on me and I could not find them. Anyhoo, I chose this recipe because I've wanted to learn how to braise meat for a while now.  All I knew about the process was that it created super tender meat so I assumed it was some sort of slow cooking process.  Therefore, until now I hadn't found a good excuse to take on this endeavor.  Most of the braised short ribs dishes I have had have been cooked in red wine, so I thought this recipe would be a nice twist. Overall the cooking times for this recipe were spot on but I ended up browning the meat for a little less than a minute per side. The spice mix was great, but I'm not sure how much flavour the stout actually added. I might substitute it for a pale ale next time.  One thing I learned through this recipe was that leeks are awesome and I want to cook/eat them more.
Chocolate stout-braised short ribs (Recipe from Gourmet)
Serves 6
¼ cup packed dark brown sugar
1 tablespoon paprika
1 tablespoon curry powder
2 teaspoons ground cumin
2 teaspoons black pepper
2 teaspoons salt
1 teaspoon dry mustard
4 beef short ribs, cut into 4-inch pieces
4 medium leeks (white and pale green parts only), chopped (2 cups)
3 tablespoons olive oil
4 medium carrots, chopped (2 cups)
3 celery ribs, chopped (1 ½ cups)
1 California bay leaf
5-6 large cloves garlic, chopped (¼ cup)
1 ¾ cups beef broth (14 oz)
2 (12-oz) bottles of chocolate stout
2 (14 to 15oz) cans diced tomatoes
Put oven rack in lower third of oven (so it will fit your giant pot) and preheat oven to 375°F.
Combine brown sugar, paprika, curry powder, cumin, pepper, salt, and mustard in a small bowl and whisk to combine.
Pat ribs dry and arrange in 1 layer in a shallow baking pan or a shallow dish. Generously coat all sides of ribs with spice mixture. Marinate, uncovered and chilled, 1 hour.
Wash leeks in a bowl of cold water, agitating water, then lift out leeks and drain in a colander.
Heat oil in a wide 6-qt heavy nonreactive pot over high heat until hot but not smoking and quickly brown ribs on all 3 meaty sides (but not bone side) without crowding, in batches, if necessary, a little less than a minute per side. Transfer meat to a large plate.
Add leeks, carrots, celery, and bay leaves to pot and cook over moderately low heat, stirring occasionally, until vegetables begin to soften, about 3 minutes. Add garlic and cook, stirring, 1 minute.
Add broth, beer, and tomatoes with their juice. Add ribs with any juices and remaining spices accumulated on plate and bring liquid to a boil, uncovered.
Cover pot and transfer to oven, and braise until meat is very tender, 2 to 2 ½ hours.
Skim off excess fat from surface of sauce. Discard bay leaves.
Serve over buttered egg noodles or rice.
If made in advance and chilled, skim off congealed fat from the surface before reheating.