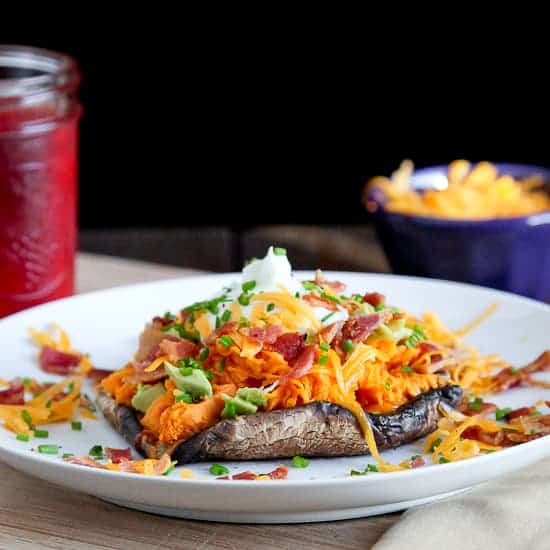 When I decided that baby carrots, granola, and string cheese weren't substantial enough to thrive a week on, I finally dragged myself to the store. With Lucas still in China, I wanted something simple, but hearty. It could take no longer than 20 minutes, but had to taste delicious enough to be worth changing out of my yoga lounge pants and trekking the two blocks to the store. Oh, and I had to be able to get all the ingredients within walking distance of my couch. This was all the effort I was willing to put forth. Afterall, there were far more important things to do...like watch the olympics and clip coupons and cuddle with my kitties. I am clearly no role model when it comes to motivation to cook for one! The first bite of these loaded portabellas proved that the time it took to make them was, in fact, a very well spent 20 minutes. I video chatted with Lucas just to show off the drool-worthy dish.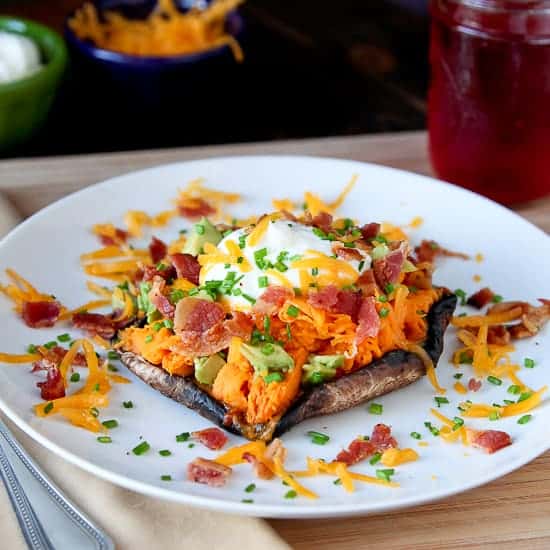 I was raised in the era of the microwave. Until I was an adult, I thought a baked potato meant poking fork holes through the skin of a potato and microwaving it for 5-10 minutes. We'd drown them in salt and butter, and if we were feeling fancy, toss a little sour cream on top. I loved these "baked" potatoes.
Now here's a little family secret: occasionally, we'd then lightly mash those potatoes and serve them over hot dogs with a sprinkling of cheddar cheese. This is one of my dad's specialties, a passed down recipe made as a tribute to my late Grandma I never met. When you put it that way, this is a dish with history and should forever be recreated. When you really pause to think about it, though, you'll likely have the response my mom just gave to me when I called to ask her about that dish, "you're not going to make that, are you?!" No. I didn't serve mashed potatoes over hot dogs with cheese! I upgraded the recipe and served mashed sweet potatoes over healthy portabella mushrooms...with cheese. And bacon. And a bunch of other really delicious toppings, in honor of my Grandma Doris. I am so thankful that my dad taught me that mashed up microwaved potatoes can be served over other foods for a tasty meal.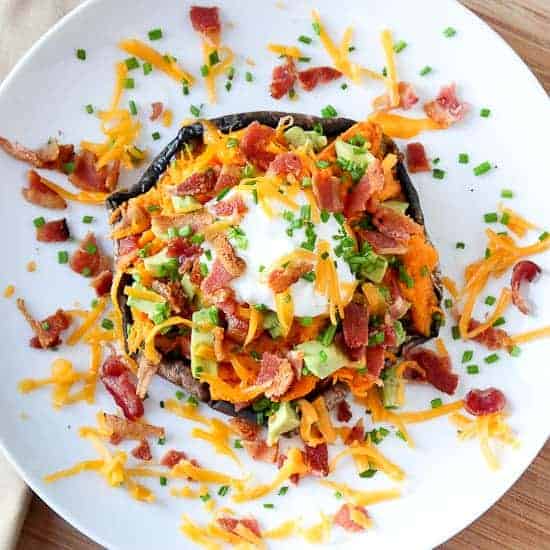 There's a new slider restaurant in Berkeley that offers two options on their menu - beef and portabella mushroom. They then add bacon slices, cheddar cheese, a creamy mayonnaise-based secret sauce, and buttery buns to make a bite you can't resist. This loaded sweet potato portabella mushroom recipe draws on the essence of those mini mushroom burgers, making them even more addicting with sweet potatoes. They're sweet and salty, with completely reimagined comfort food flavors. Feel free to add your favorite baked potato toppings to this mushroom-based upgrade, and you'll be happy you invited the portabella to the party.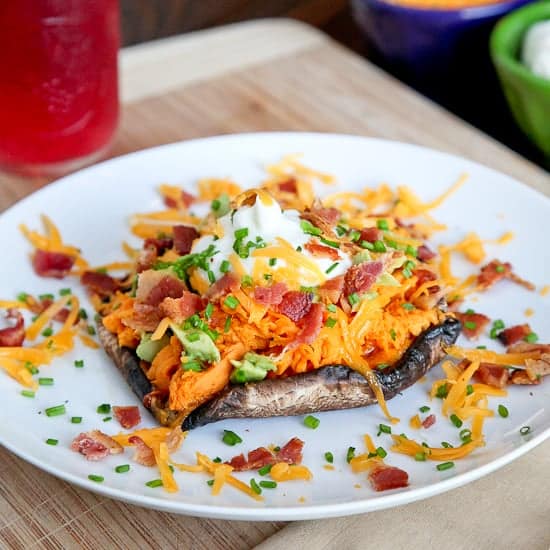 Loaded sweet potato portabella mushrooms (Inspired by BS'in in the Kitchen)
Serves 2
2 portabella mushrooms, stems trimmed and gills scooped out and discarded
1 medium sweet potato, holes poked in it with a fork
4 tablespoons shredded cheddar cheese
½ tablespoon chives, diced
1 tablespoon low-fat sour cream
1 avocado, chopped
1 teaspoon butter, chopped
Salt and pepper, to taste
3 slices thick bacon, pan-fried until crispy, then chopped
Preheat the oven to 425ºF.
Place the portabella mushrooms upside down on a baking sheet.
Divide the butter pieces and dot them on the face of each of the mushrooms.
Sprinkle 1 tablespoon of cheddar cheese on each mushroom. Sprinkle with salt and pepper, to taste.
Bake the mushrooms for about 12 minutes, until the cheese melts and the mushrooms are cooked through.
Meanwhile, wrap the sweet potato in parchment paper and microwave it on high for 5-8 minutes.
Cut the potato in half, and scoop out the insides, lightly mashing them.
When the mushrooms are done, divide the mashed sweet potatoes between the mushrooms. Sprinkle with avocado, the rest of the cheese, chives, and bacon. Finish with a spoonful of sour cream and serve!