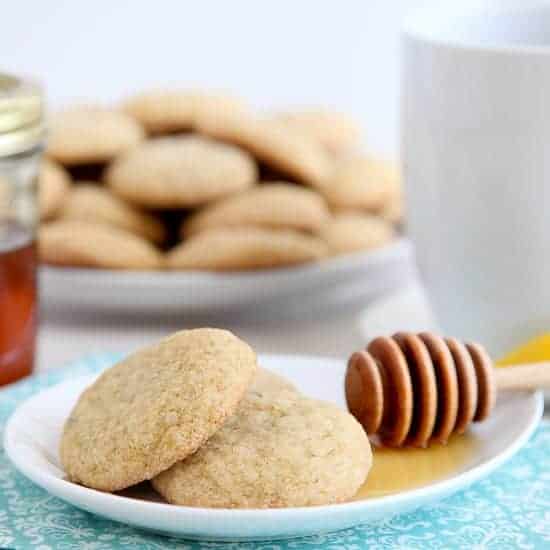 Happy Mother's Day! For those of you who stop by here regularly, you've probably noticed that I've got the world's most loving mom; no matter what she's doing, my mom (Sheri) makes it a point to comment on nearly every recipe I post. And not just here, but on Facebook too; she's my biggest fan and makes sure everyone knows. She doesn't get to taste-test my results nearly enough because when I visit, I typically crave mom's home cooking. As a result, she's always jokingly asking for her portion of whatever I've just made. When I baked honey green tea sandwich cookies a couple of weeks back, she inquired, "And when do I get mine???" So with Mother's Day upon us, I granted her wish and overnighted a batch of cookies fresh out of the oven.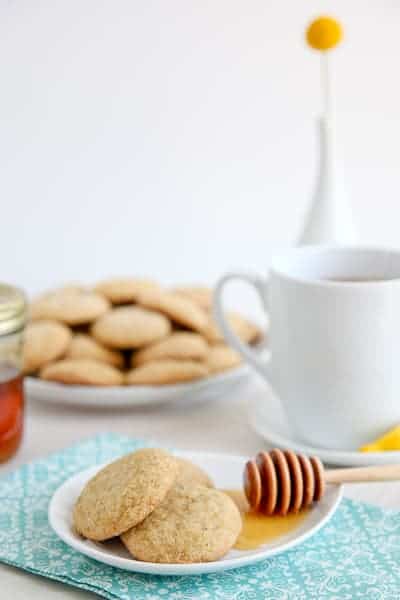 In her honor, I didn't want to just whip up any ol' recipe, I wanted to invent a cookie I know she'd love. If there's one thing to know about my mom, it's that she loves lemons. Lemon bars are one of her specialties in the kitchen, and she swoons over citrus-scented lotions. Actually, come to think of it, I'm quite surprised lemon isn't a variety among the fruit trees in her mini orchard. Since the honey matcha tea cookies spawned the idea of sending her a dozen or two, I took Lucas's advice and stuck with the tea-flavored theme, this time choosing chamomile. And what's tea without some fresh local Playhouse Honey from mom's backyard? These elements united into rich cookies that disappeared faster than they were made.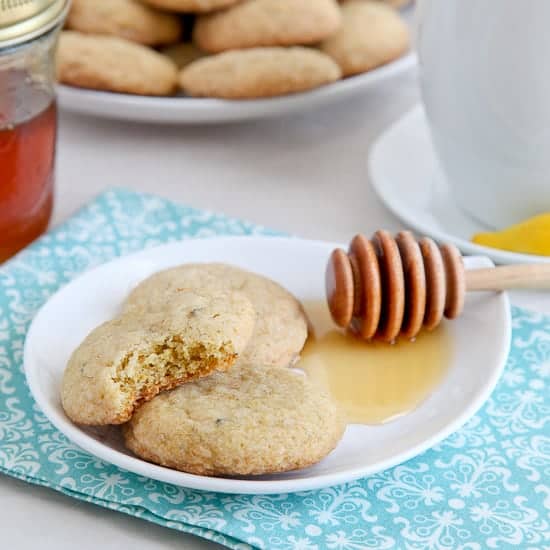 You may have also noticed that I have a second regular comment contributor. Lucas's mom (Veronica) lovingly responds to many of my posts and always cheers on my blogging when we talk. For Christmas two years ago, I sent Lucas with a batch of cookies that she raved about, so cookies for Mother's Day seemed like an appropriate choice. And Lucas's dad, Roy, conveniently hypothesized that she'd like the same green tea cookies my mom had been eyeing. When it comes to gifts, Lucas and I prefer the homemade kind to meaningless knickknacks, which is right on par with what our moms desire.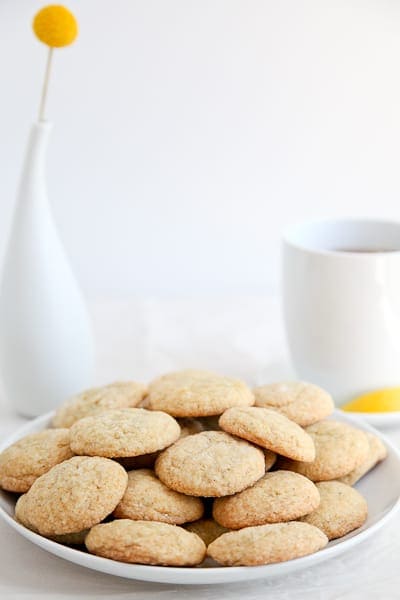 Now for the creation. A little nervous that the honey would have the adverse effect of flattening the cookies and causing the edges to burn, I hesitatingly popped the first dozen in the oven. To give some buffer room, I left the oven a few degrees cooler than for regular sugar cookies. Turns out that the only negative thing I can say about these sweets is that Martha Stewart's Foil+Parchment paper curled back over the dough on the outer edges, pressing an ugly mark into the top of the first batch. I made lemonade of lemons and sampled the unfortunate victims, one after another (I'm not about to send less-than-perfect cookies to mom!). Not to toot my own horn too much, but these confections are out of this world - unlike any cookie I've ever tried. Chewy and somewhat cake-y, they have layers of flavors, with each separate element shining through. Within an hour of pulling the baking sheet from the piping hot oven, two Ziploc bags with 1.5 dozen cookies each were packed and mailed to two well-deserving moms. Lucas helped me gobble down the rest a couple of hours later. It seems that if there's tea involved, Lucas doesn't actually hate sweets as much as he lets on.
I'm thrilled to report that the cookies arrived to my mom within 24 hours without a single one damaged from the trip. Happy Mother's Day, Mom, and as my childhood self would say, "I love you more than the whole university!" (But seriously, if the universe is bigger than the university, shouldn't it have more letters?!).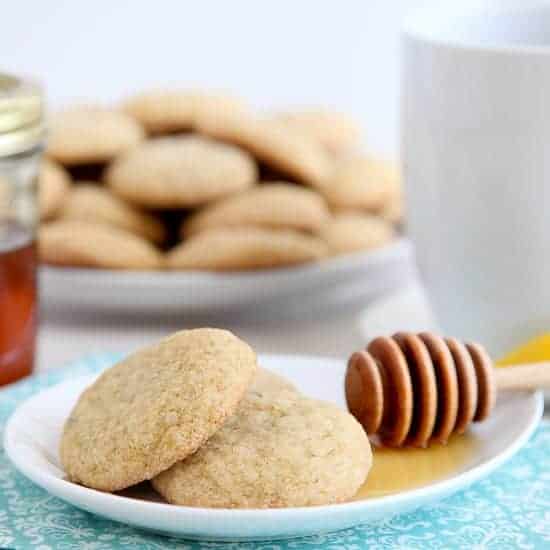 Lemon honey chamomile cookies
Ingredients
2¾ cups all-purpose flour (or gluten-free all-purpose flour)
1 teaspoon baking soda
½ teaspoon baking powder
5 chamomile tea bags or 4 tablespoons loose-leaf tea
½ teaspoon salt
1 cup unsalted butter, softened
1 cup sugar
1 large egg
½ teaspoon vanilla extract
Zest of 2 large lemons
2 tablespoons fresh lemon juice
6 tablespoons honey
½ cup sugar for rolling cookies, in a bowl
Instructions
Preheat the oven to 350ºF.
If using loose leaf tea bags, food process the chamomile tea until it is fine. I also sifted it through a strainer to get rid of any larger pieces that wouldn't grind.
Combine the flour, baking soda, baking powder, finely ground tea, and salt in a medium bowl.
In the bowl of an electric mixer, beat together butter and sugar until light and fluffy.
Beat in egg, vanilla, lemon zest, lemon juice, and honey.
Slowly add the dry ingredients, and mix until just combined.
Roll the dough into teaspoon-sized balls and roll each ball in the bowl of sugar.
Drop dough onto a parchment-lined baking sheet about an inch apart.
Bake 10-12 minutes, until lightly browned.