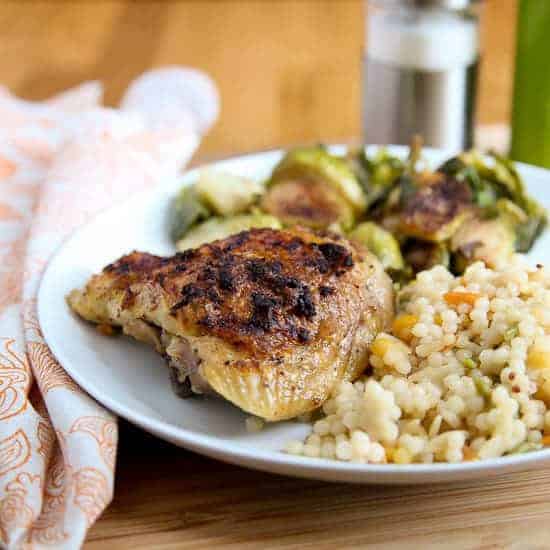 It's a miracle that I managed to eat dinner every night last week. Our trip to Boston impeded Sunday meal planning and grocery shopping. And the Thursday deadline for draft two of my paper meant thinking about dinner was last on my to-do list. So, by Tuesday, our usually stuffed apartment-sized fridge was bare, carrying only condiments. My options were whisking together ketchup and raspberry preserves into...soup(?), or taking a 15 minute brain break and jogging to the market to pick up the ingredients for a mindless meal.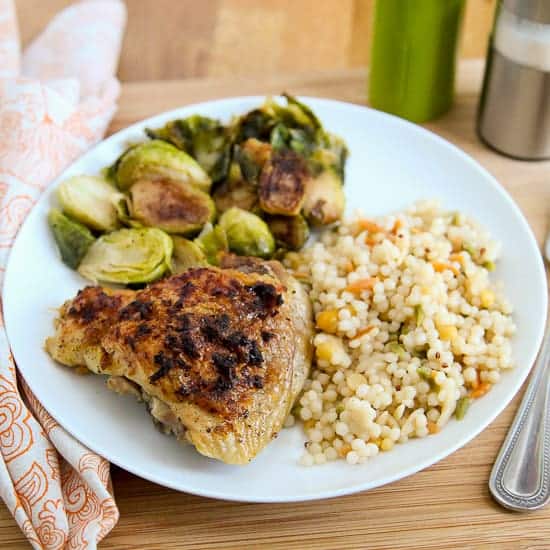 When I've spent Sunday traveling...or picking through a salvage yard for craft inspiration...or organizing the two months worth of mail piling over a foot high...or really anything besides planning, baked chicken is my go-to quick improvised dinner choice. Just pop it in a hot oven, go back to your busy life, and check back about 40 minutes later. Soaking the chicken in lemon juice for a few minutes, then packing it with some zest, salt, and pepper is my choice preparation method. For only a few minutes in the kitchen, you wind up with a comforting dish with lots of flavor.
Last Wednesday, I pulled myself out of my super-comfortable ergonomic chair in the midst of tirelessly typing away staring at my computer screen, and dragged myself to the butcher. Here's the dilemma: I wanted to make a dish worthy of photographing with our fancy new camera, but had only a three-minute walk from my doorstep to the produce bins to dream up the recipe. Without any forethought, I had soon procured chicken thighs and was halfway to my lemon pepper chicken routine. In an inexplicable turn of events, I threw ginger in the cart and headed home to revamp my trusty dish. We love ginger: ginger beer, ginger chew candies, gingersnaps, gingerbread men. So I expected we'd fall head over heels for this gingery face-lift. To be honest, the spice of the ginger didn't shine through as much as I'd anticipated. The chicken was juicy and delicious with only a tiny hint of ginger, and was closely related to its older sibling, lemon pepper chicken. Either way, this recipe (with or without the ginger) maximizes savory flavor while minimizing culinary effort. That's a giant win in my book.
Lemon ginger chicken thighs
Serves 4
4 bone-in skin-on chicken thighs
Juice of 2 lemons
Zest of two lemons
Kosher salt and freshly ground pepper, to taste
About an inch of fresh ginger, peeled and finely grated
Preheat the oven to 425ºF.
Marinate the chicken skin side up in the lemon juice for about 10 minutes (no longer or your chicken will get soggy).
Mash together the zest, salt, pepper, and ginger in a small bowl.
Transfer the chicken to a parchment-lined baking pan, skin side up.
Divide the zest and ginger mixture among the four thighs, patting it onto the skin side only.
Roast the chicken for 35-45 minutes, until a meat thermometer stuck in the thickest part reads 165ºF.