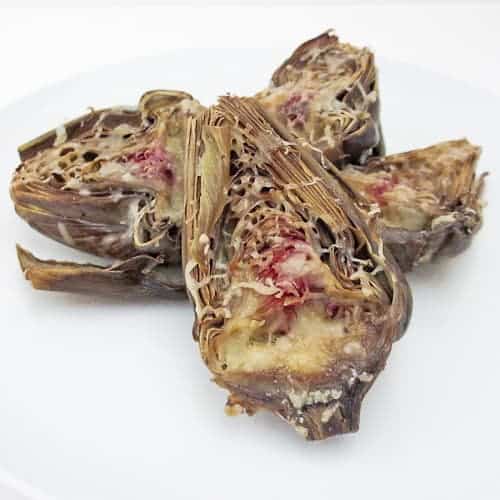 I'm sure it's clear by now just how much I love artichokes (and I'm fortunate to live so close to where they're farmed). Whenever I see them for less than a dollar, I can't pass by without adding a couple to my cart - even if I already have all my meals planned for the next two weeks. I WILL find a way to eat them. Tonight, I had two artichokes in my fridge from one of those 33 cent impulse incidents at the produce market a few days ago. Since my boo is in Taipei for the week and my fridge is bursting with leftover tortilla soup and braised short ribs, I don't plan to cook many meals while he's gone. With my main courses already complete, it's the perfect week to focus my creative efforts on side dishes. That said, I thought I'd give my normal artichoke recipe a run for its money and do something untried and intriguing. Let me be clear: I will never get sick of eating boiled artichokes dipped in butter, but for the sake of increasing my preparation repertoire, I have changed my ways tonight.
For some inexplicable reason, I felt like cutting the outer leaves away to focus on the most delicious part of the artichoke: the heart. Here's a list of possible inspirations for this impulsive decision: 1) I see Top Chef contestants cut the outer leaves off all the time (but what for? I'm not sure), 2) I saw this blog post and thought the baby artichokes looked so pretty with just their core, 3) canned artichokes are just the inner heart, 4) it's almost Valentine's Day, which means all food must be heart related. None of these reasons makes much sense, but that's what I did. And these little thistles were so cute all trimmed up.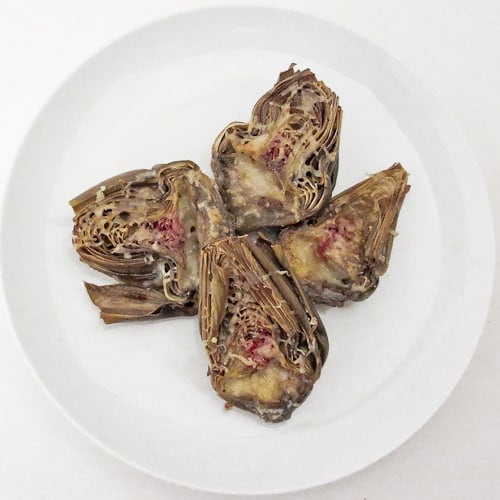 Now, I must say, if I were only interested in the heart, this recipe is the way to go - it was so lemony and flavorful (and in the spirit of Valentine's Day, the heart is the most important part). I wish I could eat these freshly cooked artichoke hearts for every meal. However, the external leaves were dry and didn't produce as much meat as when they're boiled. That's a lot of potentially scrumptious artichoke to be wasted in service of one or two quintessential bites of heart. Oh, the dilemma! Next time, I'll boil the artichokes for about 10 minutes before baking them to trap in some moisture (and if I had actually read the post from excuse #3 above rather than just admiring the gorgeous vegetable specimen, I would have found she, too, blanched them first).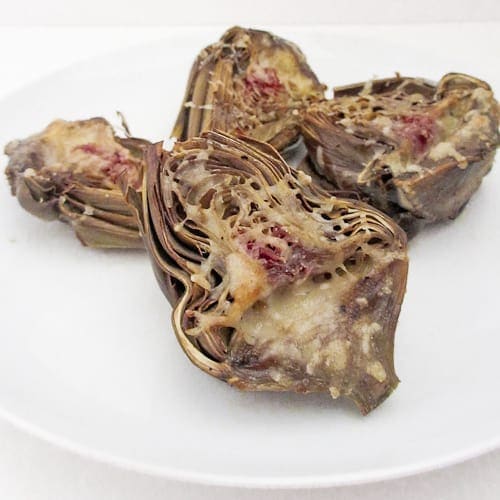 Lemon and parmesan baked artichoke hearts
2 baby artichokes
2 lemons
⅛ cup freshly grated parmesan cheese
Kosher salt and freshly ground black pepper, to taste
Preheat oven to 400ºF.
Rip the outer leaves off the artichokes, until you get to the smooth leaves that are half yellow and half green.
Cut ½ an inch off the tip of the artichoke. Use a paring knife to trim off the rough edges around the heart and the stem. Cut artichokes in half and immediately squeeze the lemon over the cut side (this will add flavor and keep them from browning).
Boil the artichokes for 10 minutes in salted water (See above: I didn't do this step, and wish I had, so I added it to the recipe in case anyone totally skips my story and heads straight of the goods).
Transfer artichokes to foil. Squeeze more lemon juice over the cut side, and sprinkle with salt and pepper. Fold the foil over the artichokes and pinch all sides to seal.
Bake for about 30 minutes.
Remove artichokes from foil pouch, and sprinkle cut side with parmesan cheese. Bake again for about 5 minutes, until cheese melts.