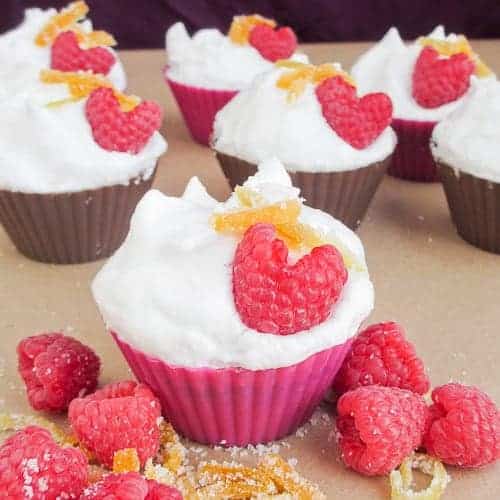 This post is dedicated to my second duty in the anniversary food extravaganza: dessert. When Bon Appetit recognized Aziza's pastry chef last year, we hopped on an across-SF bus to try out the confections for ourselves. They weren't lying, it was THE best dessert I'd ever eaten (and I've eaten many many many desserts) - a dessert that always lingers in your memory as you search for something just as tasty. My description won't do this dessert any justice, but it had: lavender ice cream, lemon curd, mini raspberry meringues, homemade shortbread and granola, and sprinkles of pomegranate seeds. Each bite had such a wide range of flavors that continued surprising your taste buds as you ate. If you live in the Bay Area, get up off your couch and go there - you won't be disappointed. While planning my secret sweet, my friend Tina recommended I try to replicate this favored dessert. Brilliant.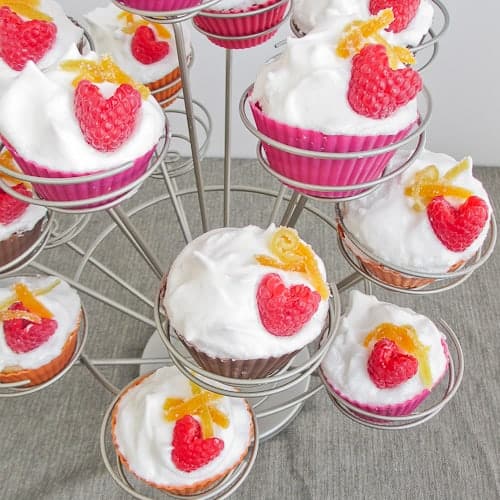 Rather than attempting (and not living up to) the exact dessert, I put it in cupcake form! I baked a lavender and lemon cupcake topped with meringue frosting and a raspberry heart garnish with candied citrus peels. The citrus peels replaced the out of season and unavailable pomegranate seeds. It was a delicious trip down memory lane. Plus, I got to use the cupcake stand Lucas gave me for my birthday last year. Since it's our anniversary, I'll brag about him again. Lucas took note weeks prior to my birthday when I resisted buying this stand for myself. He secretly went back for it later and dropped it off with some friends (who had also been put in charge of the cupcake delivery) - all within hours of returning to the US from Taiwan. When I questioned why it was taking him so long to get home from the airport, he told me about the traffic on the bridge (he is lucky there really was traffic, because, as a true problem solver, I looked it up online to plan the most efficient way for him to get home). When we arrived at the pub later that night, there it was, in all its glory, filled with the moistest cupcakes you've ever eaten. Isn't he the best? AND he gave me beautiful colorful flowers this morning (which our cats have since tried to eat).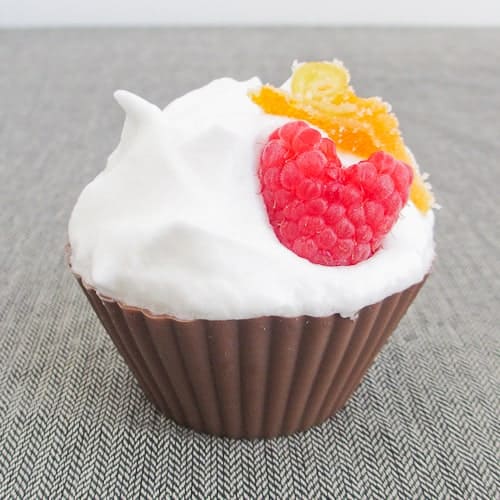 The cupcake recipe I modified for these lavender lemon treats is wonderfully moist, but a note for replicating it: fill your cupcake tins to the brim because the batter doesn't rise very much. When the second batch was coming out of the oven, Lucas was lending a helping hand, but sadly, accidentally dropped the tray. Only two cupcakes hit the floor, but the rest turned into a broken up mess. The cake was too good to toss, so I froze it to make cake balls later in the week. Stay tuned.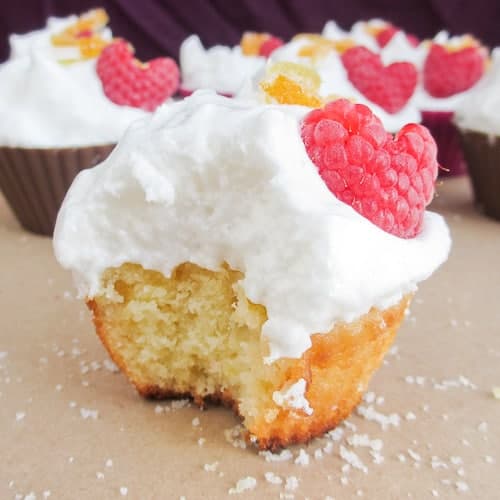 Lavender Lemon Cupcakes
Cake (Adapted from Martha)
Makes 1 ½ dozen
1 cup unsalted butter, room temperature
2 ½ cups all-purpose flour (spooned and leveled)
½ teaspoon baking powder
½ teaspoon baking soda
1 teaspoon salt
1 tablespoon lemon zest
1 ½ cups sugar
½ teaspoon culinary dried lavender
2 large eggs plus 3 large egg yolks (reserve egg whites for frosting)
2 tablespoons fresh lemon juice
1 cup low-fat buttermilk
Preheat oven to 350ºF.
Purée 1 ½ cups sugar and lavender using a food processor.
Using an electric mixer, beat butter and 1 ½ cups lavender sugar until light and fluffy.
With mixer on low, beat in eggs and yolks, one at a time.
Beat in 2 tablespoons lemon juice.
Beat in flour mixture and buttermilk alternatively, beginning and ending with flour mixture; mix just until combined.
Divide batter into lined cupcake trays (fill them almost all the way full).
Bake for about 15 minutes, or until a toothpick poked into the middle comes out with just a few crumbs.
Frost with whipped meringue frosting (recipe below) and top with raspberry and candied citrus peel garnish (Recipe below).
Whipped meringue frosting (Recipe from Martha)
3 large egg whites
¾ cup sugar
Pinch of salt
⅓ cup water
¼ teaspoon pure vanilla extract
In a heat proof bowl set over (not in) a saucepan of simmering water, combine egg whites, sugar, salt, and water.
Cook over medium heat, stirring constantly, until sugar has dissolved, 2 to 3 minutes.
Transfer to a large mixing bowl and beat with an electric mixer on medium-high until glossy, stiff peaks form, about 3 minutes.
Reduce speed to low, add vanilla extract, and beat just until combined.
Frost cupcakes and garnish.
Candied citrus peel (Adapted from Martha)
2 lemons
2 mandarins
1 cup sugar
½ cup water
With a sharp paring knife, slice off ends of the fruits. Following curve of fruit, cut away outermost peel, leaving most of the white pith on fruit. Slice peel into strips. If you aren't able to get all of the white pith off of the peel, you can go back after and easily scrape it off with the knife.
In a medium pot of boiling water, cook peel until tender, about 10 minutes. With a slotted spoon, transfer to a cutting board or cookie sheet. Spread in a single layer to dry slightly, about 15 minutes.
In a medium saucepan, bring ½ cup sugar and ½ cup water to a boil over high heat, stirring constantly to dissolve sugar. Add peel and boil until it turns translucent and syrup thickens, 8 minutes. With slotted spoon, transfer peel to cutting board or cookie sheet to cool.
Toss with ½ cup sugar to coat. Place on top of cupcake:)
Raspberry hearts
Using a sharp paring knife, cut a small triangle out of the top of the raspberry to shape like a heart. Place on top of cupcake. Mmmm...