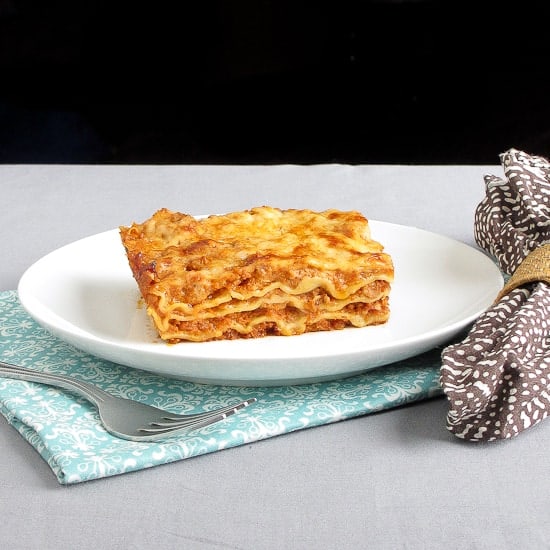 I love lasagna – layers upon layers of rich, decadent sauce, cheese, and pasta that offer up different flavors with each bite. What I don't love about most lasagna is cooked ricotta cheese. It tastes like chalk when baked and is a colossal mistake when layered into one of the most savory comfort foods in the world. This lasagna recipe I'm sharing below is TO. DIE. FOR. It replaces this detestable baked cheese with sheets of fresh pasta, meaty ragú, nutmeg béchamel, and parmesan cheese. Pick your tongue up off your keyboard – stop drooling. This lasagna is the dish I had in mind when I started this blog, but I've been waiting for just the right moment to share the beloved recipe. Look no further - you've stumbled upon the world's best lasagna recipe, adapted from Mario Batali's kitchen.
It takes some dedication to make, but the result is more than worth it. It's the first dish I ever made for Lucas back when we first started dating, and it's surely the reason he's in love with me now;) It is definitely his most frequently requested meal – it's the dish that solidified for us that we would only eat fresh pasta in our house from that point forward. Whenever I'm about to head out of town, leaving Lucas at home to fend for himself, I usually freeze a tray of this lasagna for him. As delicious as it is fresh, it's even better reheated from the freezer. I always make a large batch when I'm going to commit to this dish, and freeze the leftovers in pre-cut portions for a quick and cozy weeknight meal. Most of the people who live near me have experienced this lasagna at some point or another, and I'm sure can attest to its superiority over other ricotta cheese stuffed recipes.
I made this particular batch in preparation for the ski trip to Tahoe last weekend to share with a cabin full of friends. I doubled the recipe, and my kitchen was a disaster. It took me 3½ hours to put it all together because I had to keep stopping to wash dishes to clear space to continue – the perils of a pint-sized kitchen. Usually, Lucas takes care of the mid-meal dish wash, but he was in Taiwan AGAIN (that's three trips in 6 weeks…). On top of that obstacle, the bowl of my food processor broke as I was dicing the vegetables for the mirepoix. SADFACE. It now sports a piece of duct tape around the base of the handle.
Since I didn't have enough room in my tiny freezer for three large casserole dishes, I spent some time debating and researching whether it would be better to a) bake it immediately, store it in the refrigerator for three days all wrapped up tight, and then reheat it in the oven at the cabin, or b) leave it unbaked, store it in the fridge, and bake it up there. I chose option b, but failed to calculate altitude into my solution. It baked into more of a runny casserole than a sturdy layered slice of lasagna, and all of the oil had congealed at the surface. Everyone still said it was delicious, but they didn't know any better - I knew. The contrasting flavors between the nutmeg and the thyme weren't as prominent as the lasagna I've made over a dozen times before. For now I'll blame the lack of pre-bake and altitude, because the small pan that I baked immediately to eat for dinner the night I made it turned out perfectly (as shown in the pictures). Oh well. Next time, I'll bake it immediately and see if the result differs. For those of you at the cabin: I'll have you all over to redeem myself with a freshly baked lasagna dinner soon.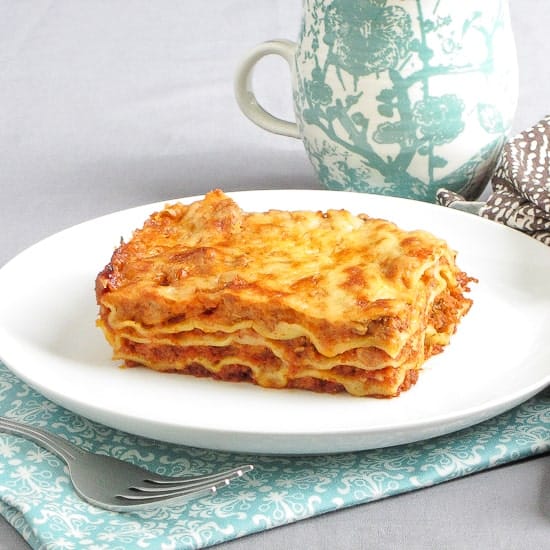 Lasagna Bolognese (Adapted from Mario Batali)
Serves 8-10
Ragù
2 medium yellow onions
1 carrot
4 stalks celery
5 cloves garlic
¼ cup extra-virgin olive oil
1 pound ground beef
1 pound ground pork
4 ounces ground pancetta (I ground up thin slices in my food processor, since it doesn't come ground from the butcher)
2 (6-ounce) cans tomato paste
1 cup milk
½ cup dry white wine
1 cup water
½ teaspoon dried thyme leaves
Kosher salt and freshly ground black pepper, to taste
Béchamel
5 tablespoons unsalted butter
¼ cup flour
3 cups milk
2 teaspoons salt
½ teaspoon ground nutmeg
Lasagna
1 pound fresh pasta sheets, recipe below (or dried lasagna noodles blanched for 6 minutes to refresh)
2-3 cups freshly grated parmesan cheese
If making fresh pasta, prepare the dough according to the recipe below.
While the dough rests, make the ragú. Using the slicer on a food processor, slice the onion, carrots, celery, and garlic. Transfer to a bowl. Using the chopping blade of a food processor, pulse the sliced onion, carrots, celery, and garlic until diced. If you don't have a food processor, finely chop these vegetables by hand.
Heat olive oil in a large (at least 3.5 quart) heavy bottom pot over medium heat. Add the diced vegetables and sweat, stirring, until translucent, about 5-8 minutes.
Add the ground beef, pork, and pancetta, and cook, stirring to break apart, until browned.
Add the tomato paste, milk, wine, water, thyme, salt, and pepper. Stir to combine. Cook over medium low heat for 1 to 1½ hours. Feel free to add more water if the sauce reduces a lot and becomes too thick.
Roll out your pasta dough according to the recipe below, and set it aside.
Preheat the oven to 375ºF.
While the ragú cooks, make the béchamel. Melt butter in medium or large saucepan over medium heat. Add flour and whisk until smooth. Continue cooking, whisking, until golden brown, about 6 minutes.
Meanwhile, heat milk in saucepan until just about to boil. Add milk to butter and flour mixture, in three parts, whisking continuously until very smooth.
Bring to a boil. Continue cooking for 30 seconds. Remove from the heat and add salt and nutmeg.
In a lightly greased 9x13 casserole dish or baking pan, layer, in order, 3 to 4 layers of ragù, pasta, béchamel, and parmesan.
Bake for 45 minutes, until the top is golden brown and bubbling.
Slice and serve.
Basic egg pasta dough (Same recipe as earlier post)
3 cups all-purpose flour, plus extra for kneading and rolling
4 large eggs
1 tablespoon olive oil
½ teaspoon salt
Water, as needed
Sift the flour into a large bowl (or KitchenAid bowl with flat beater attachment).
In a separate bowl, beat 4 eggs, olive oil, and salt together until combined.
Pour egg mixture into flour and mix (it may be crumbly still).
Using your hands, knead until dough forms. In my experience, the mixture is really dry, so I add ½ teaspoon of water at a time while kneading. Knead until dough is smooth and elastic. Wrap in plastic wrap and let rest for 30 minutes.
Prepare ragú.
After 30 minutes, cut dough into 6 equal pieces.
With a rolling pin or with a pasta maker attachment, roll out one piece at a time, reserving the others in plastic wrap. I had a really hard time rolling the dough by hand before I had the pasta maker attachment, but I hear it's possible. If using a pasta maker, I roll dough to 4 or 5 thickness for lasagna sheets. Be sure to flour both sides of the rolled out pasta as you go so it doesn't get too sticky. Cut it into pieces that will fit 3 to 4 layers in whatever casserole dish or baking pan you're using.