Last updated on July 6th, 2012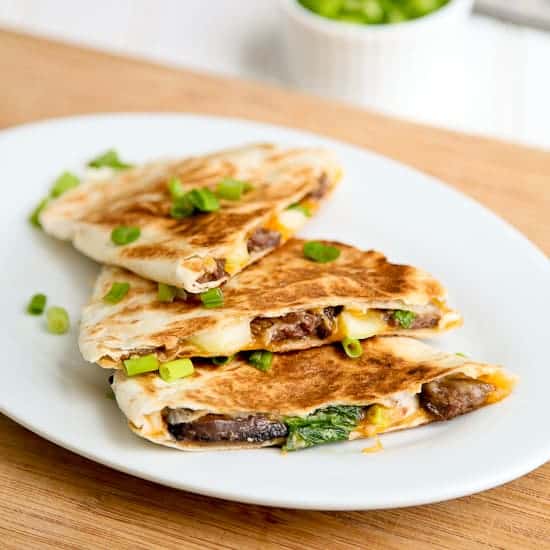 Do you ever put leftovers in your freezer, but then forget they're there or forget what they are? I should really be better about labeling things that go into my freezer. Especially since it's packed full, but when I open it, I think, "We've got NOTHING to eat in here" and slam it shut again. Not only am I very unlikely to dig through the mounds of frozen Ziploc bags and Tupperware, but even if I did pull something out, I'd be hard-pressed to identify the mystery contents.  My freezer overwhelms me. In an ideal world, I'd keep a digital spreadsheet that I'd add to every time I shove something in there. It'd make meal-planning MUCH easier. What a great idea! My next procrastination project: freezer inventory. If I'd thought of this plan sooner, I might not have mistaken the frozen blob of raw sirloin for Korean-style marinated skirt steak. On the other hand, if it weren't for that mistake, I never would have made this mouth-watering Korean-style marinated BBQ beef quesadilla! And for that, my disorganization paid off. Big time.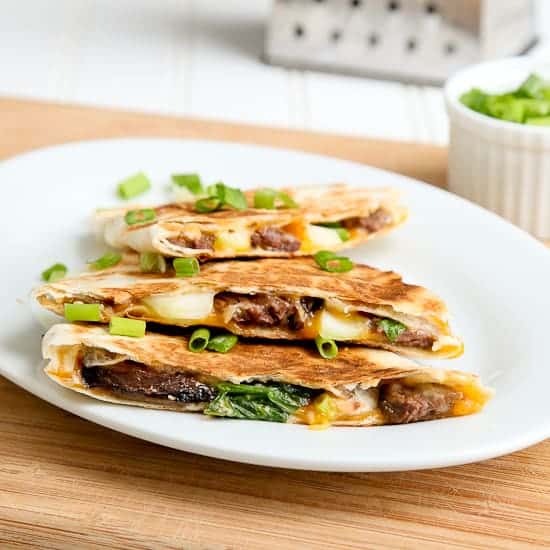 Here's how it happened. What do you do when you've got a single serving of Korean-style marinated beef in your freezer? You split it between two cheesy quesadillas stuffed with complementary vegetable add-ins. Boom. But then what do you do when your mushroom-loathing friend Chuy is coming for dinner on a night you've planned a mushroom-filled dish and you have to rearrange your entire weekly meal plan so now the quesadillas need to serve three people?! You go buy more skirt steak and marinate it in the same flavors, of course. Problem solved. BUT THEN what do you do when you thaw the frozen meat to discover that it's not marinated, and in fact, it's not even skirt steak?! You toss it into the marinade and throw both cuts of beef into the quesadillas. The boys will be none-the-wiser. And they weren't. In fact, the combination of juicy Korean-style marinated beef, melted cheese, crunchy baby bok choy, and fresh scallions smashed between two crisped tortillas caught their taste-buds off-guard; they didn't know what hit them, but they knew they wanted more.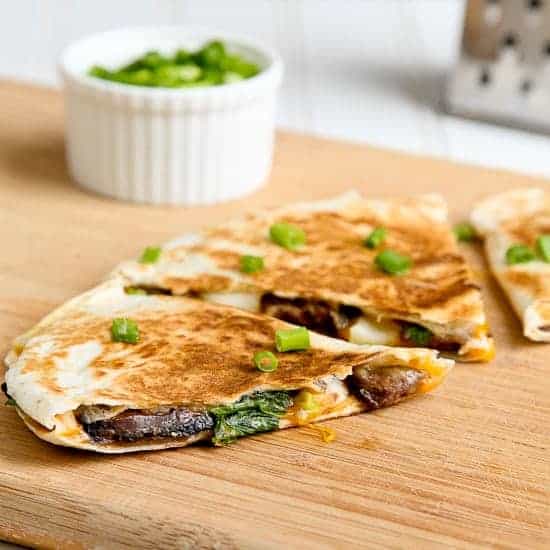 Oh, What's that? Korean food doesn't play well with cheese, you say? Wrong. I'd be first in line if a Korean Mexican fusion restaurant sprouted up in Berkeley. Take a leap of faith and try it for yourself. These Korean-style fillings ramp up an already-addicting ooey gooey cheesy quesadilla to one you'll crave again and again. If you're anything like Lucas and Chuy and can handle the heat, splash a bit of Sriracha on top to add another element of Asian-inspired cuisine to the mix. This cross-bred quesadilla is a culinary revelation of epic proportions.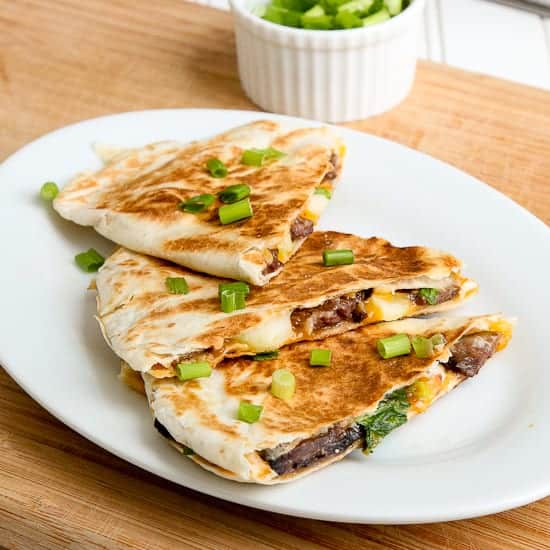 Korean BBQ beef quesadillas
Makes 5 large quesadillas
Korean-style marinated skirt steak (Adapted from cHow Divine)
1.25 lbs skirt steak
4 tablespoons soy sauce
1¾ tablespoons sugar
1¼ tablespoons mirin
1¼ tablespoons toasted sesame oil
5 cloves garlic, minced
1 tsp black pepper
2 tablespoons canola oil
Trim any excess fat from the steak.
Combine the soy sauce, sugar, mirin, sesame oil, garlic, and pepper in a medium bowl, whisking to combine.
Add the beef to the bowl, making sure it is entirely covered in marinade and let sit for about 2 hours (or longer).
You can either cook the beef up on the grill or cook it in your cast-iron skillet. If opting for the latter, heat 1 tablespoon of oil in a medium skillet over medium-high heat. Add half of the steak and cook for about 3 minutes on each side.
Remove from heat and let sit, covered with foil, for about 5 minutes. Repeat with the remaining steak.
After the steak has rested, cut the steak into about ¼-inch wide strips.
Quesadillas
1.25 lbs Korean-style marinated beef, cooked (see above)
10 tortillas
3 baby bok choy, coarsely chopped and sautéed until soft
4-5 cups grated cheddar cheese
1.5 cups grated parmesan cheese
1 cup chopped scallions
optional: Sriracha, to taste
Sprinkle a layer of cheddar cheese on half of the tortillas. Split the cooked bok choy, cooked beef strips, and chopped scallions between the 5 tortillas.
Sprinkle another thin layer of cheddar cheese and some parmesan cheese over the fillings. Place the remaining tortillas on top.
Lay each quesadilla in the pan and cook for 3-5 minutes on each side, until cheese melts and tortillas are crispy. Slice and serve as it, or, if you like spice, sprinkle a bit of Sriracha on top. Yum!