I just really like saying "kitty cat cakes." Try saying it out loud. Admit it, you like it too. For Valentine's Day, Lucas brought home cat-shaped cookie cutters and a cat-shaped silicone mold from Taiwan. Sometime between last August when we adopted our kitties and now, I've become a cat lady. They're just so darn cute, how can you not love them? I really have no idea what you're supposed to do with a silicone mold besides make shaped chocolate or soap (all of the recipes that came on the pamphlet with it were in Japanese), so I decided to try making cat-shaped cakes. Frosting kitty cat cakes would probably make them look deformed, so I served them with sliced strawberries and homemade whipped cream. Yum! I used Amy Sedaris's vanilla cupcake recipe (after all, it was voted second best in NYC), and was quite pleased with the texture, moisture, fluff, and flavor. And, how CUTE are these little kitty cat cakes?! Look, they're pouncing through a strawberry field on a cloudy day.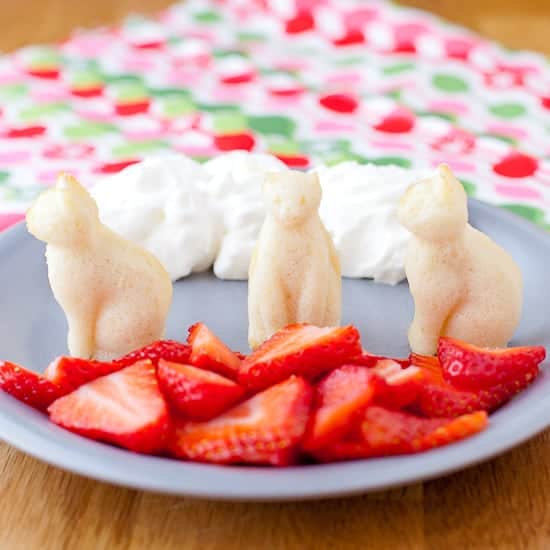 Since these kitty cat cakes are in honor of our furry friends, I think it's appropriate that I share an anecdote from a day in the life of Artichoke and Aioli. Typically, they're both very well-behaved kittens - they don't really scratch, bite, or ruin (too many) things. HOWEVER, I think they were feeling a little betrayed by Lucas's weeklong trip to Taiwan, and things took a dark turn as they acted out their frustration. While he was gone, they discovered that there's a window behind the kitchen sink with a stellar view of some birds. Our rascals are pretty much allowed to go anywhere they want in the house except the counters or the coffee table (since it's our dining table). Apparently when your dad abandons you for a foreign country, they think these rules no longer apply. For the past week, I've been battling with keeping the cats off the kitchen counter. And they know darn well they're not supposed to be up there; as soon as I lower my voice to say "get down" they leap off the counter as if to say, "what? you never saw me here." At least Aioli does; Arti hides behind the curtain pretending I can't see him, and doesn't jump down until he's practically drenched from the squirt bottle. They're testing me. Notice that this story includes both of them - that's because they're partners in crime; when one is being naughty, the other is never too far away. I had had it up to HERE today and covered the kitchen window with brown paper bags to block the enticing view of any fluttering finches (credit to Angi for the idea:). I hope it works because I really don't want cat hair in my dinner (we may or may not have photoshopped a cat hair out of one of these photos...).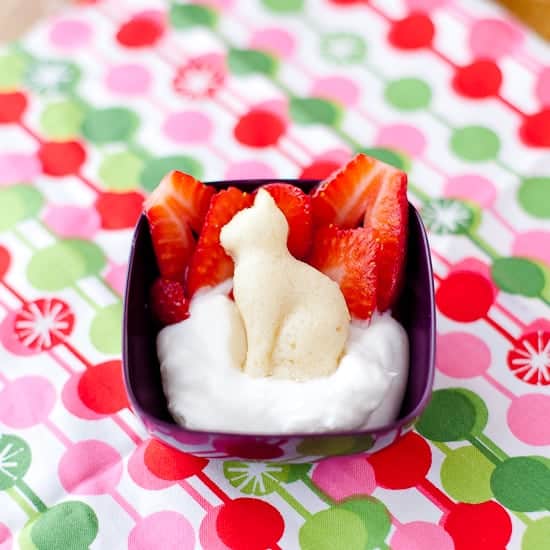 Kitty Cat Cakes (Recipe from Amy Sedaris's Vanilla Cupcakes)
Makes about 28 kitty cat cakes or mini cupcakes.
6 tablespoons unsalted butter, softened
¾ cup sugar
1 large egg
1 teaspoon pure vanilla extract
1¼ teaspoons baking powder
⅛ teaspoon salt
1¼ cups flour
½ cup plus 2 tablespoons milk
Kitty cat silicone mold (looks like the cat mold isn't on their site anymore - but they have a dog one!)
Preheat oven to 375ºF.
Beat butter and sugar on medium speed until smooth.
Add egg and mix well.
Add vanilla, baking powder, salt, flour, and milk and beat just until smooth.
Pour batter into a lightly buttered silicone cat mold (or lined mini cupcake tray) until ¾ full.
Bake about 13 minutes, until golden brown.
Strawberries and cream
1 cup heavy whipping cream
½ cup powdered sugar, or to taste
Scant 1lb of  strawberries, sliced
With stand mixer or by hand, beat heavy whipping cream until it begins to froth, a couple of minutes. Add powdered sugar and continue beating until soft peaks form.
Serve over kitty cat cakes with sliced strawberries.